Lemon cake with lemon curd filling – smooth and silky lemon curd reside between the layers of this soft lemony cake frosted with lemon buttercream. This is the ultimate lemon curd layer cake for lemon lovers. Did I mention there was lemon?
(If lemon desserts are your thing, you must try these classic lemon bars on delicious shortbread crust. Everyone's favourite! And this easy lemon bundt cake is a delicious lemon cake for snacking.)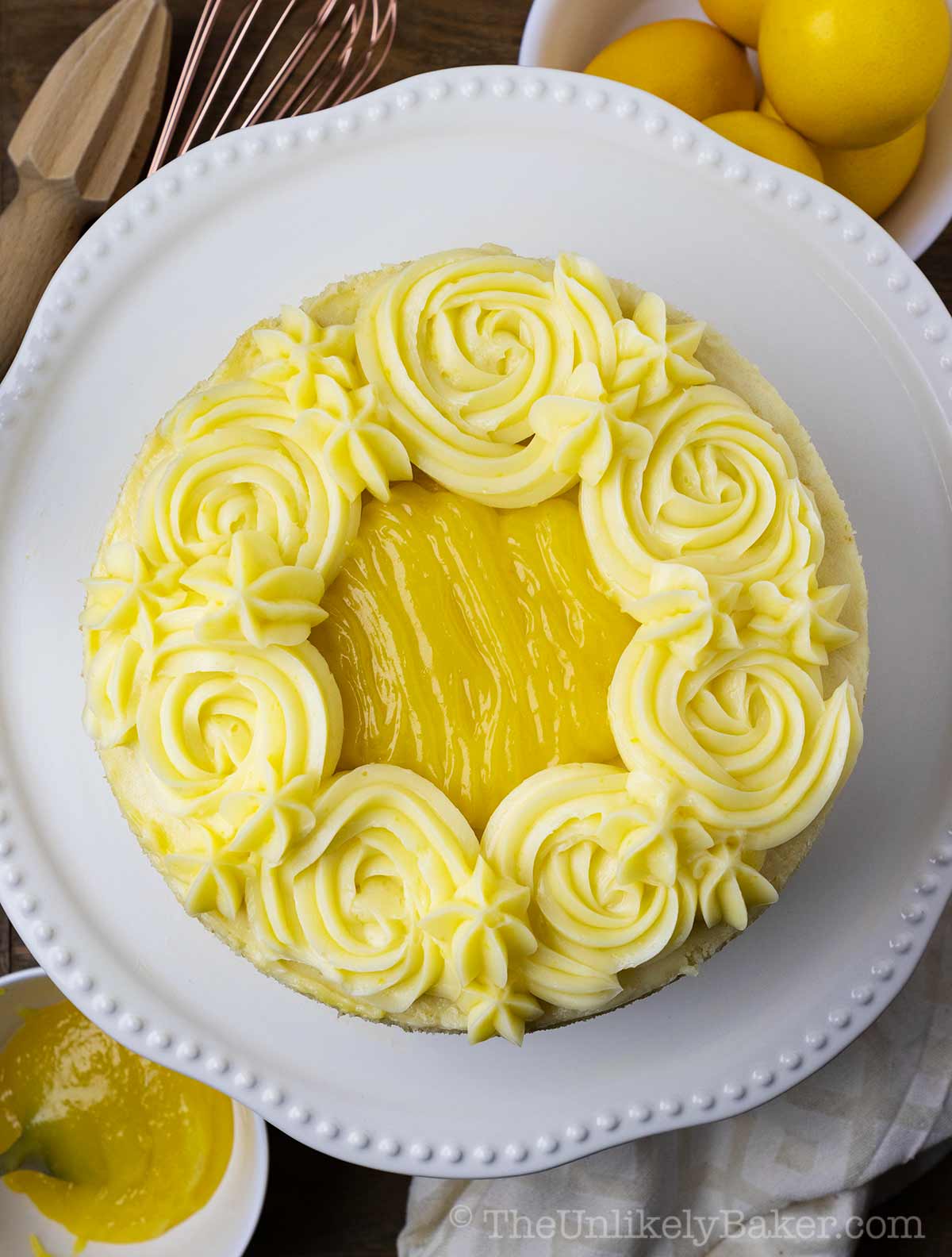 If you're a lemon dessert lover like me, you'd know that we're the minority.
For example: you're at a restaurant and you're sharing a dessert with your friends. You'd almost always certainly be outvoted – you know the group would go for that devilishly delicious chocolate cake with chocolate fudge frosting.
Which is not a bad thing, we like chocolates too…we just love lemons.
And there are always chocolate cakes at the local bakeshop but when you're craving for something lemony, chances are you'd have to search far and wide for one.
So being able to bake a lemon cake yourself is a big deal (at least for me!).
This lemon curd cake is easy and simple to make (always a good thing) and oh-so-lemony. Perfect for Easter, Mother's Day, to welcome spring (now that is reason to party) or to surprise fellow lemon lovers in your life.
How to make lemon cake with lemon curd filling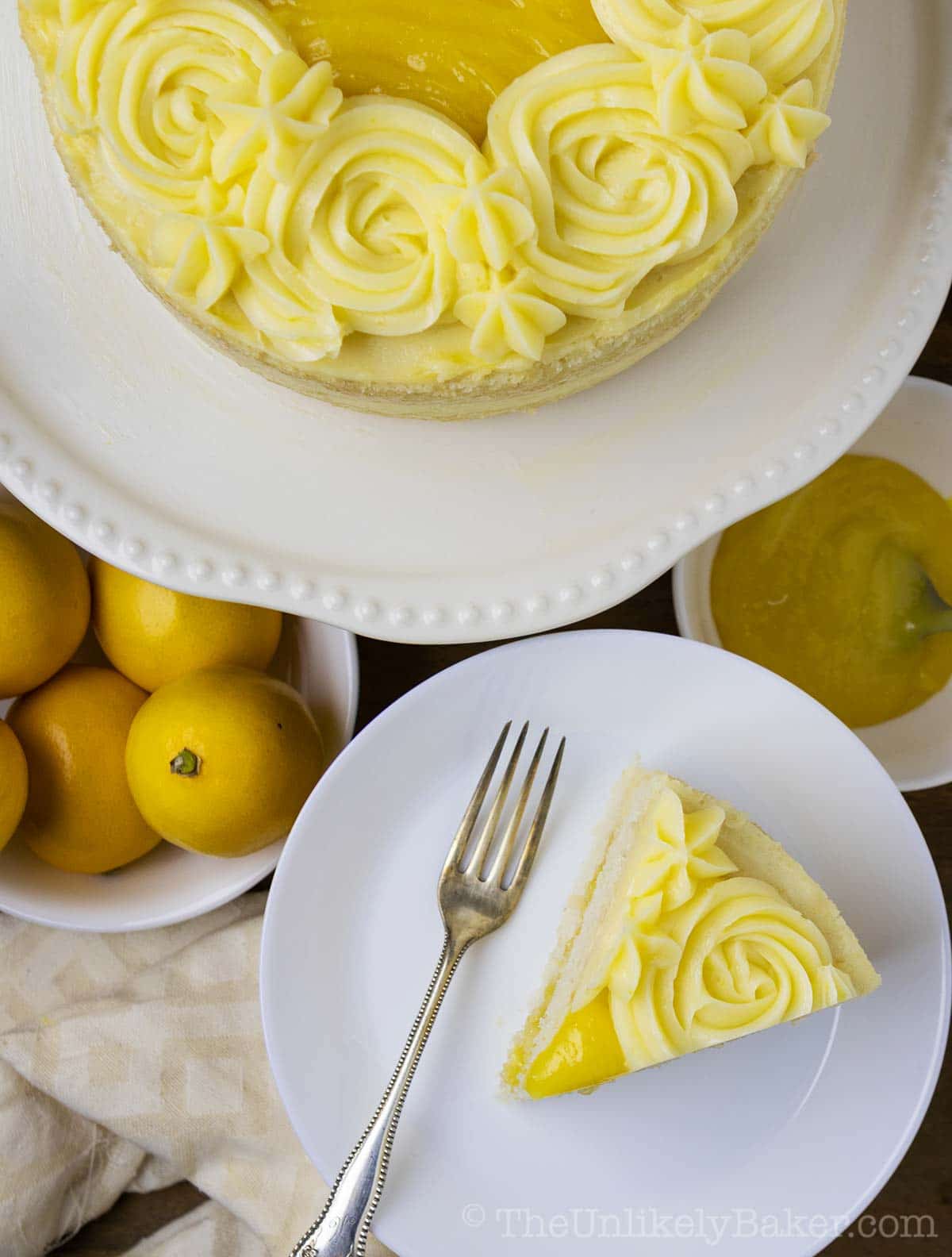 And this lemon cake is definitely a celebration-worthy cake.
The cake, on its own, is light and soft but sturdy enough so it does not get all mushy once all the bells and whistles are put on top of it (or within it).
It also has a delightfully light lemony flavour that doesn't overwhelm but makes you want to take another bite.
1 CAKE LAYERS. To make the layers, sift cake flour, baking powder and salt in a bowl then set aside.
2 BUTTER AND SUGAR. In another bowl, cream butter and lemon sugar (one of my favourite things in world – I use it to make the easiest, flakiest lemon buttermilk scones and they are fantastic) until light and fluffy.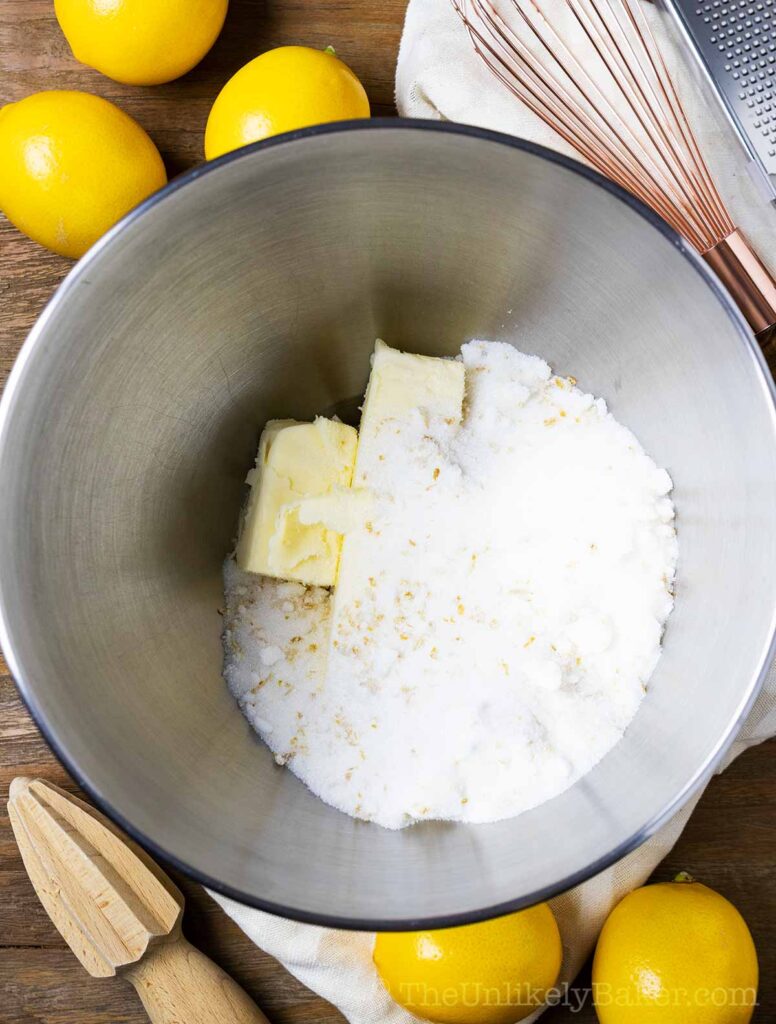 3 MILK AND FLOUR. Alternately add your flour mixture and milk to your butter mixture, careful not to over-mix.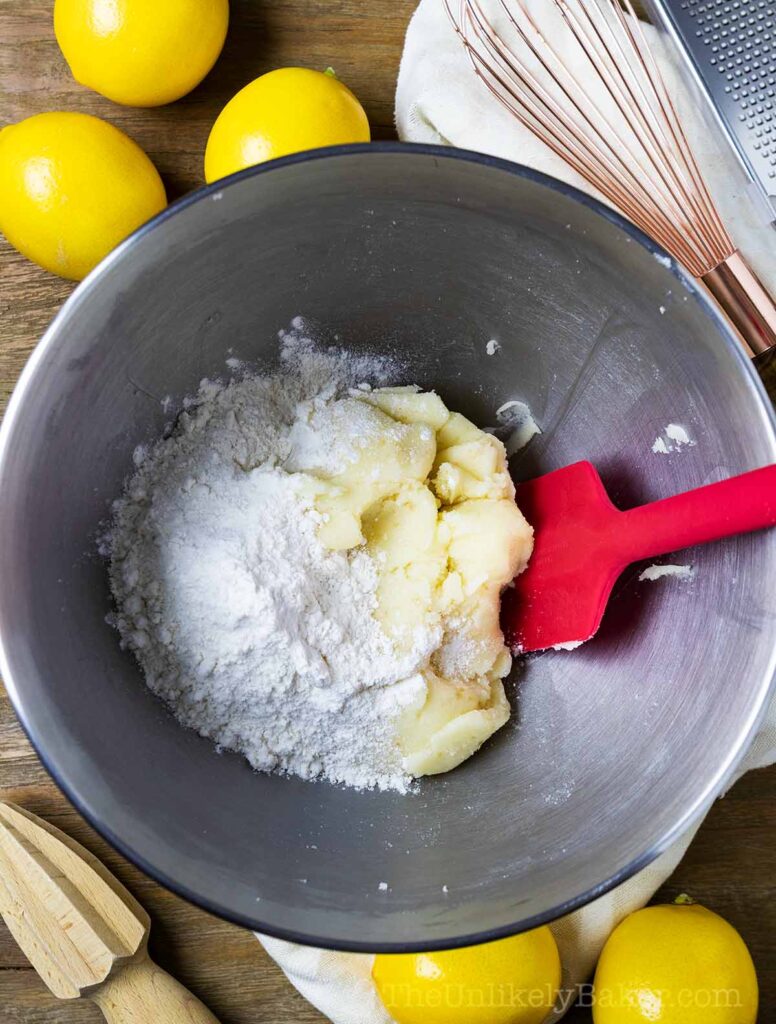 4 EGG WHITES. Fold egg whites which have been beaten to stiff peaks into your batter a little a time. Do this step gently so as not to deflate the air you've incorporated in it.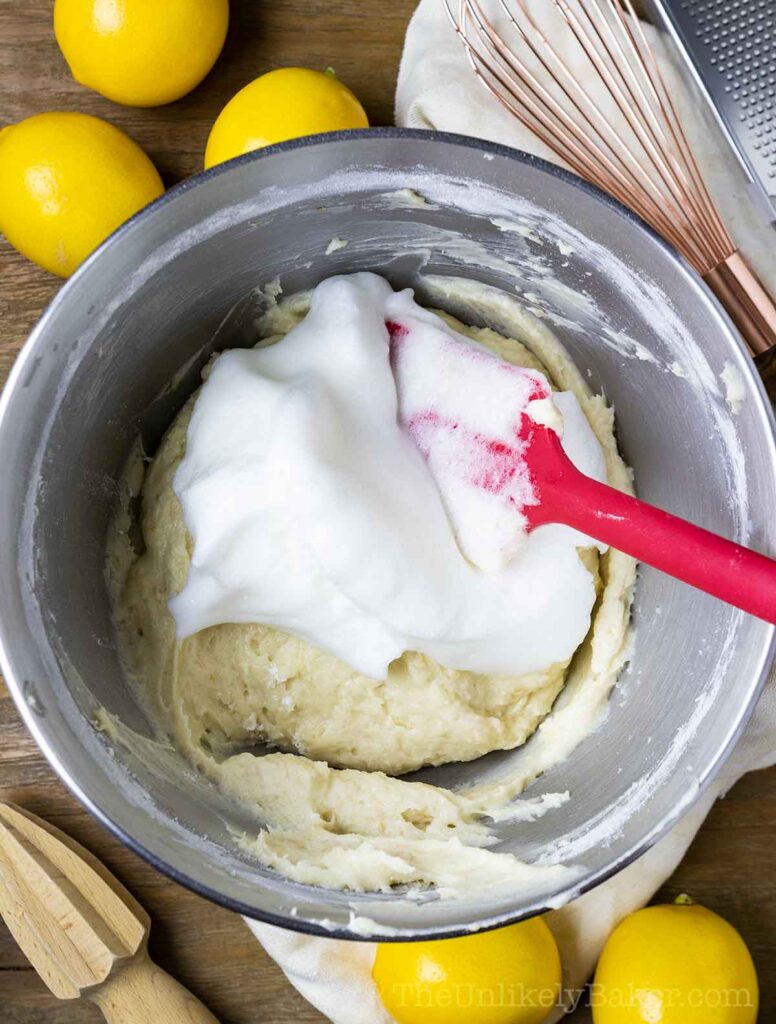 5 BAKE. Transfer your cake batter into your prepared pans and bake until a toothpick inserted in the centre comes out clean.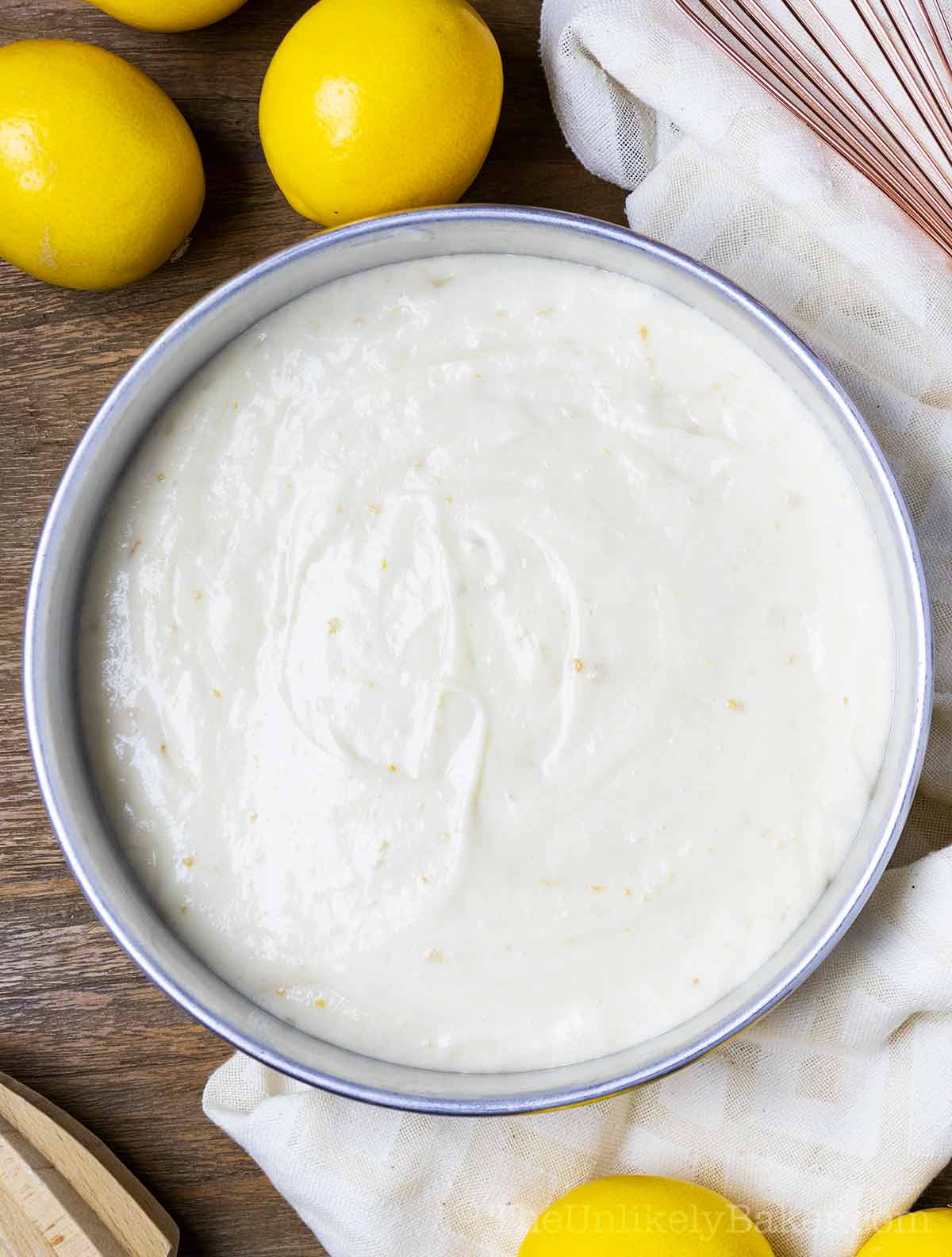 While your cakes are cooling, you can work on your lemon buttercream.
Lemon curd buttercream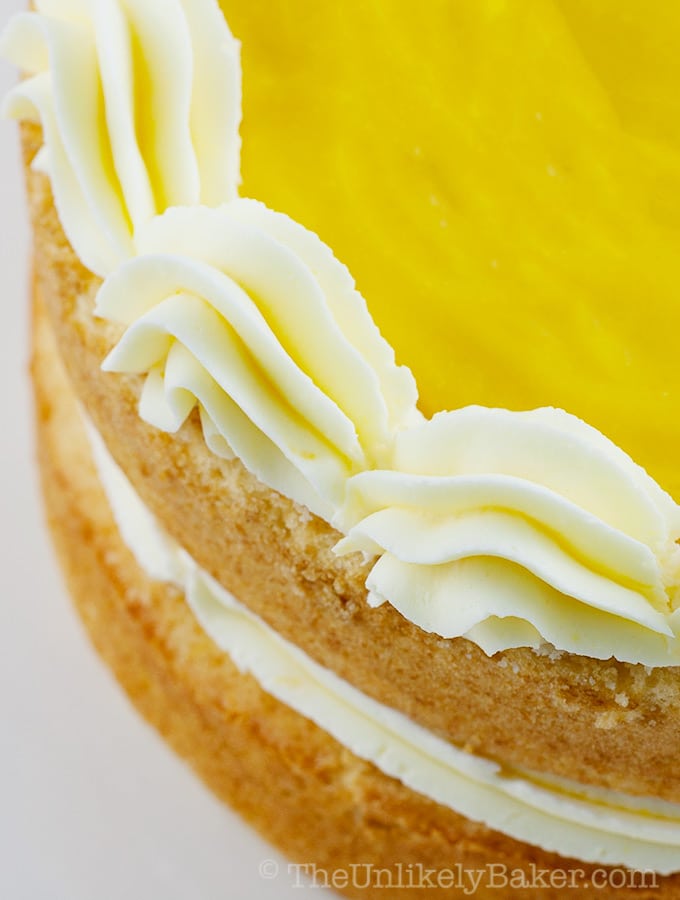 I used to pair this lemon curd cake with American buttercream, which is butter, confectioner's sugar, lemon juice and lemon zest.
It was delicious but I always found it a little too sweet for my liking. So I used it sparingly (see photo above).
Later, I started making this lemon cake with Swiss meringue buttercream, which is egg whites, sugar, butter and lemon curd. It is fantastic.
Not too sweet, a perfect complement to the cake. It's a delight to frost and decorate with as well.
I know a lot of you are a little intimidated by Swiss meringue buttercream so American buttercream is what I included in the recipe card below. The link to Swiss meringue buttercream is in the notes.
You can use either one – the cake will be delicious either way.
Ingredients for this easy lemon curd cake recipe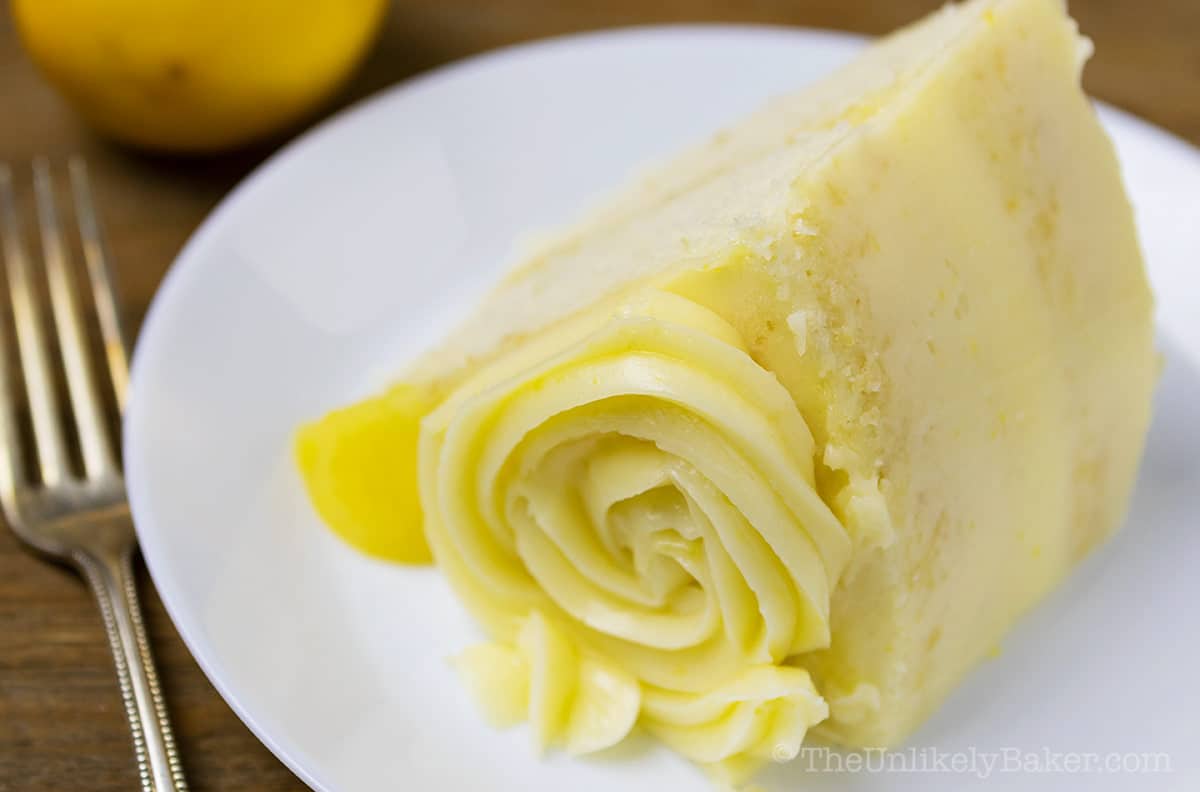 While the cake looks impressive, the ingredients to make it are actually very simple. I bet you already have most of it in your pantry.
For the lemon layer cake you would need:
For the lemon curd filling, you need pure, delicious lemon curd. I make my own lemon curd but you can also use ready-made curd if you like.
For the lemon buttercream, it's just:
If you choose to make lemon Swiss meringue buttercream, you'll need:
Egg whites
Granulated sugar
Salt
Unsalted butter
Vanilla extract
And more lemon curd
Tools you need to make the lemon layer cake and the lemon buttercream
To make this cake, I depend on my trusty stand mixer, especially to beat the egg whites. However, you can also use a handheld electric mixer; it's just going to take a little longer.
In addition, you also need:
Cake assembly and decoration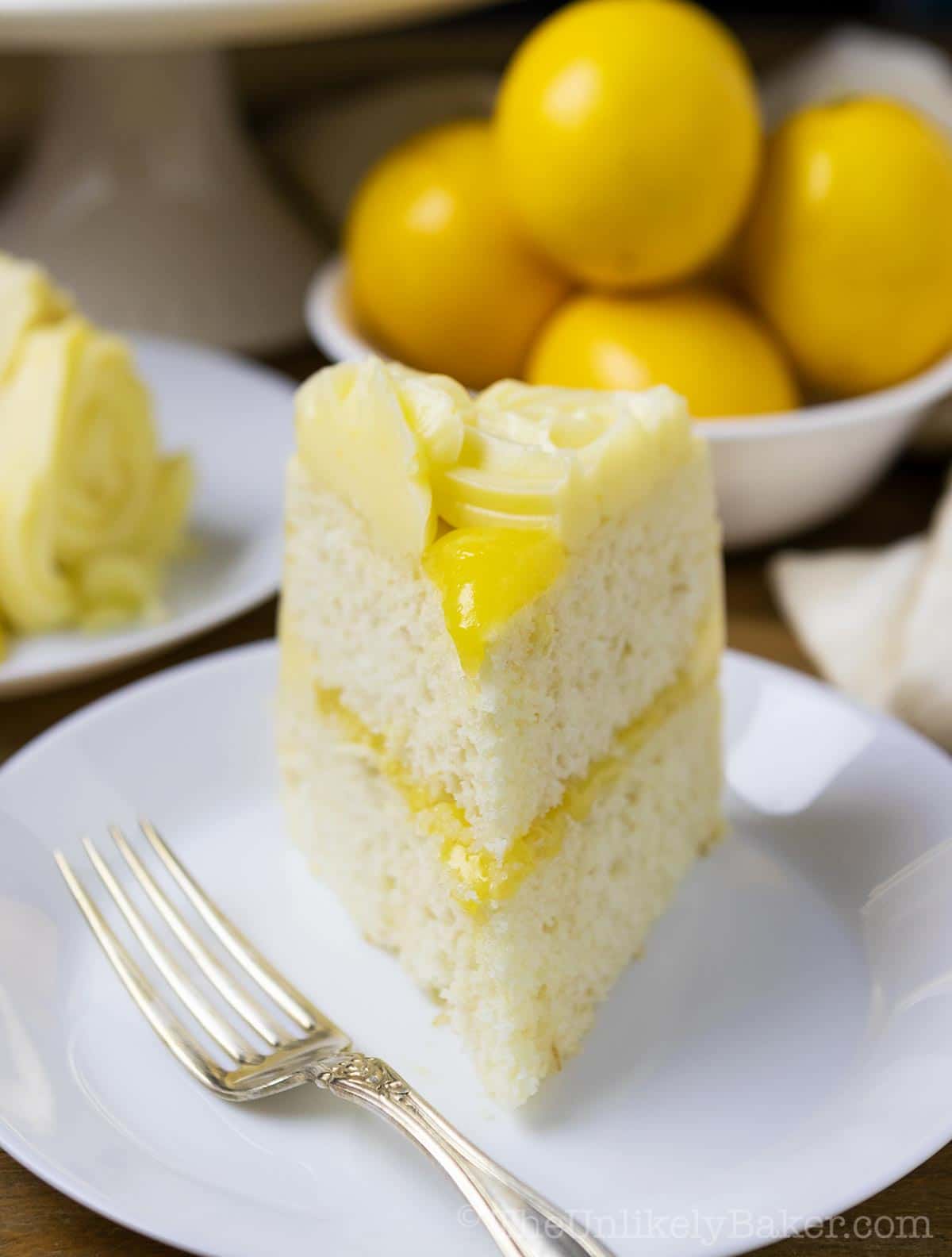 Assembling a layer cake might be intimidating for some bakers but if you break it down into baby steps it's really quite fun!
Step 1: Trim your cakes.
Once your cakes are completely cool, trim the tops of your cake if they are domed using a serrated knife or a cake leveller.
The key is that the tops become level and your two cakes are of equal height (you can eyeball this but a ruler is inexpensive and very handy)
Step 2: Pipe your border.
Place one cake on a platter or cake turntable smooth side down (trimmed side up). Using a piping bag fitted with your favourite large tip (I recommend the Wilton 1A or similar), pipe a border around the cake to act as a dam so your lemon curd won't ooze out later.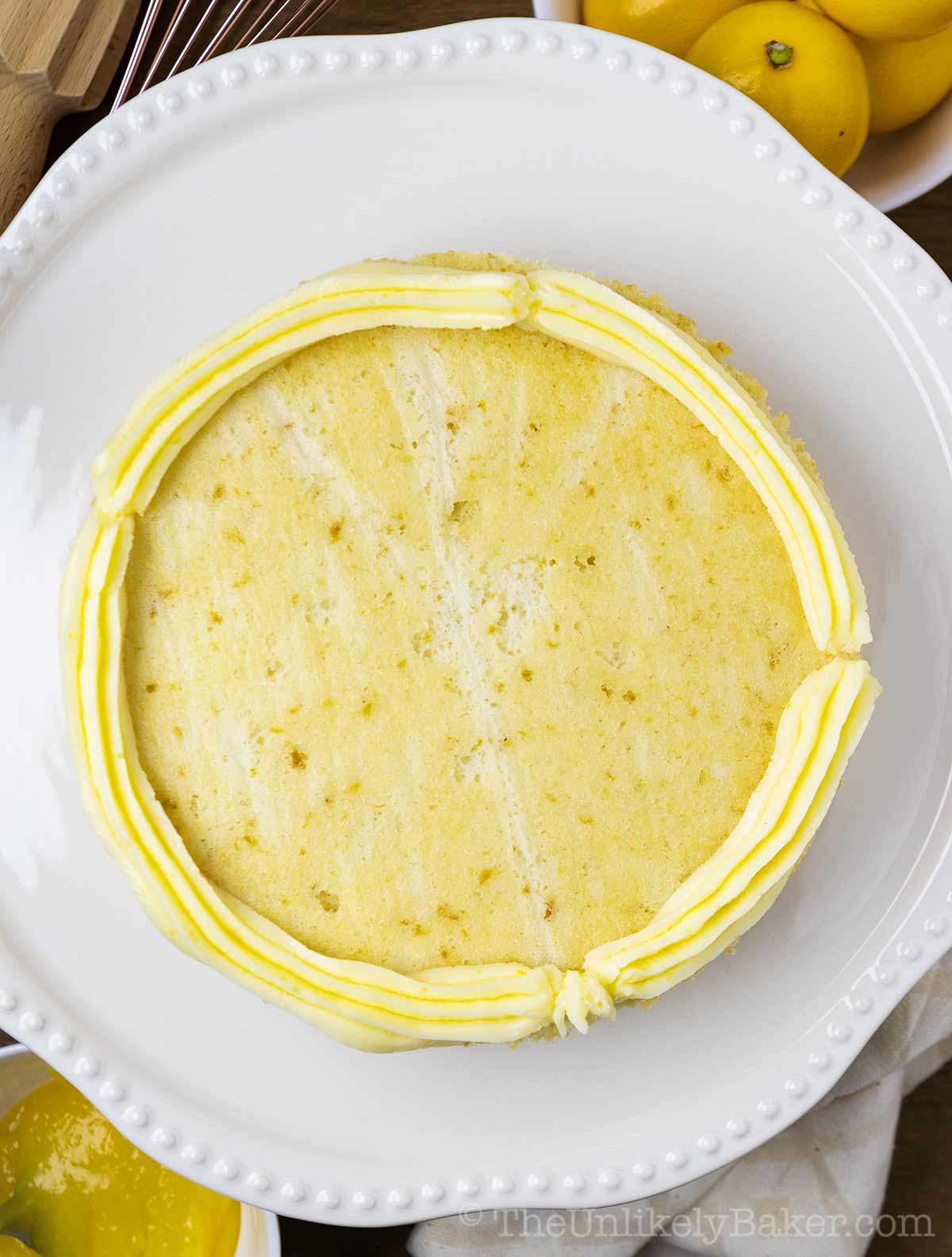 Step 3: Fill your cake.
Fill the centre of your cake (inside your little dam) with lemon curd. It's important that the height of the lemon curd is equal to the height of your border so that your cake doesn't sag in the middle.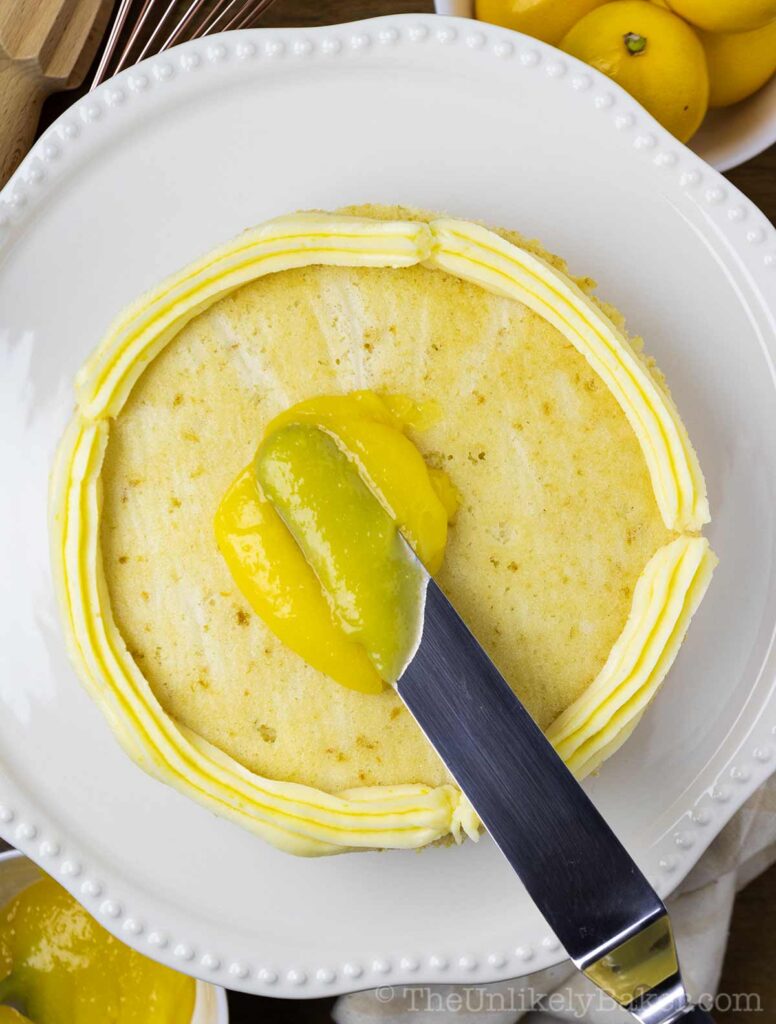 Step 4: Finish and decorate.
Place the other cake on top of the first one smooth side up (trimmed side down) and frost like the crazy baker that you are!
Decorate as simply or as elaborately as you like. Just keep an eye out for how much buttercream you have – you need enough to make your decorating dreams come true (double the buttercream recipe, if necessary).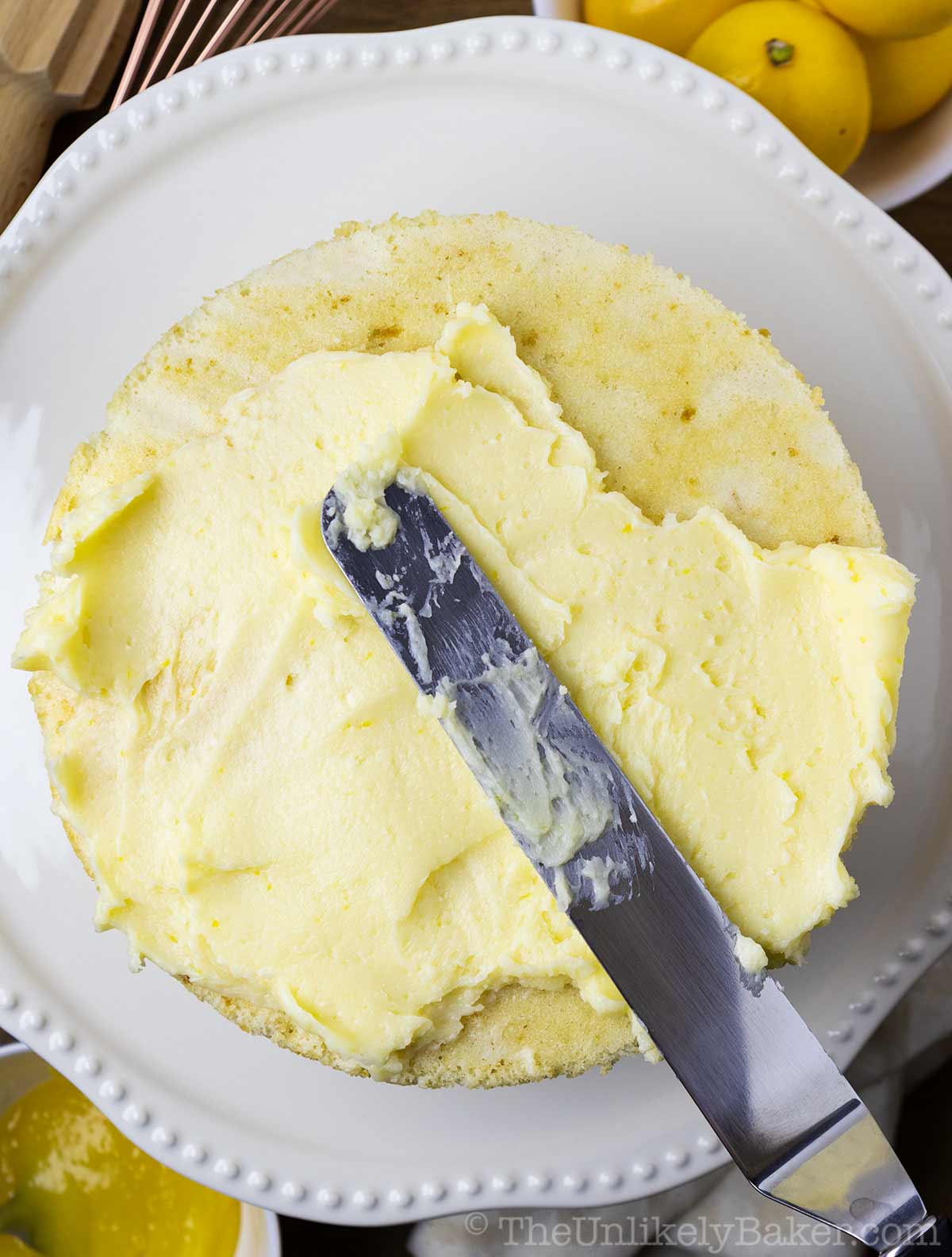 Lemon curd cake recipe FAQs
I've had TUB readers reach out to me asking questions about this cake. Here are the most common ones.
How to make homemade lemon curd
This cake is filled with gorgeous and lustrous lemon curd that adds that rich, sweet and tangy lemon flavour we're craving for.
Like I said earlier, I make my own lemon curd but you can certainly use your own recipe or just buy a jar of your favourite brand from the store.
I strongly recommend you try to make homemade though – so delicious, so easy and it only takes 10 minutes!
The full recipe for delicious homemade lemon curd is here.
Can I substitute lemon pie filling for the lemon curd?
Lemon pie filling contains water and cornstarch to thicken it while lemon curd is made with eggs, butter and sugar. So you can expect not only the texture to be different but the flavour as well.
Pie filling won't be as lemony as lemon curd and won't be as rich. Which is why I always use lemon curd in this recipe.
However, if you are using lemon pie filling for this cake, you need to be careful that the cake doesn't become too soggy in the middle and the filling doesn't ooze out at the sides because it's too watery.
Does cake with lemon curd need to be refrigerated?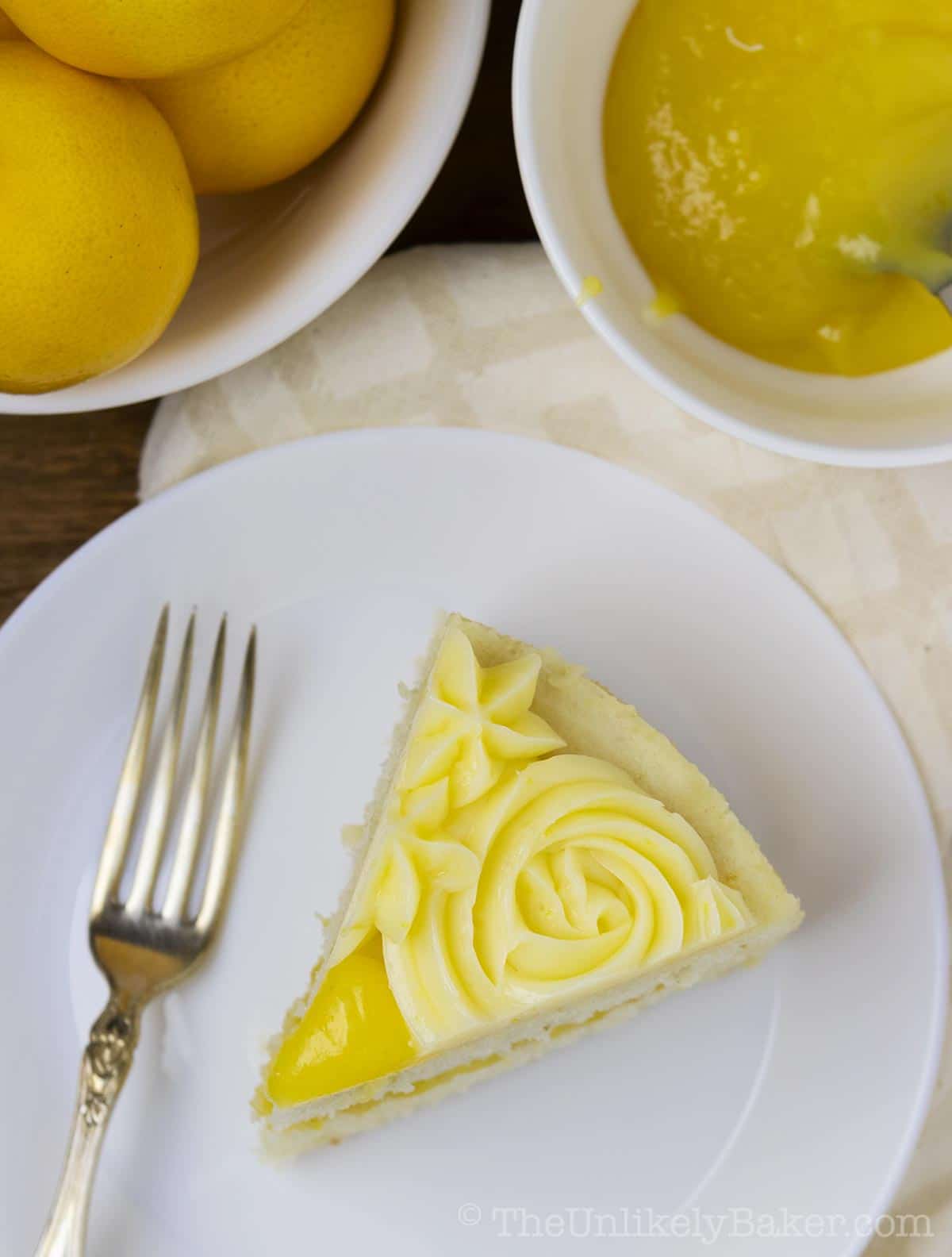 Personally, I always refrigerate lemon curd cake since the lemon curd is made with eggs and I make it from scratch. Commercially-made ones have ingredients that help preserve it longer…but I still won't risk it.
There are conflicting opinions online though so it's really a personal choice. My suggestion is to err on the side of caution on this one.
Don't worry – the cake will remain soft and moist in the fridge because the buttercream acts like a cling wrap protecting it from air and moisture. Here are more tips on how to store cakes.
Can I substitute all-purpose flour for the cake flour in the recipe?
The main difference between cake flour and the more popular all-purpose flour is their protein content (that thing that becomes gluten). Cake flour has about 8-9% while all-purpose flour has about 10-13%.
This means cake flour results to baked goods that have super-tender texture with a fine crumb.
If you don't have cake flour, you can still use all-purpose flour but the substitution is not 1:1. Here's a good substitution guide.
Recipes using lemon curd
Looking for other recipes that use lemon curd? You're in the right place!
Start with this no-bake lemon cheesecake. Lemon curd mixed with cream cheese makes for a delicious lemony treat.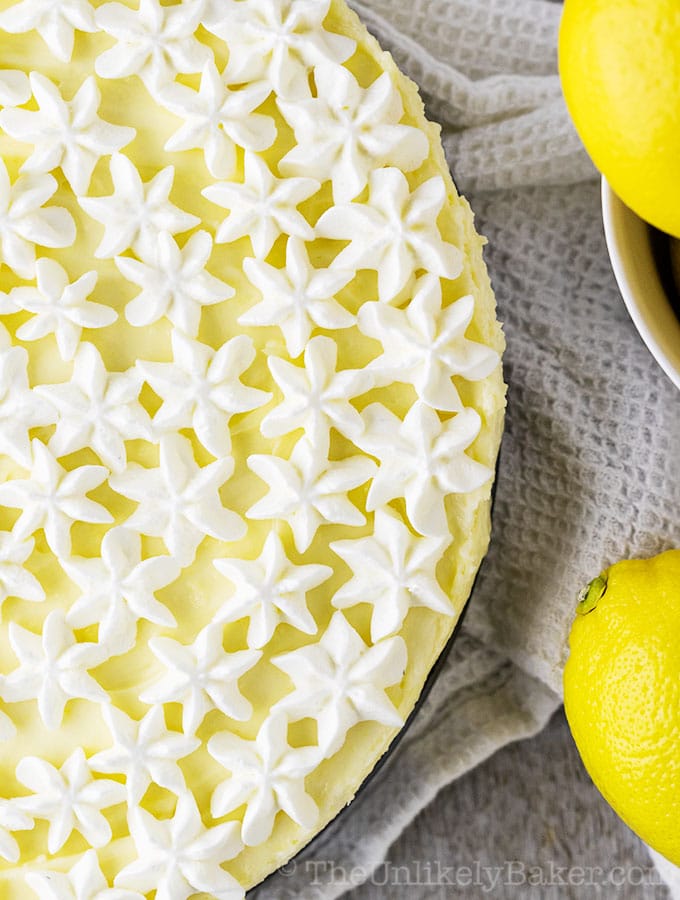 Summer calls for unlimited scoops of this homemade lemon curd ice cream. No ice cream machine, no problem. You won't need it for this recipe.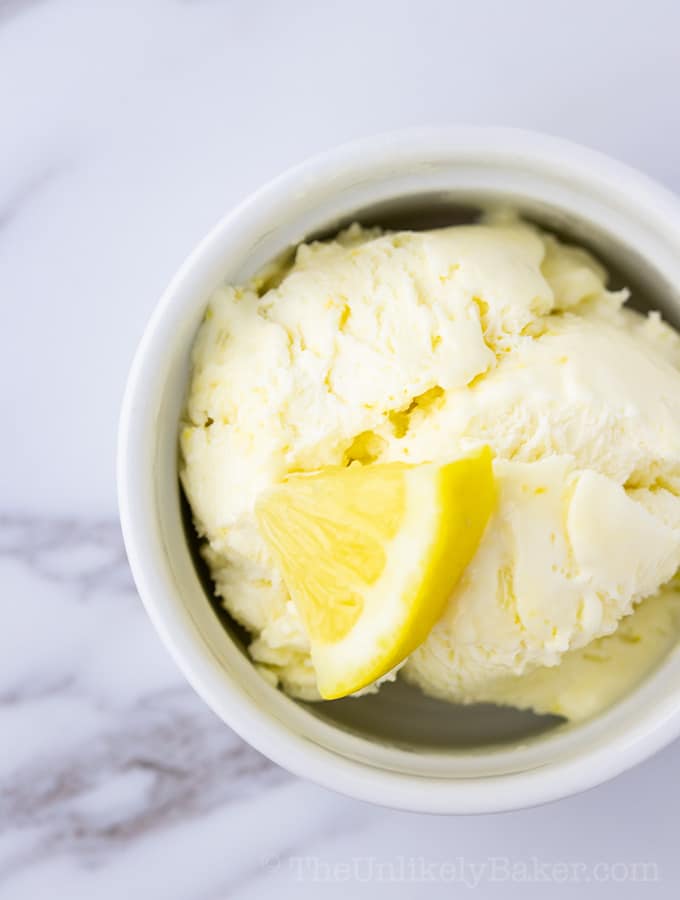 What to keep things simple? Make lemon pavlova with toasted almonds and coconut. Slather some lemon curd on top and call it a day.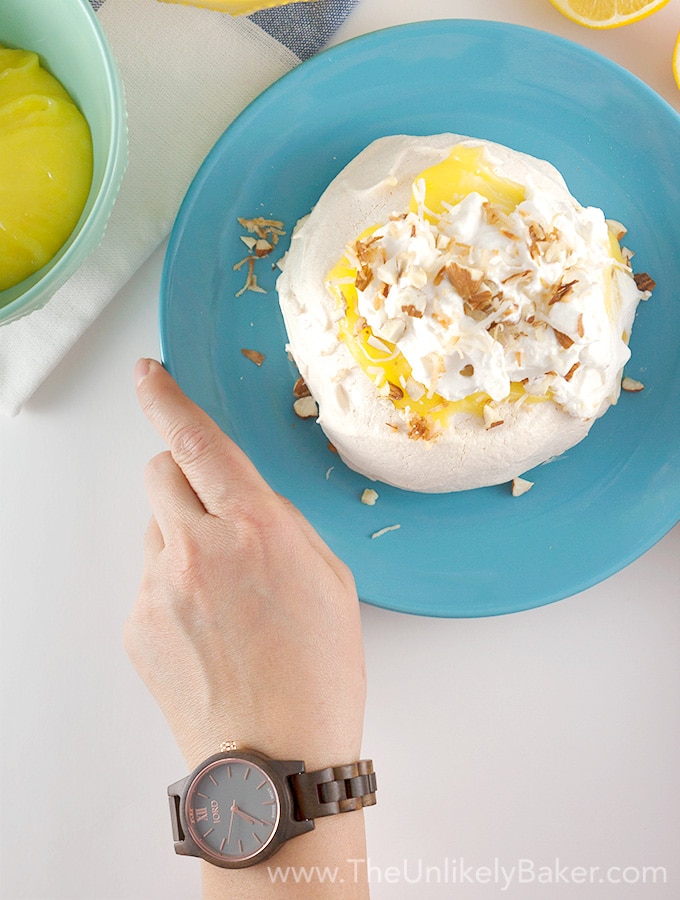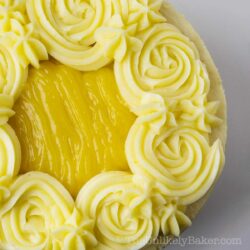 Lemon Cake with Lemon Curd Filling and Lemon Buttercream
Lemon cake with lemon curd filling – smooth and silky lemon curd reside between the layers of this soft lemony cake frosted with lemon buttercream.
Ingredients
For the Lemon Curd Filling
For the Lemon Buttercream:
1

cup

salted butter

room temperature

2

tbsp

lemon zest

3 ½

cups

confectioner's sugar

sifted

3

tbsp

fresh lemon juice
Notes
Making homemade lemon curd would make this a 2-day cake because the curd has to be refrigerated overnight.
You can also make lemon sugar ahead. The recipe for lemon sugar is super easy; I have a stash of it all the time.
Here's the recipe for Swiss meringue buttercream if you prefer to frost the cake with that. Add about ½ cup of lemon curd into the mixture and beat until smooth. Adjust to taste.
See post for the complete step-by-step photos and more baking tips.
Nutrition
Calories:
590
kcal
Carbohydrates:
84
g
Protein:
4
g
Fat:
28
g
Saturated Fat:
17
g
Cholesterol:
73
mg
Sodium:
197
mg
Potassium:
189
mg
Fiber:
1
g
Sugar:
65
g
Vitamin A:
860
IU
Vitamin C:
4
mg
Calcium:
87
mg
Iron:
0.3
mg
Nutritional information are estimates only.
Tried this recipe? Leave a star rating today!
Also tag @iamtheunlikelybaker I'd love to see your creations.
Happy baking!
Did you make this lemon cake with lemon curd filling? I'd love to hear from you in the comments section below.