Sweet bell peppers, stuffed, cooked then baked to perfection. These quinoa stuffed bell peppers are light yet filling, very tasty and good for you!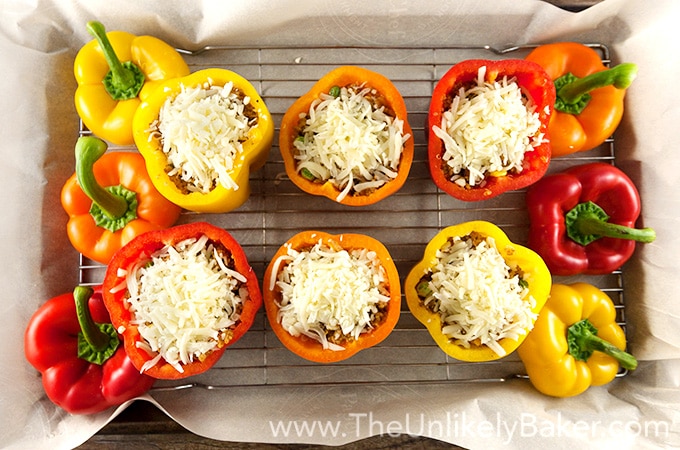 Hi everyone! How was your Easter weekend? I figure we all need a break from all that sugar and chocolate, yes? So here's a delicious, light and savoury dish for you. And yes, Red made it and I am relegated to the role of documentarian once again. Though TBH I'm liking the sound of that!
More savoury dishes coming to TUB
So maybe I'd get Red to do more recipes for the blog (I'll ask nicely).  And maybe I'll start to learn how to cook some on my own! Here are a few of the savoury dishes we have so far:
Healthy-ish lifestyle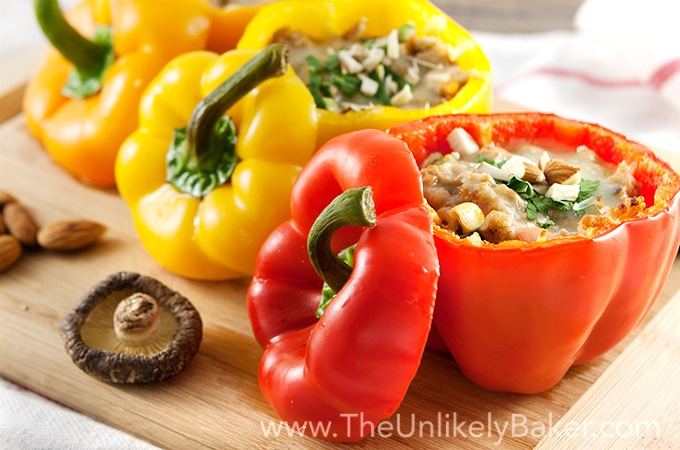 Anyway, I was telling one of my IG friends (are we IG friends? Check out my feed!) that some people might be under the impression that I eat sugary things all day everyday.
While it's a valid assumption, Red and I actually try to lead a healthy-ish lifestyle.
We do CrossFit, eat veggies and protein most of the time and, when the weather doesn't hurt our eyeballs, we love to go out on our bicycles. I'm not a 100%  health nut though. I do love my wine, have an epic sweet tooth (I blame my mom) and go on couch potato mode most winter. So everything in moderation, I guess?
What happens to all that cake?
So what happens to all the cakes and the cookies and the bars that I bake for the blog? We give most of it away. We keep about a fourth of everything (we're not that nice) but the rest go to co-workers, neighbours and family. Weee! Spread the calories! They make awesome taste-testers too.
Quinoa stuffed bell peppers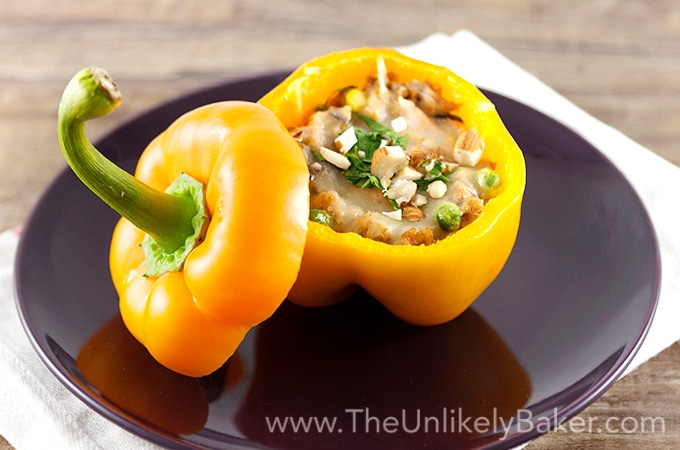 Moving on to these quinoa stuffed bell peppers. It has all the good stuff in it – quinoa, vegetables…ketchup (you know Filipinos love ketchup!) – then it's topped with even more goodness – cheese and toasted almonds.
It's not a vegetarian dish but it's totally customizable.
Quinoa stuffed bell peppers are light yet filling and totally delicious. Main or side? You decide!
Click To Tweet
Main or side, you decide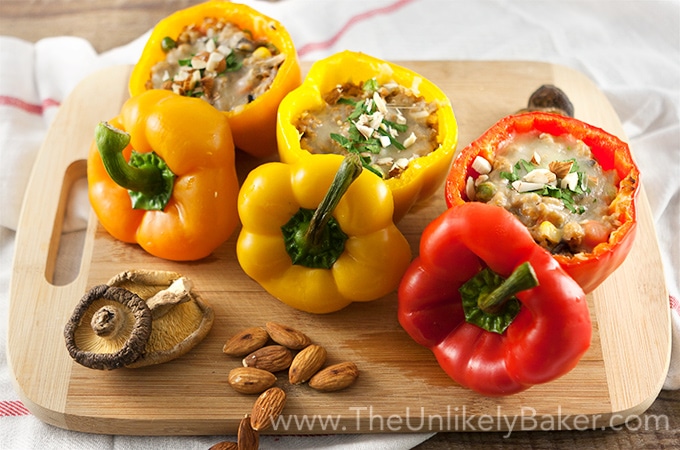 We eat these on its own though you can totally serve them alongside heavier dishes.  And while we've never served them at a party, you can totally do it. Just look how pretty they are. With cute little hats and everything.
So if you ever need something light and sorta kinda healthy but totally delicious, make some quinoa stuffed bell peppers. We can have a slice of cake tomorrow.
Cheesy Quinoa Stuffed Bell Peppers with Toasted Almonds
Sweet bell peppers, stuffed, cooked then baked to perfection. These quinoa stuffed bell peppers are light yet filling, very tasty and good for you!
Ingredients
5 tablespoons minced shallots
1 tablespoon minced garlic
1 tablespoon canola oil
500 grams (18 oz) lean ground pork
1 teaspoon Worcestershire sauce
Salt and pepper to taste
3 tablespoons almonds, chopped and toasted
1 cup cooked quinoa
1/2 cup chicken stock
1 tablespoon tomato paste
1 tablespoon tomato ketchup
1/2 teaspoon granulated sugar
1 cup frozen vegetables of your choice (we used peas, carrots and corn)
6 large sweet bell peppers with the tops cut off and seeds removed (save the tops)
1/2 cup shredded mozzarella cheese (you can add more if you prefer a cheesier topping)
Chopped parsley and more toasted almonds (optional toppings)
Instructions
Preheat oven to 350F. Line a baking sheet with parchment paper and set aside.
Using a medium sized skillet, sauté 5 tablespoons minced shallots and 1 tablespoon minced garlic in 1 tablespoon canola oil on medium heat until the shallots are soft and translucent.
Add 500 grams ground pork and cook until brown (about 6 minutes). Proceed to add 1 teaspoon Worcestershire sauce, salt and pepper to taste, and continue to stir for another 2 minutes.
Add 3 tablespoons toasted almonds and 1 cup cooked quinoa and let cook for another 3 minutes.
Add 1/2 cup chicken stock, 1 tablespoon tomato paste, 1 tablespoon tomato ketchup and 1/2 teaspoon sugar. Allow to simmer for 3 minutes. Then add 1 cup frozen vegetables and continue to simmer for another 5 minutes. Taste and see if you need to season with salt and pepper.
Remove from heat and set aside.
Place 6 bell peppers on your baking sheet (including the tops, just place them to the side) and fill with your quinoa mixture. Top with mozzarella cheese and bake for 15 minutes or until the cheese is bubbling and fully melted.
Sprinkle with more toasted almonds and chopped parsley before serving.
https://theunlikelybaker.com/quinoa-stuffed-bell-peppers/
This delicious recipe brought to you by www.TheUnlikelyBaker.com | (c) 2016-2017
Happy cooking  and baking!
Did you make quinoa stuffed bell peppers? I'd love to hear from you in the comments section below.
Like stuffing food inside of other food? Me too! Try these:
And let's get social! Find me on Facebook, Pinterest, Instagram, Twitter, Google+ and Flipboard.
Or subscribe so you don't miss a recipe. I promise I don't spam (I hate spam too).
Do you want to improve your food photography, monetize your blog or start your very own food blog? Check out my Blogging Resources.