Sweet delicious purple yam enveloped within soft fluffy brioche – ube bread rolls are perfect with your morning coffee or your afternoon tea!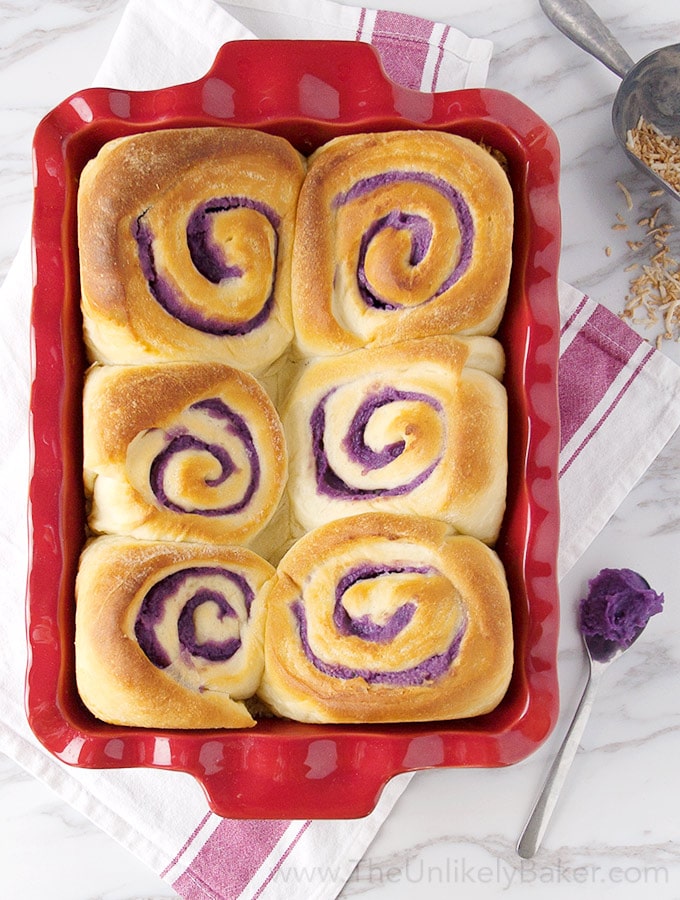 Here's another ube recipe coming your way! Can you tell I love ube (Filipino purple yam)? Which is funny because when I lived in Manila and all things ube were abundant, I didn't really pay it a lot of attention.
But now that it's like a treasure hunt every time I want some, all I want to eat is ube. I'm happy more and more places have discovered and are serving ube dishes now though. Makes the hunt a little easier for me!
Some of you have told me you've tried ube and found it wasn't really your cup of tea. Which is fine. I don't like okra LOL! We all have our little quirks.
If you haven't tried ube yet though, I hope you get to one day soon. Then you can see what the fuss is all about. And you get to decide if it's your okra. Or not. You may find you love this purple deliciousness too!
Basic bread roll recipe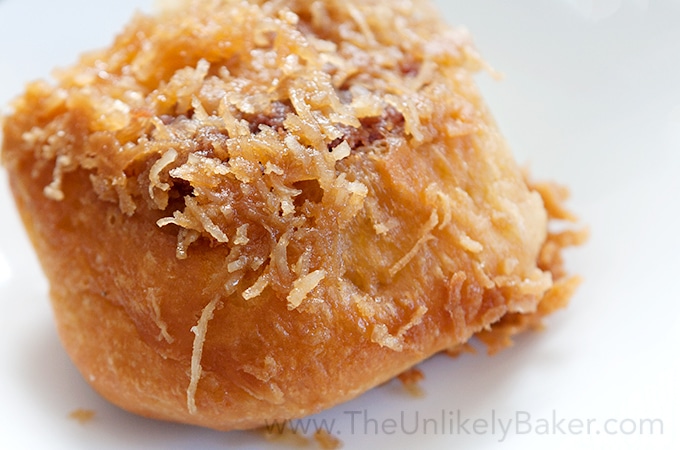 The recipe I used for the rolls here is similar to the one I used for my Easy Ensaymada Recipe, which is another kind of Filipino bread. Cheesy and sweet and delicious!
Toasted coconut topping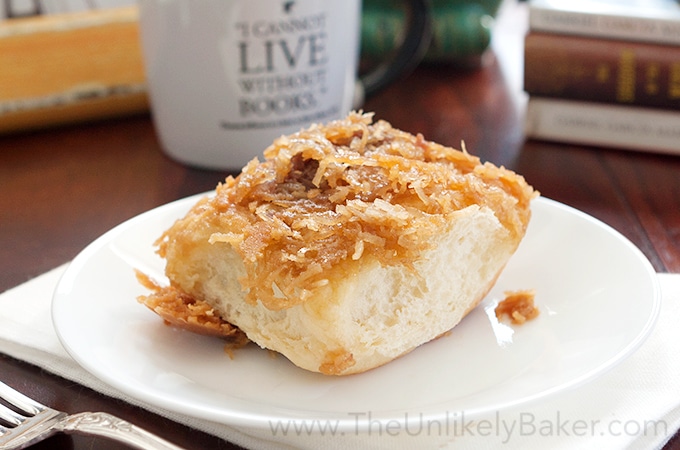 For these ube bread rolls though, instead of cheese I decided to make a brown sugar and toasted coconut topping and it is divine. It goes so well with the ube rolls and gives them great texture and crunch.
Ready to try ube bread rolls?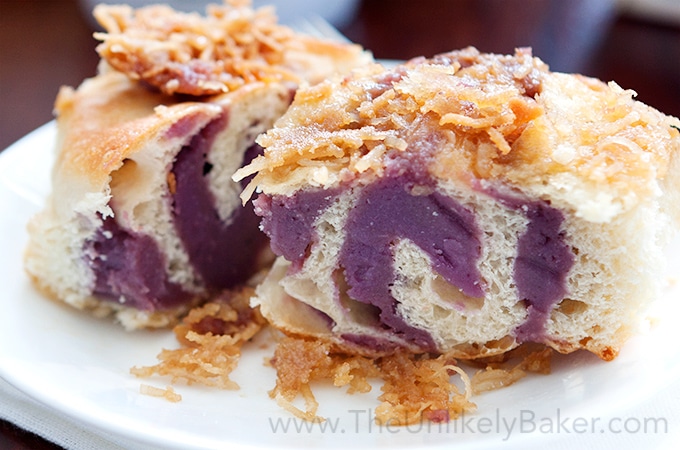 Ube bread rolls are common in the Philippines and come in all shapes and sizes. For my version, just think of them as cinnamon rolls but instead of cinnamon you have ube and instead of frosting you have toasted coconut!
I also tried to make the process as simple as possible. I know it's still kinda sorta a lot of steps but trust me, you will be rewarded with soft, delicious ube bread rolls that might just be the thing to make you an ube fan!
Sweet delicious purple yam enveloped within soft fluffy brioche - ube bread rolls are perfect with your morning coffee or your afternoon tea!
Ingredients
Phase 1:

1/2 cup (120 ml) warm water (about 110F)
1 package (0.25 oz) active dry yeast
1 teaspoon granulated sugar
Phase 2:

1/2 cup (120 ml) milk
1/4 cup (50 g) granulated sugar
1 teaspoon salt
1/4 cup (57 g) unsalted butter, room temperature
Phase 3:

2 large eggs, room temperature and lightly beaten
4 cups (512 g) all purpose flour
1 tablespoon canola oil (you can substitute any flavourless oil)
Phase 4:

1/2 cup (113 g) unsalted butter, melted and allowed to cool slightly (+ more melted butter for brushing)
1/2 cup (110 g) packed brown sugar
1 cup (80 g) unsweetened shredded coconut
15 oz (350 g) ube jam
Instructions
Phase 1:

In a measuring cup, stir 1/2 cup warm water, 1 package active dry yeast and 1 teaspoon sugar until dissolved. Set aside and let stand until bubbly (about 10 minutes).
Phase 2:

In a medium saucepan on medium heat, warm 1/2 cup milk until you see bubbles forming at the edges. Remove from heat and stir 1/4 cup sugar, 1 teaspoon salt, and 1/4 cup butter until the butter has completely melted.
Set aside and let cool until lukewarm.
Phase 3:

In a large bowl, combine your yeast mixture, your milk mixture, eggs and 1 1/2 cups flour. Stir until combined. Proceed to add the rest of your flour 1/2 cup at a time combining well after each addition.
Once the dough starts pulling and sticking together in a ball, transfer it into a lightly floured surface and knead until smooth and elastic (8-10 minutes). When in doubt, knead some more.
Oil a large bowl with 1 tablespoon canola oil. Place your dough in the bowl and turn to ensure the whole dough is coated. Cover with a damp cloth and allow to rise in a dry warm place (about 90F) until it doubles in size (about 1 hour).
Phase 4:

In a medium bowl combine 1/2 cup melted butter, 1/2 cup brown sugar and 1 cup unsweetened shredded coconut. Pour into a greased baking dish (see notes) and spread evenly on the bottom.
When your dough is ready, transfer it into a lightly floured surface and roll into a 12x14 inch rectangle. Brush the dough with melted butter then spread ube jam (see notes), leaving a half inch border around.
Tightly roll the dough and pinch the seams to seal. Brush with more melted butter. Cut the roll into 6-9 pieces (depending on the size of your baking dish, see notes) and place cut side down on your baking dish. Space them out evenly to allow the dough space to rise. Cover and let rise for another 30 minutes to 1 hour.
When your rolls are just about ready, preheat your oven to 375F and bake for 20 minutes or until golden brown.
Let the rolls cool slightly in the baking dish before you invert them onto a serving platter. You can also opt to scoop them out one by one. Top with more toasted coconut from the bottom of the dish.
Notes
The baking dish you see in the photos above is 8x11 inches. I've also baked these in a 9x13 inch dish. The size of pan you use will determine how many rolls you can make. For 8x11, I made 6 giant rolls. For 9x13, I made 9 fairly large ones.
To make ube jam more spreadable, I leave it out on the counter for about an hour before I plan to use it. If it's still too tough, I microwave it for 10 seconds or so to soften it further.
https://theunlikelybaker.com/ube-bread-rolls-toasted-coconut/
This delicious recipe brought to you by www.TheUnlikelyBaker.com | (c) 2016-2017
Happy baking!
Did you make ube bread rolls? I'd love to hear from you in the comments section below.
Here are other ube recipes you can try:
And let's get social! Check the sidebar (if on your desktop) or the bottom of this post (if on your mobile) for ways we can connect.
Or subscribe so you don't miss a recipe. I promise I don't spam (I hate spam too).
Do you want to improve your food photography, monetize your blog or start your very own food blog? Check out my Blogging Resources.