There's this place in Toronto where people line up for as long as 2 hours (sometimes longer) to buy Japanese cheesecakes. They only allow a maximum of 2 cakes per person and only sell a certain number of cakes per day. So it doesn't matter if you've been in line for half your life on a very cold winter day; if they're sold out, you go home (crying and/or pulling your hair out optional). It's gotten so crazy that they've set up a Twitter account to announce to the cheesecake-eating world how long the line-up is at that specific point in time. That's how good their cheesecakes are.
Skip the lines, make your own Japanese cheesecake
However, I'm not really good with line-ups. In fact I kind of hate them. So I looked for bakers in YouTube (I think Baking with Mi is my favourite so far) to see what it takes to make these cakes. I certainly won't stand in line for them but I will absolutely try to bake one myself.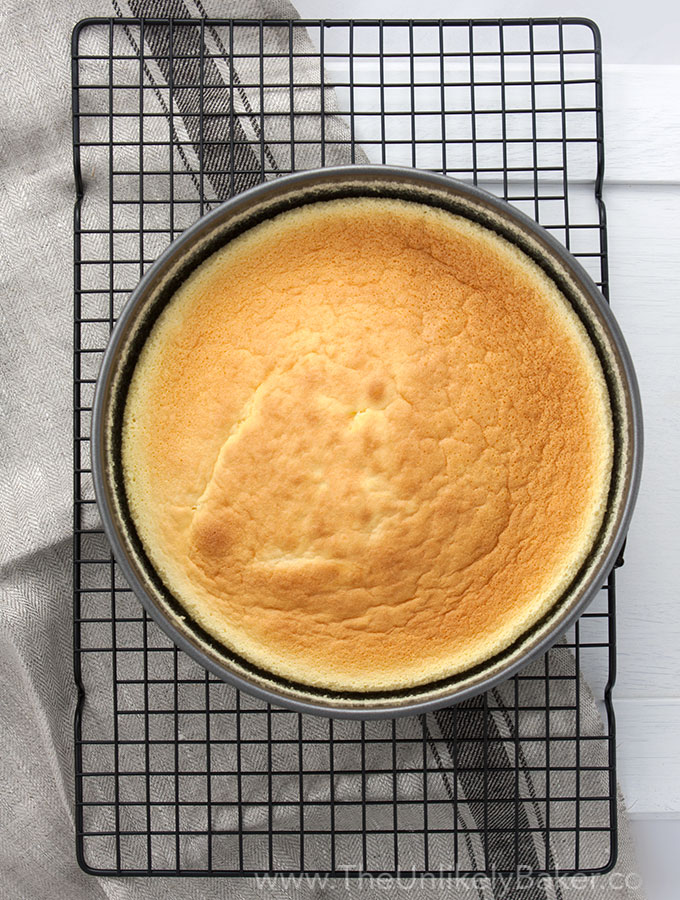 Because Japanese cheesecakes are delightful – not too sweet with just a hint of cheesecake. What makes them so great is the texture. They are unbelievably light, unlike the very dense New York cheesecake that I think we're all more used to. They are closer to chiffon cakes than cheesecakes really, but wonderfully softer.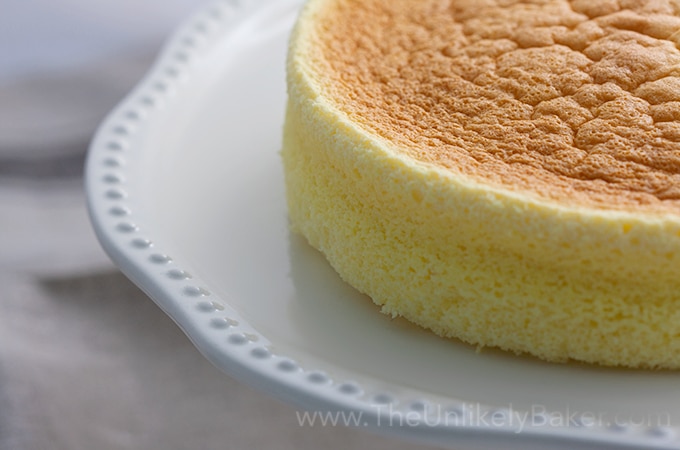 You can do it!
Making a Japanese cheesecake is essentially the same basic ingredients and set of very specific instructions. I'm a self-taught baker so I have no idea if my technique is correct so all I can do is follow the recipe as best I can, handle the egg whites as carefully as possible, and watch the oven like a hawk. And I am rewarded with a lovely cheesecake every time. My point is: if someone like me can do it then certainly anybody can.
PS: The recipe I've been using measures ingredients by weight but I know not everyone owns a kitchen scale so I also provided the volume equivalents in the recipe below. I tested the recipe using that (I got your back) and I'm happy to report that version turned out great too (just make sure all your ingredients are room temperature ok?). Don't let not owning a kitchen scale stop you from baking this (for lack of a more appropriate word) yummy Japanese cheesecake.
Japanese Cheesecake
Ingredients
60 grams (1/2 cup + 2 tablespoons) cake flour
20 grams (3 tablespoons) cornstarch
1/4 teaspoon salt
1 8oz block cream cheese
50 grams (1/4 cup) unsalted butter
100 ml (1/2 cup) milk
1 tablespoon fresh lemon juice
6 egg whites
1/4 teaspoon cream of tartar
140 grams (2/3 cup) granulated sugar
6 egg yolks
Instructions
Line the base of an 8-inch springform pan with parchment paper and grease with oil or butter. Since we're baking this cheesecake in a water bath, wrap your pan with heavy-duty aluminum foil to avoid seepage later.
Sift cake flour, cornstarch and salt. Set aside.
Melt cream cheese in a double boiler then add butter and milk. Mix well until combined. (I don't like double boilers so I sometimes just use the "Soften" feature of our microwave to melt the cream cheese. I don't melt it all the way - just until the point where I can finish the melting process myself by mixing the cream cheese with a spatula. I then add the butter and milk, pop it in the microwave for a quick 10 seconds and then mix again.)
Remove from heat then add in the flour mixture and lemon juice, and stir until combined. This cream cheese mixture needs to cool so while waiting, preheat your oven to 325F and work on your egg whites.
Using a stand mixer with the whisk attachment, whisk the egg whites with the cream of tartar until soft peaks form (you can also use an electric mixer or even whisk the egg whites by hand - just think of it as a mini-workout).
Gradually add the sugar until stiff peaks form.
At this point your cream cheese mixture should be cool so you can mix in the the egg yolks. Stir until well combined. To ensure there are no lumps, sift and transfer this mixture into another bowl.
Go back to your egg whites and gently fold a third into your cream cheese mixture. Add another third and fold. Then add in the rest of your egg whites and fold until just combined.
Pour your batter into your springform pan and lightly drop on your counter a few times to release any air bubbles.
Put the springform pan in a roasting pan with about an inch of cold water.
Bake for 45 minutes or until set and golden brown.
Turn off the oven but to avoid cracks, leave the cheesecake in the oven with the door slightly open for another 5 minutes.
Then take the pan out and cool completely. Carefully remove the cake from the pan and chill in the fridge overnight to allow it to set.
Leave on the counter for about 10 minutes before serving.
© 2021 This delicious recipe brought to you by www.TheUnlikelyBaker.com | (c) 2016-2017
Happy baking!
Did you make Japanese Cheesecake? Tell me how it went in the comments section below. I'd love to hear all about it. There are more cake recipes here.
And let's get social! Find me on Facebook, Pinterest, Instagram, Twitter and Google+. Or subscribe so you don't miss a recipe (if you missed the pop-up form, there's another form at the bottom of this page).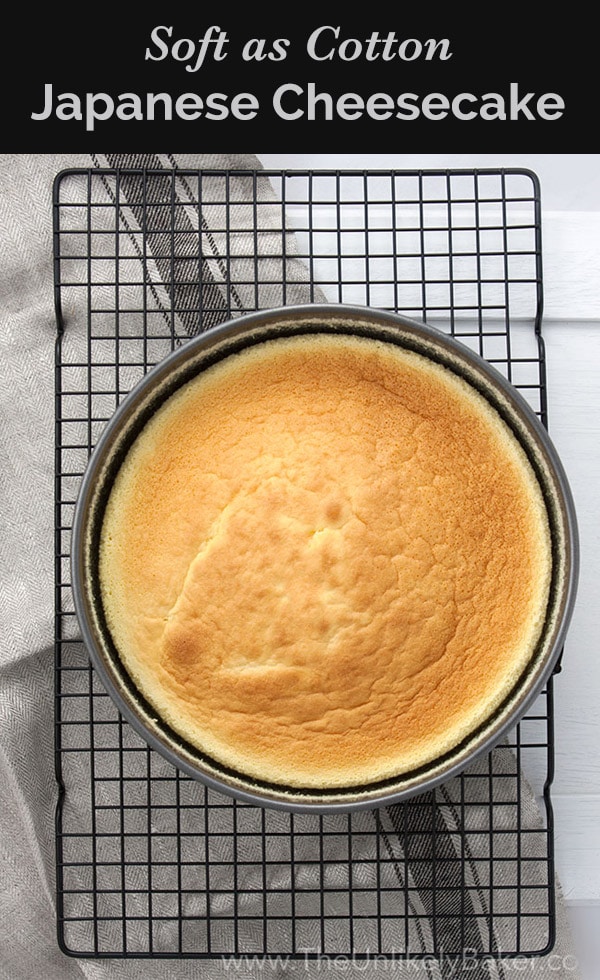 Do you want to improve your food photography, monetize your blog or start your very own food blog? Check out the awesome resources at the bottom of this page (they are affiliate links).
The products below are affiliate links too – these are products that I actually use and/or think are cool. If you click on them and subsequently make a purchase, please know that I will earn a small percentage from Amazon – at no additional cost to you. (See Terms of Use for more info on privacy and how we collect/use collected data on this site.)