Meringue cornflake cookies are delightfully chewy, filled with crunchy cornflakes and bursting with bits of chocolate chips. It's the kind of cookie you'd love to eat on a cold winter day, sitting by the fire, sipping hot chocolate or warm milk.
(Looking for more cookie recipes to add to your holiday baking? Try these chewy and chocolatey M&M cookies — so fun and festive to make! If you have crinkle fans and we are all of us crinkle fans, these chocolate crinkles and ube crinkles do not disappoint.)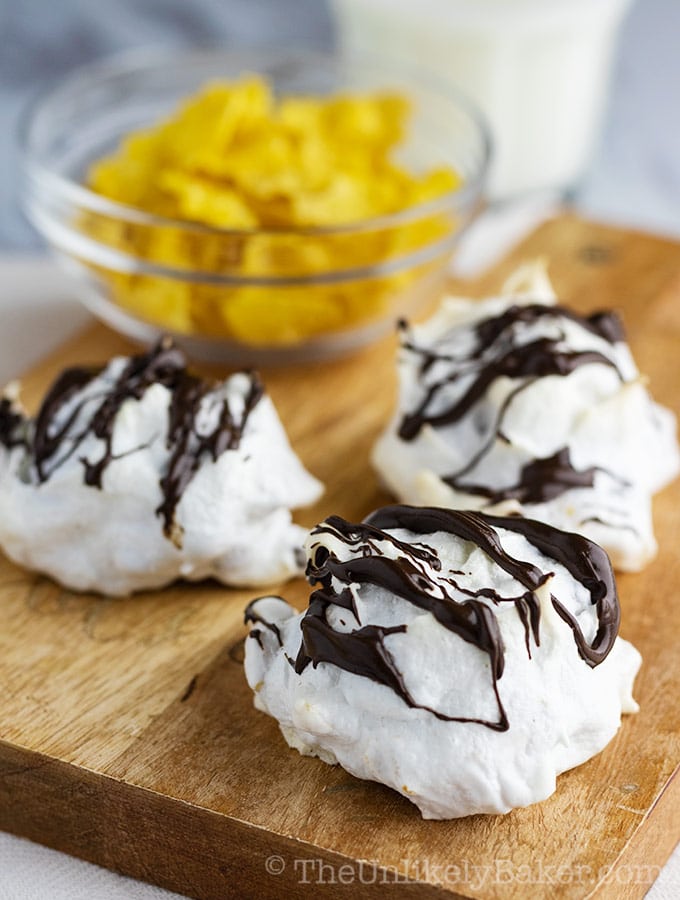 There's just something about these meringue cornflake cookies that's so cozy and Christmasy. In fact, they're based on a popular Icelandic holiday cookie called Marens-Kornflexkökur.
Here, they're called a variety of names like cornflake meringue drops, meringue cornflakes, cereal meringue cookies or simply meringue cornflakes. Whatever you want to call them, they are chewy meringue filled with crunchy cornflakes with bits of chocolate chips in every bite.
Not too sweet, chewy and crunchy, chocolatey, thoroughly addicting.
What's not to love?
And since it's the holidays, let's drizzle more chocolate on top or dip each cookie in chocolate to make a meringue cookie sandwich. Then you'll have a Christmas treat everyone will ask for year after year (and most likely even when it's not Christmas!).…