The mouth-watering flavour trifecta of apple, cinnamon and cardamom bursts in every bite of this apple crumble coffee cake. Crunchy on the outside, tender on the inside, it's perfect with coffee or tea on a crisp fall day.
(Oldie But Goodie: This post first appeared on The Unlikely Baker on September 21, 2016. I've given it fresh pictures, a shiny new video and an updated recipe. Enjoy!)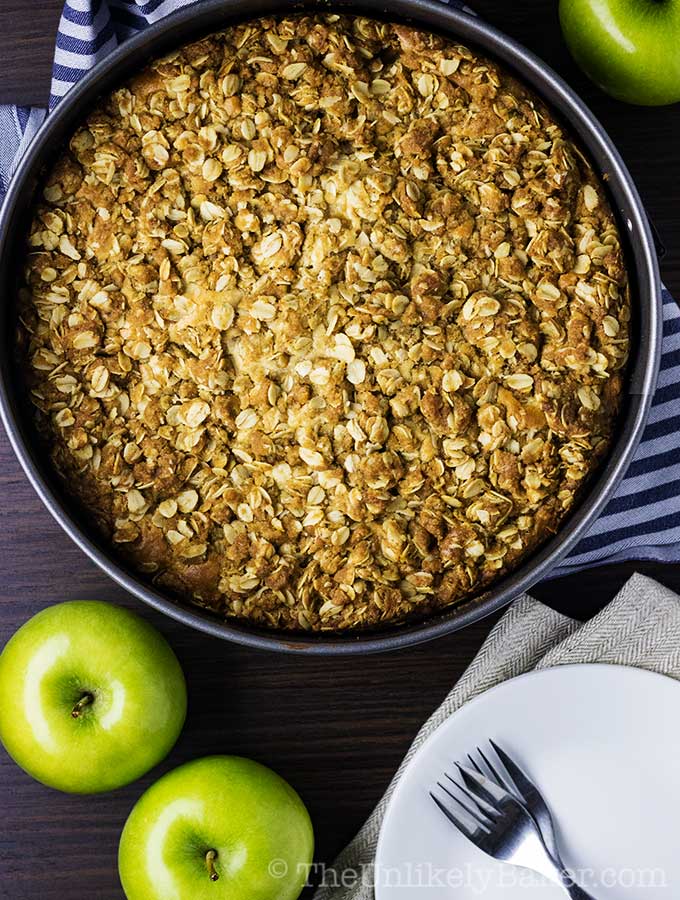 (Love apples? Then you'd love these Crunchy Salted Caramel Apple Crumble Bars or this Salted Caramel Apple Cheesecake with Pecan Crisp Topping.)
This is it, you guys. The first official weekend of fall. Depending on where you are on the seasons scale, you're either rejoicing or feeling a little blue.
Me, I'm little blue. Winters are always tough for me (I mean, winters here hurt my eyeballs) and fall kind of ushers that in (gotta love fall fashion though!).
Anyway. So there's this cake. It doesn't have frosting. It's not lemon or chocolate. But dang it's one of the most delicious I've ever made.
It's so soft and tender on the inside but has this nice crunch on the outside. And it's filled with that delicious apple flavour accented with hints of cinnamon
and cardamom
. You gotta try it.…