Bourbon pecan pie bars – your favourite pecan pie bite-sized! Enjoy the sweet, boozy, delicious flavours of pecan pie minus all the challenges of making one.
(Can't get enough of pecan desserts? Try pecan pie cheesecake bars. Caramel butter pecan topping, creamy cheesecake layer, graham cracker pecan cookie base. Delicious!)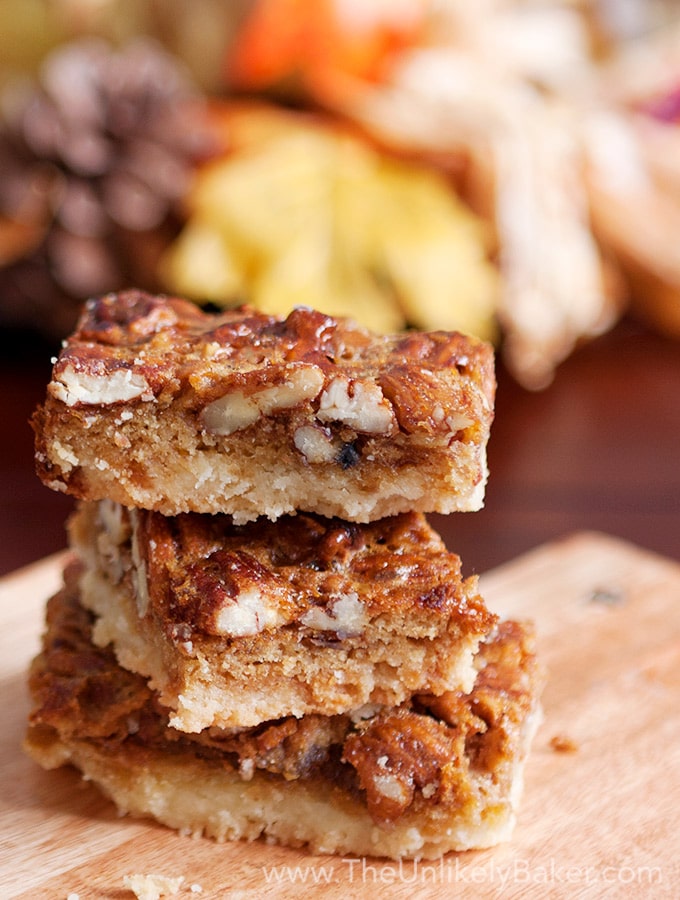 It's November and the holiday baking season is in full swing. Technically however, the baking frenzy at our house started early because Canadian Thanksgiving happens in October (lots of people are surprised to know this!).
American Thanksgiving is coming up though and to celebrate with my American friends, from now until then I will share some amazing desserts that are not only delicious but also a breeze to make.
Let's start with these bourbon pecan pie bars. The name says it all – boozy, sweet, nutty (i.e. tasting like nuts and not insane…though, can also mean insanely good)! And you can make them quicker than you can say pie.
Shortbread crust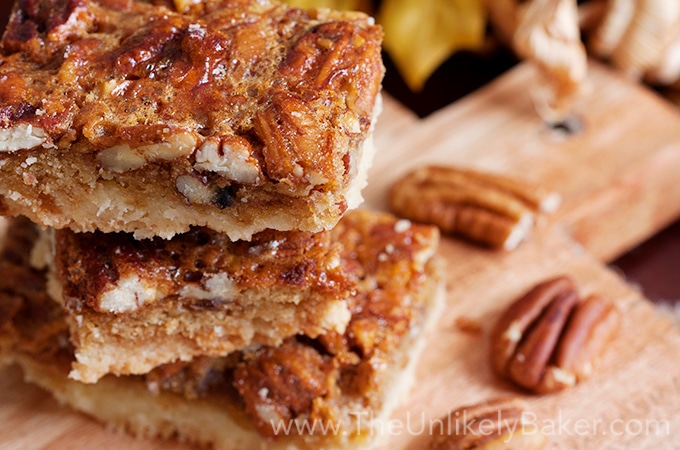 The crust I used here is the same crust I used for my favourite lemon bars. It's tender but sturdy enough to hold the filling on top. It's also the right amount of sweetness to complement the bourbon pecan topping.
Related: Pumpkin Pecan Muffins with Pecan Streusel Topping
Scrumptious golden syrup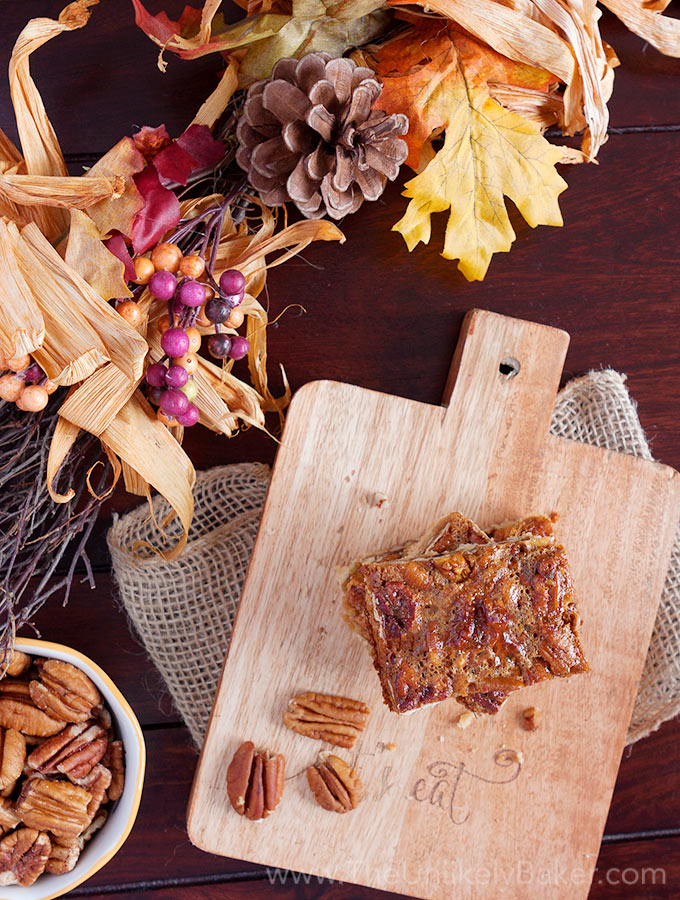 Next I used golden syrup
instead of the usual corn syrup. Have you heard of it? I first tasted it when I made my treacle tart and oh my word I was hooked. It is fantastic.
I think it's more widely known in the U.K. and not so much in North America but it is available.
It has a very distinct taste. It's sweet but doesn't taste like honey or maple syrup. It's a little hard to describe suffice it to say it is good.
You can use corn syrup in this recipe but if you get the chance, grab a bottle of golden syrup you won't regret it!
Bourbon or no bourbon?
You can also choose to leave out the bourbon here but it's the holidays! I say go for it.
It adds to the awesomeness of every bite. It won't be so boozy that you'd get drunk but I promise it will be yummy.
Related: Grilled Peaches with Mascarpone Cream & Bourbon Salted Caramel Sauce
Bourbon pecan pie bars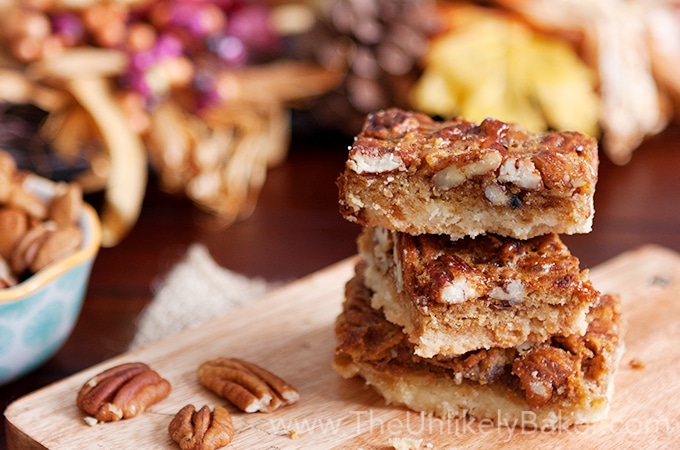 And did I mention this is a breeze to make? Watch the video and see how easy!
You have no pie crust to worry about – no chilling, no rolling, no crimping. You can enjoy all the goodness of pecan pie without all the hassle.
So this Thanksgiving, serve some bourbon pecan pie bars and spend more time with your guests instead of in the kitchen!
Happy baking!
Did you make bourbon pecan pie bars? I'd love to hear from you in the comments section below.
Here are easy pies and tarts you can add to your Thanksgiving spread:
And let's get social! See the sidebar (if on your desktop) or the bottom of this page (if on your mobile) to see how we can connect.
Or subscribe so you don't miss a recipe. I promise I don't spam (I hate spam too).
Do you want to improve your food photography, monetize your blog or start your very own food blog? Check out my Blogging Resources.