Ube cake (or Filipino purple yam cake) is unlike any cake you've had before. It's sweet and earthy and deliciously purple! A staple in any Filipino celebration.
(Looking for cupcakes? Check out this recipe for delicious ube cupcakes frosted with ube whipped cream. Want ube but not in the mood for cake? Try this scrumptious ube cheesecake with coconut cookie crust and coconut whipped cream or make some ube waffles or ube crinkles this weekend!)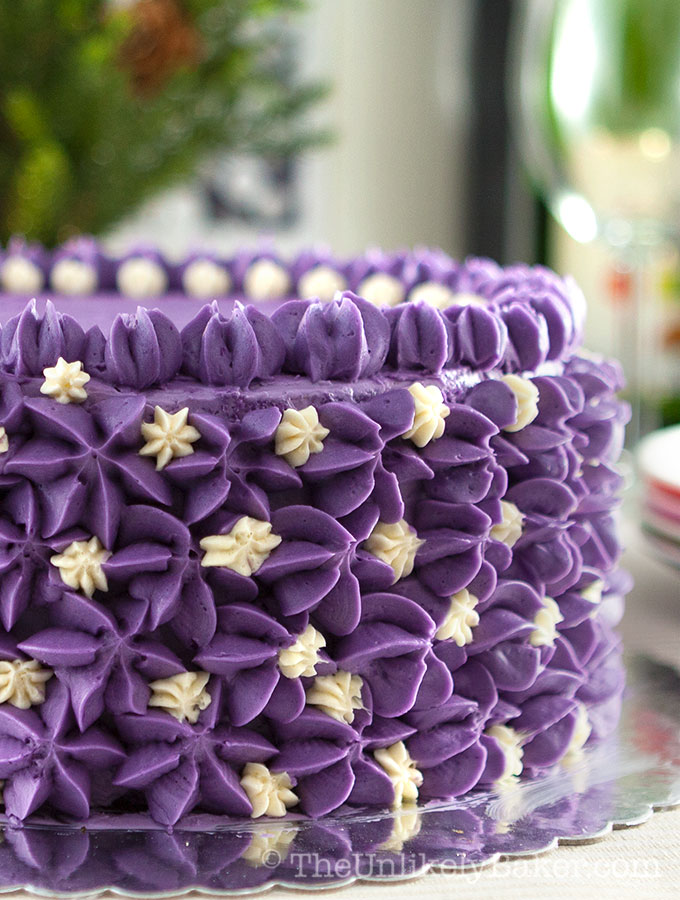 Ube (or purple yam) is not unique to the Philippines but it is definitely a national favourite. It's made into all sorts of treats like ice cream, candy, rice cakes and, my personal favourite, jam.
I must admit, it is very difficult for me to describe how ube tastes like because it's so unique it doesn't taste like anything. Seriously.
The best I can come up with is it tastes a little like sweet potato but that's not even an accurate (not even close!) description. Looks like GQ had the same problem – see their article on ube here.
Let me just say this – if a whole nation can be obsessed with ube, won't you want to know what the fuss is about? So how about it? Ready to explore?
The hunt for the perfect ube jam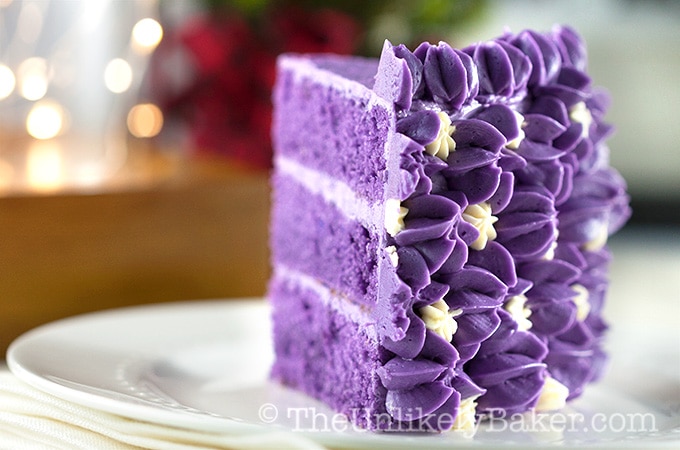 When I went home last October, at the top of my foodie to-do list was to go to the Good Shepherd Convent so I can buy boatloads of ube jam that I can take back to Toronto. The Good Shepherd sisters are known for making excellent ube jam and it's not uncommon for people to drive all the way there (Manila traffic notwithstanding) to get some.
Mission accomplished. I can only bring so much given the (very annoying) luggage weight restrictions so I was treating my stash like gold.
Time flies (or maybe I just like ube jam that much) and I am down to my last tub and I'm thinking, I should make something out of this (I mean, as opposed to just sitting on the sofa eating it like ice cream).
(Update: I've learned how to make my own ube jam! Check out this delicious and easy ube halaya recipe. It's easier to make than you think.)
Related: Ube Bread Rolls with Toasted Coconut
How to bake ube cake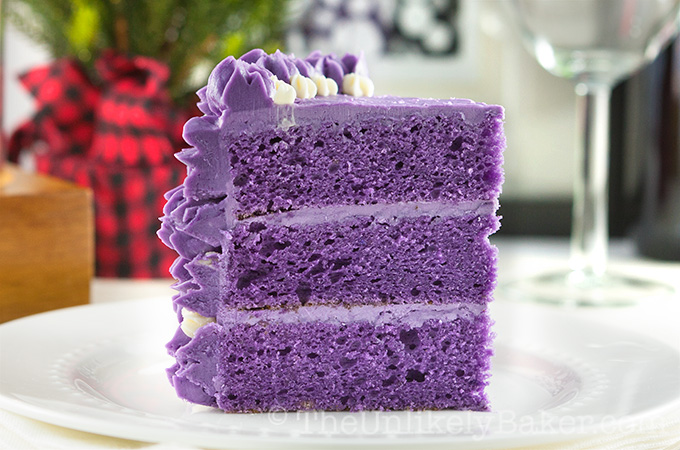 So this ube cake was born. For my previous ube cakes, I used either ube extract
or ube powder
but now, since I have the real thing, I thought to use ube jam. And the result was an ube cake that's bursting with ube flavour I could cry.
Ube cakes are technically chiffon cakes that taste like ube but this version, while still soft, is much denser, I'm thinking because of the jam which was very thick. But it is delicious nonetheless.
And like chiffon cakes, you beat the egg whites separately until stiff. Then you fold your cake batter into your egg whites.
Related: Mango Chiffon Cake with Whipped Mango Frosting
Ube cake with ube Swiss meringue buttercream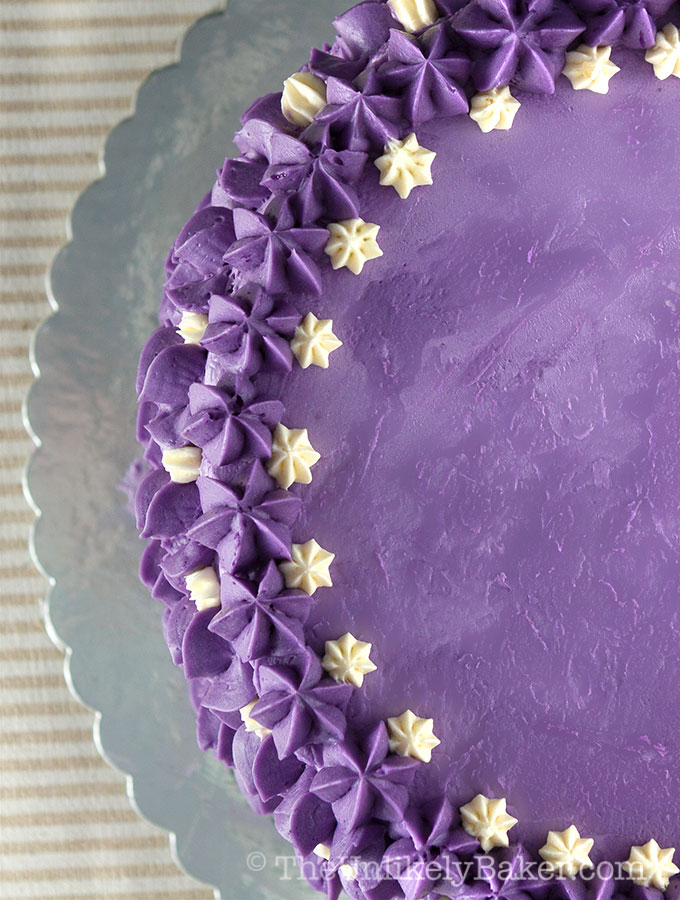 Something needs to be said about ube Swiss meringue buttercream.
Swiss meringue buttercream is my favourite frosting to make (I used it for my Rainbow Cake and for these Salted Caramel Cupcakes). Not as sweet as American buttercream, it is also more forgiving IMO.
The ube frosting here is just to-die for. Just remember that the amount of ube extract to add is up to you. So taste and adjust to your liking.
Related: Leftover Egg Yolk Recipes – 17 Ways to Use Leftover Egg Yolks
The holidays and ube cake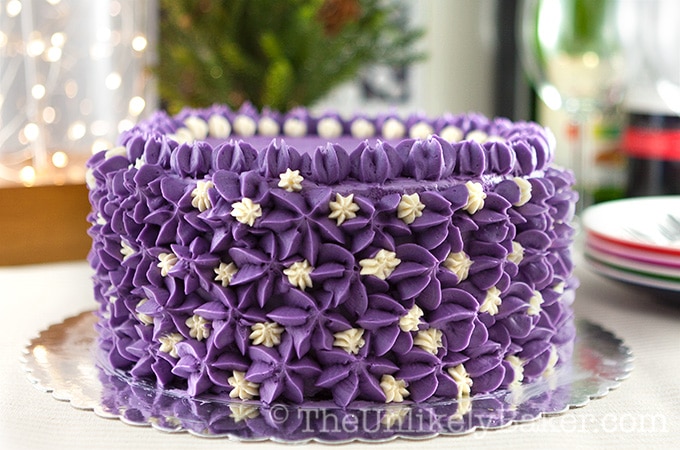 Like I mentioned before, Filipinos love Christmas and ube cake is a huge part of that. It will almost certainly be served and enjoyed at family gatherings during the holidays.
So if you're looking to serve something unique this holiday season, why not take a crack at ube cake? I apologize for the awful job I've done of describing how it tastes like however, hope you believe me when I say it is absolutely delightful.
More Filipino dessert recipes
Looking for more Filipino desserts to try? Check these out:
Baked Apple Turon with Salted Caramel Sauce
Related: How to Take Delicious Food Photos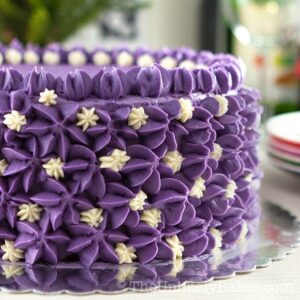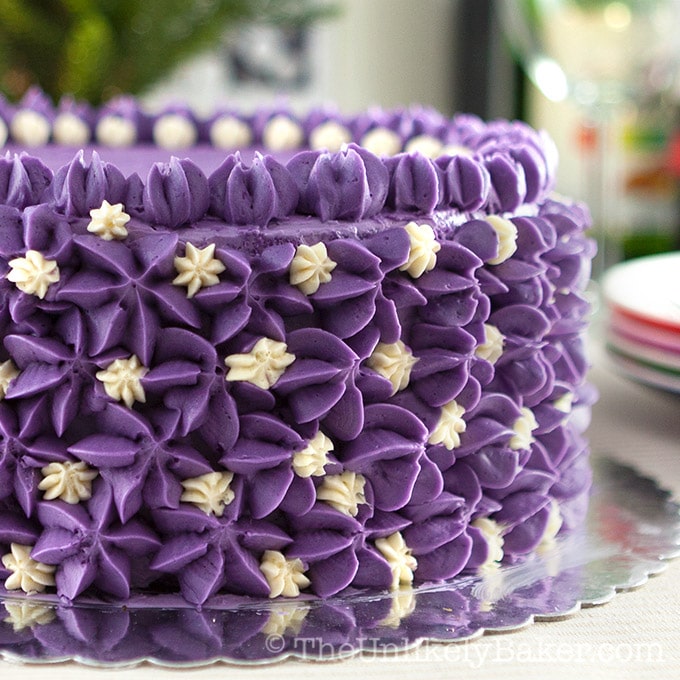 Ube Cake (Filipino Purple Yam Cake)
Ube cake (or Filipino purple yam cake) is unlike any cake you've had before. It's sweet and earthy and purple! A staple in any Filipino celebration.
Ingredients
For the Ube Cake Batter:
2 1/2

cups

sifted cake flour

2 1/2

tsp

baking powder

1/2

tsp

salt

2

tsp

ube extract

see notes

1/2

cup

vegetable oil

1/2

cup

milk

8

pcs

egg yolks from large eggs

room temperature

1/3

cup

granulated sugar

see notes

1/2

cup

ube jam

see notes

purple gel food colour

optional
For the Meringue:
8

pcs

egg whites from large eggs

room temperature

1

tsp

cream of tartar

3/4

cup

granulated sugar
For the Ube Swiss Meringue Buttercream:
5

pcs

egg whites from large eggs

1

cup

granulated sugar

+ 2 tablespoons

pinch

salt

2

cups

unsalted butter

cut into parts, room temperature

1 1/2

tsp

vanilla extract

ube extract

to taste
Instructions
For the Ube Cake:
Preheat your oven to 350F. Line the bottom of 3 8-inch round baking pans with parchment paper and set aside.

In a large bowl, sift 2 1/2 cups cake flour, 2 1/2 teaspoons baking powder and 1/2 teaspoon salt. In a smaller bowl, combine 2 teaspoons ube extract, 1/2 cup vegetable oil and 1/2 cup milk. Set aside.

In another large bowl, using a handheld electric mixer, beat egg yolks while gradually adding 1/3 cup sugar until the mixture is light yellow (about 7 minutes on medium-high speed). Add 1/2 cup ube jam and beat until smooth and no big lumps remain. If you want your cake to be a vibrant purple, you can add gel food colour at this stage and give the batter a stir until the colour is evenly distributed.

Fold a third of your flour mixture into your egg mixture just until combined. Then add half of your milk mixture, another third of your flour, the rest of your milk and finally the rest of your flour, folding each addition just until combined. Be careful not to overwork the batter.

Using a stand mixer with the whisk attachment (or your handheld electric mixer - making sure that the beaters are clean, dry and grease-free), beat the 8 egg whites on medium-high speed until they start to get foamy. Then add 1 teaspoon cream of tartar and beat until very frothy.

Gradually add 3/4 cup sugar into egg whites until you reach stiff peaks. Then take about 1 1/2 cups of the meringue and fold it into your cake batter to lighten it. Then fold your cake batter into the meringue in thirds until incorporated.

Transfer the batter to prepared pans and bake for 20-30 mins or until a toothpick inserted in the centre comes out with minimal crumbs.

Put the pans upside down on a cooling rack and cool completely.
For the Ube Swiss Meringue Buttercream:
Once your buttercream has come together, start adding 1/4 teaspoon ube extract at a time until you get the flavour you desire (I put 1 teaspoon total). Whip until the flavour is fully incorporated and the buttercream is evenly coloured.
Assembly:
Trim the tops of your cakes if they are uneven. Trim the sides too to get rid of the brown edges so you're left with a vibrant purple cake.

Fill and decorate with frosting as desired.
Notes
You can find ube extract in Asian supermarkets. And there's always Amazon (see below).
You may need to adjust the sugar content depending on the kind of ube jam you find. Ube jam can be found in Asian supermarkets as well.
Nutrition
Calories:
590
kcal
Carbohydrates:
54
g
Protein:
3
g
Fat:
40
g
Saturated Fat:
27
g
Cholesterol:
89
mg
Sodium:
109
mg
Potassium:
195
mg
Sugar:
35
g
Vitamin A:
970
IU
Calcium:
70
mg
Iron:
0.3
mg
Nutritional information are estimates only.
(Cake recipe adapted from My Sweet Ambitions).
Happy baking!
Did you make ube cake? Tell me about it in the comments section below. Have you tried ube before? I'd love to hear all about it.
And let's get social! Find me on Facebook, Pinterest, Instagram, Twitter and Flipboard.
Or subscribe so you don't miss a recipe. I promise I don't spam (I hate spam too).
Do you want to improve your food photography, monetize your blog or start your very own food blog? Check out my Blogging Resources.
(This post was updated on 11 January 2019.)