Soft, chewy filling and a delicious, crunchy crust – this chocolate brownie tart with brown butter crust is bursting with chocolate flavour and will make a great addition to your holiday table.
(Love brownies? Me too! Try these super fudgy walnut brownies with chocolate chips or these rich and chocolatey mascarpone swirl brownies.)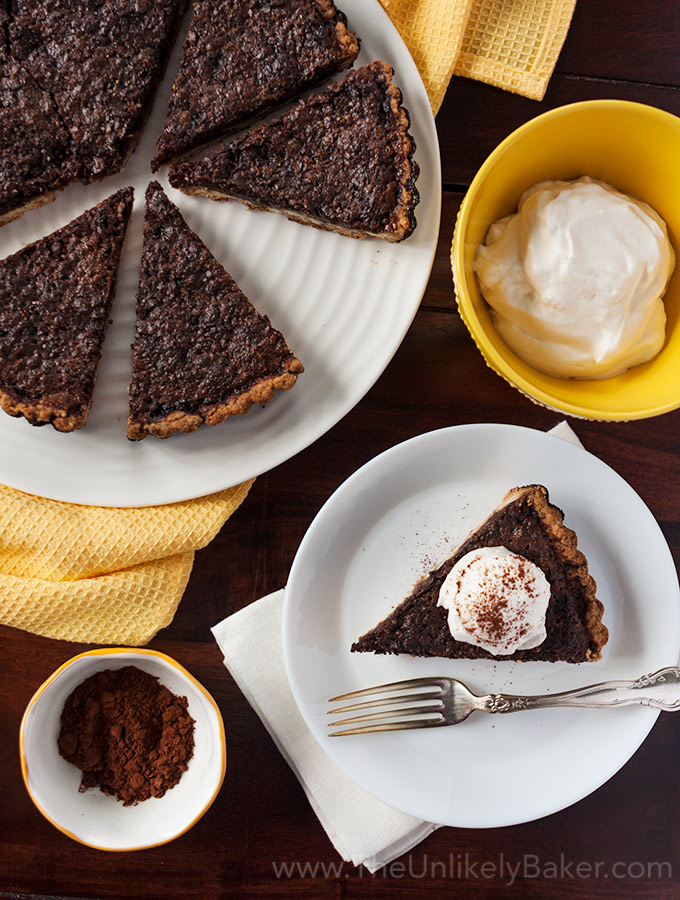 This chocolate brownie tart is the child of two amazing recipes.
The filling, I adapted from Lee Ann Flemming's take on Minny's Chocolate Pie (yes, the one from the movie with the secret ingredient!) but instead of a ready-made crust, I used David Lebovitz's take on Paule Caillat's French tart dough.
I've been experimenting with that dough for a while, mostly on lemony things, but haven't had much success. I took a break, switched to chocolate, and I'm incredibly happy with the result!
The tart is chocolatey, soft and chewy. It's not your typical ganache or fudge tart filling; it's closer to a brownie.
The crust, on the other hand, is butter browned in the oven, moulded onto the pan and baked to crispy perfection.
Together, they come together as this amazing chocolate brownie tart that's sure to please the chocolate lovers in your life this holiday season.
Minny's chocolate pie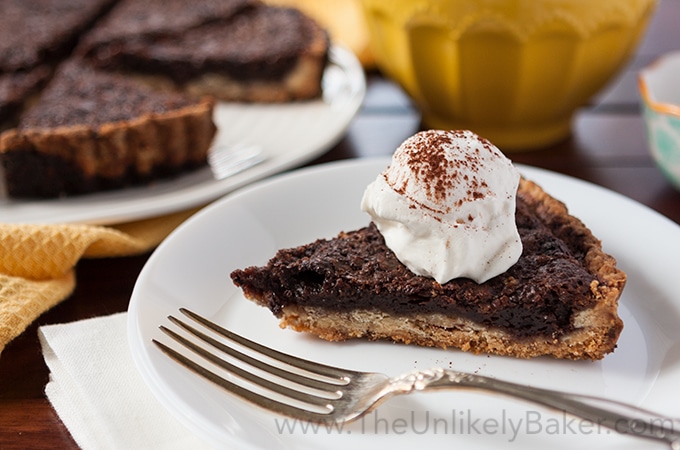 In the movie, the whole town loved Minny's chocolate pie. We all know how it turned out in the end lol!
But ever since I saw the movie
(and subsequently read the book
), I've always wondered about that pie (minus the you-know-what of course).
I'm a geek like that. Have you seen my carbonara recipe inspired by Criminal Minds
? Or my treacle tart from Harry Potter?
Anyway.
There are many recipes out there but they all seem to originate from Lee Ann Flemming's version, which I used here.
The only change I did was add espresso to make it even more chocolatey. And, well, I made a tart instead of a pie. Using a different dough.
David Lebovitz's French tart dough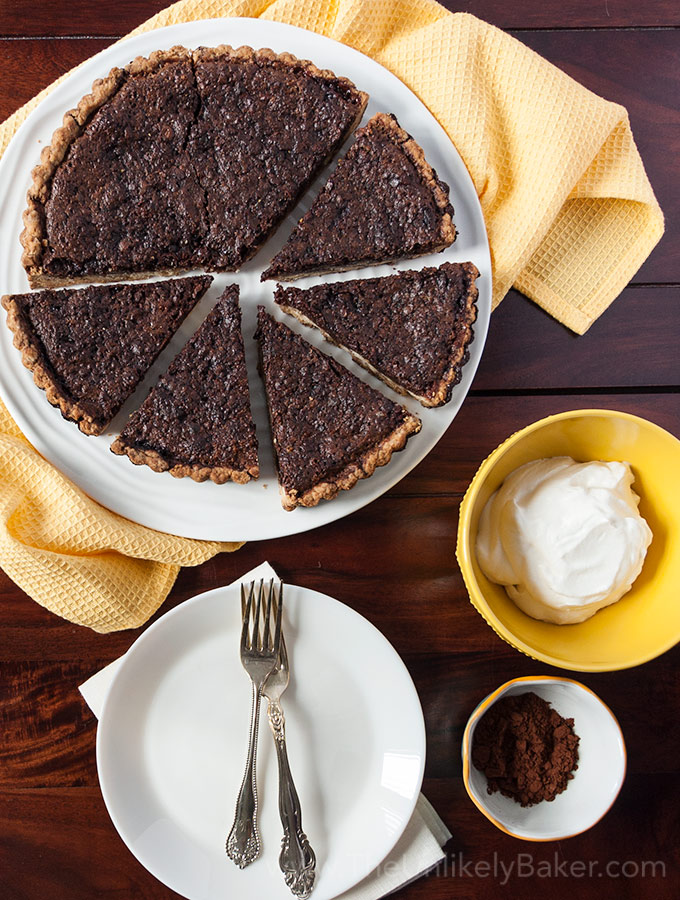 For that I turned to David Lebovitz. I have been working on his lemon tart recipe for what seems like ages but I just could not get it right.
I'm not giving up on that but in the meantime, I used the tart dough recipe here.
The dough is essentially butter that you brown in the oven. The fact that you do it in the oven really appealed to me because I haven't been successful in browning butter on the stove either.
But enough of my kitchen fiascos. The crust is glorious.
It's easier to manage than most tart and pie crusts and it tastes amazing. I had to double the ingredients to make enough for this 9-inch tart.
Chocolate brownie tart with brown butter crust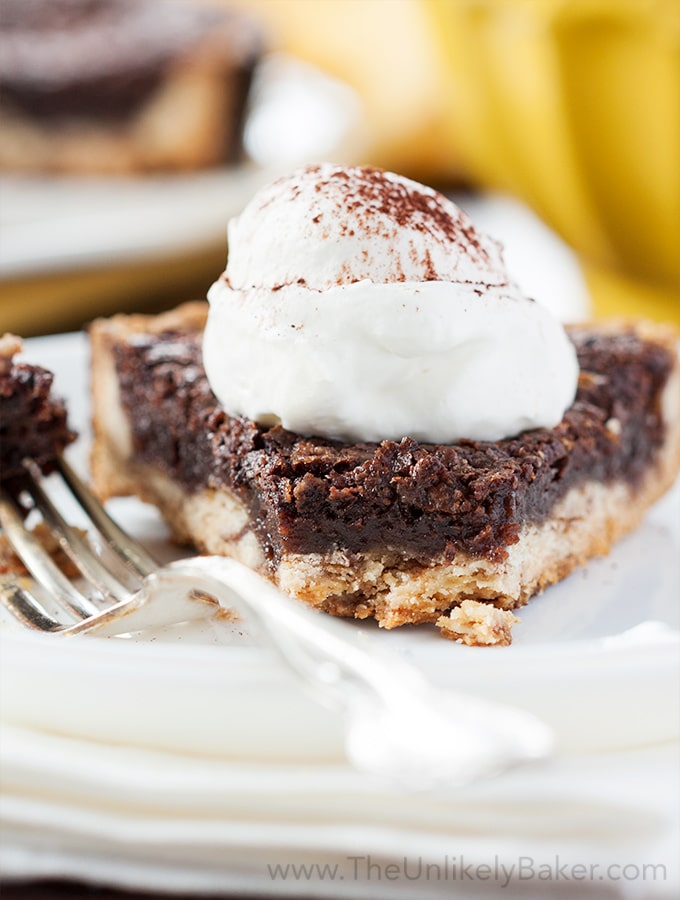 Together, they make this amazing chocolate brownie tart with browned butter crust that the whole town will absolutely talk about!
It's rich, decadent, perfect for the holidays.
Top it with a dollop of homemade whipped cream, dust with cocoa powder and you have a dessert fit for any celebration.
Happy baking!
Did you make chocolate brownie tart with brown butter crust? What's your favourite kind of tart? I'd love to hear from you in the comments section below.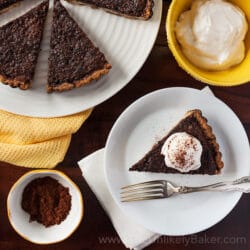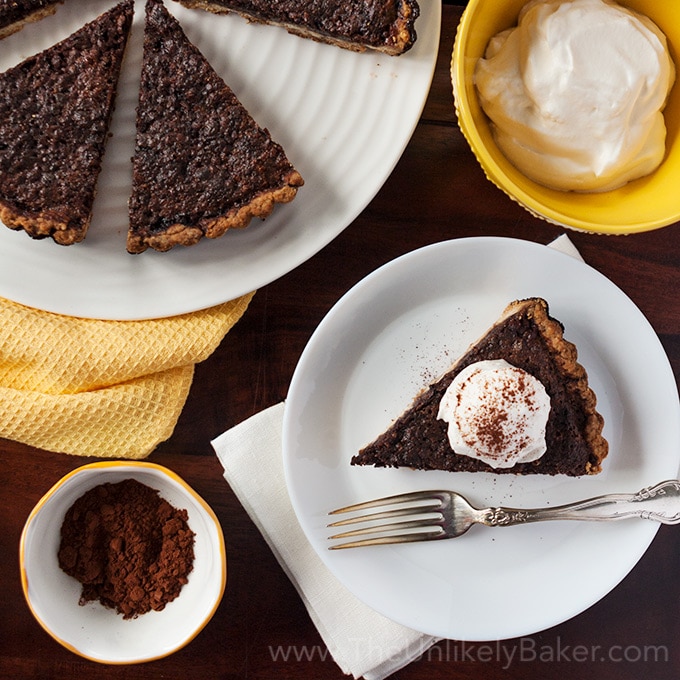 Chocolate Brownie Tart with Brown Butter Crust
Soft, chewy filling and a delicious, crunchy crust – this chocolate brownie tart with brown butter crust is a dessert fit for any celebration.
Ingredients
For the Brown Butter Crust:
For the Chocolate Brownie Filling:
Instructions
For the Brown Butter Crust:
Preheat oven to 410F.

In a large oven-proof bowl, combine all ingredients except the flour.

Place the bowl in the oven for 15-20 minutes or until the butter starts bubbling and starts turning brown around the edges.

Remove from the oven and carefully add in the flour (watch out for butter fireworks!). Stir until it starts pulling away from the sides of the bowl and sticks together in a ball.

Transfer your tart dough to a 9-inch tart pan with removable bottom and allow to cool slightly or until it is cool enough for you to handle (it's pretty hot!).

Once it cools, start to evenly spread the dough on the bottom and up the sides of your pan (see notes).

Prick the bottom and sides of your dough with a fork.

Bake for 12-15 minutes or until it turns a light golden brown (see notes).

Remove from oven and allow the crust to cool while you work on your filling. Lower the oven temperature to 350F.
For the Chocolate Brownie Filling:
In a large bowl, whisk all ingredients until smooth and thoroughly incorporated.

Pour the batter into your prepared crust and bake for 45-60 minutes or until the filling starts to set around edges but still a little wobbly in the centre (see notes).

Transfer to a rack to cool completely before removing from the pan.

Serve with whipped cream and a dusting of cocoa powder.
Notes
The original recipe suggests reserving a small amount of dough for patching up any cracks after the tart shell is cooked. I've found that I never need to do this. If making the crust for the first time, you can do it for good measure.
If you think the sides of your crust are getting too brown too fast, you can loosely cover it with aluminum foil halfway as you wait for the middle portion to catch up.
Do not over bake the tart; otherwise it will get very tough. Start checking for doneness at 45 minutes.
Nutrition
Calories:
339
kcal
Carbohydrates:
49
g
Protein:
4
g
Fat:
15
g
Saturated Fat:
8
g
Polyunsaturated Fat:
1
g
Monounsaturated Fat:
5
g
Trans Fat:
1
g
Cholesterol:
34
mg
Sodium:
120
mg
Potassium:
57
mg
Fiber:
1
g
Sugar:
29
g
Vitamin A:
355
IU
Vitamin C:
1
mg
Calcium:
14
mg
Iron:
1
mg
Nutritional information are estimates only.
Tried this recipe? Leave a star rating today!
Also tag @iamtheunlikelybaker I'd love to see your creations.