Exquisitely light and lemony. Perfectly sweet and tangy. Gorgeous sunshine yellow.  Delightful coconut cookie crust. What you have here is the recipe for the best lemon cheesecake. Ever. Topped with lemony whipped cream, you don't need to go searching for anything else.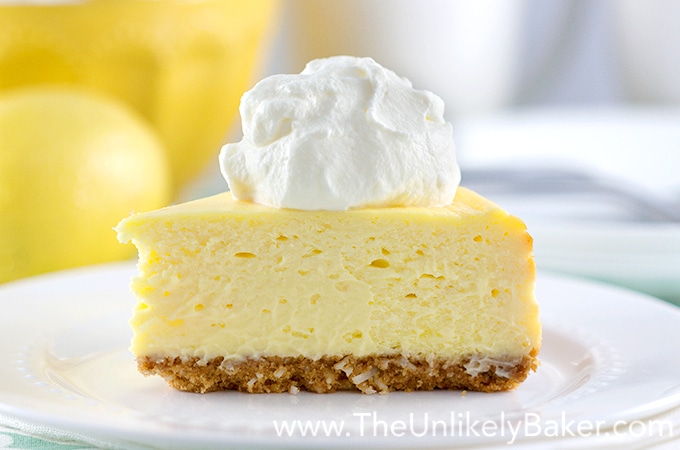 So on Monday, I professed my love for my chocolate cake with chocolate fudge frosting which I said was (and I quote), the best, the chocolatiest chocolate cake ever. It was so good it made me kind of, uhm, doubt my loyalties to Team Lemon.
It is an outstanding chocolate cake. It really is. But after much thought, I've decided that I still prefer lemon desserts over chocolate ones.
And to prove my lemon devotion, I present to you the best lemon cheesecake ever. 
Lemon desserts rule
Lemon desserts are delightful. They are light and fresh and just a dose of sunshine after a heavy meal or on a gloomy day (preferably with tea).
Ok, biased person talking. But have you checked these out?
The best lemon cheesecake
And now I have this new recipe in my lemon arsenal – a most wonderful lemon cheesecake that's the perfect texture, consistency and flavour to please the most discriminating of lemon lovers.
I know it's a cheesecake, which is historically high-maintenance, but I found a new way to creamy, smooth, crack-free, seep-free cheesecakes – do a bain-marie just don't put your cheesecake in it! Does that make sense?
My new way to baking cheesecakes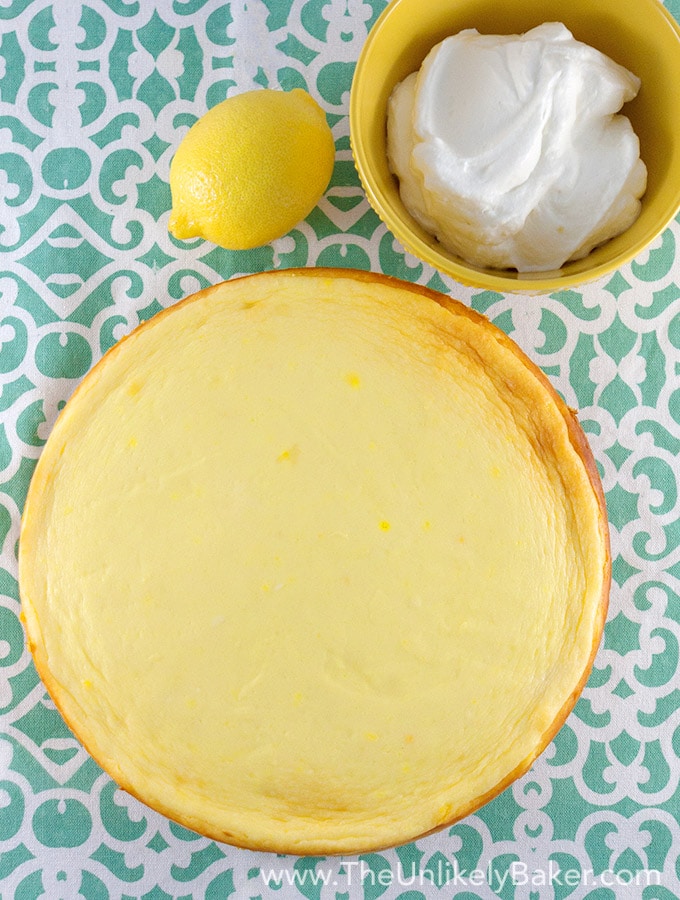 So ok, let me explain. When baking cheesecakes, I used to very carefully wrap the bottom of my springform pan
with heavy duty aluminum foil
to avoid water seepage before I put the cheesecake in the water bath to bake.
Seepage seems inevitable though; no matter high tightly and perfectly I wrapped my pan, I almost always get moisture at the bottom. Which is fine, it would dry up as the cheesecake sets in the fridge.
But see I experimented. Instead of swimming in the water bath, I put my cheesecake on the rack above it. I figure, the steam and moisture from the water bath should still make my cheesecake smooth and creamy, and should control my oven's temperature so I could still bake it nice and slow.
And it worked! By golly this is how I bake cheesecakes now. Less stress too.
Patience is key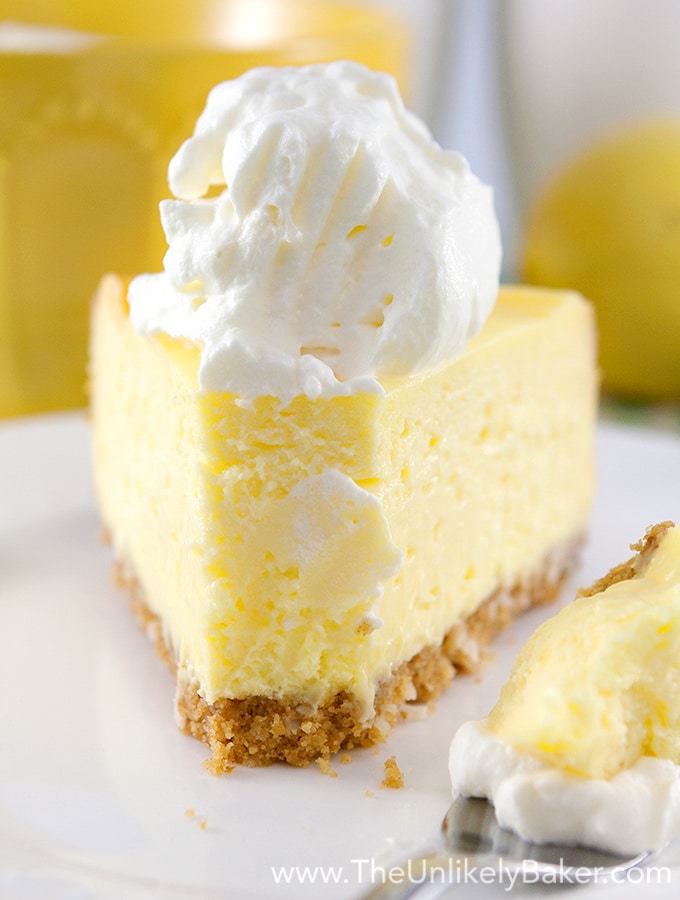 Related: How to Take Stunning Food Photos
And you want a cheesecake without cracks? Patience is the answer. The main reason cheesecakes crack is when the cake cools it tends to break away from the pan too quickly. Therefore, cracking.
So you want the cheesecake to cool gradually. Once it's done, turn the oven off but keep the cheesecake in the oven for about an hour with the oven door slightly open.
Chill the cheesecake completely too. Hard not to devour it immediately I know but perfect cheesecakes take time. And this cheesecake is totally worth it.
Lemon whipped cream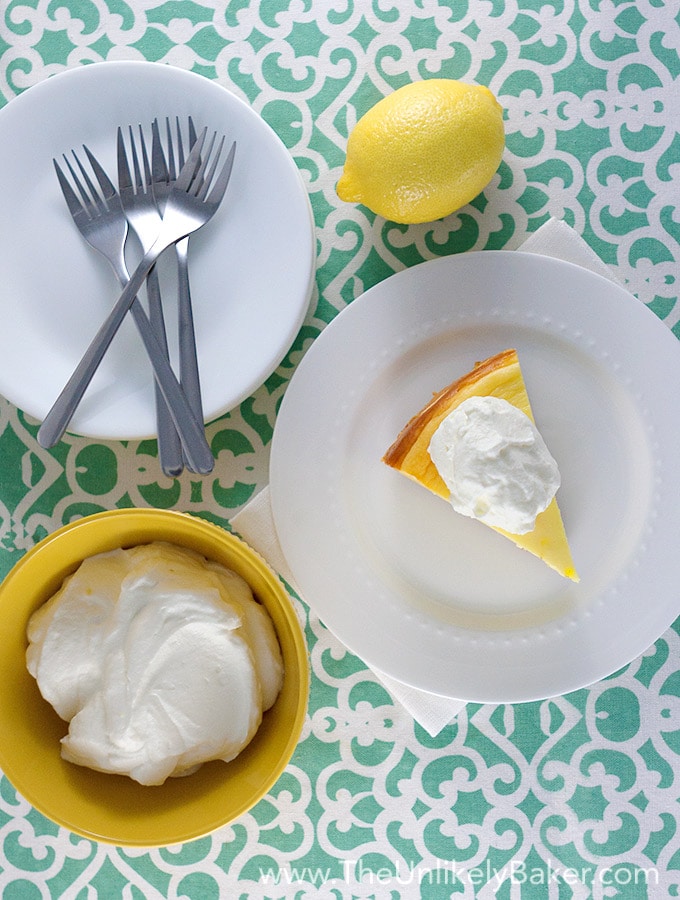 And omigosh can we just talk about that lemon whipped cream? It's so simple that it's perfect. I took my homemade whipped cream recipe and just added about a tablespoon of finely grated lemon zest. That's it!
It's wonderful and it's the perfect complement. Frankly, I would eat the whipped cream on its own (fine, I did eat it on its own ok?)
Coconut cookie crust
And that crust. The coconut just works so well with lemon it makes for a wonderful bite. Coconut crust + lemon cheesecake + lemon whipped cream. It's a dream.
So if you're looking for something bright and sunny to serve this holiday season, why not go with this? It really is the best lemon cheesecake ever.
(Recipe adapted from Kraft Philadelphia Ultimate Recipe Collection
).
Happy baking!
Did you make this lemon cheesecake? Tell me about it in the comments section below. How are your holiday party plans shaping up? I'd love to hear all about it.
If cheesecakes are your thing, here are other recipes you might like:
And let's get social! Find me on Facebook,  Pinterest,  Instagram,  Twitter,  Google+  and  Flipboard.
Or subscribe so you don't miss a recipe. I promise I don't spam (I hate spam too).
Do you want to improve your food photography, monetize your blog or start your very own food blog? Check out my Blogging Resources.