Can't decide between a chocolate cupcake and a cheesecake? Black bottom cupcakes are the answer. Rich dark chocolate cupcakes with a generous dollop of cream cheese and chocolate chips in the centre – these cupcakes are hard to beat!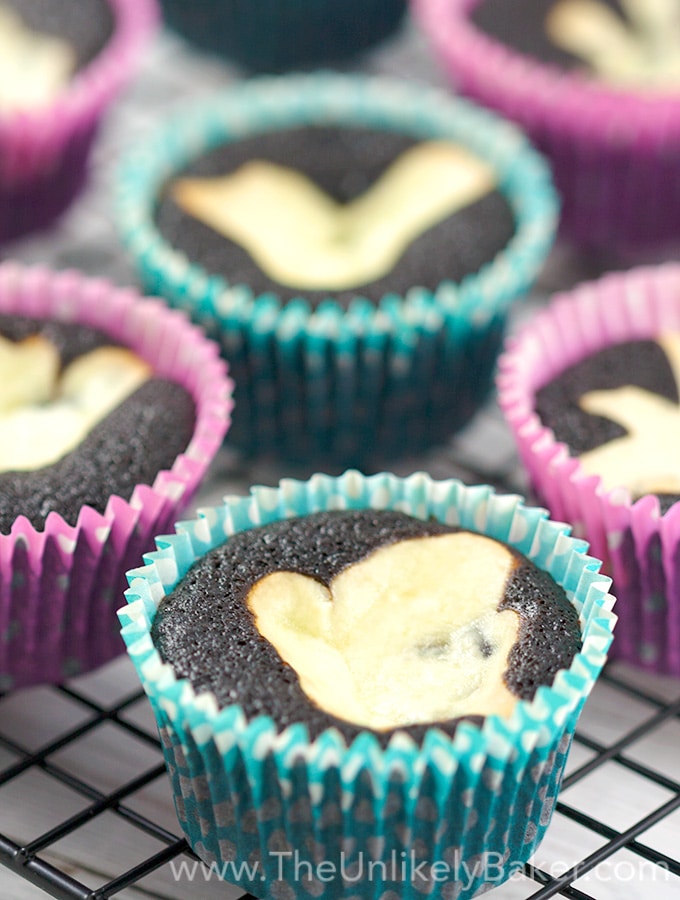 Happy Halloween! This is not a Halloween recipe though. Just thought I'd say that because, you know, it is Halloween. What this is is a dang good recipe for black bottom cupcakes.
What are they? Well, if you can't decide between a chocolate cupcake and a cheesecake, these are the answer.
Imagine an ooey gooey chocolatey cupcake with a creamy cream cheese centre. That's what black bottom cupcakes are. Add chocolate chips to the mix and you have cupcakes that are so good they don't need frosting.
Black bottom cupcakes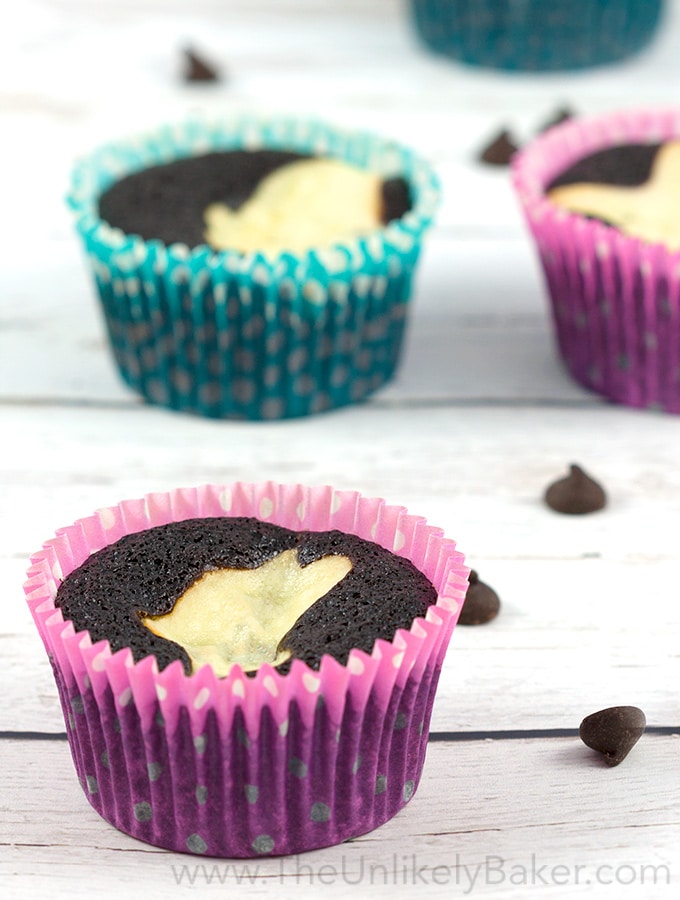 Frankly, I didn't even know what black bottom cupcakes were before I stumbled upon the recipe while looking for something I could make with my 1 block of cream cheese that was about to expire. Cheesecakes and cream cheese frosting typically need at least 2 blocks so this recipe is perfect.
I did make my version more chocolatey because chocolate.
Can't decide? Have both!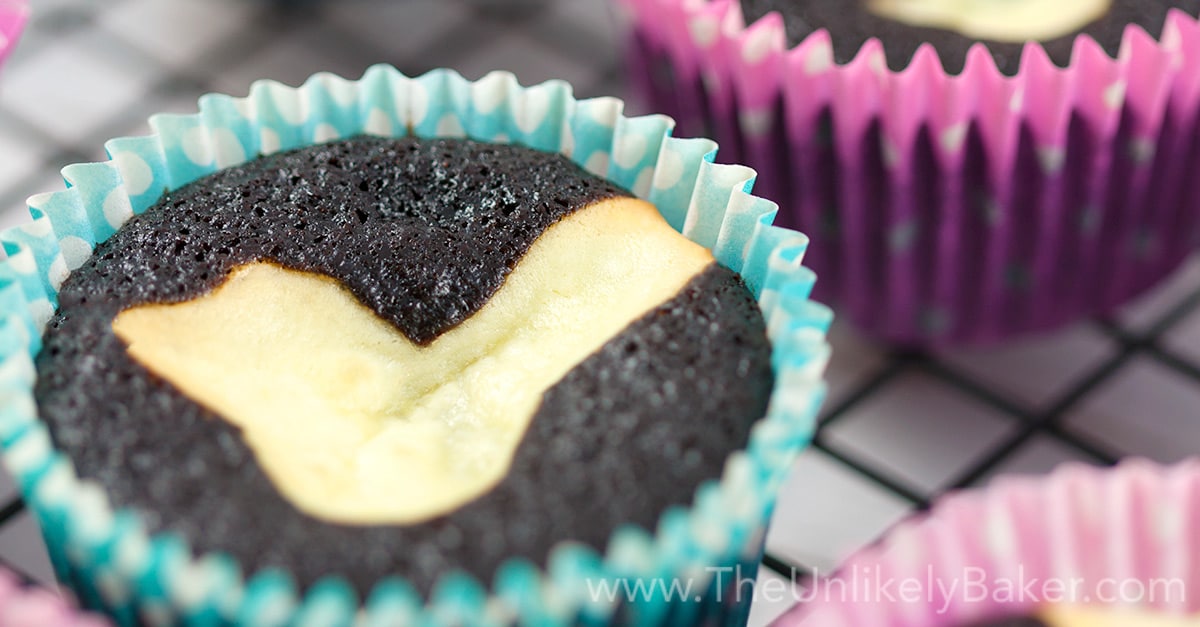 I haven't had them before so I had no expectations going in but let me tell you – if you ever could not decide if you wanted chocolate cupcakes or cheesecakes (though what a happy problem that is), whip up a batch of black bottom cupcakes. Then you can have both!
Decadent chocolate cake, a rich cream cheese centre, chocolate chips for texture (and more chocolatey goodness, of course)…these cupcakes are so good you cannot possibly eat just one.
Hope you can bake some this weekend and on that first bite, enjoy the glorious fact that at that moment, you are having your (cup)cake (and cheesecake) and eating it too.
How to Make Black Bottom Cupcakes
Can't decide between a chocolate cupcake and a cheesecake? Black bottom cupcakes are the answer. Dark chocolate cupcakes with a rich cream cheese centre.

Notes
You will notice the middle will puff up in the oven but sink as it cools. This is OK.

Ingredients
Cream Cheese Filling:
1 8-oz package cream cheese, softened
1 large egg, room temperature
1/3 cup granulated sugar
1/8 teaspoon salt
1 cup chocolate chips
Chocolate Cupcake:
1 1/2 cups all purpose flour
1 cup granulated sugar
1/3 cup unsweetened natural cocoa powder
1 teaspoon baking soda
1/2 teaspoon salt
1 cup lukewarm coffee
1/3 cup vegetable oil
1 tablespoon cider vinegar
1 teaspoon vanilla extract
Instructions
Preheat oven to 350F. Line baking pans with cupcake liners (this recipe yields 24 cupcakes). Set aside.
Using a handheld electric mixer or a stand mixer fitted with the paddle attachment, beat the cream cheese, egg, 1/3 cup sugar and 1/8 teaspoon salt on medium high speed until light and creamy (about 2-3 minutes). Remember to scrape the bottom and sides of your bowl. Stir 1 cup chocolate chips until incorporated. Set aside.
In a large bowl, combine 1 1/2 cups flour, 1 cup sugar, 1/3 cup cocoa powder, 1 teaspoon baking soda and 1/2 teaspoon salt. Add 1 cup coffee, 1/3 cup vegetable oil, 1 tablespoon cider vinegar and 1 teaspoon vanilla and stir until fully combined. The batter will be very thin.
Transfer the batter into your cupcake cups filling them about 1/3 full. Add a heaping tablespoon of cream cheese filling in the middle and bake for 20-30 minutes or until you see the sides of your cream cheese filling start turning brown.
Take out of the oven and cool in the pan for 10 minutes. Transfer to a wire rack to cool completely.
© 2021 This delicious recipe brought to you by www.TheUnlikelyBaker.com | (c) 2016-2017
(Recipe adapted from All Recipes).
Happy baking!
Did you make black bottom cupcakes? Tell me about it in the comments section below. And what did you do on Halloween? I'd love to hear all about it.
November (yes, it's November tomorrow!) is the start of holiday baking craziness season on The Unlikely Baker so check back in for some amazing holiday ideas and recipes.
Subscribe now so you don't miss any of the fun. I promise I don't spam. I hate spam too.
In the meantime, here are more cupcake recipes you might like:
And let's get social! Find me on Facebook, Pinterest, Instagram, Twitter, Google+ and Flipboard.
Do you want to improve your food photography, monetize your blog or start your very own food blog? Check out my Blogging Resources.