Condensed milk is the secret ingredient to this Filipino refrigerator cake (the Filipino version of the no-bake icebox cake). It's sweet, creamy and perfect on a warm sunny day.
The sun was out all day today (all day). And not just fake sunshine; it was actually nice and mild. So here I go, I will say it, at great risk of jinxing it: warmer weather has finally arrived! And in Canada, that is always a reason to celebrate. And what better way than with a cake my mom used to make for us all the time. A cake that never fails to transport me back home, where it's always summer and where the sun is always smiling down on me.
The unlikely recipe investigator
My mom is of the generation that doesn't rely on recipes though. She would eyeball everything. So getting exact measurements from her is like squeezing water from a stone (is that even the correct idiom to use?). Suffice it to say, it was not easy.
She would say things like mix cream and condensed milk (what proportion, mom?). Add butter (to what, mom?). Put everything in a dish (what size, mom?).
My mom usually makes this with mangoes though (fun fact: Philippine mangoes are the best in the world) but strawberries work too. Or peaches. Or whatever fruit (preferably berries) happens to be in season. There is an abundance of strawberries now so strawberry refrigerator cake it is.
Refrigerator cake (a.k.a. icebox cake, Filipino-style)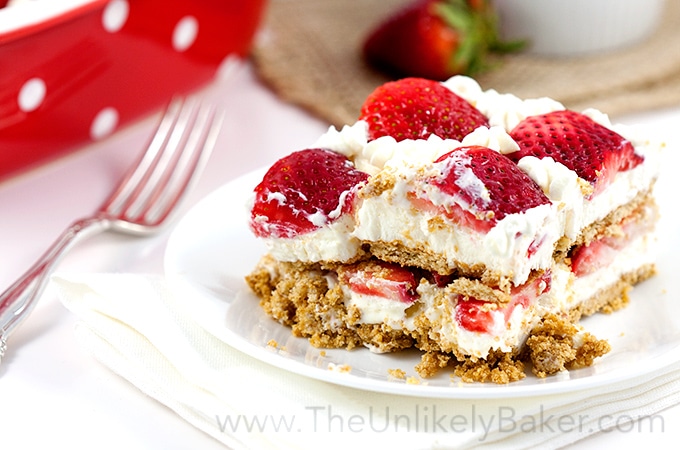 Unlike the icebox cake, the Filipino version is sweeter and made with (what I think could be the national dairy – we put it on everything) condensed milk. How much you use depends on what fruit you're using though.
If you happen to get your hands on Philippine mangoes (lucky, lucky) which are very sweet, you can get away with using just 1/4 cup condensed milk. I used strawberries so I went up to 3/4 cup. Just taste as you go and decide the level of sweetness you're comfortable with. I wouldn't recommend you go more than 3/4 cup though; otherwise condensed milk will overpower everything else.
This is for you, mom!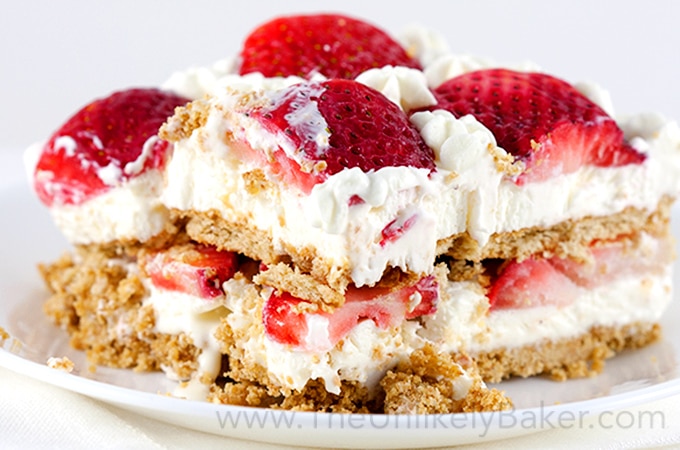 I'm happy with how this turned out. I think my mom will be proud (and Mother's Day is right around the corner too, how about that). This tasted just like how I remembered it. It's a taste of home. And it's the easiest thing to make. You just whip the cream, layer the cake and chill. Seriously, the hardest part was waiting for it to chill overnight.
You can even make fancy single-serve desserts
I had extra ingredients so I just layered them into glasses and they made pretty single-serve desserts too. Handy when you have company.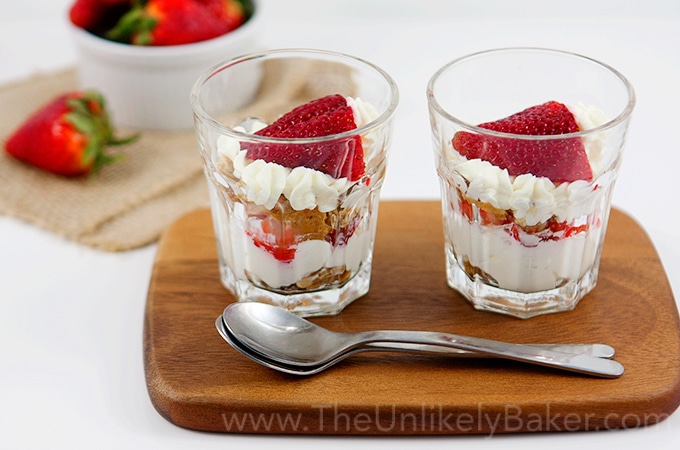 So take advantage of all these beautiful strawberries. Make a refrigerator cake. It's simple, quick, easy and so good. Perfect way to welcome this glorious warmer weather. And a refreshing cake to prepare for Mother's Day too.
Refrigerator Cake (Icebox Cake Filipino-Style)
Condensed milk is the secret ingredient to this Filipino refrigerator cake (the Filipino version of the no-bake icebox cake). It's sweet, creamy and perfect on a warm sunny day.
Ingredients
1 1/4 cups graham cracker crumbs
1/4 cup unsalted butter, melted
Graham cracker cookies (I used 6 pieces for my 8-inch square baking dish)
2 cups heavy cream, chilled
1/4 to 3/4 cups condensed milk (how much you use depends on the sweetness of the fruit you use)
2 pounds strawberries, sliced (you can also use mangoes, peaches or other berries in season)
Instructions
Combine 1 1/4 cups graham cracker crumbs and 1/4 cup melted butter until evenly moist. Press evenly on the bottom of an 8x8 inch freezer-friendly baking dish (that's also at least 3 inches deep). Put in the freezer while you're preparing the rest of the ingredients.
Using a handheld electric mixer or a stand mixer fitted with the whisk attachment, whip 2 cups of heavy cream on medium-high speed until stiff peak.
Switch to low-medium speed and slowly drizzle the condensed milk. Start with 1/4 cup then taste. Add more until you get the sweetness you want (don't go more than 3/4 cup else the condensed milk will overpower all other flavours). Beat until smooth and well incorporated.
Take your baking dish out of the freezer and evenly spread about a cup of cream on top of your graham crust. Then put a layer of sliced strawberries.
Cover with graham cracker cookies. Be sure to cover the entire layer; cut the cookies to fit.
Then cover with another cup or so of cream and top with strawberries.
You now have two options here: you can either (1) freeze or (2) chill the cake in the fridge overnight. Freezing will result to a more ice cream cake-like end product which you would have to thaw several minutes before serving. Chilling will result to a creamy, ready-to-eat cake out of the fridge.
Notes
Tip for whipping the cream - put the bowl and the whisk you're going to use in the fridge for about 15 minutes before you plan to start whipping. This way your cream stays cold longer and easier to work with.
About the graham crust - you have the option of just using graham cookies instead of crumbs.
If you choose to freeze the cake: treat it like how you would ice cream cake - thaw before serving. And note that the fruit will be frozen too.
https://theunlikelybaker.com/refrigerator-cake/
This delicious recipe brought to you by www.TheUnlikelyBaker.com | (c) 2016-2017
Happy whipping and layering!
Did you make this refrigerator cake? Tell me about it in the comments section below. I'd love to hear all about it. Curious about other Filipino desserts? Check this out.
And let's get social! Find me on Facebook, Pinterest, Instagram, Twitter and Google+. Or subscribe so you don't miss a recipe (if you missed the pop-up form, there's another form at the bottom of this page).

Do you want to improve your food photography, monetize your blog or start your very own food blog? Check out the awesome resources at the bottom of this page (they are affiliate links).
The products below are affiliate links too – these are products that I actually use and/or think are cool. If you click on them and subsequently make a purchase, please know that I will earn a small percentage from Amazon – at no additional cost to you. (See Terms of Use for more info on privacy and how we collect/use collected data on this site.)