This 2-ingredient fresh mango mousse is refreshing, delicious and takes no time at all. Made with fresh mangoes and milk, it is bursting with tropical mango flavour.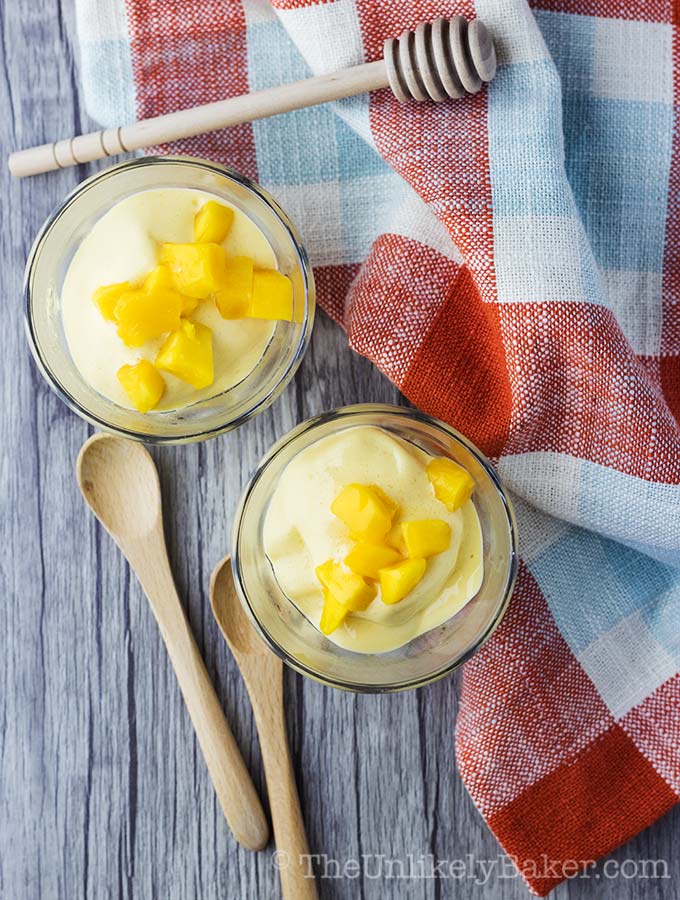 We love simple recipes here at TUB, like that 2-ingredient frozen yogurt granola cups from the other week and my favourite 2-ingredient dried mango chocolate bites.
Here's another one for you: 2-ingredient fresh mango mousse. Just take some mangoes and milk, blend and voilà – the easiest, tastiest summer dessert ever.
How to make fresh mango mousse
When you think mousse you think light and fluffy which is generally achieved by whipping cream or egg whites into the mixture.
This recipe uses neither. It's really just fresh mangoes and milk blended together until thick and mousse-y (is that a word?).
What you do is take the flesh from two ripe mangoes and freeze them. Chill your milk too (I use evaporated milk
but you can use any kind of milk, though full fat works best).
Then when they're both nice and cold, blend them together until they're thick and creamy and wonderful! (Almost the consistency of soft serve ice cream.)
Notice that there's no ice – this is what makes the mousse so thick and creamy. There's no additional liquid to water it down.
Related: Fresh Strawberry Cheesecake Mousse
What's the best kind of mangoes to use?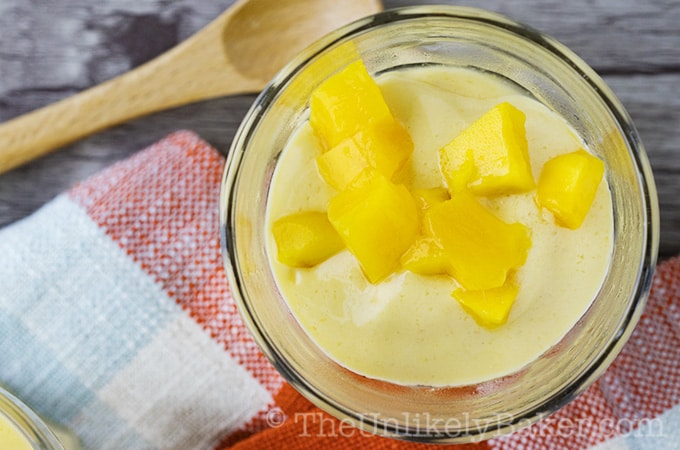 In an ideal world, I would use Philippine mangoes because in my humble (though admittedly biased lol) opinion, they are the best in the world. However they are not available here so we use Ataulfo mangoes instead.
They are less fibrous than the other mango varieties that we get here plus they have that rich, creamy texture similar to Philippine mangoes, making them perfect for smoothies and yes, mousse!
Related: Strawberry Mango Banana Smoothie
How do you know if a mango is ripe?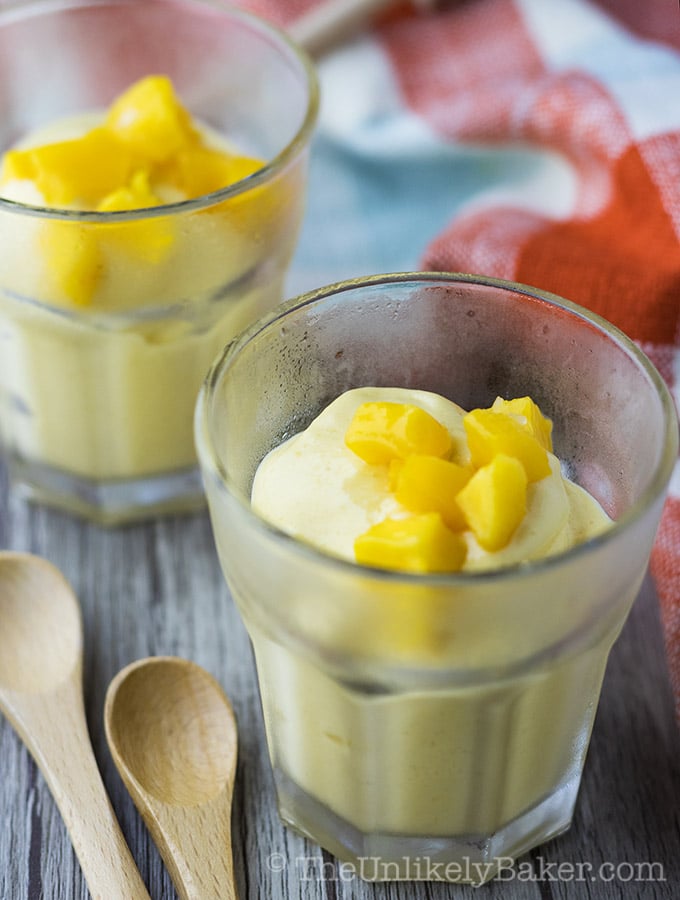 Growing up surrounded by mangoes, I learned that the way best way to tell if a mango is sweet and ripe is by smelling it.
It doesn't matter if it's a perfectly bright yellow colour; if you pick it up and a quick sniff doesn't give you that lovely mango smell, it's not ready.
When shopping for mangoes I also tend to stay away from the wrinkly and dry-looking ones. This is the one time it's ok to judge something by appearance!
Related: Mango Chiffon Cake with Whipped Mango Cream Frosting
Can I use frozen mangoes?
Since I freeze the fresh mangoes anyway, you may be wondering if you can use frozen mangoes instead of fresh. Absolutely. That way, you can enjoy this dessert any time of the year.
However, since it's summer and fresh mangoes are in abundance, give them a shot!
So next time you're out grocery shopping, grab a couple of mangoes and make yourself fresh mango mousse. It's delightful.
And if you have extra mangoes, mango salsa is another delicious summer treat.
Happy blending!
Did you make fresh mango mousse? What's your favourite mango dessert? I'd love to hear from you in the comments section below.
And let's get social! Find me on Facebook, Pinterest, Instagram and Twitter.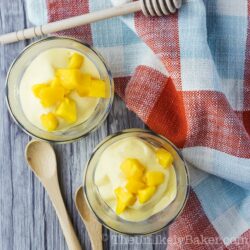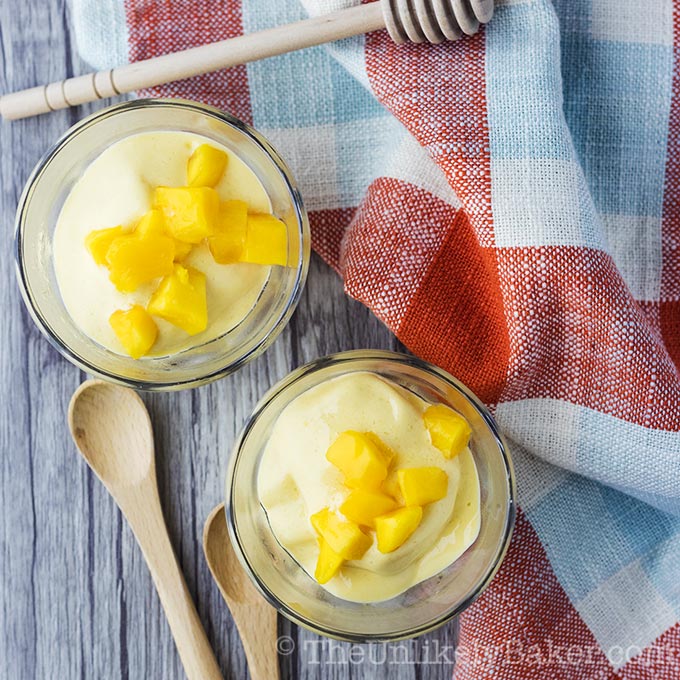 2-Ingredient Fresh Mango Mousse
This 2-ingredient fresh mango mousse is refreshing, delicious and takes no time at all. Made with fresh mangoes and milk, it is bursting with tropical mango flavour.
Ingredients
2

pcs

ripe mangoes

flesh scooped out and frozen

1

cup

evaporated milk

chilled
Instructions
Freeze the mangoes and chill the milk for at least 30 minutes.

When frozen and ready, blend until thick and creamy. Serve immediately.
Notes
If you can't find fresh mangoes, you can use frozen mangoes.
You can also use any milk of choice.
I've never had to sweeten my mousse because my mangoes are already sweet; you can add honey to the mixture to add sweetness if necessary.
Nutrition
Calories:
106
kcal
Carbohydrates:
12
g
Protein:
8
g
Fat:
2
g
Cholesterol:
21
mg
Sodium:
149
mg
Sugar:
12
g
Calcium:
35
mg
Nutritional information are estimates only.
Tried this recipe? Leave a star rating today!
Also tag @iamtheunlikelybaker I'd love to see your creations.