Sweet and tart, fruity and chocolatey, these dried mango chocolate bites are ridiculously addicting! Give them out as presents or snack on them throughout the day.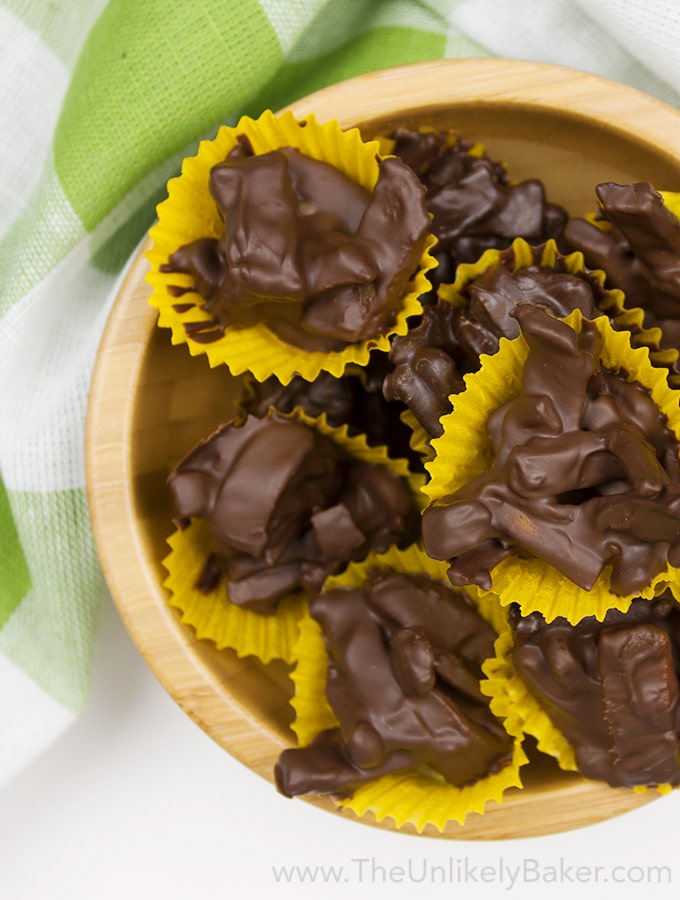 Hi everyone! How did you like our very chocolatey week last week?
In case you missed it, check out this recipe for Chocolate Chiffon Cake with Whipped Cream Frosting (perfect for the holidays!) and this recipe for Chocolate Peanut Butter Overnight Oats (perfect for everyday!).
I figure we'd take a break from chocolate…not. Who does that? LOL! In fact, I have another chocolate recipe for you today, Halloween is around the corner after all.
If you're looking for a relatively healthier chocolate treat to munch on this Halloween, don't buy chocolate from the store (now that would really scare your kids haha). Make these dried mango chocolate bites instead!
With only two ingredients, they are super easy to make and even easier to eat. I even made a short video to prove it!
Ingredient 1: dried mangoes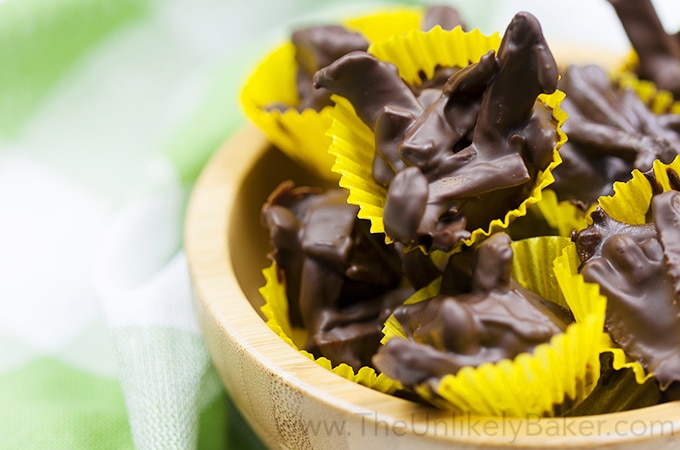 Have you ever tried dried mangoes? They're one of the top food exports from the Philippines. And for good reason. They are made from Philippine mangoes (the best!) and are deee-licious.
They are chewy, sweet, tart and they're fruit! You can find them in the international aisle of your supermarket, Asian stores or, if all else fails, Amazon
.
Ingredient 2: Good chocolate
Ingredient number 2 is dark or semi-sweet chocolate which is also good for you! The key is buying good quality chocolate and learning how to temper it correctly.
Chocolate that's not tempered will seize, which is a nicer way of saying it will turn an ugly grey. Really not a pretty sight. Though, it is Halloween. Anyway.
How to temper chocolate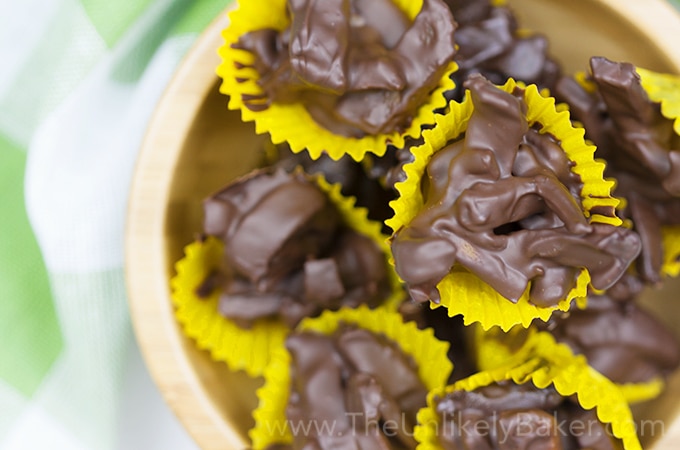 I'd say my tempering skills is 7/10 (I started at -10 to be honest with you) so I've gotten better but there is still lots of room to grow.
Plus, I'm lazy so I do the microwave method instead of the bowl-over-simmering-water method.
I've had a lot of success though so I thought I'd share some of the things I learned below:
Invest in a chocolate thermometer. I got mine for less than $15.

Divide your chopped chocolate – melt ¾ and set aside ¼ as your tempering chocolate.

Microwave in bursts of 30 seconds then stir. Microwaves are different so if you think yours runs a little hot, do shorter bursts.

You only need to remember two numbers: 115F and 90F.
So how do you temper chocolate?
Roughly chop your chocolate. Try for same-ish sizes.

Put ¾ of that in a microwave safe bowl and microwave for 30 seconds. Then stir. Repeat until your chocolate is about 50% melted. At this point start to measure temperature as you microwave/stir. Monitor until you reach 115F.

Once you reach 115F step away from the microwave and add the tempering chocolate you set aside. Then stir again. Stir like your life depended on it! And constantly measure the temperature.

Your chocolate is tempered when you're down to 90F. And you'll know too because your chocolate would be all nice and shiny. You can also do a test – smear some chocolate onto parchment paper. Properly tempered chocolate dries quickly and has a snap to it.

Not quite there? Stir some more. You may need to drop 2 more degrees or so. BTW, this is for dark chocolate. If you're tempering milk or white chocolate, melted temperature should be about 110F and tempered should be about 85F.
It may happen that some of the tempering chocolate you added in does not melt completely. That's OK. Just scoop them out (we eat them).
Also, remember that changes in temperature affect your tempering so it might not be a great idea to do this if you're cooking/baking something or you're constantly having to open the kitchen window/door.
Dried mango chocolate bites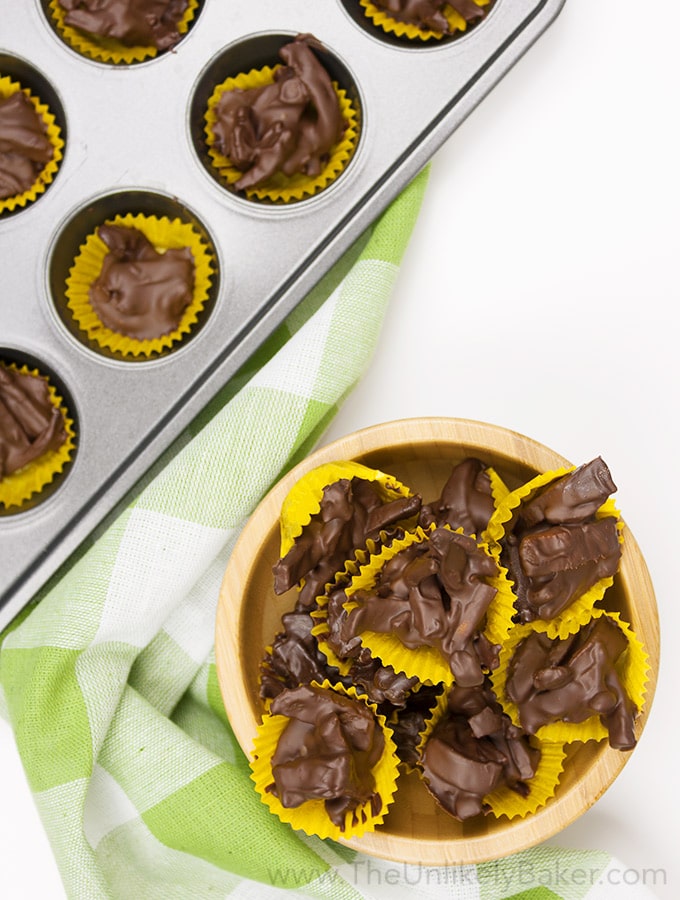 So where was I? Ah, these amazeballs dried mango chocolate bites.
You may be wondering: why can't I just dip the dried mango in chocolate? You can. But where's the fun in that? These guys look great served in a bowl or as foodie presents for the holidays.
And they're really super easy to do. Just check out the quick 30-second video!
See how quick and easy that was? So whether you make these for Halloween, or as presents for Christmas, or just snacks for tomorrow, hope you have fun making them. And eating them!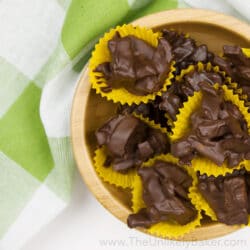 Dried Mango Chocolate Bites (video)
Sweet and tart, fruity and chocolatey, these dried mango chocolate bites are ridiculously addicting! Give them out as presents or snack on them throughout the day.
Ingredients
18

oz

dark or semi-sweet chocolate

chopped and tempered (see post for tips)

14

oz

dried mangoes

sliced (see below)
Instructions
Prep a 24-cup mini cupcake pan by lining with mini candy cups (see notes).

In a medium bowl, stir ingredients together until mangoes are coated with chocolate.

Scoop about a heaping tablespoon into your candy cups.

Allow to set then enjoy!
Notes
When you slice the mangoes, try to slice them into equal sizes. I'd recommend 1 inch long and about ⅛ inch thick.
This recipe usually yields about 24-30 bites for me so I use two pans. However, this mostly depends on how much you put in each cup.
Be sure to use candy cups (you can also use glassine cups) and not normal cupcake cups. Candy cups are waxed and normal cupcake cups are not so the chocolate will stick. If you don't have them, just scoop the mango bites into a baking pan lined with parchment paper. They will spread; just try to keep them as compact as possible.
These will keep for about a week in an airtight container. No need to refrigerate.
Nutrition
Calories:
122
kcal
Carbohydrates:
13
g
Protein:
1
g
Fat:
9
g
Saturated Fat:
5
g
Polyunsaturated Fat:
1
g
Monounsaturated Fat:
3
g
Sodium:
1
mg
Potassium:
28
mg
Fiber:
2
g
Sugar:
9
g
Vitamin A:
179
IU
Vitamin C:
6
mg
Calcium:
2
mg
Iron:
1
mg
Nutritional information are estimates only.
Tried this recipe? Leave a star rating today!
Also tag @iamtheunlikelybaker I'd love to see your creations.
Happy tempering!
Did you make dried mango chocolate bites? I'd love to hear from you in the comments section below. Do you have other chocolate tempering tips?