Grab and go breakfast that tastes like dessert? Yes, please! Chocolate peanut butter overnight oats is a great way to start the day.
(Fan of overnight oats? Check out these other delicious recipes: Raspberry White Chocolate Overnight Oats and Matcha Overnight Oats).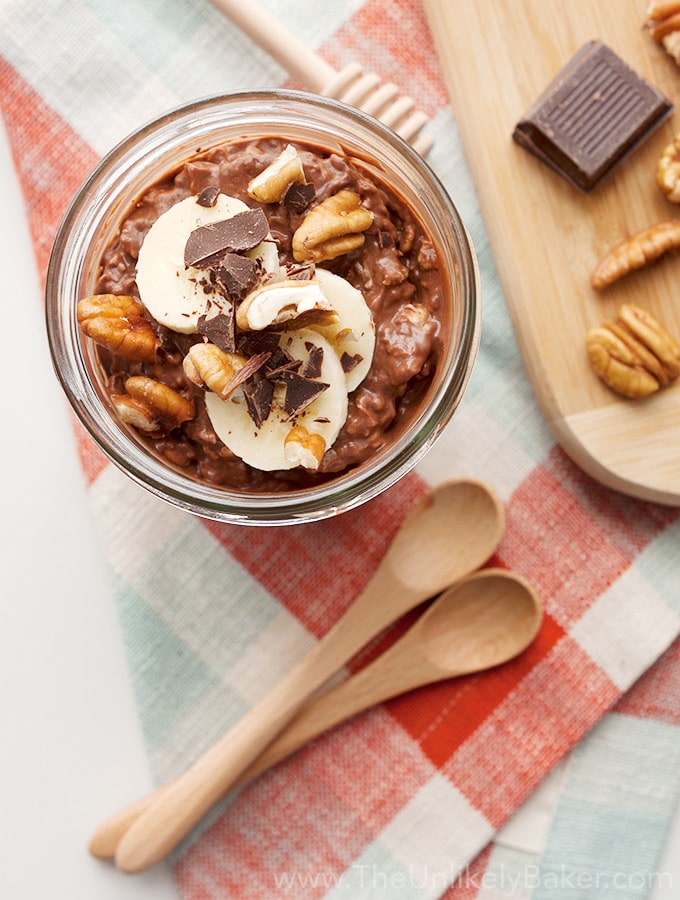 Chocolate fever continues on The Unlikely Baker with chocolate peanut butter overnight oats. It's packed with dark chocolate, peanut butter, chia seeds and other ingredients that are not only delicious but also good for you!
(BTW did you see my last chocolate recipe? It's a lovely Chocolate Chiffon Cake with Whipped Cream Frosting. Perfect for the holidays!)
Overnight oats perfect for meal prep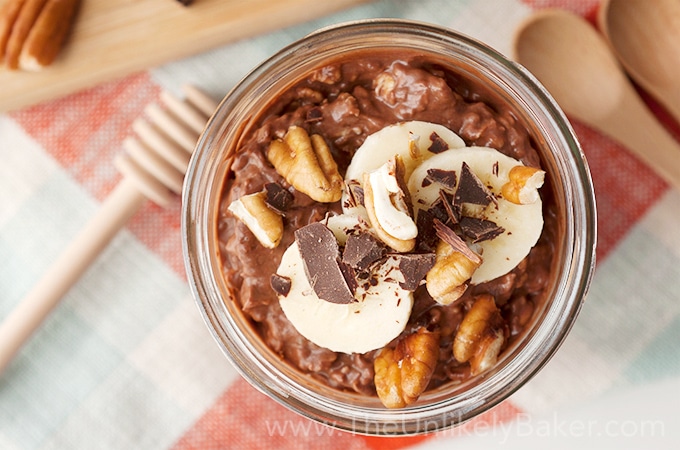 Whoever first thought of overnight oats has my eternal gratitude.
I grew up eating old school oatmeal (i.e. warm greyish slightly unappetizing oatmeal that hardens as it cools) so I was a little wary of overnight oats at first (cold and uncooked? The horror!)
Not anymore.
We've been eating overnight oats almost everyday for I don't remember how long now and I can't bring myself to eat old school oatmeal anymore. Overnight oats are delicious! And so easy to make.
Related: The Ultimate List of Breakfast Ideas
Overnight oats basics
They're super easy to customize too. Here are some basic guidelines for you:
Always use rolled oats and not quick cooking oats. The latter tends to get too mushy when left soaking for too long.
Start with a 1:1 ratio, i.e. 1 part oatmeal and 1 part liquid. From there, you can experiment. Add your favourite things and decide how runny or thick you want your oatmeal to be. You can more or less tell how the final consistency will be as you're stirring the ingredients (Too soupy? Too dry?) so you can easily adjust. Just keep in mind if you're adding chia seeds: they absorb a lot of liquid.

Speaking of favourite things – if you're adding nuts (or anything else that's crunchy, like granola), add them just before you eat the oats so they don't get all soggy and sad.

Always add a pinch of salt. It's a little thing but it goes a long way to enhance the flavour.
Related: The Only Basic Granola Recipe You Need
Chocolate peanut butter overnight oats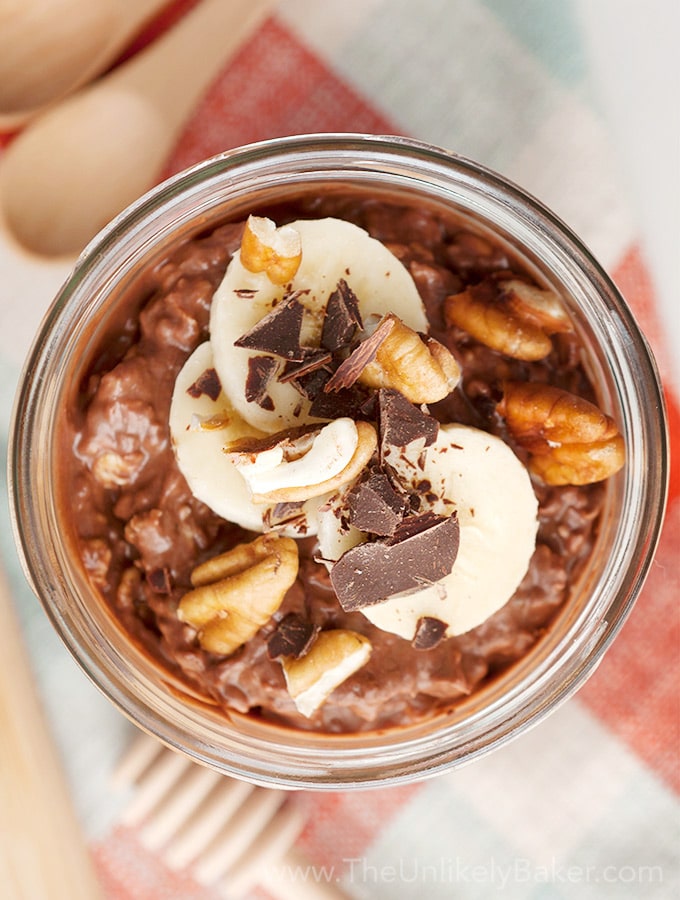 Chocolate and peanut butter is a classic combination and is one of our favourite overnight oat flavours. How can it not be?
With chocolate, peanut butter and almonds, it tastes like dessert and that's always a good thing in the morning IMO!
We usually make 2 batches on Sunday and we're set for the week.
So this weekend, make some chocolate peanut butter overnight oats and wake up to delicious, chocolatey goodness on Monday morning.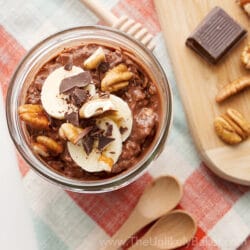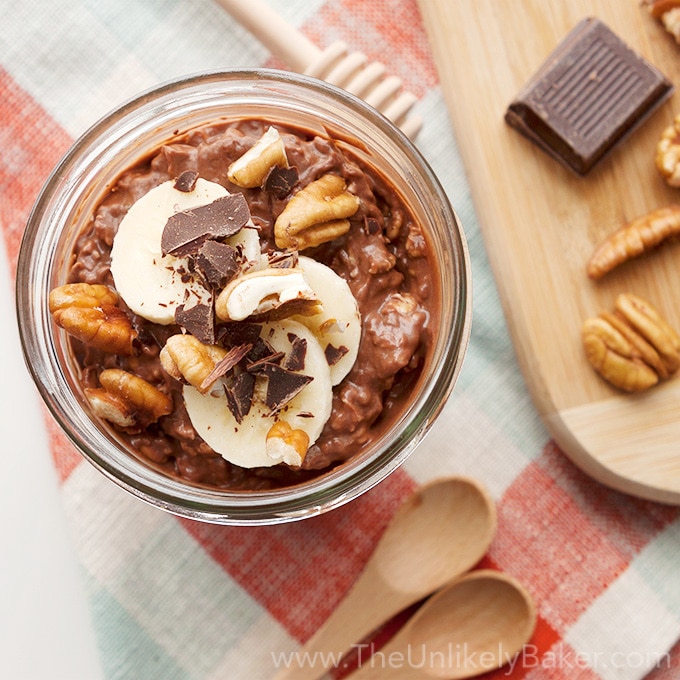 Chocolate Peanut Butter Overnight Oats
Grab and go breakfast that tastes like dessert? Yes, please! Chocolate peanut butter overnight oats is a great way to start the day.
Instructions
In a large bowl, stir all ingredients (except honey) until combined. Add honey to taste.

Transfer the oats into individual airtight containers and chill overnight.

You can transfer the oats to a bowl and garnish with your favourite toppings or eat directly from the container!
Notes
Some of our favourite toppings include: chocolate chunks, almonds, pecans and banana.
Nutrition
Calories:
306
kcal
Carbohydrates:
24
g
Protein:
12
g
Fat:
20
g
Saturated Fat:
4
g
Sodium:
272
mg
Potassium:
376
mg
Fiber:
7
g
Sugar:
3
g
Calcium:
163
mg
Iron:
2.4
mg
Nutritional information are estimates only.
Tried this recipe? Leave a star rating today!
Also tag @iamtheunlikelybaker I'd love to see your creations.
Happy overnight oats-ing!
Did you make chocolate peanut butter overnight oats? I'd love to hear from you in the comments section below.