The funfetti cake is the most awesome birthday cake you can bake for someone you love. Not only does it scream fun and happiness inside and out, it's also a really delicious cake that's bursting with the vanilla flavour everyone loves.
(Is your birthday celebrant a chocolate lover? They will love this chocolate explosion cake!)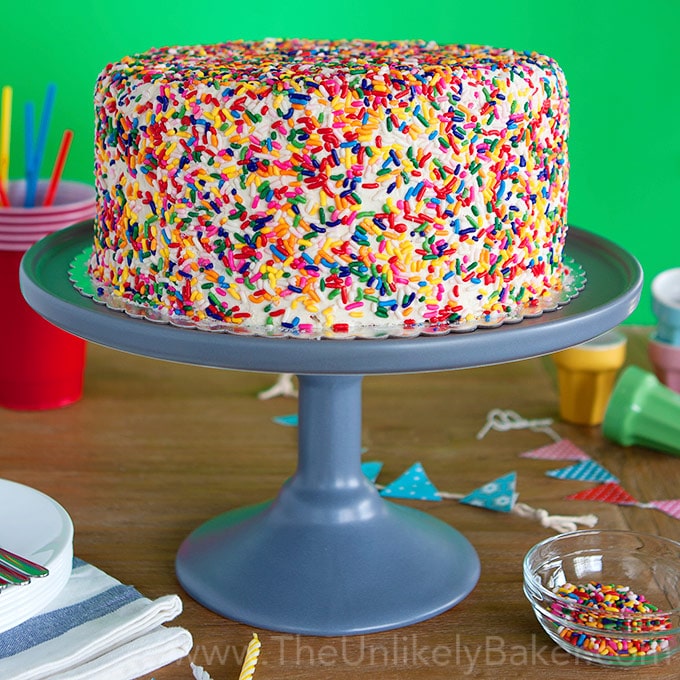 I live away from my family. They are, quite literally, on the other side of the world and it takes about 20 hours for me to get home by plane. Yeah, they are that far.
So I've missed a lot of Christmases and weddings and birthdays. I have a new niece that I haven't even met yet. Luckily, I was home a few months after my nephew was born.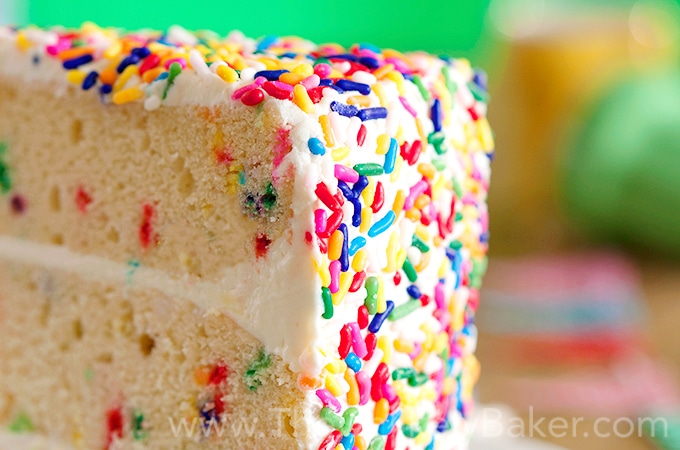 And he turns 3 in a few days (my theory is time flies much faster for an absentee aunt). He's such an awesome little guy.
He likes cars and dinosaurs and puzzles. He likes to sing and to dance. He makes me smile and laugh out loud.
He's my favourite little man in the whole world.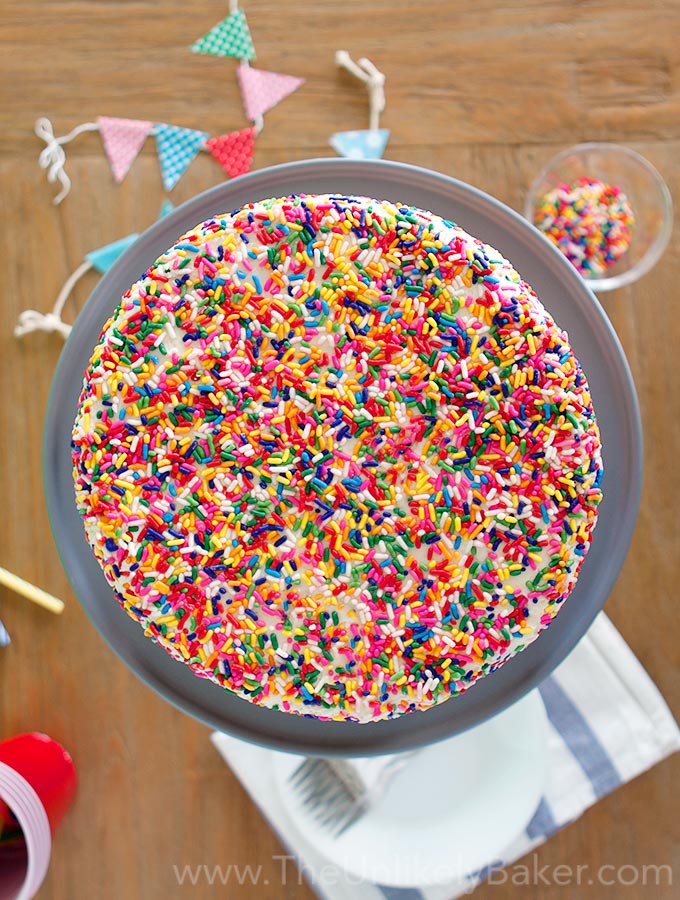 I won't be there for his birthday (again) but I thought I'd make a day of it by baking a birthday cake for him. I wanted a fun one, appropriate for someone like him. And I think this is the funnest one out there.
I mean, there are sprinkles in it and all over it. So if you ever need a cake for the special little fellas (or ladies) in your life that screams HAVE AN AWESOME BIRTHDAY, this is it.
The funfetti cake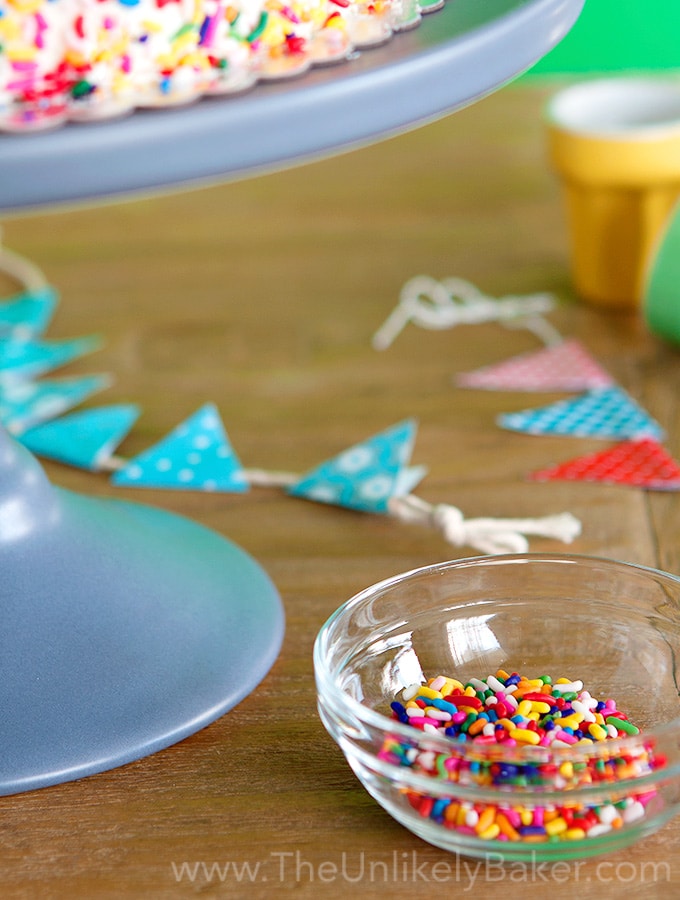 The funfetti cake is at its core a buttermilk vanilla cake…just funner.
You make the cake as usual then at the end you gently fold the sprinkles.
And did you know there are actually different kinds of sprinkles? And if you plan on doing a funfetti cake, you better use the right ones – jimmies is what they are called – if you don't want the colours to get all mushed up.
Sprinkles, sprinkles everywhere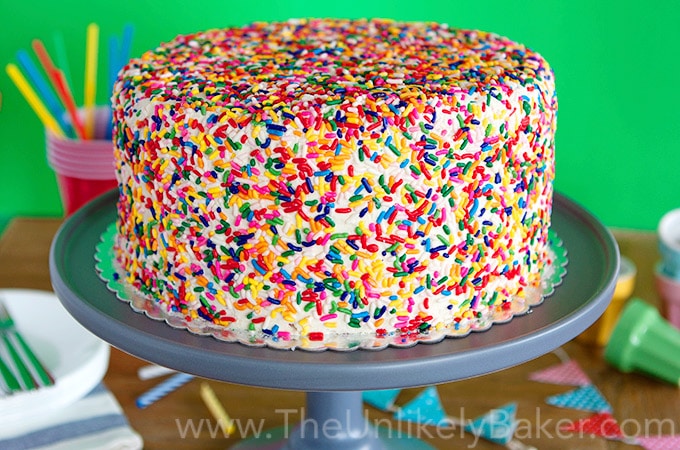 And this cake is not only fun for the birthday celebrant, it's fun for the baker too.
I've worked with sprinkles before but not at this magnitude and let me tell you – there were sprinkles everywhere.
Just when you thought you got it together, that you're all organized, there will be a sprinkle explosion and sprinkles will be in your hair, under your nails, in every crevice of your kitchen.
But it's fun! Red was my assistant on bake day and driving her crazy was fun in and of itself.
The best birthday cake ever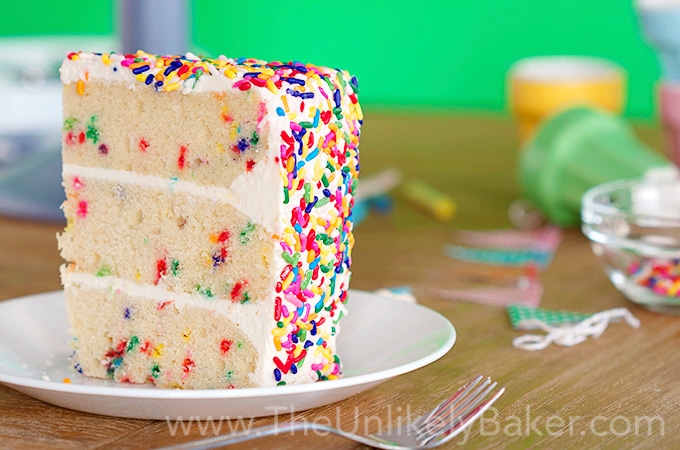 Another great thing about a funfetti cake is it's very forgiving, decorating-wise.
Since you're covering it up with sprinkles anyway, your frosting does not need to be perfect (it just needs to be even). It will look awesome in the end. And it will make any 3-year old (or anyone, really) feel like the most special person in the world.
Happy birthday my sweet Georgie! I'll see you soon!
(Recipe adapted from Sally's Baking Addiction.)
Happy baking!
Did you make this funfetti cake? Tell me about it in the comments section below. I'd love to hear about how it went. What's your all time favourite birthday cake?
Check this out if cupcakes are more your style.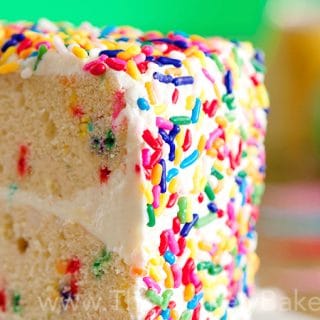 Funfetti Cake: A Very Special Birthday Cake
The funfetti cake doesn't only scream fun & happiness inside & out, it's also a delicious cake that's bursting w/ the vanilla flavour everyone loves.
Ingredients
For the Cake:
4

cups

sifted cake flour

¾

teaspoon

baking powder

¾

teaspoon

baking soda

1

teaspoon

salt

1 ½

cups

unsalted butter

room temperature

1 ¾

cups

granulated sugar

4

pieces

large eggs

room temperature

3

teaspoons

vanilla extract

1 ½

cups

buttermilk

room temperature

2

pieces

egg whites from large eggs

room temperature

¾

cup

sprinkles
For the Frosting:
1 ¼

cups

unsalted butter

room temperature

⅓

cup

heavy cream

3

teaspoons

vanilla extract

⅛

teaspoon

salt

5

cups

sifted confectioner's sugar

Sprinkles for decoration
Instructions
For the Cake:
Preheat oven to 350F and prep 3 9-inch round baking pans by greasing the bottom and sides. Additionally (and this is optional), you can line the bottom with parchment paper to ensure easy release.

In a large bowl, whisk flour, baking powder, baking soda and salt. Set aside.

Using a handheld electric mixer or a stand mixer fitted with the paddle attachment, beat butter on medium-high speed until smooth, light and creamy (about 2 minutes).

Add sugar and beat on medium-high speed for another 5-7 minutes until very creamy (almost like whipped cream – you cannot see grains of sugar anymore). Remember to scrape the bottom and sides of your bowl.

Add the eggs one at a time until each one is well incorporated. Then add vanilla.

Switch to low speed and add a third of your flour mixture. Then half of your buttermilk. Another third of your flour. The last of your buttermilk then finally the last third of your flour. Make sure each addition is mixed just until incorporated before the next one is added (do not over mix). You will notice the batter will be thick but still smooth and creamy.

Turn to your egg whites and beat until thick and foamy. Gently fold into your batter. Then gently fold sprinkles.

Transfer your batter into your prepared pans and bake for 25 minutes or until a toothpick inserted in the middle of the cake comes out clean.

Cool the cakes completely on a wire rack before frosting.
For the Frosting:
Using a handheld electric mixer or a stand mixer fitted with the paddle attachment, beat butter on medium speed until creamy (about 2 minutes).

Switch to low speed and add heavy cream, vanilla, salt and confectioner's sugar (don't add the sugar all at once though; do it gradually, about ½ cup at a time).

Once everything is incorporated switch to medium-high speed and beat the frosting until you get the consistency you desire. You might need to add more sugar if the frosting is too watery, more cream if the frosting is too thick or more salt if the frosting is too sweet.
Assembly:
Trim the tops of your cakes if they are uneven using a serrated knife or a cake leveller. The important thing is all three cakes are of equal height.

Take one and place on a platter or cake turntable, smooth side down (trimmed side up). Evenly cover the top with frosting. Repeat with the 2nd and 3rd layers. For your 3rd layer, remember to place it smooth side up (trimmed side down) so that you'll have an even top.

Finish the cake by also covering the sides of your cake with frosting. To help even out the frosting on top and the sides, use a bench scraper and gently scrape away excess frosting.

Decorate with sprinkles as desired.
Notes
For those of you who have little mixers like me – note that this is a lot of batter. My mixer almost overflowed and I had a few flour explosions so watch out.
I beat my 2 egg whites by hand and it was the most painful 5 minutes of my life (I have a brand new respect for bakers who whisk eggs by hand all the time). I haven't whisked eggs by hand again after this. I always turn to my trusty electric hand mixer.
Nutrition
Calories:
921
kcal
Carbohydrates:
121
g
Protein:
7
g
Fat:
47
g
Saturated Fat:
29
g
Polyunsaturated Fat:
2
g
Monounsaturated Fat:
12
g
Trans Fat:
2
g
Cholesterol:
125
mg
Sodium:
329
mg
Potassium:
130
mg
Fiber:
1
g
Sugar:
89
g
Vitamin A:
1449
IU
Vitamin C:
1
mg
Calcium:
70
mg
Iron:
1
mg
Nutritional information are estimates only.
Tried this recipe? Leave a star rating today!
Also tag @iamtheunlikelybaker I'd love to see your creations.