This is called a magic custard cake recipe for good reason – one batter, baked in one pan, transforms into a 3-layer cake. No torting or frosting required. Magic.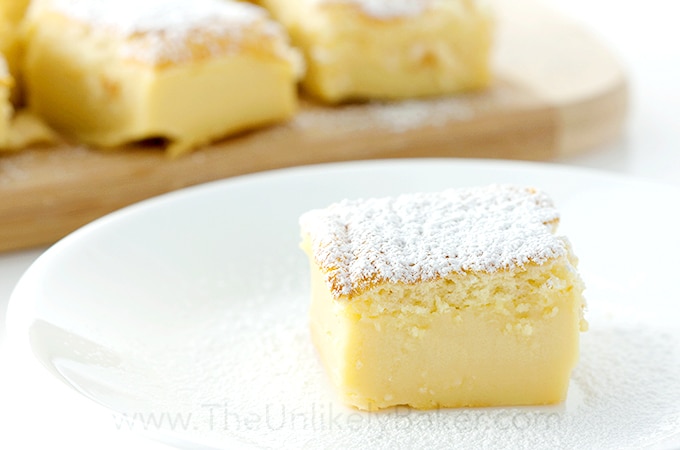 My initial goal was to bake a traditional Filipino custard cake. But reading the recipe already exhausted me because it was 3 pages long and took something like 5 hours to make. No energy for complicated endeavours at the moment. Then I saw this magic custard cake recipe. Not only was it custard (which was what I was originally gunning for), it was magic. Now who wouldn't want that?
No layer cake recipe can be simpler than this magic custard cake recipe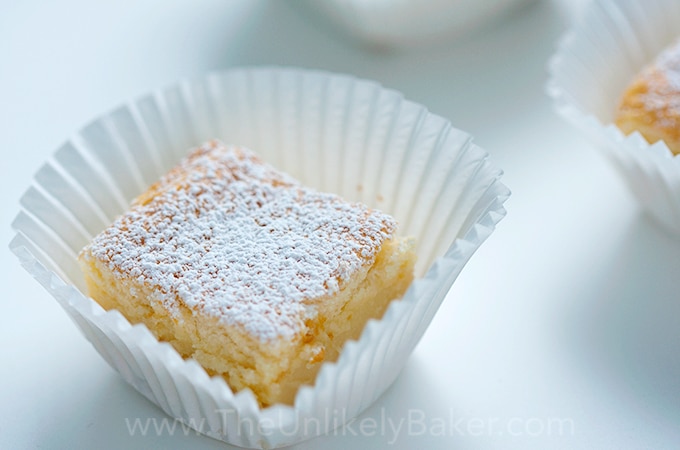 This is how it goes: you work with one batter. You pour it into one pan. In about an hour you end up with a 3-layer cake, no torting necessary (what). I don't know how or why. And I don't need to. All I know is that it's stress-free to make.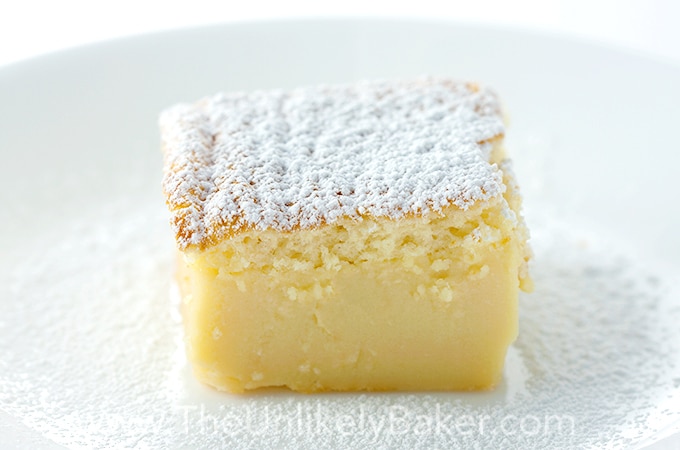 The best thing about it is it doesn't look easy to make at all. It looks like it took you hours to bake. It looks like it takes great technique. It doesn't!
But is it good?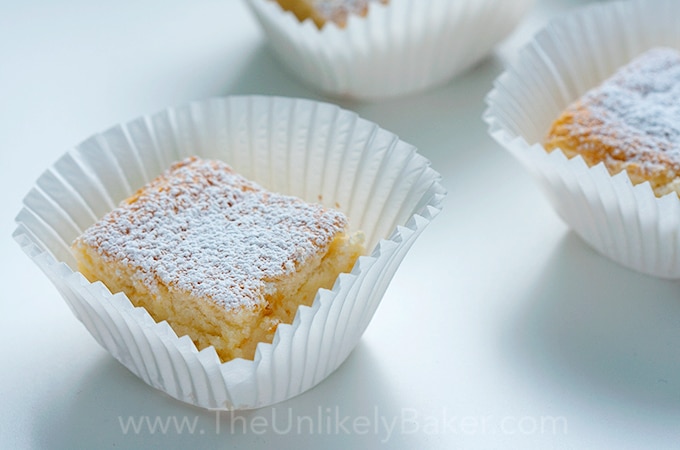 Absolutely. It does not taste like the custard cake I was craving for but it's delightful nonetheless. The bottom layer has the texture of gelatin. But firmer. The middle layer is your custard – rich and creamy. The top layer is your cake – light and airy. Interesting, right? Sprinkle with confectioner's sugar and you have a cake that tastes as good as it looks.
A whole world of magic cakes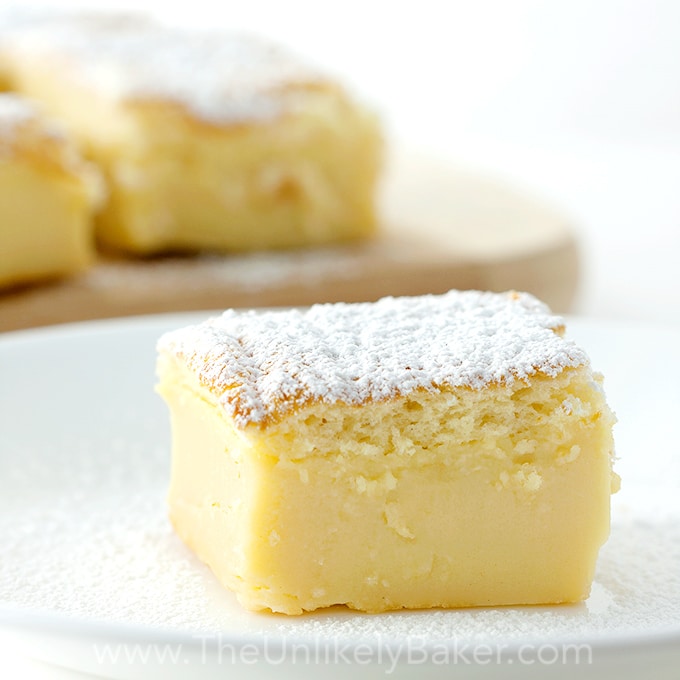 This is the first time I've heard of magic cakes but apparently there is a lot of variations you can do. I think Jo Cooks is the definitive magic cake expert and just looking at all the magic cakes she's done, you just want to try each one and never bake a non-magic cake ever again.
Go and start with this one. It's quick, easy and fool-proof. Who says muggles can't do magic? (Who says I'm a muggle?)
Magic Custard Cake Recipe
A cake that magically transforms into 3 layers. Just mix, pour and bake. Even muggles can do this!

Notes
The cake will look puffy straight out of the oven but will deflate accordingly as it cools.

Ingredients
4 egg yolks, room temperature
3/4 cup granulated sugar
1/2 cup butter, melted (you can use salted or unsalted)
1 teaspoon vanilla extract
3/4 cup all purpose flour
2 cups milk, lukewarm (not hot. Microwave in increments of 30 seconds until lukewarm)
4 egg whites, room temperature
Confectioner's sugar for dusting
Instructions
Preheat oven to 325F and lightly grease an 8x8 inch baking pan. Set aside.
Using a handheld electric mixer or a stand mixer fitted with the paddle attachment, beat the 4 egg yolks and the 3/4 cup sugar on medium-high speed until the mixture turns light yellow (this took me about 2 minutes).
Add 1/2 cup butter and 1 teaspoon vanilla and continue to beat until combined (another 2 minutes).
Add 3/4 cup flour and mix well. Gradually add the 2 cups milk and continue to mix until everything is fully incorporated.
Set this batter aside.
In a separate bowl, using an electric mixer (you can also do this by hand if you're so inclined), beat the egg whites until you reach stiff peak.
Add your egg whites into your batter a third a time, gently whisking by hand each time, until the batter is smooth and no significant egg white streaks or lumps remain. Do not over-whisk.
Transfer the batter into your prepared pan and bake for 40-60 minutes or until the top of the cake turns golden brown.
Take the cake out of the oven, cool slightly then refrigerate overnight to cool and set completely.
Let the cake sit in room temperature for about 10 minutes before serving. Cut into squares, sprinkle with confectioner's sugar and enjoy.
© 2021 This delicious recipe brought to you by www.TheUnlikelyBaker.com | (c) 2016-2017
(This recipe adapted from Jo Cooks).
Happy baking, muggle!
Did you try this magic custard cake recipe? Tell me about it in the comments section below. I'd love to hear all about it.
And let's get social! Find me on Facebook, Pinterest, Instagram, Twitter and Google+. Or subscribe so you don't miss a recipe (if you missed the pop-up form, there's another form at the bottom of this page).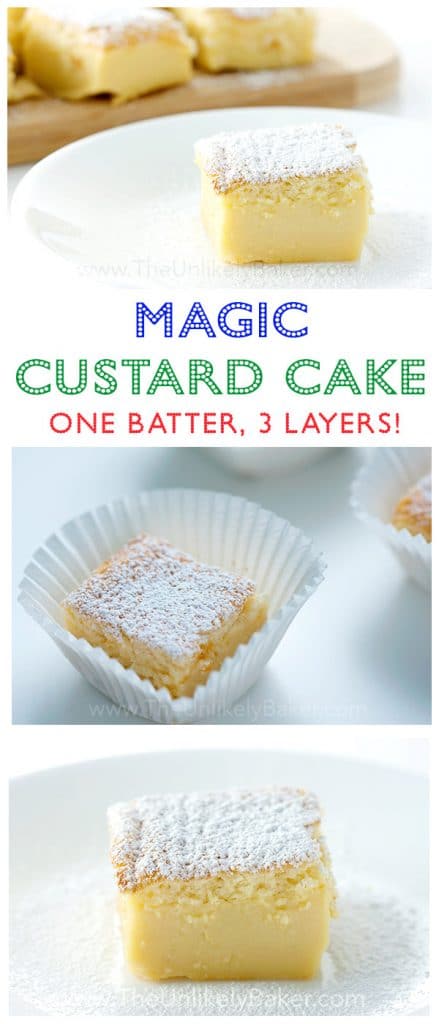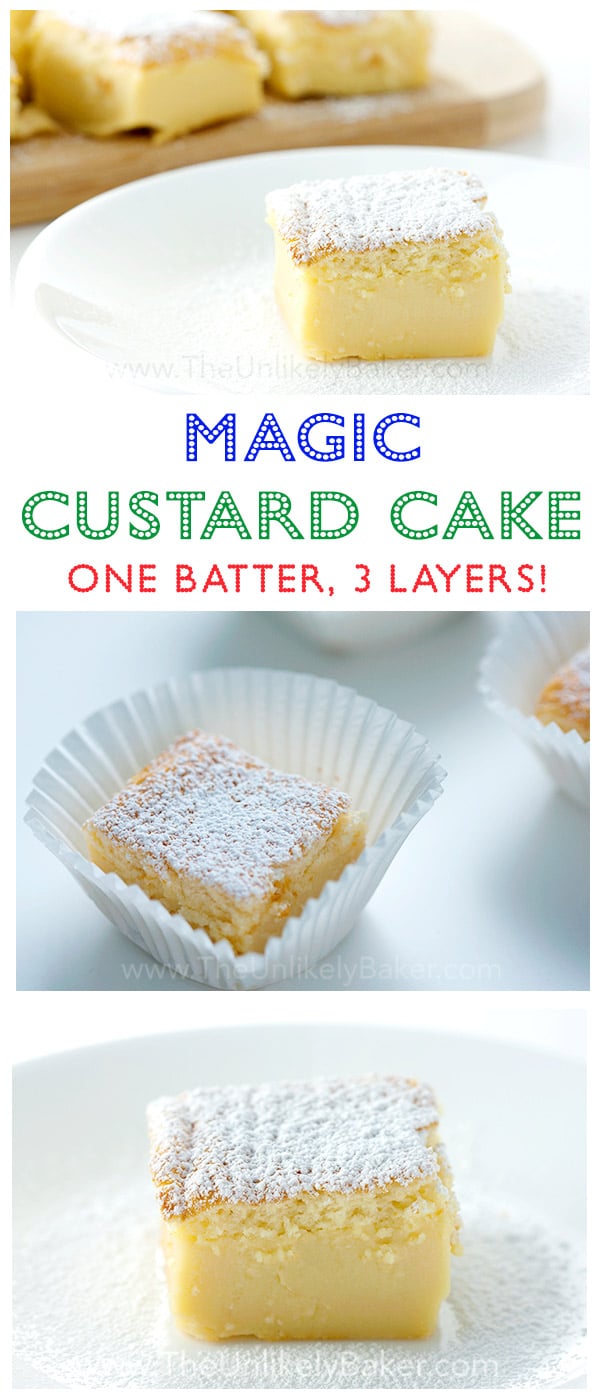 Do you want to improve your food photography, monetize your blog or start your very own food blog? Check out the awesome resources at the bottom of this page (they are affiliate links).
The products below are affiliate links too – these are products that I actually use and/or think are cool. If you click on them and subsequently make a purchase, please know that I will earn a small percentage from Amazon – at no additional cost to you. (See Terms of Use for more info on privacy and how we collect/use collected data on this site.)