Decadent and luxurious chocolate pudding with a hint of cayenne pepper, this Mexican chocolate pudding is your favourite chocolate treat with a kick.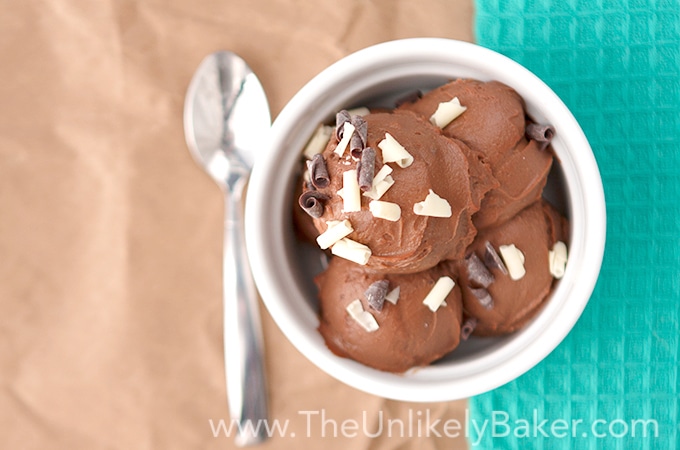 Ok. I admit. There has been a lack of chocolate desserts on The Unlikely Baker lately (or in general, as Red the chocoholic loves to point out).
This summer, I was so overwhelmed with fruits I just had to make something with them (the fact that I prefer lemon desserts over chocolate desserts had nothing to do with it. Nothing.)
Sorry, chocolate lovers (and Red). To make up for it, here's a seriously decadent chocolate treat for you.
Mexican chocolate pudding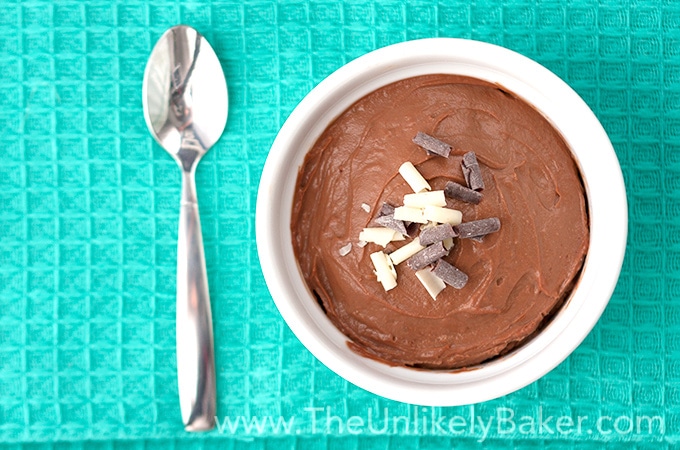 I've never had ready-made chocolate pudding (I don't know, they just look so…perfect…that they scare me) so I can't say for certain but my taste testers proclaim this homemade version infinitely better (aren't homemade just the best?).
Plus, it has a slight kick at the end.
You can opt to leave out the spice and make a traditional pudding instead (especially if you plan to serve this to kids) however, know that this is not overwhelmingly spicy; it's a subtle, exciting kind of kick that brings this chocolate pudding over the edge.
Smooth, silky indulgence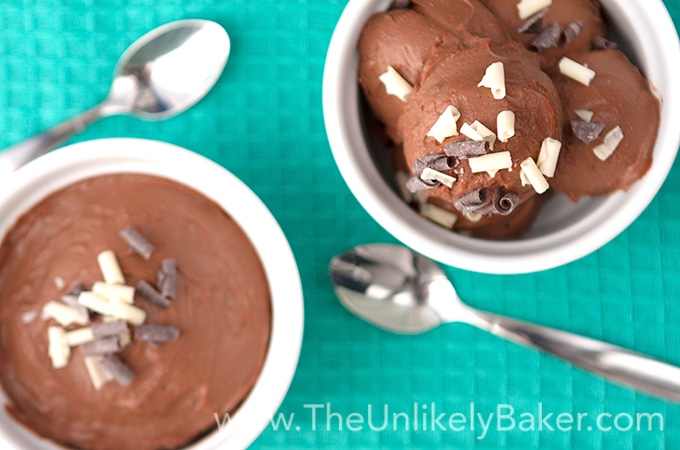 What I can tell you for sure is how silky smooth this pudding is.
It's rich and creamy and is a wonderful reward at the end of the day.
Served cold topped with bits of chocolate or cocoa powder or whipped cream (or everything!), it's also a lovely summer dessert.
The one where Carl ate chocolate pudding on the roof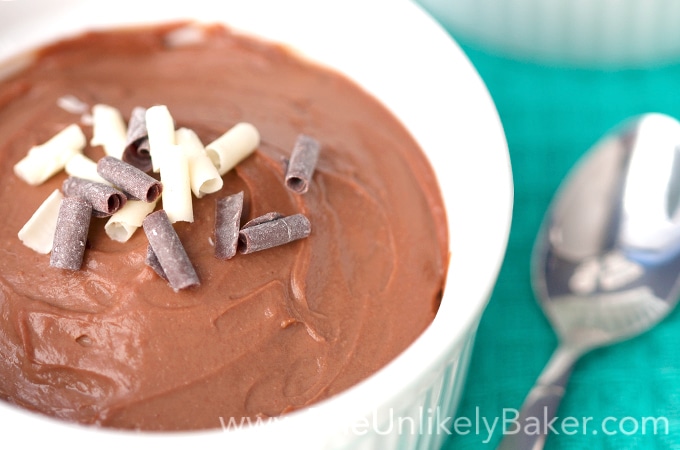 Any TWD fans here? Do you remember the gigantic can of chocolate pudding Carl found and ate by himself?
I thought of that when I first tasted this pudding. How I will take this whole batch, go up to someone's roof somewhere and just eat everything.
From a self-proclaimed member (president, actually) of Team Lemon, that should tell you a lot. This Mexican chocolate pudding is so dang good I was not (at first) willing to share it.
Great use for extra egg yolks
You know what else is so awesome about this pudding?
It's a great way to use those extra egg yolks you may have from other recipes.
You need 3 egg yolks to make this. Have more? Then just make more pudding.
Extra chocolate pudding never hurt anyone. And trust me, it will be gone in a flash (eaten on a roof or not). Enjoy!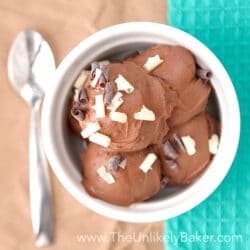 Homemade Mexican Chocolate Pudding
Decadent and luxurious chocolate pudding with a hint of cayenne pepper, this Mexican chocolate pudding is your favourite chocolate treat with a kick.
Instructions
In a large heatproof bowl, whisk 3 tablespoons cocoa powder, 3 tablespoons cornstarch, ¼ teaspoon salt and ¼ teaspoon ground cayenne pepper until combined.

Add and whisk in 1 cup heavy cream, a little at a time, until smooth.

Then add the 3 egg yolks and whisk until well incorporated.

In a saucepan over medium heat, stir 2 ½ cups milk and ½ cup sugar until the sugar is completely dissolved. Bring this mixture to a simmer.

Pour about half of your milk into your cocoa/cream mixture and whisk to temper it.

Then pour everything pack into your saucepan and bring to a boil, stirring often. You should see massive chocolate bubbles and the mixture will start to thicken.

Once it starts boiling, cook for another 2 minutes, whisking constantly.

Then remove from the heat and stir in 1 teaspoon vanilla.

Then add 4 oz bittersweet chocolate chips and leave it alone for about 2 minutes or until the chocolate chips melt. Then whisk until fully incorporated.

Transfer the pudding into an airtight container. Smoothen the top before putting plastic wrap right on the surface. Let it cool slightly before covering with your container's lid. Chill until set (I chill mine overnight).
Nutrition
Calories:
293
kcal
Carbohydrates:
29
g
Protein:
5
g
Fat:
18
g
Saturated Fat:
13
g
Polyunsaturated Fat:
1
g
Monounsaturated Fat:
4
g
Cholesterol:
53
mg
Sodium:
133
mg
Potassium:
244
mg
Fiber:
1
g
Sugar:
21
g
Vitamin A:
594
IU
Vitamin C:
1
mg
Calcium:
152
mg
Iron:
1
mg
Nutritional information are estimates only.
Tried this recipe? Leave a star rating today!
Also tag @iamtheunlikelybaker I'd love to see your creations.
(Recipe adapted from The Kitchn).
Happy no-baking!
Did you make Mexican chocolate pudding? Tell me about it in the comments section below. I'd love to hear all about it. What's your favourite chocolate dessert?