If you like peanut butter and jelly sandwiches, you would love these peanut butter fig bars. Soft, chewy and bursting with flavours from childhood.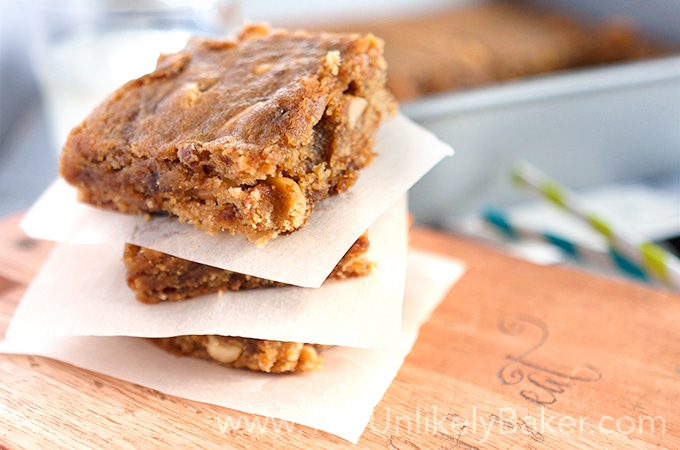 I'm going home to Manila you guys! It's been almost 3 years since I saw my family so I am beyond excited.
I'll meet my niece for the first time, I'll get to hang out with my nephew who was a baby when I left, I'll get to see the whole family (and we're a very large extended family) at my grandma's 85th birthday party (which is the reason I'm going home though don't tell her…it's a surprise!).
I heart my grandma
My grandma (Nanay) is literally the best person I know. She is kind and loving and generous.
She is mom to 10 boys (yes, 10 and yes, all boys!), grandma to 20+ grandkids, and great-grandma to a lot more (sorry, I've lost count).
And her heart is big enough to love each and every one of us completely and without reservations.
In 5th grade we were made to write an essay about who our hero was and I wrote an essay about her. I kid you not.
Peanut butter fig bars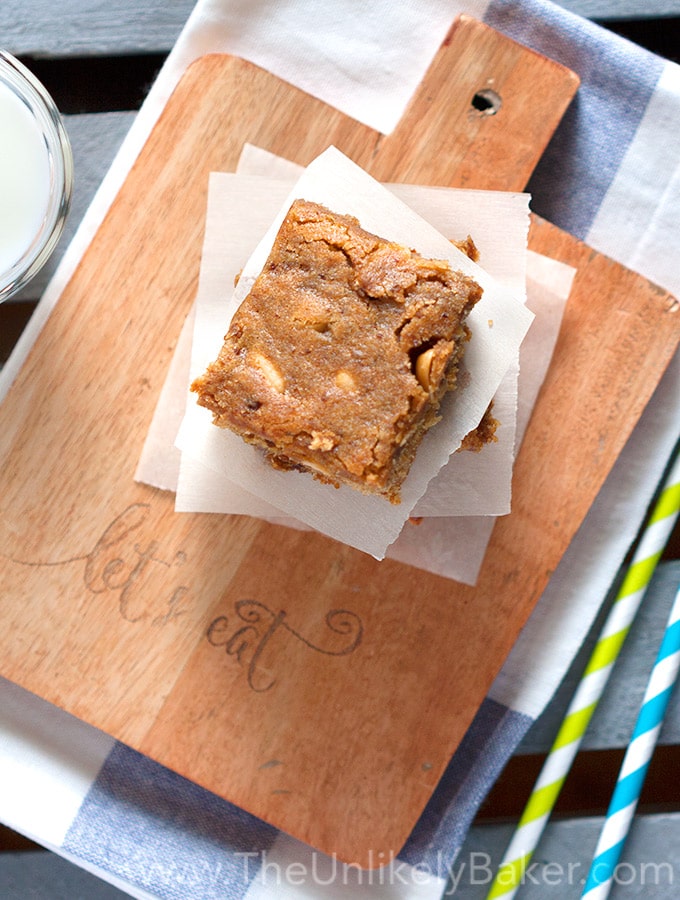 She used to prepare these peanut butter sandwiches for us kids whenever we visit. Lily's Peanut Butter was the brand I remember. Slathered on a hot pandesal.
So last weekend, instead of packing (which I tend to do last minute…drives Red insane), I decided to bake something peanut buttery.
I thought of Nanay and those peanut butter sandwiches and out came these soft and chewy peanut butter fig bars that filled me with so many happy memories!
Hope they make you happy too.
Peanut butter and jelly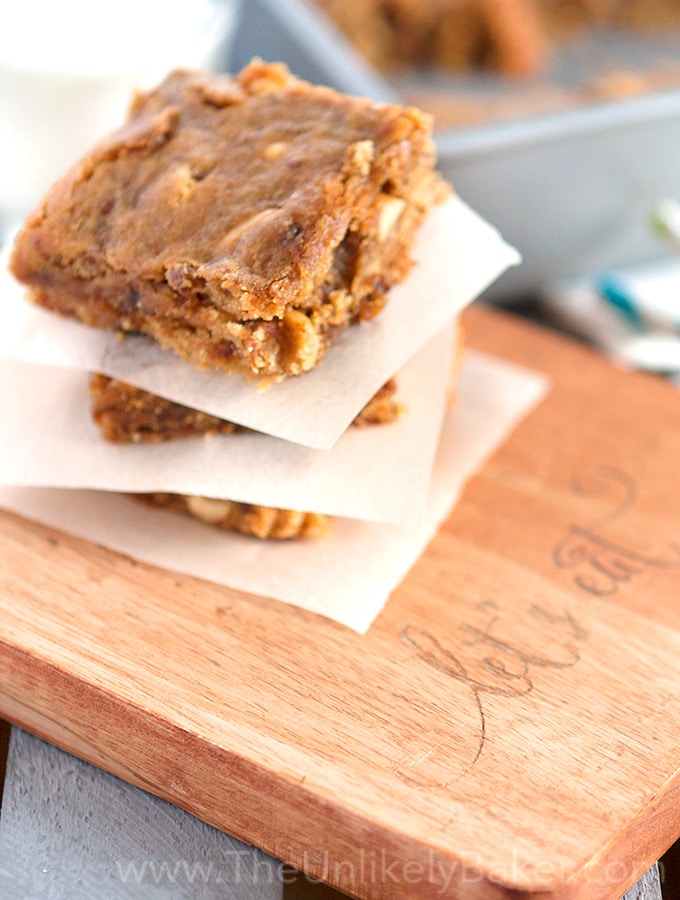 I think peanut butter and jelly sandwiches are a North American phenomenon. Filipino kids didn't grow up eating it.
Sure we saw it on TV and in the movies but in real life, we had good old plain peanut butter sandwiches.
So when I moved here I thought I should really find out what the fuss is all about. I tried peanut butter with different kinds of jam but fig was the only one that I liked.
So for these bars, I used fig but if you have another favourite, feel free to use that. Just note how sweet or sour your chosen jam is and adjust the recipe accordingly.
Warm or chilled, always soft and chewy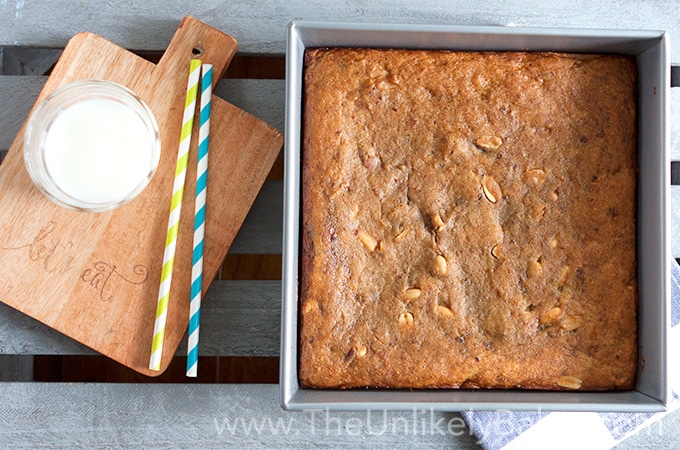 These bars are soft and chewy out of the oven, and even the next day cold straight out of the fridge! They are great snacks, tea cakes, breakfast on the go.
No mixer required
They are so easy to make too. Stir and fold and bake. You don't even need to bust out your mixer!
So go on. Bake some and bask in peanut butter goodness. I'm gonna go pack.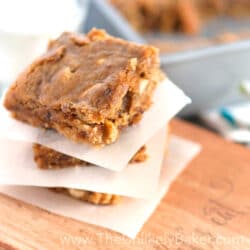 Soft & Chewy Peanut Butter Fig Bars
If you like peanut butter and jelly sandwiches, you would love these peanut butter fig bars. Soft, chewy and bursting with flavours from childhood.
Ingredients
1 ¼

cups

all purpose flour

½

tsp

baking powder

¼

tsp

baking soda

¼

tsp

salt

½

cup

unsalted butter

melted and cooled slightly

¾

cup

brown sugar (tightly packed)

1

pc

large egg

room temperature

1

pc

egg yolk (from a large egg)

room temperature

1

tsp

vanilla extract

½

cup

creamy peanut butter

1

cup

salted peanuts

½

cup

fig jam
Instructions
Preheat oven to 350F. Lightly grease the bottom and sides of a 9×9 inch baking pan and set aside.

In a medium bowl, whisk 1 ¼ cups flour, ½ teaspoon baking powder, ¼ teaspoon baking soda, ¼ teaspoon salt and set aside.

In a large bowl, stir ½ cup melted butter and ¾ cup brown sugar until thick and smooth.

And the eggs to your sugar mixture and stir until incorporated.

Then add 1 teaspoon vanilla and ½ cup peanut butter and stir until smooth and well combined.

Add your flour mixture in 3 stages and gently fold. Do not over mix or your bars will turn out tough and crumbly. Little specks of flour here and there are OK.

Then gently fold in 1 cup salted peanuts.

Then again the ½ cup fig jam. Again, try not to overwork the batter to ensure soft and chewy bars. The peanuts and the jam don't need to be fully incorporated in the batter.

Transfer the batter to your prepared pan and spread evenly.

Bake for 15-20 minutes or until you see browning at the edges. Cool in the pan before cutting into squares.
Nutrition
Calories:
246
kcal
Carbohydrates:
26
g
Protein:
6
g
Fat:
14
g
Saturated Fat:
5
g
Polyunsaturated Fat:
3
g
Monounsaturated Fat:
5
g
Trans Fat:
1
g
Cholesterol:
16
mg
Sodium:
136
mg
Potassium:
168
mg
Fiber:
2
g
Sugar:
14
g
Vitamin A:
179
IU
Vitamin C:
1
mg
Calcium:
31
mg
Iron:
1
mg
Nutritional information are estimates only.
Tried this recipe? Leave a star rating today!
Also tag @iamtheunlikelybaker I'd love to see your creations.
Happy baking!
Did you make peanut butter fig bars? Tell me about it in the comments section below. I'd love to hear all about it. Do you have a favourite treat your grandma made you?