Strawberry waffles are simple and easy to make but packed with flavour and look so pretty they will make any morning a special occasion.
(Are you a big fan of waffles? Try Greek yogurt waffles. It's the perfect waffle recipe to experiment on.)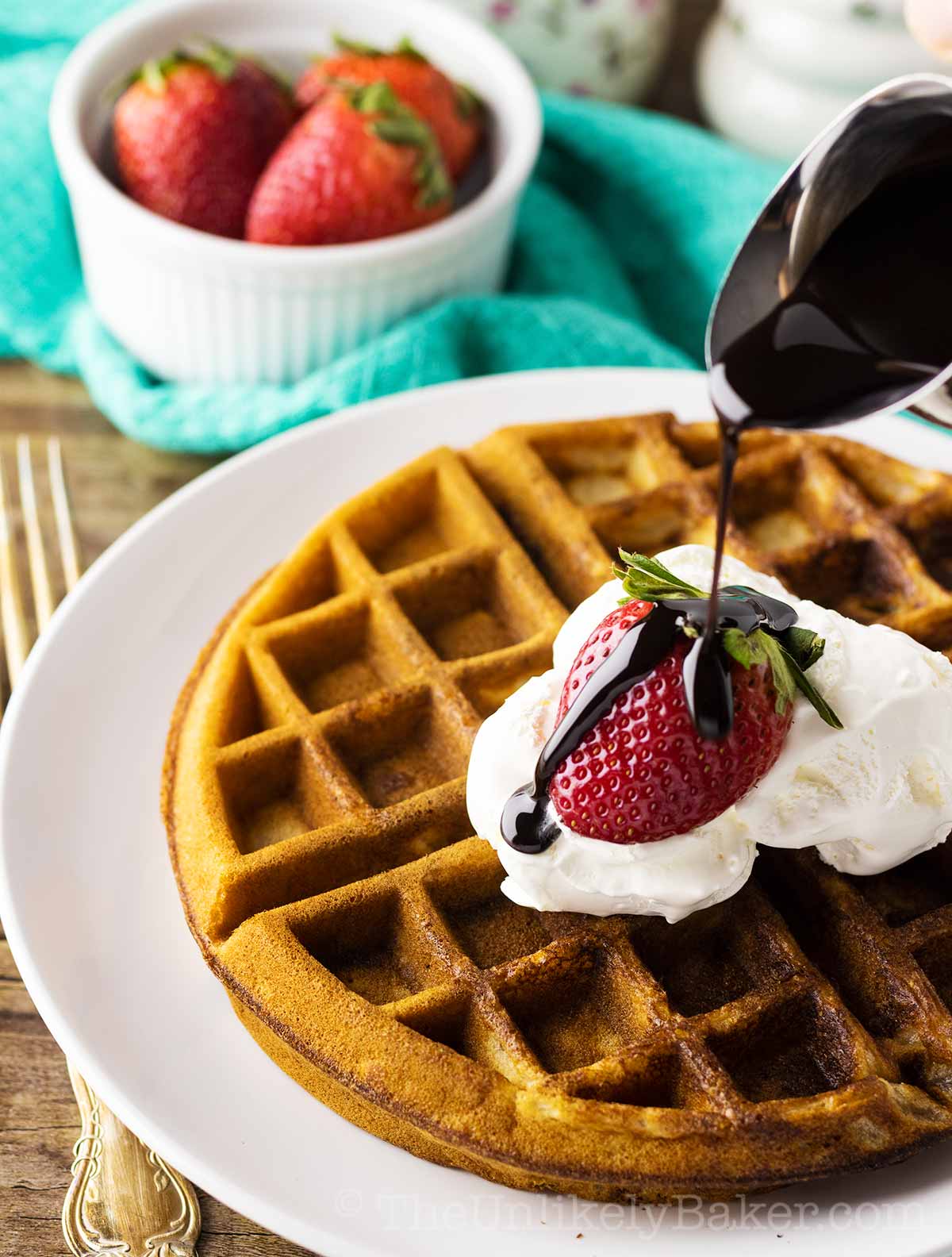 I love fresh strawberry breakfast recipes, like mouthwatering french toast stuffed with strawberries and cream cheese. This time though, I used some ready-made strawberry jam to make strawberry waffles with chocolate chips.
They're so easy and simple to make but once you've plated them, topped them with homemade whipped cream and some fresh strawberries, and drizzled them with chocolate syrup, you have breakfast deserving of Valentine's Day, Mother's Day, your anniversary or just your regular weekend morning made special.
Because seriously, who won't be tickled pink with waffles with strawberries and whipped cream?
How to make strawberry waffles from scratch
For this recipe, you'll need:
Once you have everything ready:
1. WHISK DRY INGREDIENTS. First you want to take all your dry ingredients — except the chocolate chips — and whisk them until combined.
2. WHISK WET INGREDIENTS. Next, in a separate bowl, do the same to your wet ingredients, leaving out the strawberry jam.
3. COMBINE. You can then pour your wet ingredients to your dry ingredients and gently stir until smooth and incorporated.
4. ADD MIX-INS. Fold in strawberry jam and chocolate chips and cook according to machine instructions. Top with whipped cream and strawberries, drizzle with chocolate syrup or maple syrup, enjoy.
It's that quick and easy!
You can skip these next parts and go straight to the recipe at the bottom.
Or you can read on for tips on how to make your homemade Belgian waffles the best they've ever been!
What is the difference between waffle batter and pancake batter?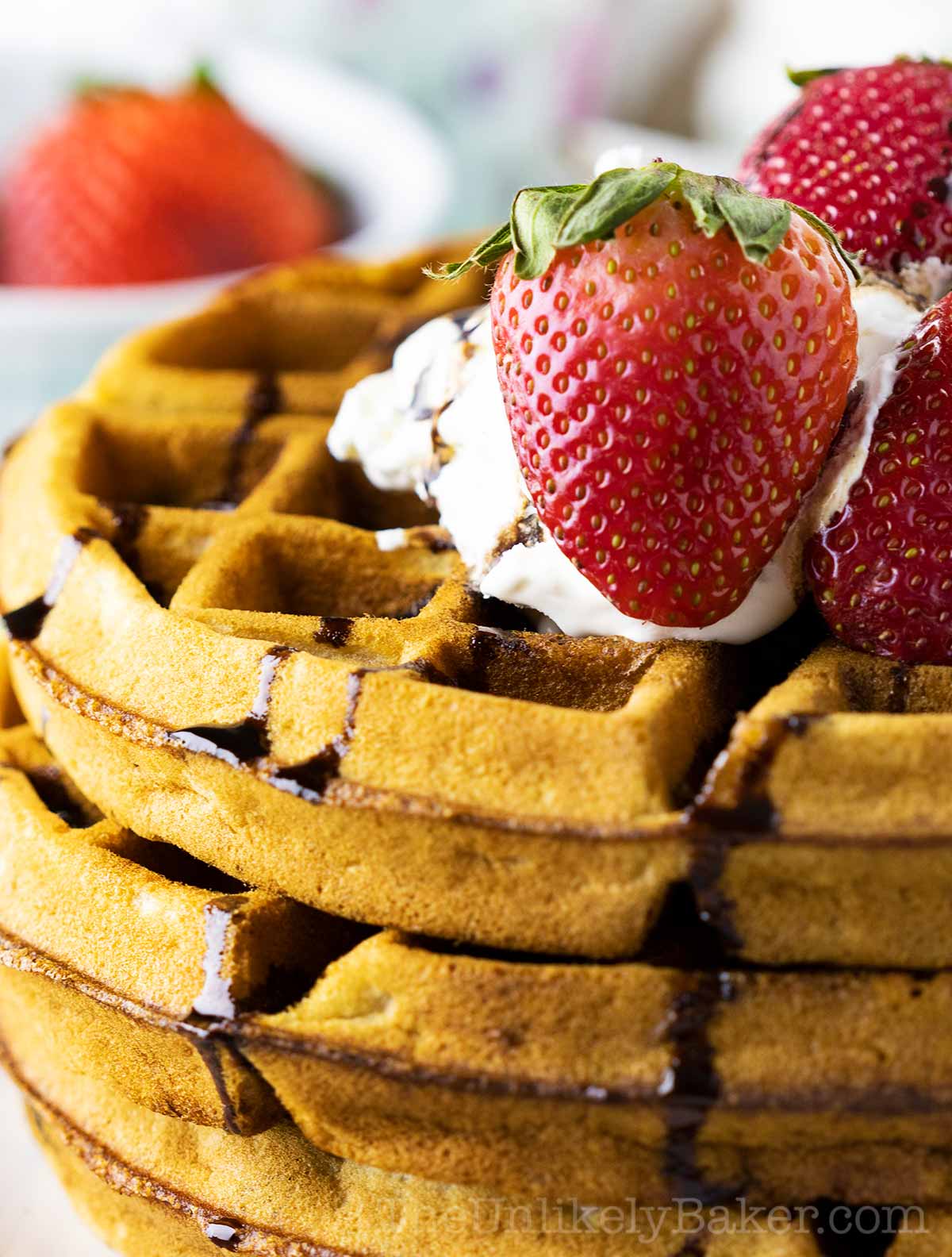 Even though pancakes and waffles are made with the same ingredients — flour, eggs, sugar — they are actually very different. The Alton Brown agrees with me so that settles it lol!
First there's the texture. Pancakes are meant to be soft and fluffy. Waffles are crisp outside, soft inside.
The batter is different too. Waffle batter usually has more oil/butter and more sugar than pancake batter. Personally, I also prefer my waffle batter smoother and my pancake batter coarser.
The real question is: can you make pancakes out of waffle batter and vice versa?
You probably can, but you most likely won't be very happy with pancakes that are too oily and flat or waffles that might stick to your waffle iron.
I'd stick to the recipe, or make both because why not?
What flour should I use to make waffles?
I always use all-purpose flour when making waffles (check out this mochi waffles recipe, it uses rice flour).
Cake and pastry flour are too fine and wouldn't provide your waffles with enough structure. Bread flour, on the other hand, is going to be too heavy.
I've read some people add a few tablespoons of buckwheat
, barley
or rye flour
for flavour and texture; just make sure not to add too much that you'll get your ingredient ratios all mixed up.
How to make the best homemade waffles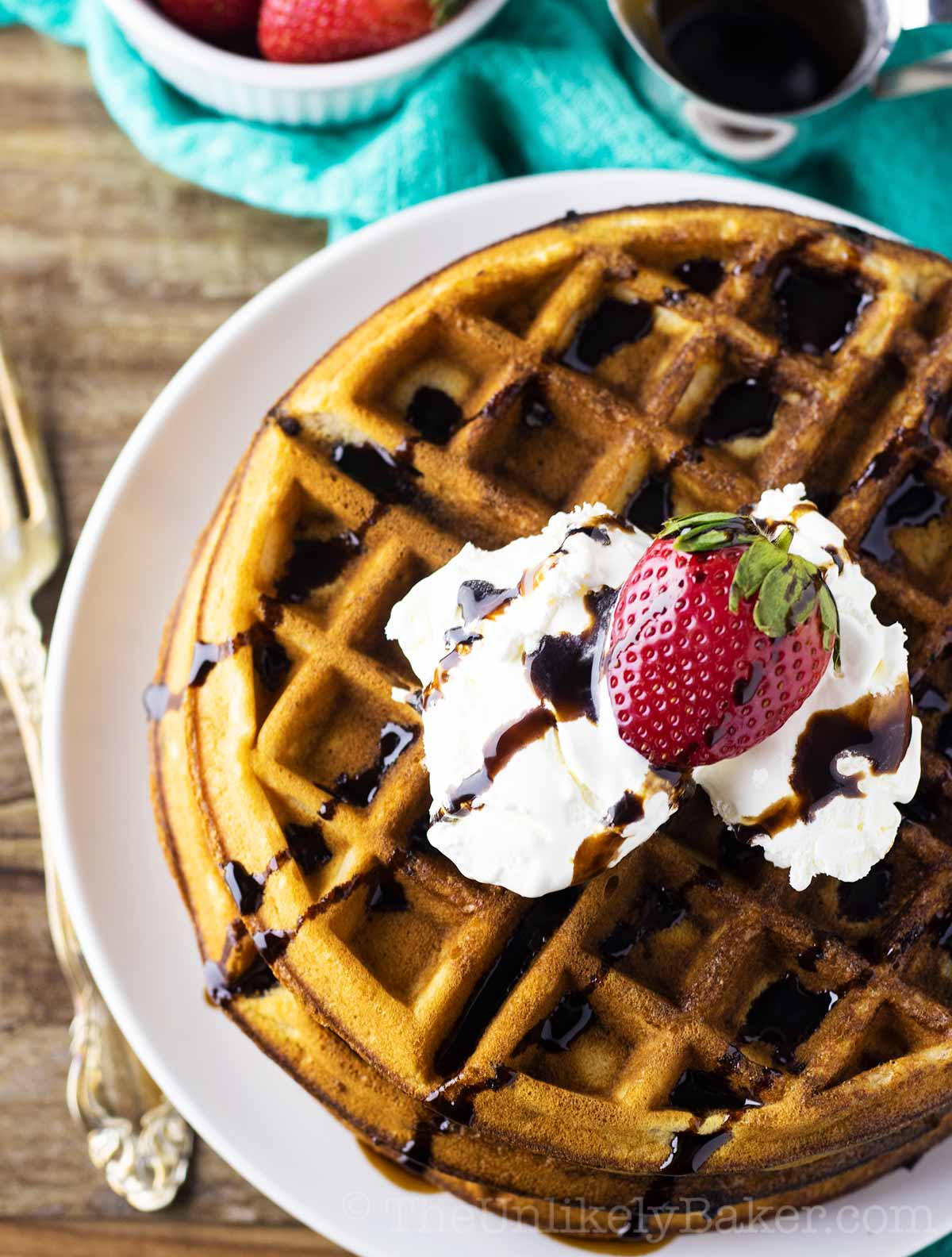 I love waffles and here are some tips to make perfect homemade strawberry waffles each time.
Follow your waffle maker's instructions. It's the simplest tip but the most overlooked. Your waffle maker dictates whether you need a coarse batter or a smooth batter, or the temperature you need to cook at and for how long. Follow that and you're on your way to fantastic waffles.
But also, trust your nose. In baking, you know you're just about done when your house starts smelling of cookies or cake or whatever it is that's in the oven. I find that it's the same with waffles. If you can already smell it, you're almost there. Or if something smells like it's burning…
And while it's best to serve the waffles fresh, if I can't, I set them on my cooling rack so they don't get sad and soggy.
What is the secret to making crispy waffles?
Speaking of sad and soggy, what is the secret to crispy waffles?
First, make sure your waffle maker is hot. This means your waffles start cooking as soon as they hit the griddle. I actually like to hear the batter sizzling as I'm pouring it. That means I'm off to a great start!
It also means the crust will immediately begin to cook. Moisture in the batter will swiftly turn to steam and evaporate.
If your waffle iron is not hot enough, none of this magic happens and you're going to end up with sad and soggy waffles.
Also, while sugar lends crispiness to waffles, to help things along, I like to add a bit of cornmeal to my waffle batter too.
I know some cooks also like to finish off cooking their waffles in the oven for extra crispiness but I've never tried. If you do, let me know how that goes!
How to freeze waffles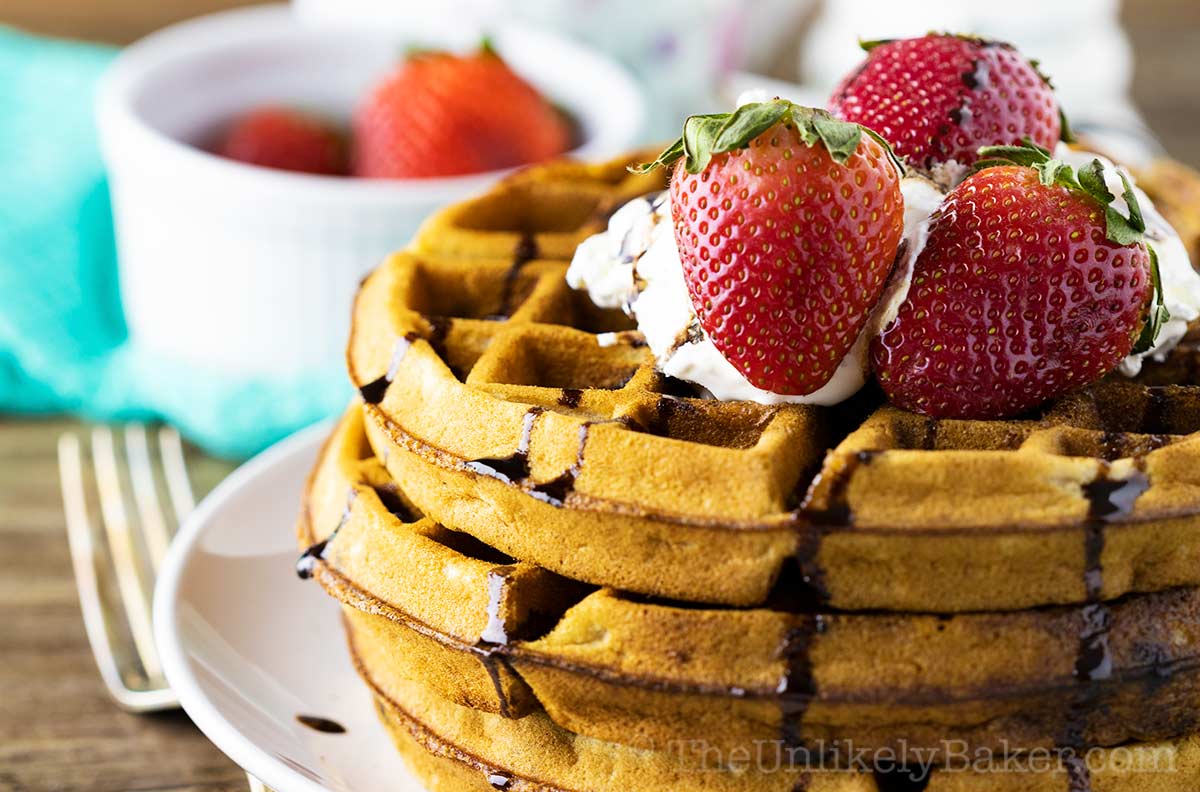 Waffles freeze well. So we usually make a batch on a Saturday or a Sunday and enjoy the leftovers the rest of the week. (Read: dessert for breakfast, special treat on a weekday!)
It's really simple. Just place the completely cooled waffles in a large ziploc bag separated by pieces of parchment paper, put the bag in the freezer and you're done.
You don't need to thaw them either. Just pop it in the microwave for a few seconds and that's it. They won't be as crunchy as the day you made them but they will still be delicious.
What to make with strawberries
Strawberries are great to bake and cook with. I see them available year-round now but their peak season is usually April through July, depending on where you are.
Check out these delicious strawberry recipes:
Strawberry ricotta cake is a lovely, delicate cake you can enjoy at brunch, afternoon tea or any time of the day.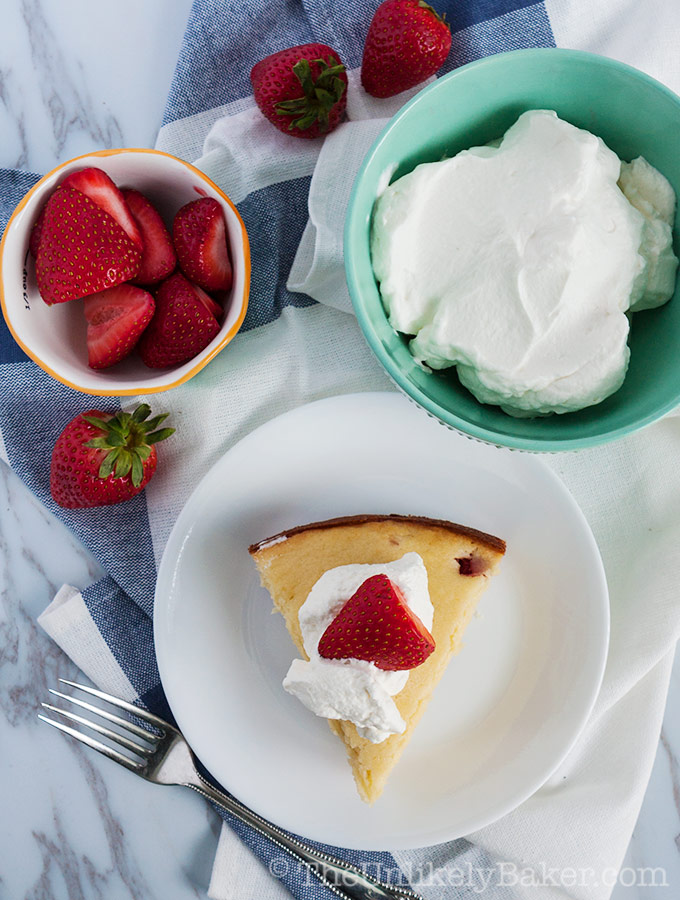 Make sure to grab some rhubarb when they're in season in the spring so you can make this super easy strawberry rhubarb galette. Delicious sweet and tart combo.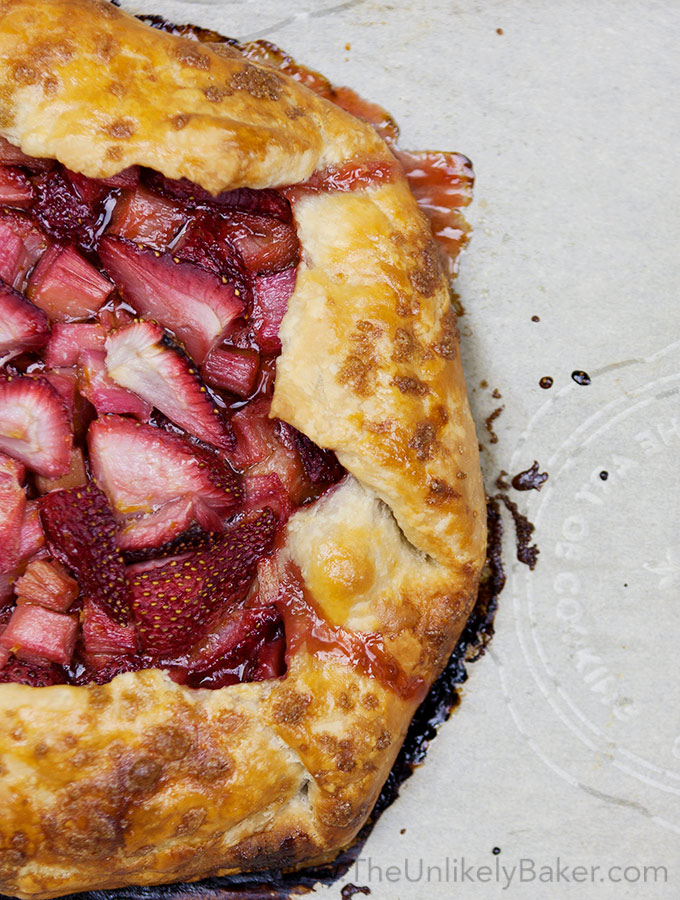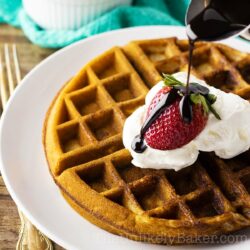 Strawberry Waffles with Chocolate Chips
Strawberry waffles are simple and easy to make but packed with flavour and look so pretty they will make any morning a special occasion.
Ingredients
Wet Ingredients
2 ½

cups

buttermilk

3

pcs

large eggs

1

tsp

vanilla extract

⅔

cup

canola oil

or vegetable oil
Instructions
In a large bowl, whisk dry ingredients until combined.

In another bowl, whisk wet ingredients until combined.

Pour wet ingredients into dry ingredients and gently stir until smooth and incorporated.

Fold ½ cup strawberry jam and ½ cup mini chocolate chips into the batter and cook waffles according to machine instructions.

(Optional) Serve with whipped cream, chocolate syrup and fresh strawberries.
Notes
If your strawberry jam is chunky, mash it before adding to the waffle batter so that the strawberries are evenly distributed.
Alternatively, you can use homemade strawberry puree.
See post for waffle-making tips and FAQs.
Nutrition
Calories:
530
kcal
Carbohydrates:
63
g
Protein:
7
g
Fat:
28
g
Saturated Fat:
5
g
Cholesterol:
13
mg
Sodium:
225
mg
Potassium:
182
mg
Fiber:
2
g
Sugar:
28
g
Vitamin A:
170
IU
Vitamin C:
2
mg
Calcium:
124
mg
Iron:
2
mg
Nutritional information are estimates only.
Tried this recipe? Leave a star rating today!
Also tag @iamtheunlikelybaker I'd love to see your creations.
Happy waffle-making!
Did you make strawberry Belgian waffles? I'd love to hear from you in the comments section below.