These blueberry ricotta bars are soft, light and not overly sweet – allowing that delightful blueberry flavour to shine through.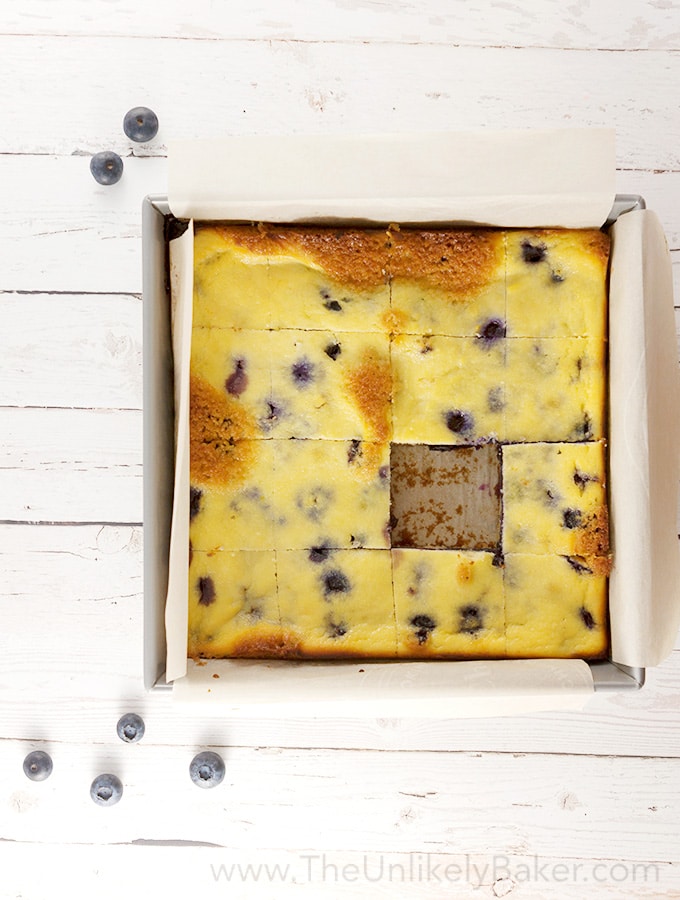 I tend to get carried away when I see an overwhelming amount of fresh, bright produce. Like blueberries. I saw shelves and racks and tables of them in the market one weekend and I couldn't help myself. I got a tub (ok, I got 2) and happily went on my way.
I knew it was too much blueberries for 2 people but I got them anyway (I may need an intervention); I thought well, we'll just have to snack on them and put them in salads and I would just need to bake/cook with them before they go bad.
Blueberry fiasco(s)
As if to teach me a lesson, my first 2 forays into blueberry cooking were complete disasters. The first one (a supposedly easy and delectable sauce) turned out sour (don't ask) and my Great Blueberry Pancake Experiment completely bombed (think: exploding blueberries and rubbery pancakes).
I mean, we still ate the pancakes. And poured the sauce over them. We just drenched them in maple syrup to mask the…unpleasant…ness.
If at first you don't succeed…
Not one to give up, I tried again (and because I still had blueberries!), albeit a little wary now of what I wanted to create.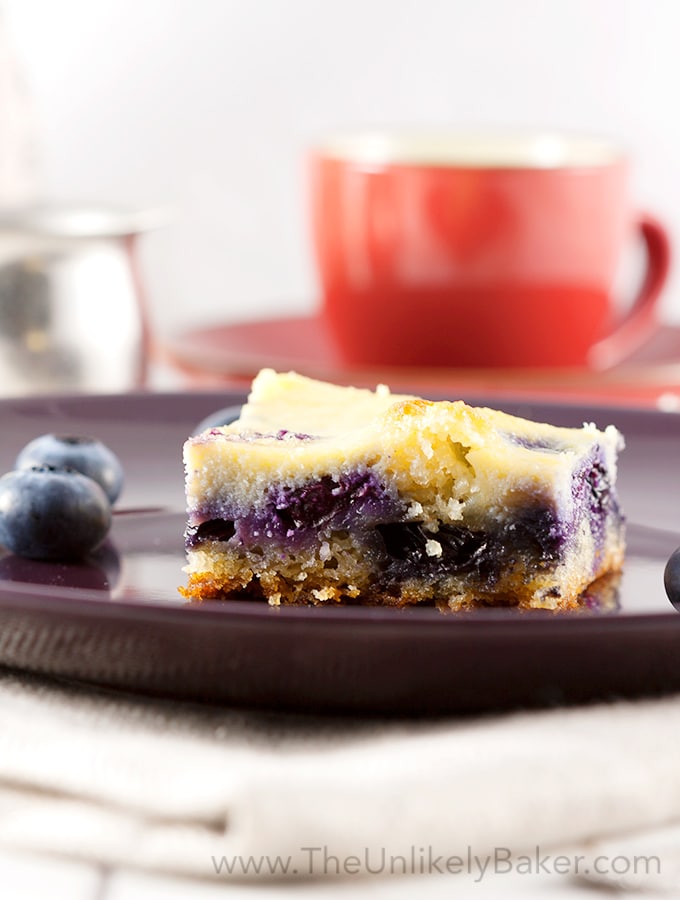 First, a recipe that needed just the right amount of blueberries I still had. Second, I wanted to stick to baking and the oven this time (I've proven once more that the stove has little love for me). Third, it has to be something delicious! Enough of awful blueberry sauce poured over gross pancakes.
Blueberry ricotta bars
Love blueberries? Try these soft, light, delicious blueberry ricotta bars!
Click To Tweet
Enter these blueberry ricotta bars. Now we're talking. Think of them as a blueberry layer cake of sorts: the first layer is the sweet crust. The second layer is the fresh blueberries. The third layer is a splendid ricotta cheese mixture. And what you have are soft, light ricotta cheese bars packed with blueberry flavour.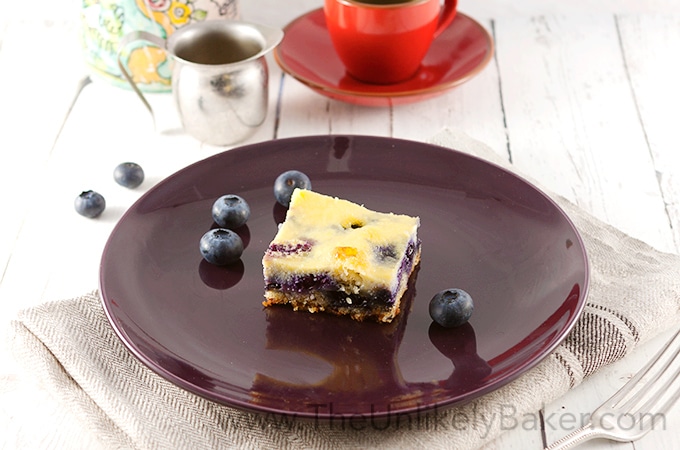 Serve them chilled
You can serve these bad boys as soon as they are cool enough to cut or at room temperature. But what I've found is they are best served chilled. Like cheesecake. And if you can resist the temptation to eat them as soon as they are out of the oven, serve them the next day (or the next). Magic happens in the fridge, the flavours come together, and the bars just get more and more delicious.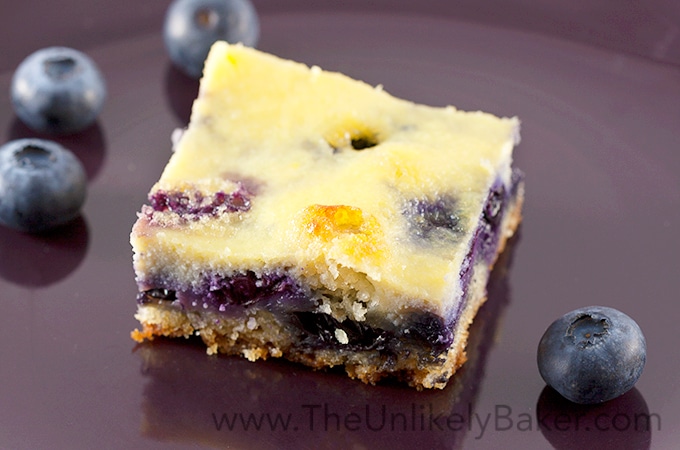 Go blueberry crazy
Blueberry season in Ontario (where I am) runs from early July to late August (and everywhere else in the Northern hemisphere from May to August) so go grab some blueberries today, tomorrow, this weekend while they're beautiful and lovely.
Soft, light, not overly sweet – these delicious blueberry ricotta bars allow that delightful blueberry flavour to shine through.
Ingredients
For the Crust:

1 cup all purpose flour
3/4 cup granulated sugar
1 1/4 teaspoons baking powder
1/2 teaspoon salt
1/3 cup milk, room temperature
1/3 cup shortening
1 large egg, room temperature
1/2 teaspoon vanilla extract
For the Blueberry Layer:

1 1/2 cups fresh blueberries, washed and dried (see notes)
1 tablespoon all purpose flour
For the Ricotta Cheese Topping:

2 large eggs, room temperature
1 1/4 cups ricotta cheese (see notes)
1/3 cup granulated sugar
1/2 teaspoon vanilla extract
Instructions
Preheat oven to 350F. Line a 9x9 inch baking pan with parchment paper and set aside.
For the Crust:

In a medium bowl, using a handheld electric mixer or stirring by hand, combine 1 cup flour, 3/4 cup sugar, 1 1/4 teaspoons baking powder and 1/2 teaspoon salt. Then add 1/3 cup milk, 1/3 cup shortening, 1 egg and 1/2 teaspoon vanilla. Beat until smooth and fully incorporated. Remember to scrape the sides and bottom of your bowl.
Transfer this mixture into your pan and smooth the top with a spatula.
For the Blueberry Layer:

In a small bowl using your hands, toss the fresh blueberries with 1 tablespoon flour until the berries are lightly and evenly coated.
Sprinkle the blueberries over the crust.
For the Ricotta Cheese Topping:

In a medium bowl using a handheld electric mixer or whisking by hand, beat 2 eggs until frothy and foamy. Then add 1 1/4 cups ricotta cheese, 1/3 cup sugar and 1/2 teaspoon vanilla. Beat until combined.
Spread this cheese mixture over the blueberries.
Bake for 50 to 60 minutes or until golden brown around the edges. Remove from the oven and allow to cool slightly before cutting into squares and serving (see notes).
Notes
After washing the blueberries, I lay them flat on a paper towel then cover them with another sheet of paper towel. It's really important that they be completely dry before they are tossed with the flour.
To measure the ricotta, I fluff it in its tub with a fork before I transfer it to a measuring cup.
You can also choose to chill before cutting and serving. I personally prefer chilled - it takes on a cheesecake-like consistency - and the flavours are that much better the next day! Taste and see what you prefer.
https://theunlikelybaker.com/blueberry-ricotta-bars/
This delicious recipe brought to you by www.TheUnlikelyBaker.com | (c) 2016-2017
(Recipe adapted from King Arthur Flour).
Happy baking!
Did you make blueberry ricotta bars? Tell me about it in the comments section below. I'd love to hear all about it.
Here are more awesome bar recipes for you:
And let's get social! Find me on Facebook, Pinterest, Instagram, Twitter, Google+ and Flipboard.
Or subscribe so you don't miss a recipe. I promise I don't spam (I hate spam too).
Do you want to improve your food photography, monetize your blog or start your very own food blog? Check out my Blogging Resources.