Homemade whipped cream tastes better than store-bought and is a breeze to make. All you need is a bowl, an electric mixer and 15 minutes. So go ahead and make your own whipped cream!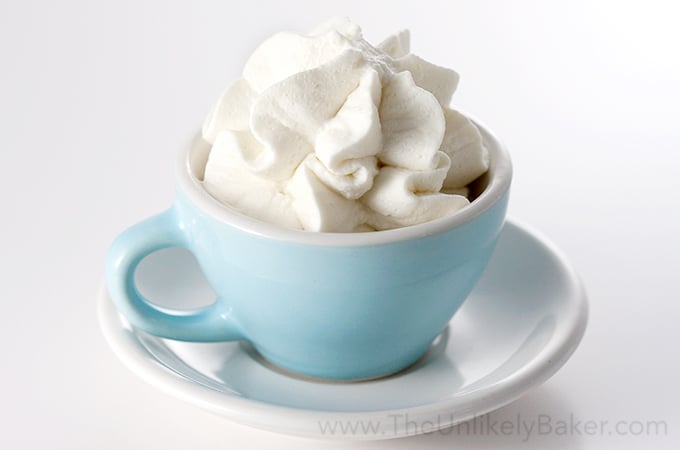 Homemade whipped cream tastes so much better than the packaged ones you buy at the grocery store. Best of all, making it is quick and easy. All you need is a bowl, an electric mixer and 15 minutes. There's absolutely nothing to it.
Baking as a superpower?
I must admit, the old me would be the first to say "why make it when you can buy it". Since I learned how to bake though, my first thought now is "I wonder if I can make that". Who knew baking can be so empowering?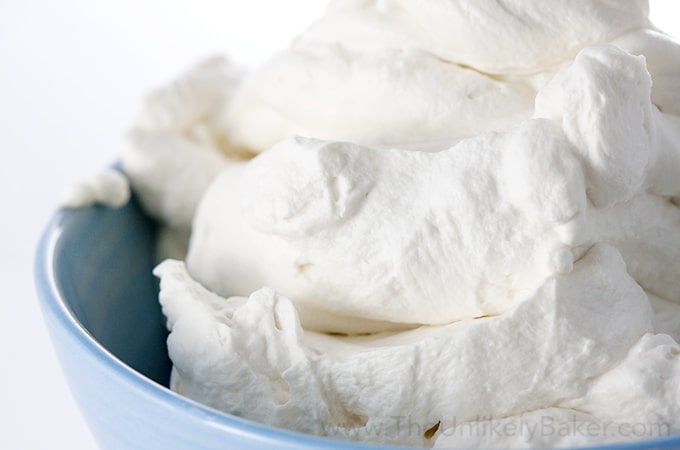 Make your own whipped cream
Take whipped cream for example. It's so easy to just get in your car, drive to the grocery store and grab one of them tubs or canisters. But making your own whipped cream is even easier. It tastes a lot better too. Plus the texture is fluffier but meatier at the same time (does that make sense?).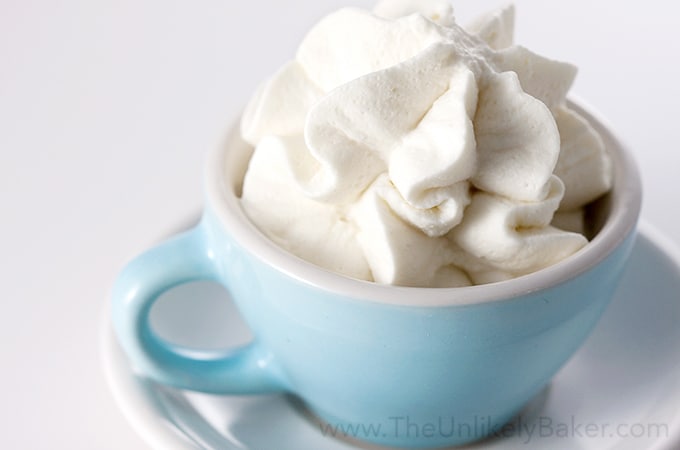 Homemade whipped cream anytime
It's the easiest thing in the world too. And before you know it, you can make whipped cream anytime that's perfect as topping for pies (watch out for tomorrow's post – I have a lovely Key Lime Pie in the works), hot chocolate, cakes or (if you're like me) eating on its own after a particularly awful day at work.
So the next time you bake a pie or make a cake that needs it, make your own whipped cream. It's fast, easy and honestly quite addicting (the making and the eating).
And once you've gone homemade, you're never going back to store-bought again (like what happened when I made Homemade Lemon Curd). Try it!
Related: How to Take Stunning Food Photos
Ingredients
1 cup heavy cream, chilled
2 tablespoons granulated sugar
1 teaspoon vanilla extract
Instructions
You'll need a handheld electric mixer for this or a stand mixer with the whisk attachment. Whatever you're using, put the bowl and the whisk in the fridge for about 10 minutes before you start whipping so they are properly chilled too before you use them.
Then just whisk all ingredients together - about 30 seconds on low speed to give them a good stir, switching to high speed until stiff peak (or until you reach the desired consistency you want - I use a stand mixer and it takes me about 2 minutes to get to soft peak stage, then another minute or so to stiff peak, which is what I want). Be careful not to overbeat though...you might end up with butter!
Notes
This recipe yields about 2 cups.
https://theunlikelybaker.com/homemade-whipped-cream/
This delicious recipe brought to you by www.TheUnlikelyBaker.com | (c) 2016-2017
(This recipe adapted from Pretty.Simple.Sweet.)
Happy whipping!
Did you make your own whipped cream? Tell me about it in the comments section below. I'd love to hear all about it.
You can use your homemade whipped cream as topping for these amazing pies!
And let's get social! Find me on Facebook,  Pinterest,  Instagram,  Twitter,  Google+  and  Flipboard.
Or subscribe so you don't miss a recipe. I promise I don't spam (I hate spam too).
Do you want to improve your food photography, monetize your blog or start your very own food blog? Check out my Blogging Resources.