Homemade whipped cream tastes better than store-bought and is a breeze to make. All you need is a bowl, an electric mixer and 15 minutes.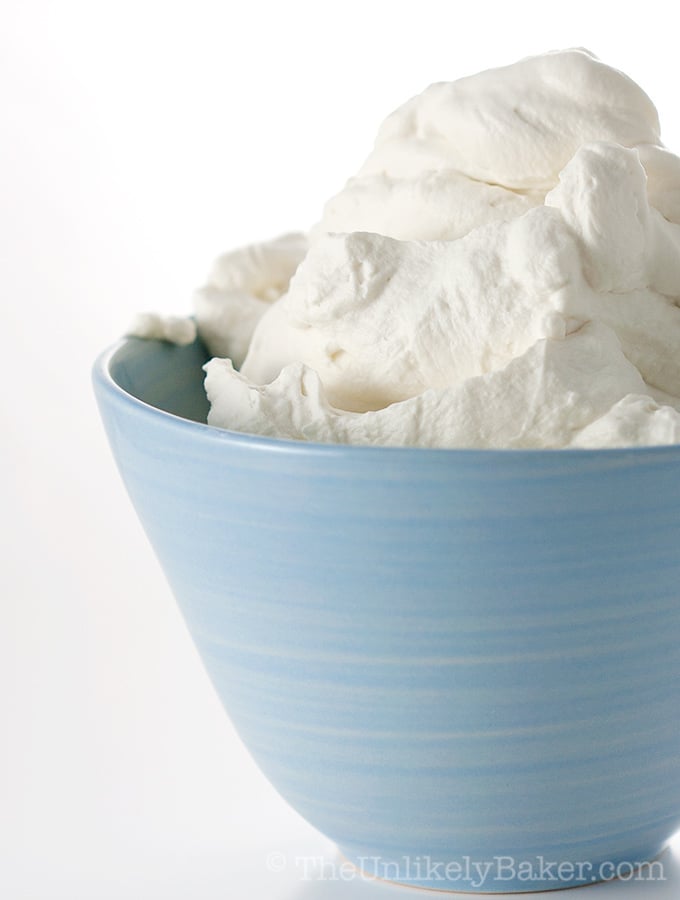 Making fresh whipped cream is one of the very first things I learned as a home baker. It makes all desserts so pretty! Just have a look at this No Bake Mango Cheesecake and this Eggless Key Lime Pie.
Homemade whipped cream tastes so much better than the packaged ones you buy at the grocery store too.
Best of all, making it is quick and easy. All you need is a bowl, an electric mixer and 15 minutes. There's absolutely nothing to it.
Plus, read on for tips on storage, troubleshooting and perfect whipped cream every time.
How to make homemade whipped cream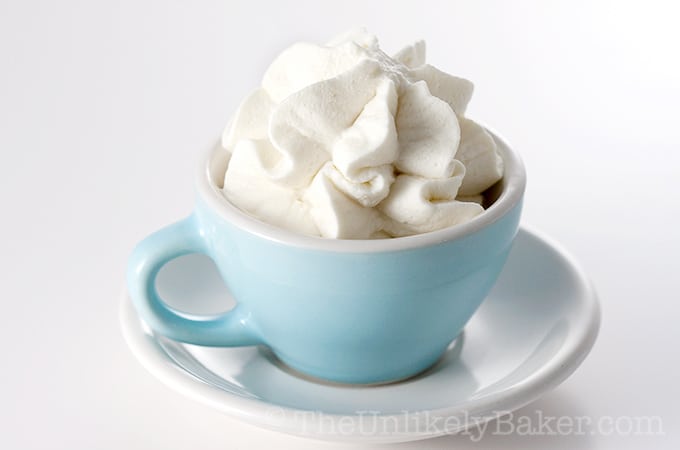 You just whip heavy cream with some sugar and vanilla until the cream is stiff.
It's so simple (just have a look at the video) but here are some tips for perfect whipped cream all the time, every time:
Chill not only your cream but also your bowl and your beaters.
Do not over whip (it will turn the cream into butter). So it's best not to walk away while the mixer is on.
But if your cream has already become a bit too stiff (stiff, not butter), don't worry because it's very easy to fix. Just add a little cream and whisk until it becomes smooth again.
Can you make whipped cream using milk?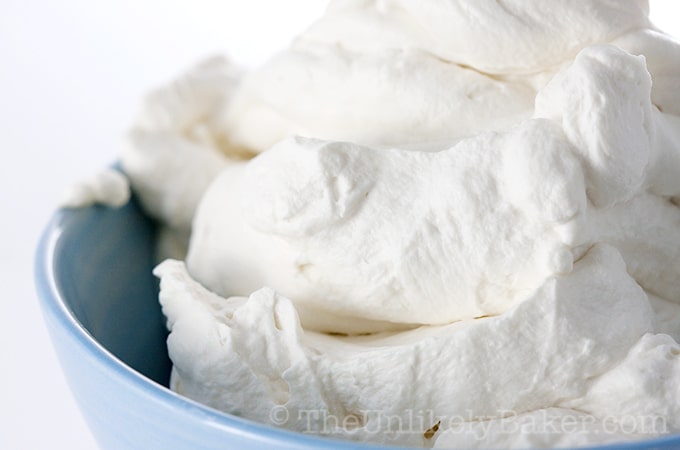 Another important thing to remember is you need a certain amount of milk fat content – usually 30% or higher – for cream to thicken properly.
This means regular milk won't work because its fat milk content just isn't high enough. I always use heavy cream (usually 36% milk fat) but you can also use whipping cream and double cream (30% or higher).
Coconut cream
also whips wonderfully. Check out this Ube Cheesecake and this No Bake Pineapple Coconut Cream Pie – I topped both with luxurious coconut whipped cream. Delicious!
How long does homemade whipped cream last?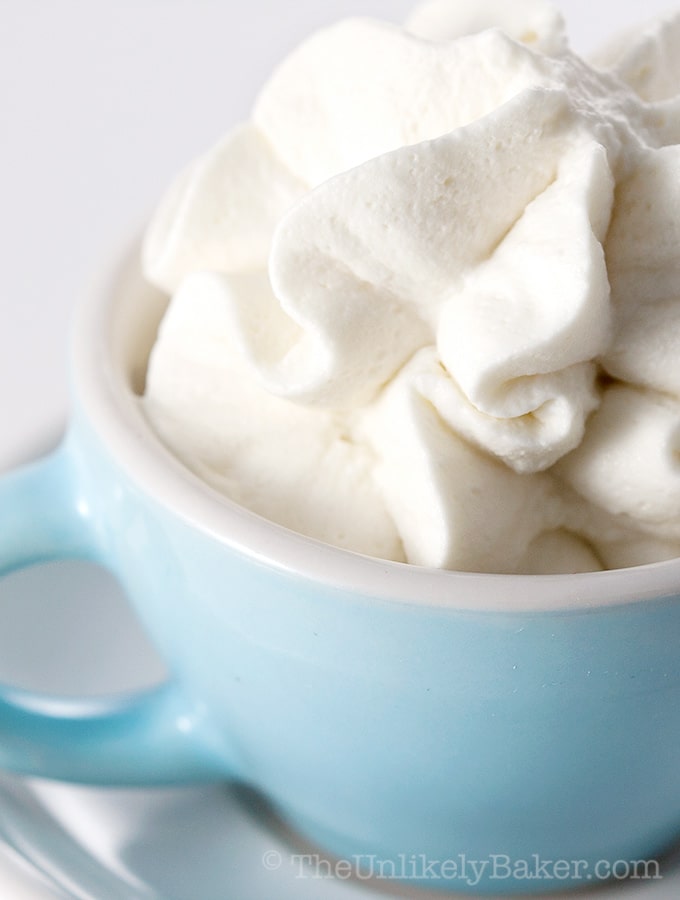 I've found homemade whipped cream can be made ahead too. Don't get me wrong – freshly whipped is still best but if you have company over you don't really want to be stuck in the kitchen making whipped cream.
What you can do is whip the cream to medium peaks a few hours before your guests arrive. Chill it in a bowl until you need it. Then whisk it to stiff peaks just when you're ready to serve it.
Can you make whipped cream days ahead? You can – it lasts 2-3 days in the fridge – though I don't recommend it because it tends to break and liquify at the bottom. The better alternative is to freeze it.
Can homemade whipped cream be frozen?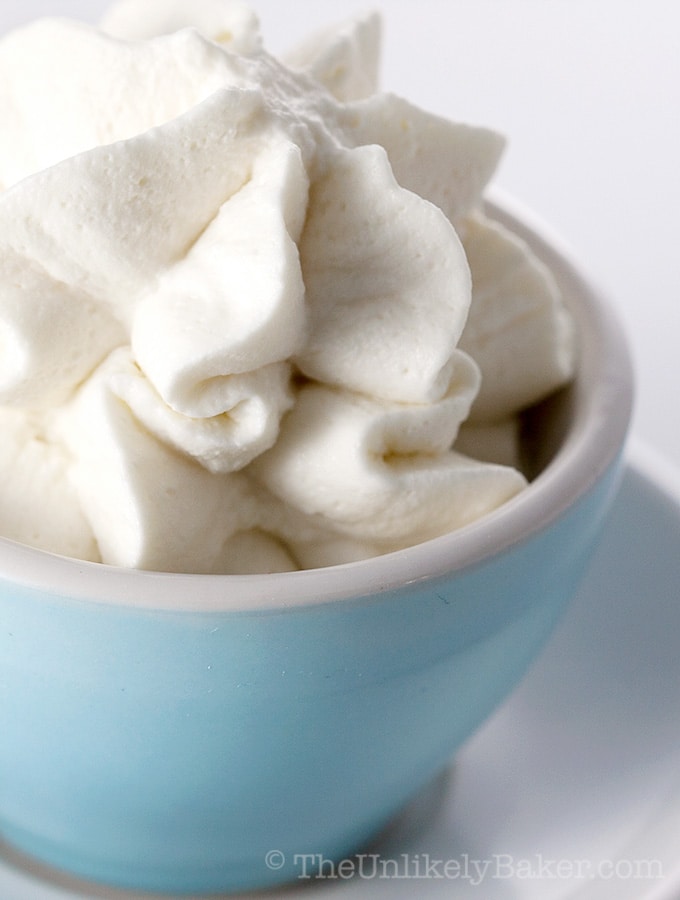 Yes, you can freeze homemade whipped cream! It won't be as shiny or fluffy as fresh but it's still good.
What I do is scoop
or pipe
whipped cream onto a baking pan lined with parchment paper. I put my pan in the freezer (so make sure the pan you're using fits your freezer). Once the individual pieces are frozen, I transfer them into a Ziploc bag or other freezer-friendly container.
When you need them, just place the frozen pieces of whipped cream on top of your dessert and let it sit at room temperature for about 10-15 minutes before serving.
But my favourite way to use them is to place a frozen piece of whipped cream on top of my hot chocolate and watch it slowly melt. Makes for one creamy and delicious drink!
Frozen whipped cream lasts about 2 months.
Desserts made with homemade whipped cream
Whipped cream is not just for decoration. You can use it as frosting too (check out Chocolate Chiffon Cake with Whipped Cream Frosting and Mango Chiffon Cake with Whipped Mango Cream Frosting).
It's also a vital ingredient when making no-churn ice cream.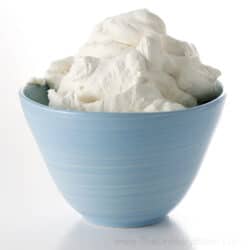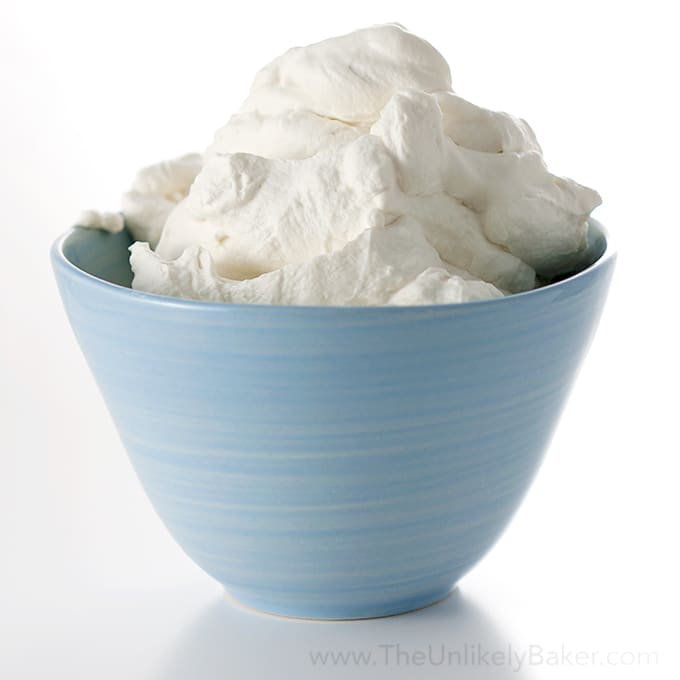 Homemade Whipped Cream
Homemade whipped cream tastes better than store-bought and is a breeze to make. All you need is a bowl, an electric mixer and 15 minutes.
Instructions
You'll need a handheld electric mixer for this or a stand mixer with the whisk attachment. Whatever you're using, put the bowl and the whisk in the fridge for about 10 minutes before you start whipping so they are properly chilled too before you use them.

Then just whisk all ingredients together – about 30 seconds on low speed to give them a good stir, switching to high speed until stiff peak (or until you reach the desired consistency you want – I use a stand mixer and it takes me about 2 minutes to get to soft peak stage, then another minute or so to stiff peak, which is what I want). Be careful not to overbeat though…you might end up with butter!

Nutrition
Calories:
28
kcal
Fat:
2
g
Saturated Fat:
1
g
Cholesterol:
10
mg
Sodium:
2
mg
Potassium:
5
mg
Vitamin A:
110
IU
Vitamin C:
0.1
mg
Calcium:
5
mg
Nutritional information are estimates only.
Tried this recipe? Leave a star rating today!
Also tag @iamtheunlikelybaker I'd love to see your creations.
Happy whipping!
What's your favourite way to use homemade whipped cream? I'd love to hear from you in the comments section below.