Satisfy your sweet and salty cravings with this delicious cantaloupe feta cheese salad! Fresh, refreshing, scrumptious and takes no time at all.
(Looking for another light and refreshing summer salad? Try this peach caprese salad with balsamic reduction. It's just as simple and delicious! This strawberry feta salad is a healthy summer treat, too.)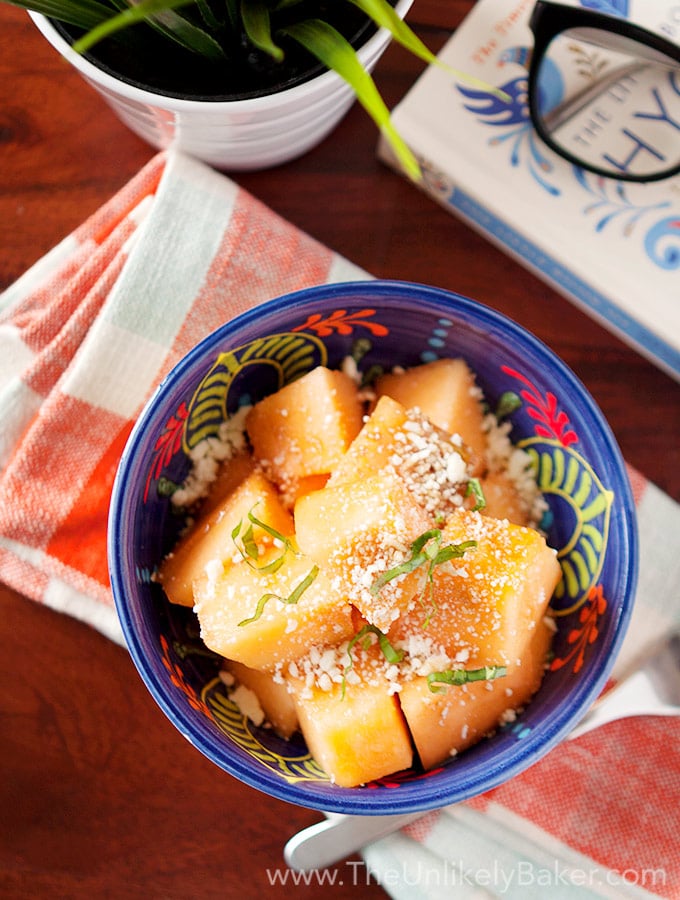 I know what you're thinking. What is a salad recipe doing here? What devilry is this? LOL!
Since I bake a lot, it always surprises people when they find out that we don't actually eat sugar all day, everyday (well, certainly not all day).
We don't deny that we have a sweet tooth (and it's a dang massive sweet tooth, that tooth). It's just we do our best to eat healthy (er) when we're not eating cupcakes (balance!).
One time all I ate was salad for a week (the fact that I eat only vegetables for dinner continues to horrify my meat and rice loving parents haha) so yes, I love my fruits and vegetables! And I really should share more of our favourite salad recipes here. Like this cantaloupe feta cheese salad.
Sweet, salty and a breeze to make, it's lovely enjoyed on your porch, while on a picnic or as a side dish for your next BBQ.
How to tell if a cantaloupe is sweet and ripe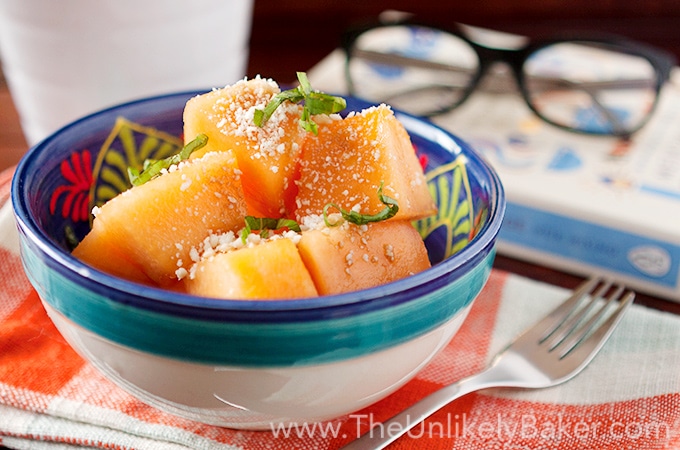 We've had our share of bland cantaloupe. Which isn't bad. Just a little sad.
My grandma and my mom have this trick – they just tap the cantaloupe (or watermelon or honeydew or other similar fruit) and they know right away if it's good to go.
I did not inherit that power. So we just use our noses. If the fruit smells nice (pleasantly sweet, not overly sweet) then we know it's ripe. It's been working so far!
How to make basic vinaigrette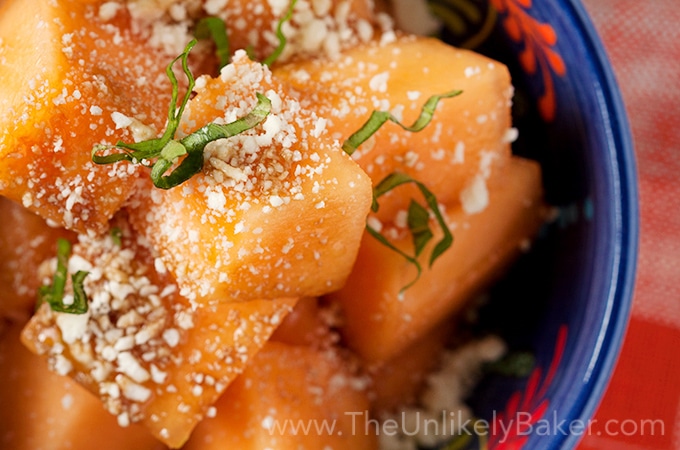 We usually slice and dice the cantaloupe and eat it as is but if sometimes we want something different, we make a salad!
It's super easy and uses the simplest vinaigrette ever – 1 part balsamic vinegar to 2 parts olive oil. We use this as a dip for bread too, but I digress.
Delicious summer salad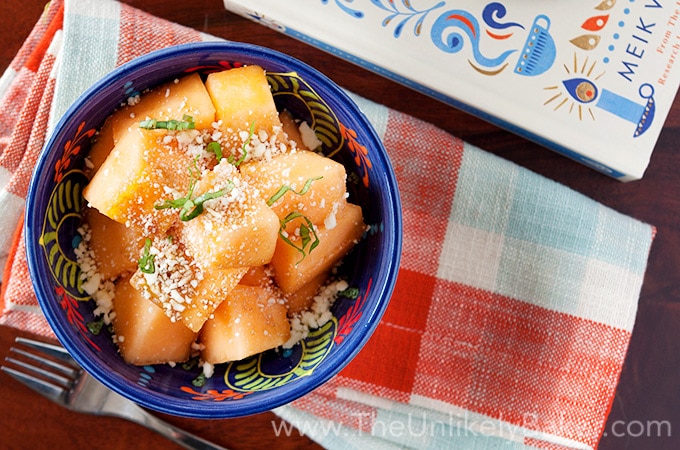 Then we sprinkle some (or a lot) of crumbled feta cheese, season with salt and pepper and it's done!
OK not really done. We add fresh basil and it really elevates the dish so don't skip it!
Then we go out to our balcony, sit on our Muskoka chairs while watching the sunset and just be super hygge.
IRL we're probably discussing what to binge watch on Netflix next LOL. But do try this salad. It's delicious and very summery!
This Jennifer Aniston salad is a tasty treat too. Enjoy!
Happy salad building!
Did you make cantaloupe feta cheese salad? I'd love to hear from you in the comments section below.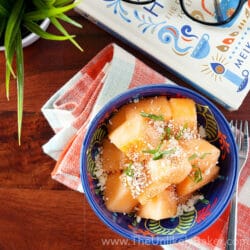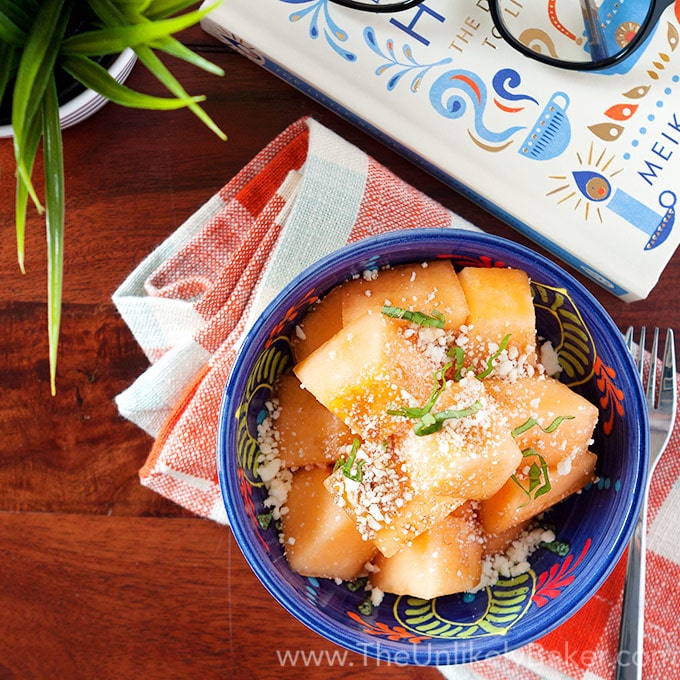 Cantaloupe Feta Cheese Salad
Satisfy your sweet and salty cravings with this delicious cantaloupe feta cheese salad! Fresh, refreshing, scrumptious and takes no time at all.
Ingredients
1

pc

ripe cantaloupe

diced into bite sized pieces (see notes)

crumbled feta cheese

fresh basil

chopped

salt

pepper
Instructions
Mix 1 part balsamic vinegar with 2 parts olive oil.

Place a serving of cantaloupe in a plate or bowl. Drizzle with vinaigrette and toss. Top with crumbled feta cheese and fresh basil. Season with salt and pepper. Serve immediately.
Notes
We like to chill the cantaloupe after dicing and only take it out when we're ready to assemble our salad. This way, our salad is cold and refreshing!
As with any salad, how you build your salad is entirely up to you so I did not include measurements in this recipe. Just taste and season to your liking.
Nutrition
Calories:
1
kcal
Carbohydrates:
1
g
Protein:
1
g
Sodium:
1
mg
Sugar:
1
g
Nutritional information are estimates only.
Tried this recipe? Leave a star rating today!
Also tag @iamtheunlikelybaker I'd love to see your creations.