Light, crispy churros dipped in a rich, dark, chocolate sauce. Churros con chocolate is a treat everyone will love.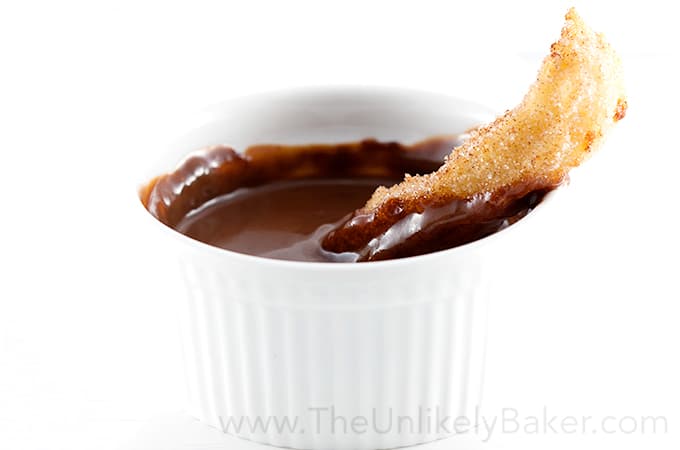 I should have called this The Great Churros con Chocolate Fiasco of 2016. Because it was.
I didn't realize making these small, seemingly harmless treats can be so challenging!
Lucky for you, I already did the experimenting so you can make them without a hitch. And you can just enjoy awesome churros dipped in the most indulgent chocolate sauce that transports you straight to a café in Madrid.
Treats from home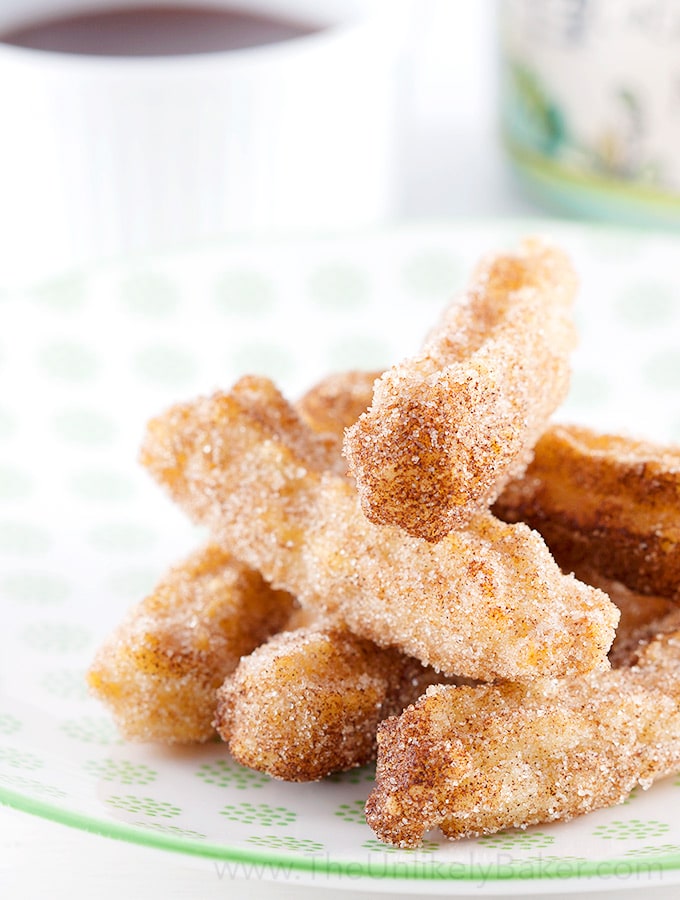 No, I'm not from Spain. But in Manila there was this Spanish restaurant known for their churros.
It was considered one of the better restaurants back then so my mom (from whom I got my sweet tooth) and I would consider it a big deal when we get to go.
Even if churros (and tap water) was all we ever ordered.
We have a new deep fryer!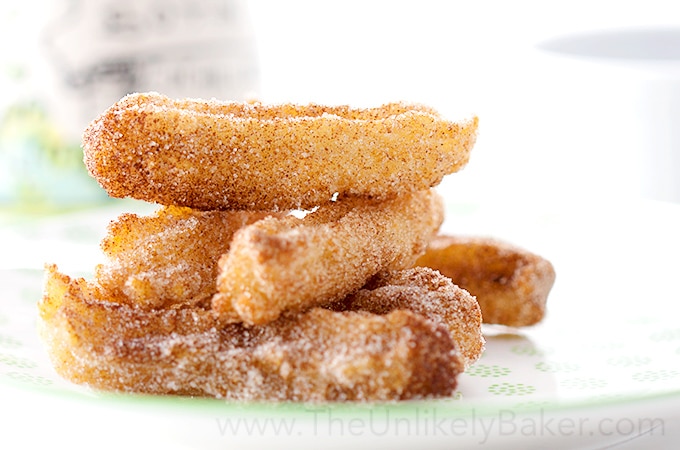 It's been years since I've been there and I don't even know if it still exists but I wanted churros con chocolate out of the blue one day.
It just so happens that we recently bought a deep fryer and Red's been playing around with it …now I get to try it out too (and by this I only mean to make desserts but Red will still do the frying. I try to stay away from very hot oil).
But first, making the churros.
Churros Test 1.0
Churros are essentially water, butter and flour that you cook, then pipe, then fry. Other recipes call for eggs but I opted for the lighter, Spanish kind that don't have eggs in them.
The first batch I made was too soft – imagine the dough swimming in a sea of butter.
I opted to go ahead and pipe anyway (to see if maybe this was how it should be?) but while I was transferring the dough to the piping bag it proceeded to drip out of the bottom. I managed to make a dough faucet.
Churros Test 1.1
Next batch I added more flour and it looked more promising. I was excited! And it even piped properly.
But then they all stuck to the parchment paper. They were supposed to slide right off and into the pan. No sliding happened. They were attached like I glued them.
I put the dough back into the bag, greased a new piece of parchment and tried again. Still stuck even with the very greasy parchment.
So I had to pick them up one by one and put them in the fryer. In the end we had the ugliest (but delicious) churros you've ever seen.
Churros Test 1.2
I was convinced I had the right dough because my ugly churros were delicious; I just needed to figure out the right piping/transferring technique.
So for the next batch I ditched the parchment paper and piped them directly into the pan. Carefully done, that worked better than the pipe and slide technique.
And it tasted like the ones from home. (That's always important to me. Being able to recreate food from home. It makes me feel not so far away.)
Finally, churros con chocolate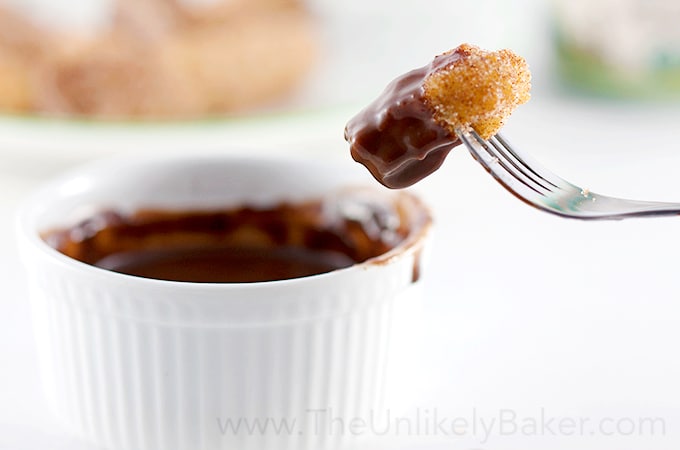 I do need to work on making them prettier (maybe I can pipe, freeze then fry next time).
In any case, this batch had the ridges churros are known for, were just the right size, light, and had a bit of a crunch.
Because they are shaken in sugar and cinnamon you can eat them on their own but I highly recommend dipping them in this rich, dark and so very chocolatey sauce. It is heavenly. The combination is just to-die for.
I haven't been to Madrid but I hope these taste like the ones you had there. And if you haven't been too, let's pretend we're in a café there together. Talking about how wonderful these churros con chocolate are.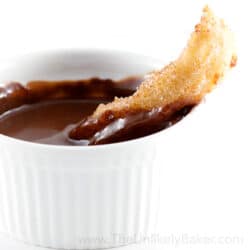 How to Make Churros con Chocolate at Home
Light, crispy churros dipped in a rich, dark, chocolate sauce. Churros con chocolate is a treat everyone will love.
Ingredients
For the Churros:
1

cup

water

½

cup

unsalted butter

¼

teaspoon

salt

1 ½

cups

all purpose flour

Oil for frying

preferably canola or another tasteless oil
For the Chocolate:
⅓

cup

chopped dark chocolate or chocolate chips

1

cup

milk

divided into ¾ and ¼ cups

2

tablespoons

granulated sugar

1 ½

teaspoons

cornstarch

Pinch

of sea salt
Instructions
For the Churros:
In a medium saucepan, add 1 cup water, ½ cup unsalted butter and ¼ teaspoon salt. Bring to a boil and stir until the butter is melted and the salt is completely dissolved.

Remove from heat and gradually add 1 ½ cups flour. Stir until flour is fully incorporated. It will start to look like custard, then doughy. Watch that it does not get too thick; it will be difficult to pipe later. Transfer into a piping bag fitted with a large star tip (warning: dough will be hot). Set aside.

Fill another saucepan with oil – at least 2 inches deep – and wait until hot enough to use for frying. If using a deep fryer, set at 320F and wait until ready. Get a baking sheet ready by placing several pieces of paper towels on it. This is where you'll place the fried churros later to drain excess oil.

When ready to fry, carefully pipe and drop 3-inch pieces of churros directly into the oil (once you've piped the length you need, drop the dough into the fryer by cutting the end of the dough from the piping tip with a pair of kitchen scissors; be careful so that hot oil does not splatter on you). Fry churros until golden brown (about 3 minutes). Remove from oil and let dry on baking sheet.
For the Coating:
While churros are drying, put ¼ cup granulated sugar and ½ teaspoon ground cinnamon in a large Ziploc bag and shake until combined. Put 2-3 pieces of churros in the bag and gently shake until evenly coated. Repeat until you've coated all churros.
For the Chocolate:
In a medium saucepan on medium heat, add ⅓ cup chocolate, ¾ cup milk and 2 tablespoons granulated sugar. Stir until chocolate is melted. Switch to low heat and bring to a simmer. Dissolve 1 ½ teaspoons cornstarch in the remaining ¼ cup milk and add to the melted chocolate. Stir until the chocolate thickens (when you lift the spoon you get a smooth drizzle of chocolate and not choppy drops).

Remove from heat, add a pinch of sea salt and give the chocolate one final stir.
Notes
When frying churros, only fry 3 churros max at a time. This will ensure each one is fried evenly.
It is best to make the chocolate dip right before eating the churros. If the chocolate cools and seizes, you can make it smooth again by microwaving it for a few seconds and giving it another stir.
This recipe yields 16 3-inch churros.
Nutrition
Calories:
121
kcal
Carbohydrates:
14
g
Protein:
2
g
Fat:
6
g
Saturated Fat:
4
g
Polyunsaturated Fat:
1
g
Monounsaturated Fat:
2
g
Trans Fat:
1
g
Cholesterol:
17
mg
Sodium:
44
mg
Potassium:
37
mg
Fiber:
1
g
Sugar:
5
g
Vitamin A:
202
IU
Vitamin C:
1
mg
Calcium:
23
mg
Iron:
1
mg
Nutritional information are estimates only.
Tried this recipe? Leave a star rating today!
Also tag @iamtheunlikelybaker I'd love to see your creations.
Buen provecho (hope I'm using that right)!
Did you make churros con chocolate? Tell me about it in the comments section below. I'd love to hear all about it. What's your favourite Spanish dish?
Turon is another fried dessert you might like!