Learn how to make Filipino turon that's crispy and crunchy whether fried or baked. Serve with ice cream and caramel sauce for a delicious turon dessert that will transport you straight to the tropics.
(Feeling tropical? Treat yourself to this refreshing no-bake pineapple coconut cream pie or this ready-in-a-flash 2-ingredient fresh mango mousse.)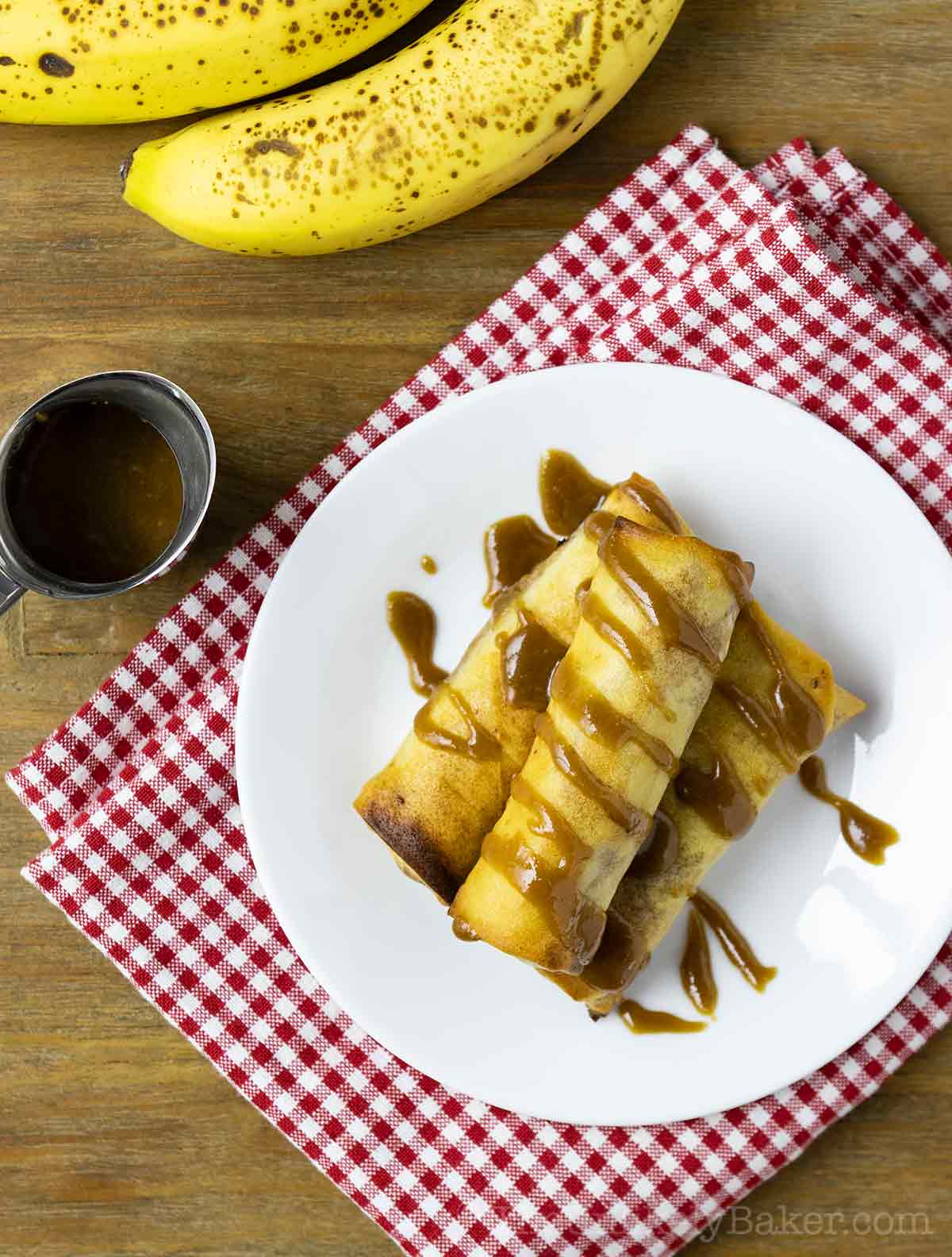 When I was new in Canada all those years ago, I was homesick all the time (I still am, though not as often) and food helped me deal with that. I cannot begin to describe to you the euphoria I get when I take that first bite of something, anything and it tastes like the ones from home.
Which brings me to this Filipino turon recipe (some people like to call it banana lumpia).
Ironically I've never been a big fan of it. My mom would buy half a dozen from the local market and I would mostly ignore it.
But now, turon and I – we're tight. It's a simple snack but topped with vanilla ice cream and drizzled with salted caramel sauce – I would serve this to our most important guests at our fanciest dinner party in a heartbeat.
What is turon?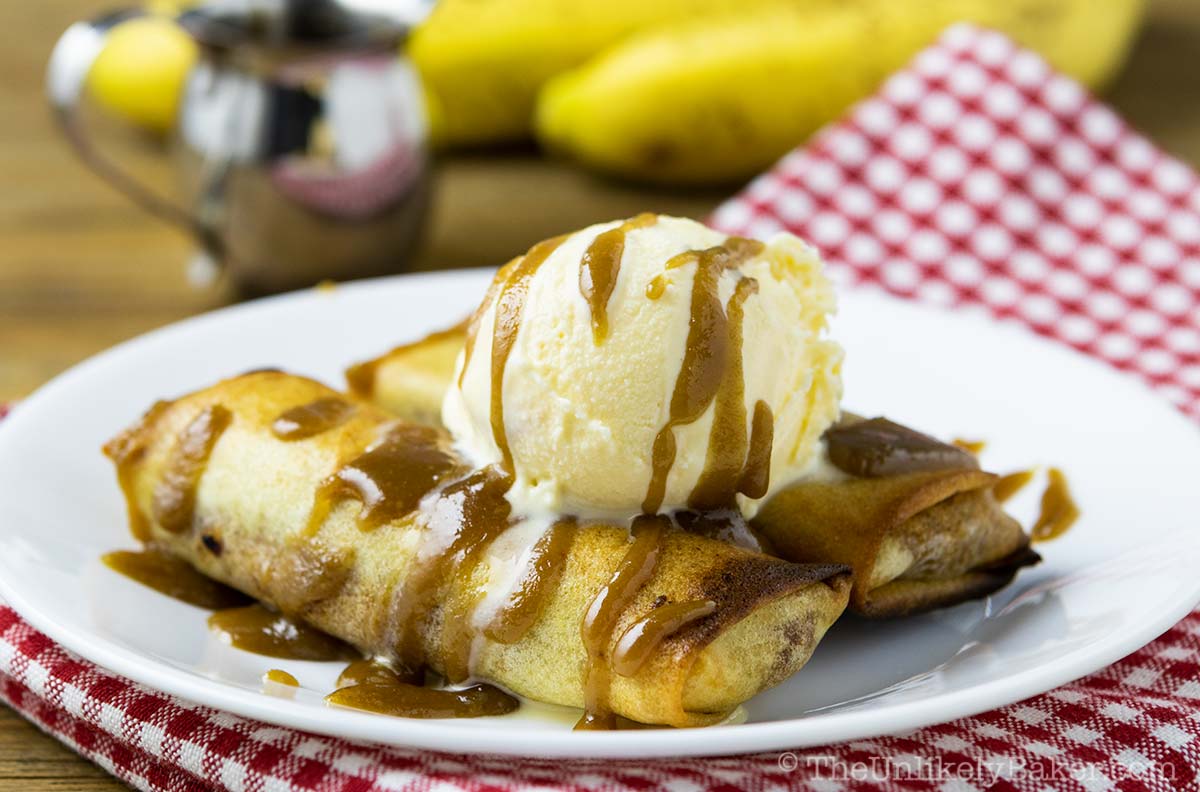 Turon (pronounced too-ron) is a popular banana snack in the Philippines.
There's no direct english translation but it's usually made of sliced bananas (ideally the saba variety), a piece of jackfruit and sugar, then wrapped in spring roll wrapper and deep fried.
You can find it everywhere – in your local sari-sari store (think: bodega but more grassroots), on the street from your favourite street vendor and, in recent years, in fancy restaurants.
But it's really very easy to make from scratch.
Here in North America, the only challenge is finding the right ingredients but once you have everything you need, there's nothing to it.
You just dunk the plantain in cinnamon sugar, wrap the turon, fry (or bake) and enjoy!
What is it made of?
So what are these magic ingredients? You would need:
Bananas
Sweet jackfruit (optional)
Spring roll wrappers
After that, the rest are easy: sugar, cinnamon, cornstarch and oil for frying (or butter if baking).
Right. Let's talk ingredients.
How to choose plantains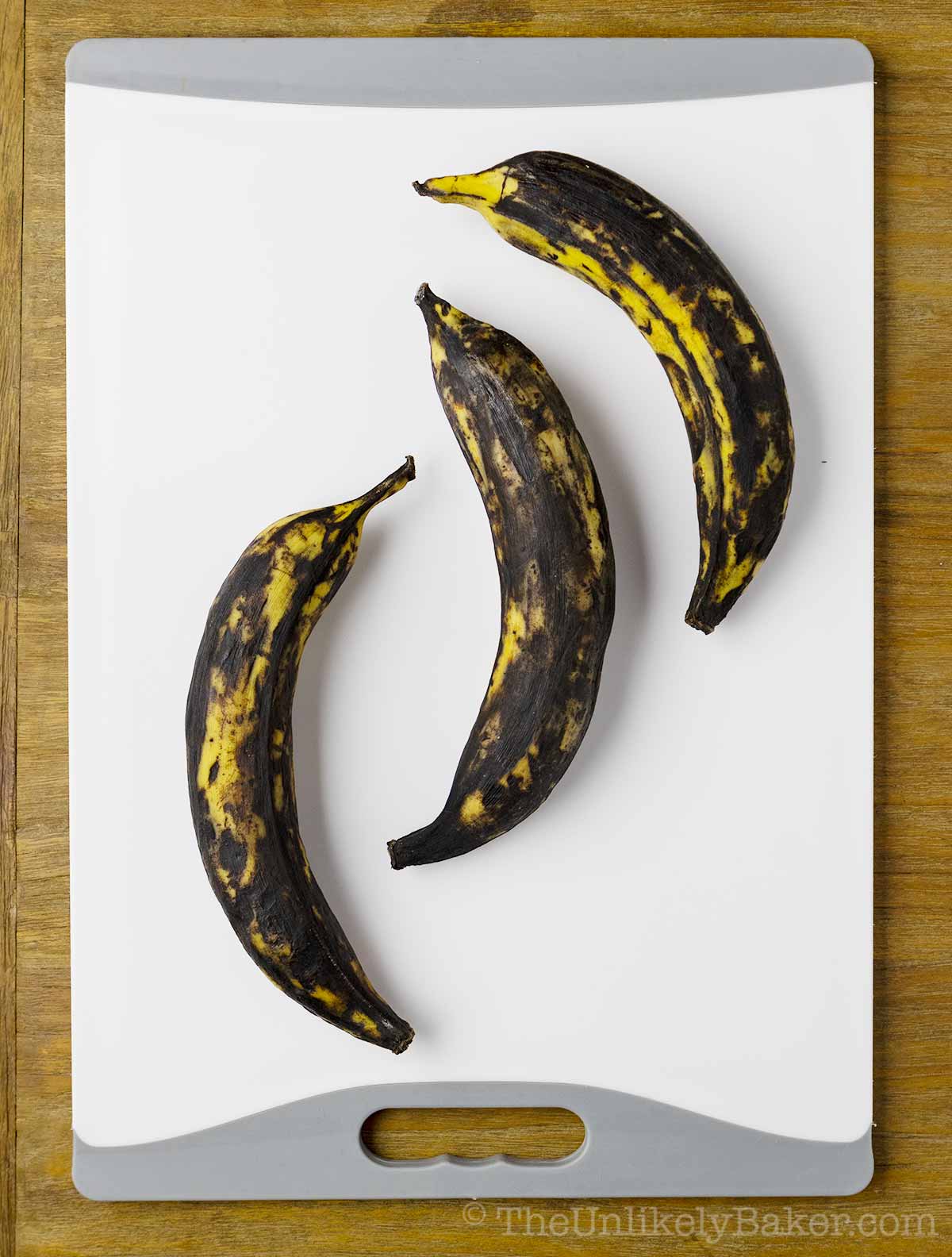 First there's the banana.
Like I said, traditionally, turon is made of saba bananas but in all the years I've lived here I haven't once seen saba anywhere. They are available frozen but they look sketchy so I've never even tried.
So I always go with plantain. Which is more widely available and close enough to saba in taste and texture IMO.
Note that when choosing plantains, the uglier the better.
Unlike bananas, you want bruises on your plantain. You want a dull yellow plantain that's semi-soft with patches of black (or mostly black). That means they're ripe and ready to use.
You don't want perfect green ones because they are unripe and unripe plantains are bitter and just nasty.
How to cut plantains
There are many different ways to cut a plantain and this is how we prep and portion it.
First we cut the ends off, then cut the plantain in half lengthwise.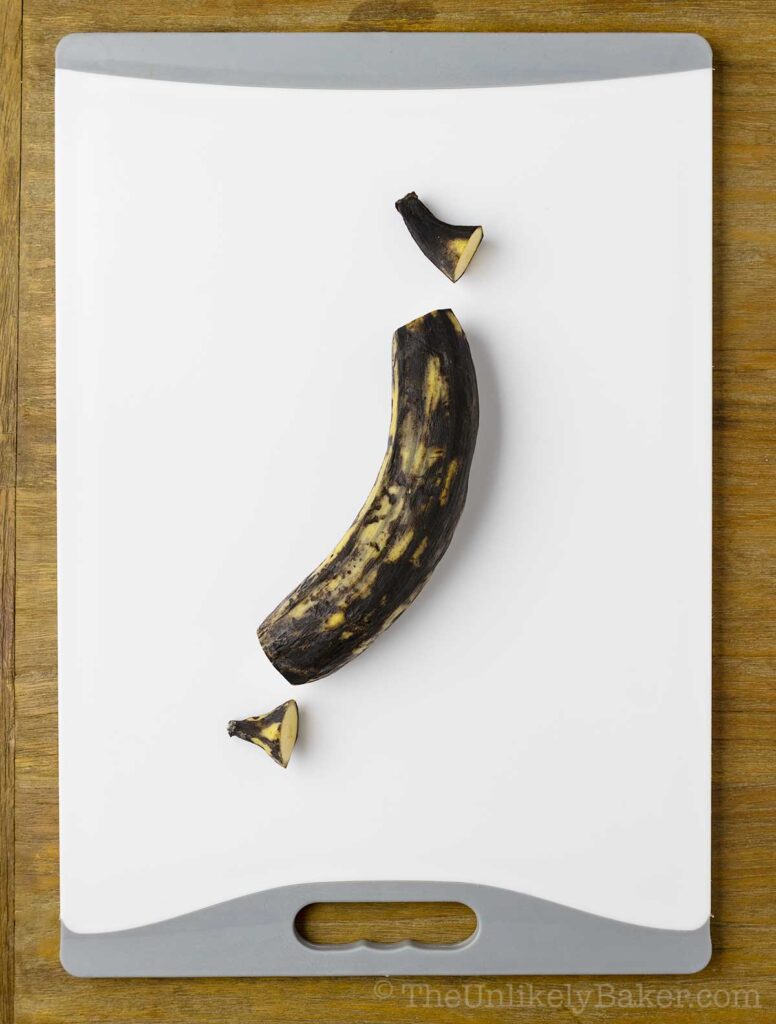 Next we peel each portion to reveal the ripe flesh inside. Then we cut that in half again.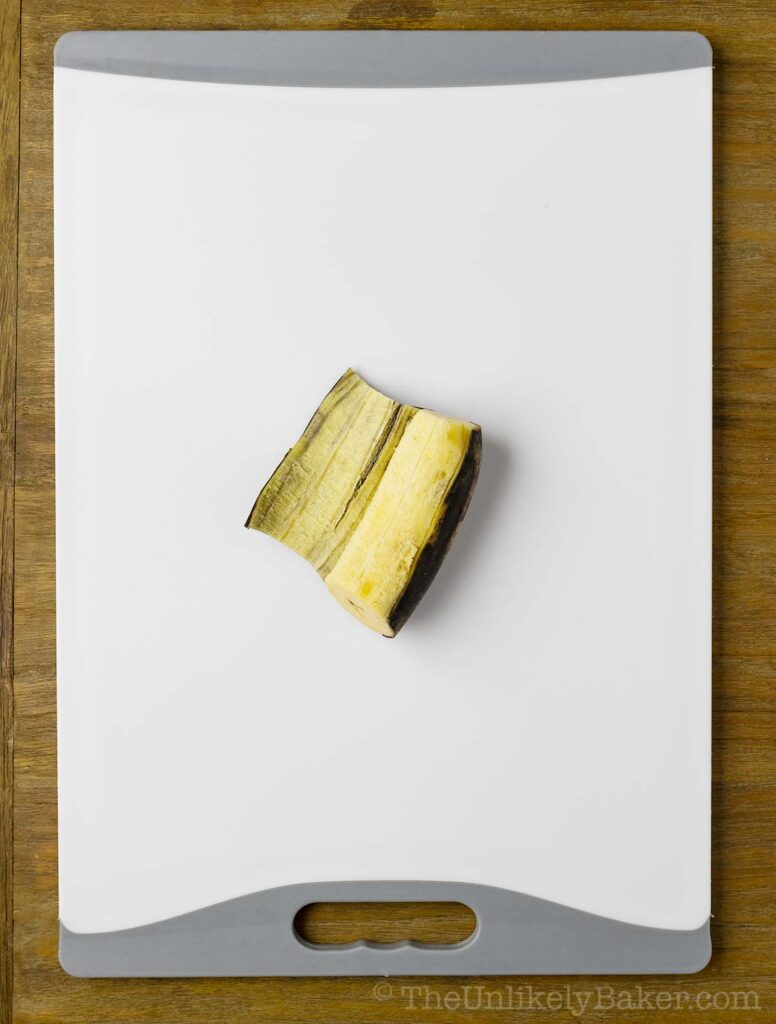 Can I use regular bananas?
I would steer away from regular bananas when making turon because they tend to turn to mush and are too sweet.
On the other hand, plantains retain their shape and is perfect for this recipe.
(Gina over at Running to the Kitchen has this delicious recipe for air fryer bananas you might want to check out!)
How to make turon with langka or jackfruit
Traditionally, turon is also made with sweet jackfruit. We don't particularly like jackfruit though so we left it out in this recipe.
If you like it, you can easily buy it canned; just put a sliver of jackfruit with the plantain before you roll it.
What kind of spring roll wrappers to use
Next are the spring roll wrappers. You can usually find spring roll wrappers in Asian stores or at the international aisle/frozen section of your local supermarket.
Don't buy the rice paper kind. You need the ones that can also be used for wontons.
How to fold turon
Folding turon is not rocket science. Just make sure to wrap it tightly and try to make equal-sized pieces so they cook evenly.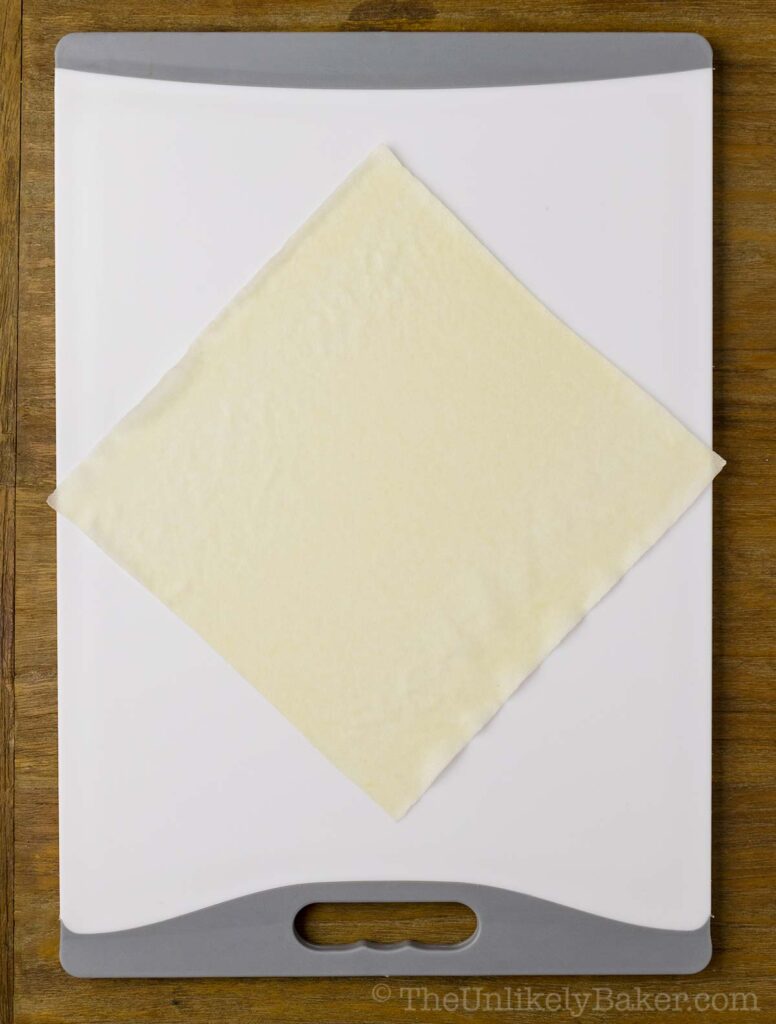 Recipe FAQs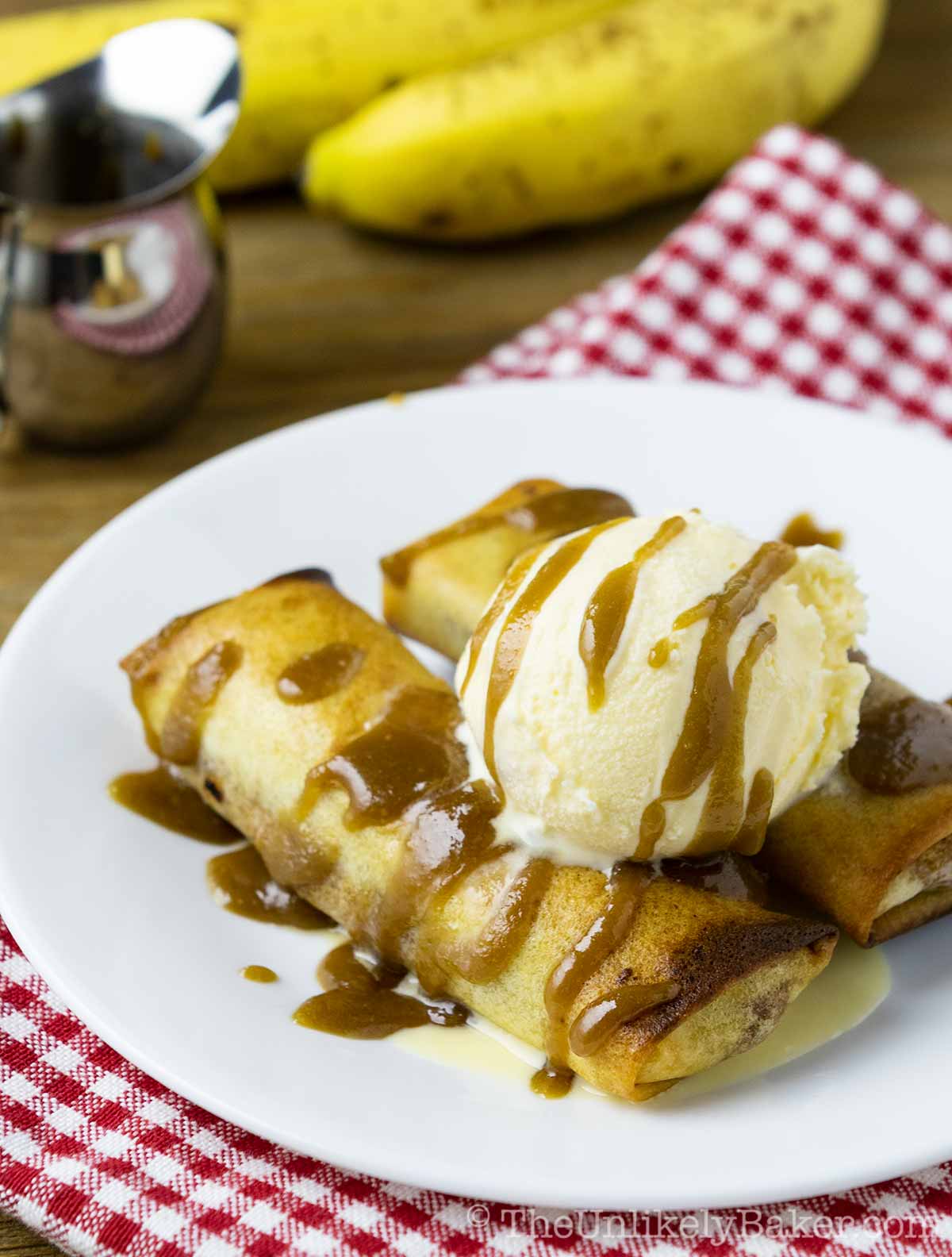 How do you make turon crispy and crunchy?

We have a deep fryer and that makes it super convenient to fry a batch of turon. And they turn out evenly fried and crispy each time.

If you don't have one, no worries. Just make sure you use enough oil to cover all the pieces completely and that your oil is hot enough. Then flip each one so that each side is a nice golden brown.

Also, don't crowd your pan so that they don't stick to one another. Patience is key!
Can you make turon in the oven?

Worried about all that oil? You can definitely bake turon and still achieve that crunch.

I first tried that method with these baked apple turon and it worked perfectly. Now it's our preferred way to make turon. Check it out.
How do you make caramel for turon?

Something needs to be said about this salted caramel sauce deliciousness, which we serve on the side. The two together is a match made in deep fried snacks heaven.

And it's super easy to make salted caramel sauce. You just whisk all ingredients in a heavy-bottom saucepan until it thickens to your desired consistency. Less than 15 minutes is all it takes.

Add vanilla ice cream to the mix and you have yourself your new favourite afternoon snack.
Is turon a healthy snack?

Bananas are good for you and the estimated calories per turon in this recipe is less than 100. If you want to make them healthier, ease up on the sugar and bake them instead of deep frying.
Storage and shelf life

To keep turon crunchy and crispy, best to keep them uncovered on your counter. They should be good up to 2 days.

They will last longer in the fridge but once covered or chilled, they will lose their crunch. However, it's easy to get the crunch back (see below).
Reheating instructions

The best way to reheat turon is by placing them in your oven toaster for a few minutes until they are heated through. Microwaving them is not a great option because they will end up chewy and mushy.
Can you freeze turon?

Turon freezes very well. You can make a batch, roll them, and place them in a freezer-safe container. Ensure that your container is air-tight so that they don't get freezer-burn.

You can bake or fry them straight from the freezer, no need to thaw. However, your baking or frying time will be slightly longer.
Variations

Craving for turon with a twist? They're very easy to customize! Traditionally made with langka or jackfruit, you can skip that and just make plain banana turon.

Add whatever you like to eat with your bananas, like chocolate, cheese and even ube.

Or you can top them with ice cream and caramel sauce for a refreshing dessert. Turon with condensed milk works too.

Have fun with the kids and make mini turon. Simply cut the bananas and the wrappers smaller.

Really mix things up by making cheesy ube turon or apple spring rolls.
Other delicious Filipino recipes
Are you throwing a party? Try these delicious Filipino dishes and wow your guests.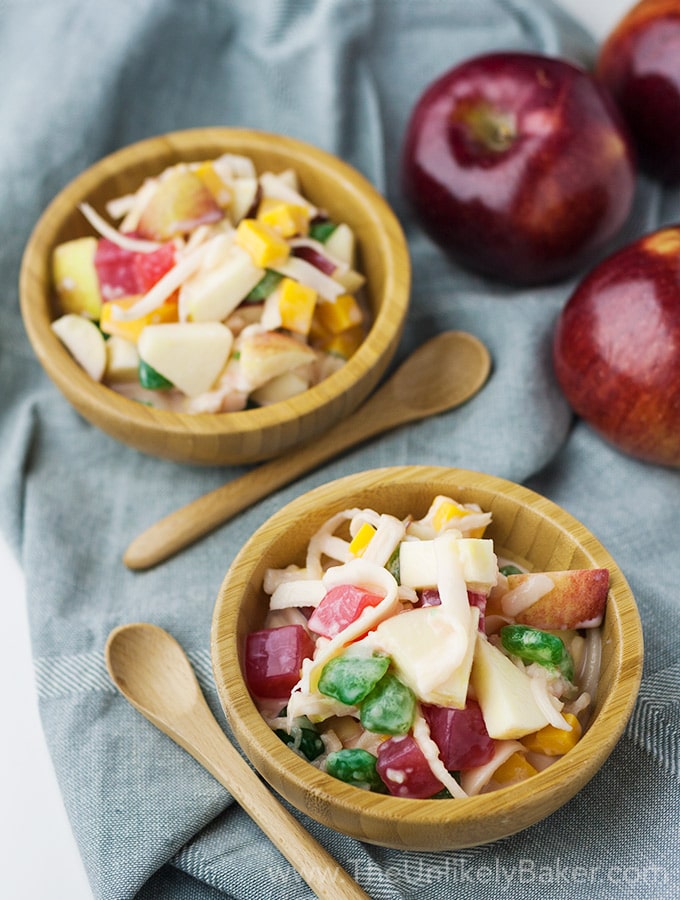 Happy frying (or baking)!
Did you make this turon recipe? How'd it go? I'd love to hear from you in the comments section below.
If you're looking for more Filipino desserts, check out this delicious collection of Filipino desserts that you absolutely must try.
And if you have extra plantains, try making some delicious baked plantains.
How to Make Turon (Filipino Banana Lumpia)
Learn how to make Filipino turon that's crispy and crunchy whether fried or baked. Serve with ice cream and caramel sauce for a delicious turon dessert that will transport you straight to the tropics.
Ingredients
½

cup

brown sugar

firmly packed

½

tsp

ground cinnamon

2

pcs

ripe plantain

each one cut into 4 3-inch pieces (see post for how to cut the plantains)

8

pcs

8×8 inch spring roll wrapper

thawed according to package instructions (see notes)

⅛

tsp

cornstarch

dissolved in ¼ cup water

1

cup

canola oil

enough to deep fry the turon
Instructions
In a medium bowl, mix the ½ cup brown sugar and ½ teaspoon ground cinnamon.

Position a spring roll wrapper on the counter so that when you look down on it, it's diamond shaped.

Take a piece of cut plantain and roll it in the sugar/cinnamon mix until completely coated. Then place it horizontally in the middle of your diamond.

To wrap the plantain, imagine you're making an envelope that's supposed to hug the plantain tightly: do the bottom then the sides and then up. Gently roll away from you until you have a small triangle flap left on top. To seal, dab a generous amount of cornstarch mix on the flap then close (see post for step-by-step photos).

Once all plantains are wrapped, get your oil ready for frying. If using a deep fryer, set it to 338F (or approximate – like ovens, deep fryers are all different). While waiting for the oil to get hot enough, prepare a baking sheet by placing several pieces of paper towels on it. This is where you'll place the turon after frying to drain excess oil. They are done when golden brown on both sides (baking instructions follow).

Let the turon cool a bit before serving. Optional but highly recommended: top with ice cream and drizzle with salted caramel sauce!
If baking the turon:
Preheat oven to 425F. Line a baking sheet with parchment paper. Place an oven-safe wire rack on top of the parchment paper. Set aside while you wrap your turon.

Place the wrapped turon on your prepared baking sheet. Brush with melted butter and bake for 10-15 minutes or until golden brown.

Then carefully turn each turon over, brush with more butter and continue baking for another 10-15 minutes until nice and golden. You can serve the turon immediately.
Notes
You can usually find spring roll wrappers in Asian stores or at the international aisle/frozen section of your local supermarket. Don't buy the rice paper kind. You need the ones that can also be used for wontons.
Nutrition
Calories:
80
kcal
Carbohydrates:
14
g
Fat:
2
g
Sodium:
9
mg
Potassium:
18
mg
Sugar:
13
g
Calcium:
13
mg
Iron:
0.1
mg
Nutritional information are estimates only.
Tried this recipe? Leave a star rating today!
Also tag @iamtheunlikelybaker I'd love to see your creations.