Turon (or banana lumpia or spring rolls) is a Filipino snack made of ripe plantain wrapped in spring roll wrapper then deep fried to perfection. Top with vanilla ice cream then drizzle with salted caramel sauce and you have yourself a dessert that transports you straight to the tropics where the sun is always shining and the sound of banana trees swaying with the warm breeze lulls you into a sweet siesta.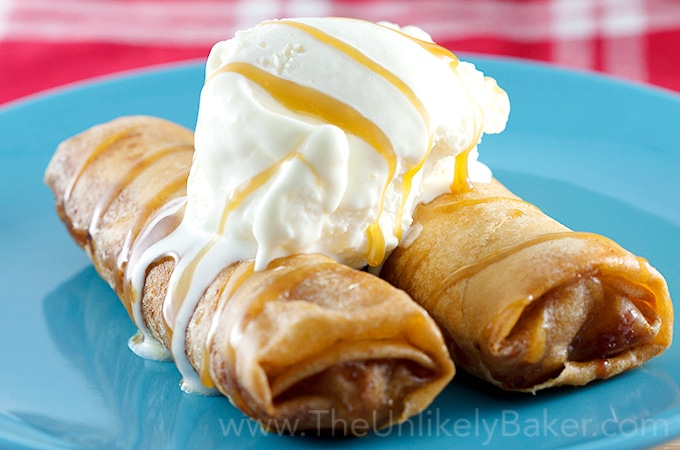 I stopped counting the years I've lived away from home. Too long is always my default answer now. The first few years my dad would say if it gets too hard just pack your bags and come home immediately. They didn't raise a quitter though (BTW – remember to greet your dads on Father's Day!). So here I am, years later, luckily thriving in the new country I chose to live in.
I've had the good fortune of meeting new friends, finding a job I like and learning to make the things I miss from home. Food has helped with my homesickness a lot. I cannot begin to describe to you the euphoria I get when I take that first bite of something, anything and it tastes like the ones from home.
Turon a.k.a. banana lumpia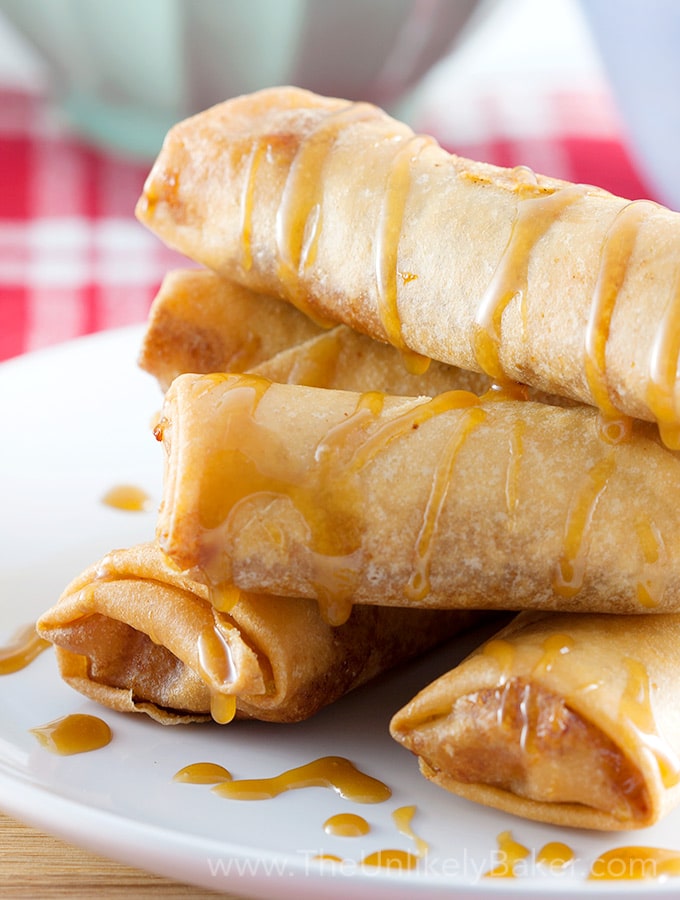 Which brings me to this turon or banana lumpia recipe. Ironically I've never been a big fan of it. My mom would buy half a dozen from the local market and I would mostly ignore it. But now, turon and I – we're tight. It's a simple snack but topped with vanilla ice cream and drizzled with salted caramel sauce – I would serve this to our most important guests at our fanciest dinner party in a heartbeat.
Deep frying adventures continue
I told you on Monday that we bought a new deep fryer and made Churros con Chocolate. We (by "we" I mean Red; I watched from a safe distance) took it for another spin and made turon. A deep fryer is optional though. You'll just need to flip your plantains once one side is golden brown.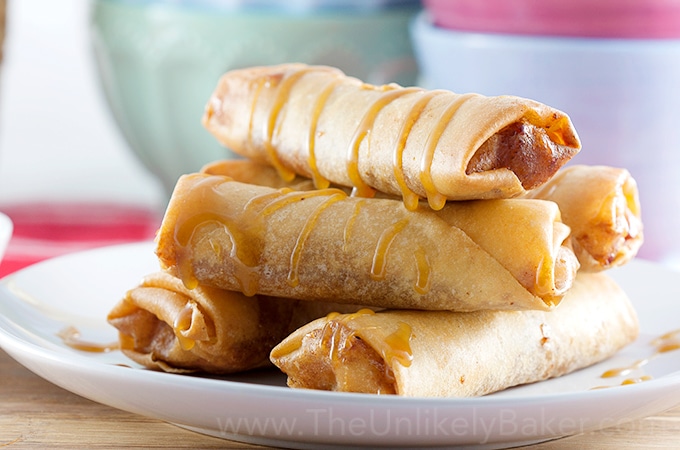 The uglier the plantain, the better
Unlike bananas, you want bruises on your plantain. You want a dull yellow plantain that's semi-soft with patches of black (or mostly black). That means they're ripe and ready to use. You don't want perfect green ones because they are unripe and unripe plantains are bitter and just nasty.
Do you like jackfruit?
Traditionally, turon is made with jackfruit; a sliver of jackfruit is included in the roll. We don't particularly like jackfruit and it's difficult to find fresh ones here so we left it out. This version is made with cinnamon and brown sugar and it's just delicious (this is Red's recipe BTW. I shared her ultimate nachos a few weeks back. She's like Skynet eh? Slowly taking over my blog).
Salted caramel sauce and ice cream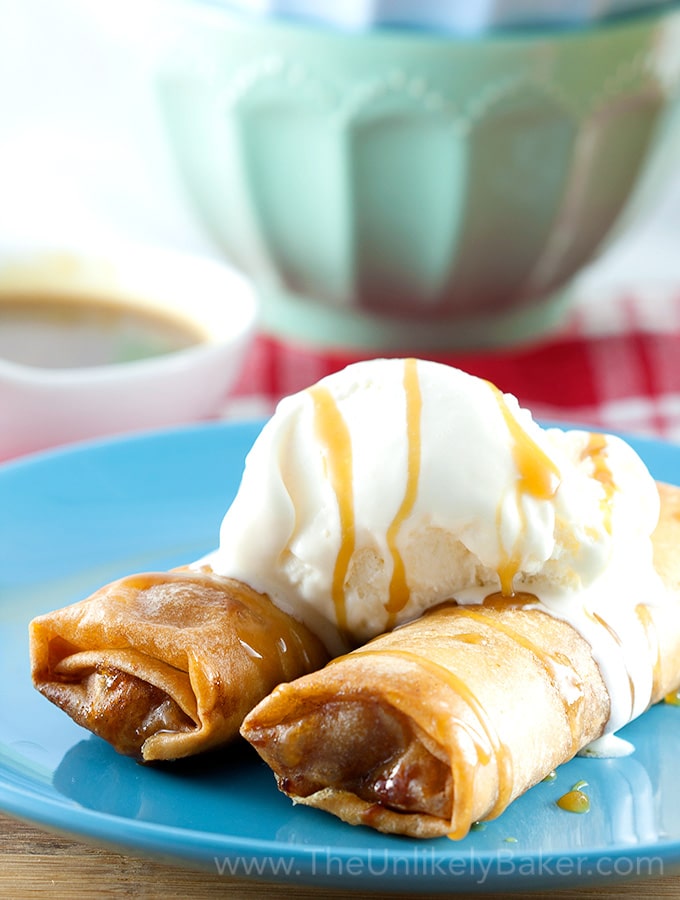 Salted caramel sauce is optional too. So is ice cream (vanilla or coconut or even mango if you can find it). Turon is great on its own (seriously good). But the warm weather is here and if you want a tropical dessert to cool you down, I highly recommend this combination. It is just delicious.
So go ahead and try your hand at making turon or banana lumpia. Dress it up or down, it's a mouth-watering, beloved Filipino treat.
Turon (Filipino Banana Lumpia) with Salted Caramel Sauce
Turon (or banana lumpia or spring roll) is a Filipino snack made of ripe plantain wrapped in spring roll wrapper then deep fried to perfection.
Ingredients
Banana Lumpia:

1/2 cup brown sugar
1/2 teaspoon ground cinnamon
2 pieces ripe plantain, each one cut into 4 3-inch pieces (see notes)
8 pieces 8x8 inch spring roll wrapper, defrosted according to package instructions
1/8 teaspoon cornstarch dissolved in 1/4 cup water
Oil for frying
Salted Caramel Sauce (optional)

Click here for the recipe or use your own
Instructions
In a medium bowl, mix the 1/2 cup brown sugar and 1/2 teaspoon ground cinnamon.
Position a spring roll wrapper on the counter so that when you look down on it, it's diamond shaped.
Take a piece of cut plantain and roll it in the sugar/cinnamon mix until completely coated. Then place it horizontally in the middle of your diamond.
To wrap the plantain, imagine you're making an envelope that's supposed to hug the plantain tightly: do the sides first (left or right, does not matter), then the bottom. Gently roll away from you until you have a small triangle flap left on top. To seal, dab a generous amount of cornstarch mix on the flap then close.
Once all plantains are wrapped, get your oil ready for frying. If using a deep fryer, set it to 338F (or approximate - like ovens, deep fryers are all different). While waiting for the oil to get hot enough, prepare a baking sheet by placing several pieces of paper towels on it. This is where you'll place the banana lumpia after frying to drain excess oil.
They are done when golden brown on both sides.
Let the banana lumpia cool a bit before serving. You can also drizzle salted caramel sauce on them or serve them with ice cream.
Notes
A plantain has a slightly harder shell than a banana so the easiest way to cut it is by cutting the ends off first then making a slight cut at the side, making sure not to cut all the way through and hitting the plantain inside. Once you've done that, you can easily peel the skin off.
To cut the plantain for this recipe, cut it in half lengthwise first then again half crosswise so you end up with 4 pieces.
You can usually find spring roll wrappers in Asian stores or at the international aisle at your local supermarket. Don't buy the rice paper kind. You need the ones that can also be used for wontons.
https://theunlikelybaker.com/turon-filipino-banana-lumpia/
This delicious recipe brought to you by www.TheUnlikelyBaker.com | (c) 2016-2017
Happy frying!
Did you make this banana lumpia? Tell me about it in the comments section below. I'd love to hear about how it went. If you're curious about other Filipino desserts, they're all here. Have you tried any of them? Any favourites?
And let's get social! Find me on Facebook, Pinterest, Instagram, Twitter and Google+. Or subscribe so you don't miss a recipe (if you missed the pop-up form, there's another form at the bottom of this page).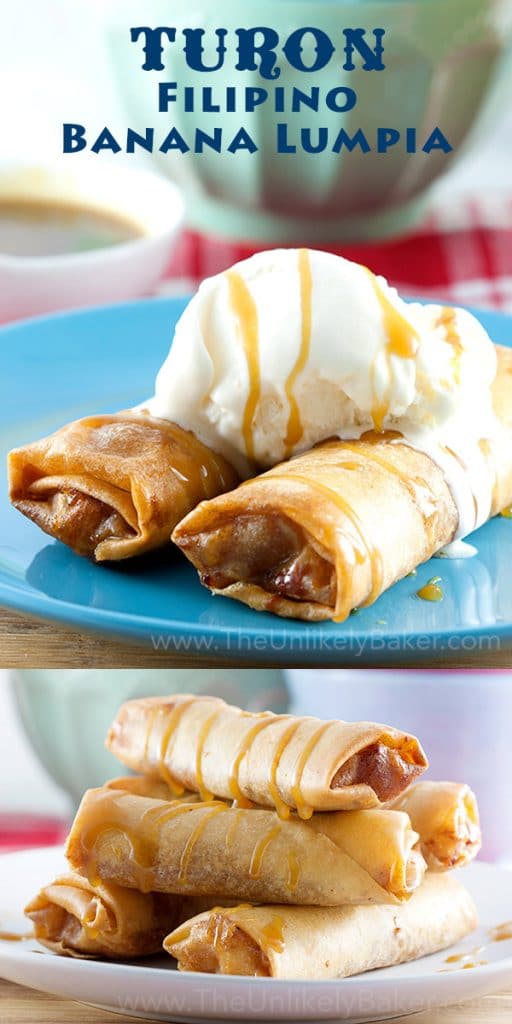 Do you want to improve your food photography, monetize your blog or start your very own food blog? Check out the awesome resources at the bottom of this page (they are affiliate links).
The products below are affiliate links too – these are products that I actually use and/or think are cool. If you click on them and subsequently make a purchase, please know that I will earn a small percentage from Amazon – at no additional cost to you. (See Terms of Use for more info on privacy and how we collect/use collected data on this site.)