Love cookie butter? Then these cookie butter blondies will blow you away. They are moist, chewy, and filled with the unique and mouth-watering cookie butter taste you love.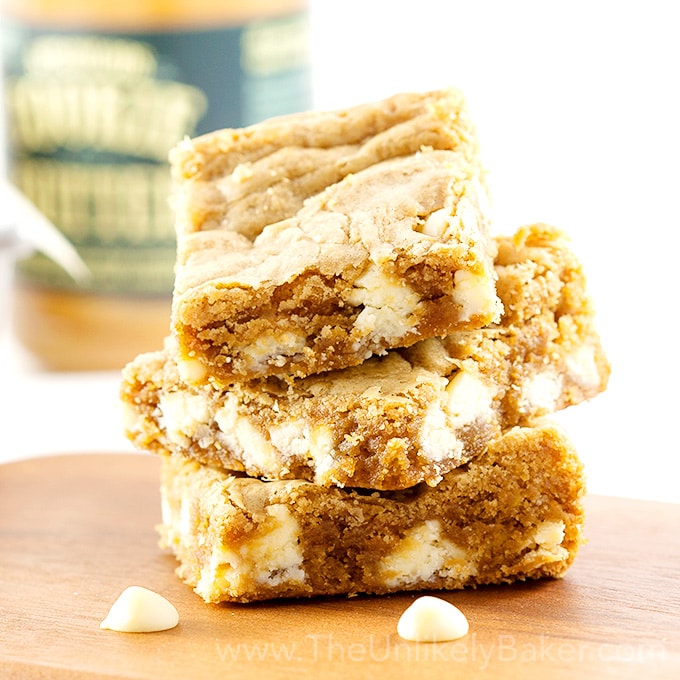 Just like the jar says – you have to taste it to understand cookie butter. I don't quite know how to describe it – it's kind of like a marriage between peanut butter and caramel that tastes like gingerbread and butter cookies.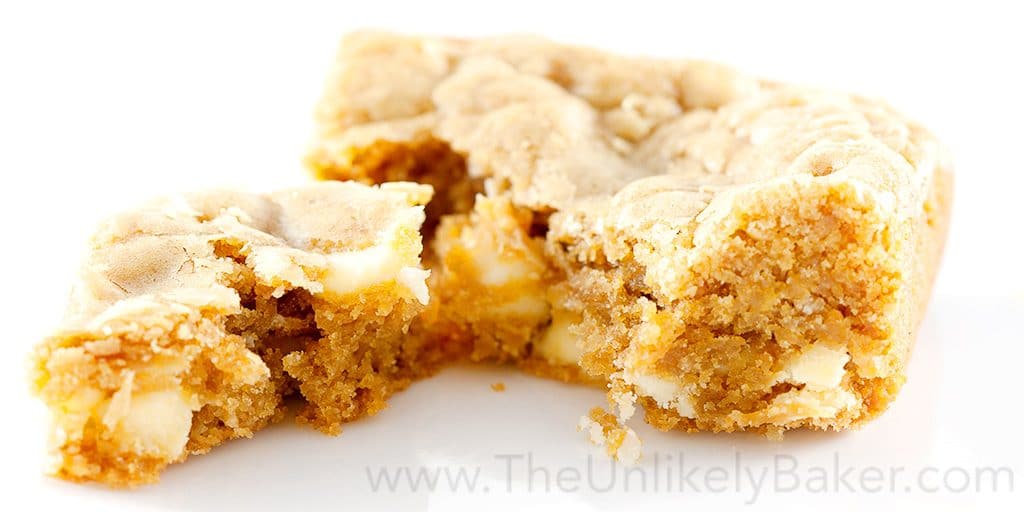 What I do know is that these cookie butter blondies are to-die for. They are so good that before you know it, you've eaten several slices. And they go straight to your thighs. That makes them evil (so beware). But you know what? Totally worth it.
Cookie butter love
Penotti is more widely available here in Canada but our favourite brand is Speculoos from Trader Joe's. We love it so much that it's one of the things we hoard keep a zombie apocalypse stockpile of buy a lot of when we're across the border.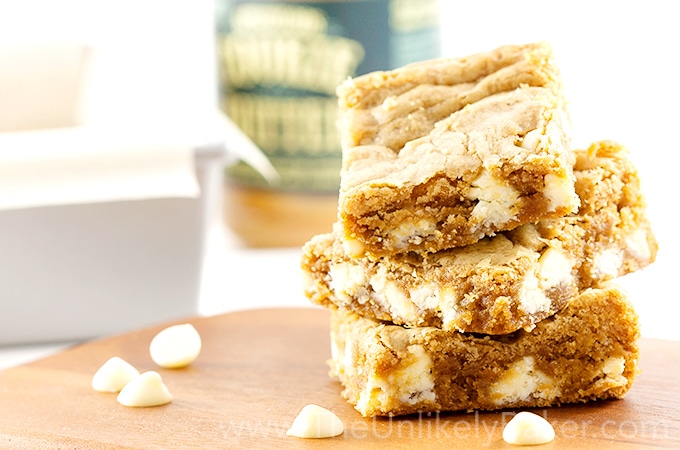 We typically eat it with pancakes and waffles (eating it directly from the jar with a spoon is a given). Red eats it with a banana. I've used it as filling and frosting for cupcakes a few times. So I thought it would most likely work really well incorporated in a brownie or a cheesecake too.
So the recipe hunt begins. And this cookie butter blondie recipe that I found results in a bar that's just as I imagined it would be – moist, chewy and with cookie butter goodness oozing from every bite. The white chocolate chips add texture and a very distinct flavour that pairs perfectly with that awesome cookie butter taste. It's very easy to make too. No electric mixer required.
Cookie butter blondies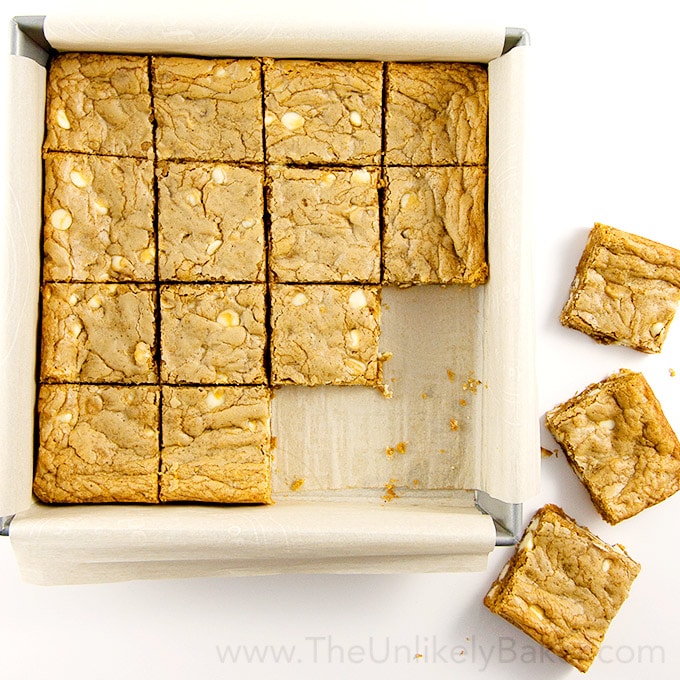 In case you don't know what a blondie is (I know I didn't; I had to Google what it was when I found this recipe) – they are, technically, butterscotch-flavored brownies (and both brownies and blondies fall under the category of bars).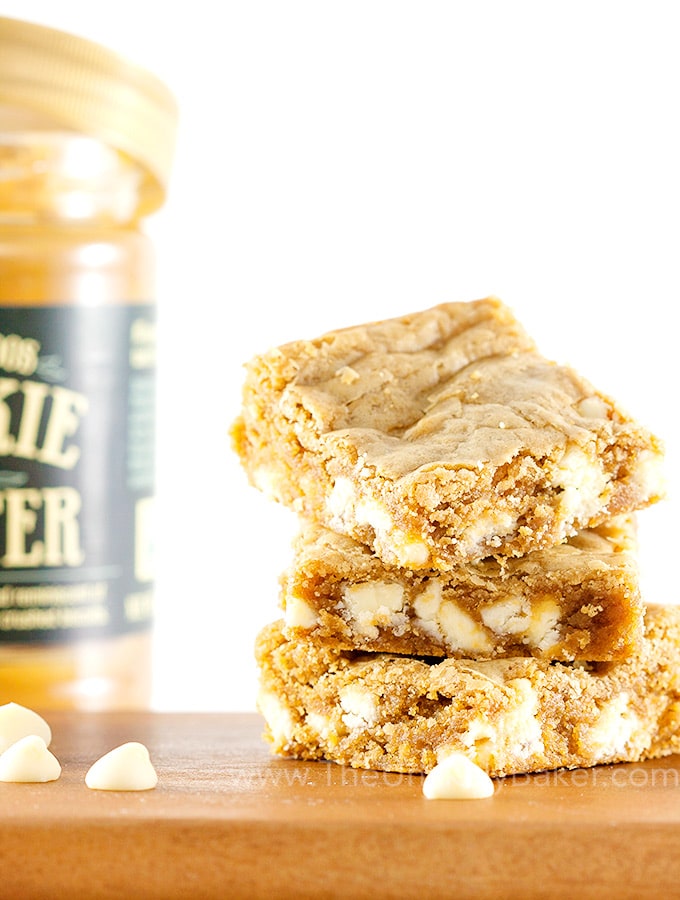 Could cookie butter be a kind of butterscotch then? The mystery (or maybe just my confusion) deepens. Ah well. Just bake these blondies and enjoy. Perfect with tea, for bake sales, as a snack, as a reward at the end of a workday. We can exercise later.
Soft and Chewy Cookie Butter Blondies
These cookie butter blondies will blow you away. They are moist, chewy, and filled with the unique and mouthwatering cookie butter taste you love.
Ingredients
1 cup all purpose flour
1/2 teaspoon baking powder
1/8 teaspoon baking soda
1/2 teaspoon salt
5 tablespoons butter, melted (I used salted butter so I cut the salt to 1/4 teaspoon - do the same if you happen to only have salted butter on hand)
3/4 cup brown sugar, packed
1 large egg, room temperature
1 egg yolk, room temperature
1 teaspoon vanilla extract
1/2 cup cookie butter
1 cup white chocolate chips
Instructions
Preheat oven to 350F. Line a 9x9 inch baking pan with parchment paper. Set aside.
In a small bowl, mix 1 cup flour, 1/2 teaspoon baking powder, 1/8 teaspoon baking soda, 1/2 (or 1/4, if using salted butter) teaspoon salt. Set aside.
In a large bowl, stir the 5 tablespoons melted butter and 3/4 cup brown sugar until well combined and pasty.
Whisk the egg and egg yolk together and stir into the butter mixture. Then add 1 teaspoon vanilla and 1/2 cup cookie butter. Stir until smooth and no big lumps remain.
Using a spatula, fold the flour into your cookie butter mixture a third at a time. Do not over mix or your blondies will be tough and crumbly.
Finally, fold in the white chocolate chips. The batter is going to be very thick. This is OK.
Transfer and evenly spread the batter into your prepared pan and bake for 15-25 minutes. Just when they are beginning to brown at the edges and peel away from the sides of the pan, take the pan out and allow to cool completely before cutting into squares.
Notes
When you take out the blondies from the oven, they will look underdone and when you touch the top, it will be very soft. This is OK. They will continue to set as they cool.
https://theunlikelybaker.com/cookie-butter-blondies/
This delicious recipe brought to you by www.TheUnlikelyBaker.com | (c) 2016-2017
(This recipe adapted from Sally's Baking Addiction).
Happy baking!
Are you a fan of Trader Joe's too? Here's a fabulous cookie recipe using their Pound Plus dark chocolate. If peanut butter is more up your alley, I've got something for your too!
Did you make these cookie butter blondies? Tell me about it in the comments section below. I'd love to hear all about it.
And let's get social! Find me on Facebook, Pinterest, Instagram, Twitter and Google+. Or subscribe so you don't miss a recipe (if you missed the pop-up form, there's another form at the bottom of this page).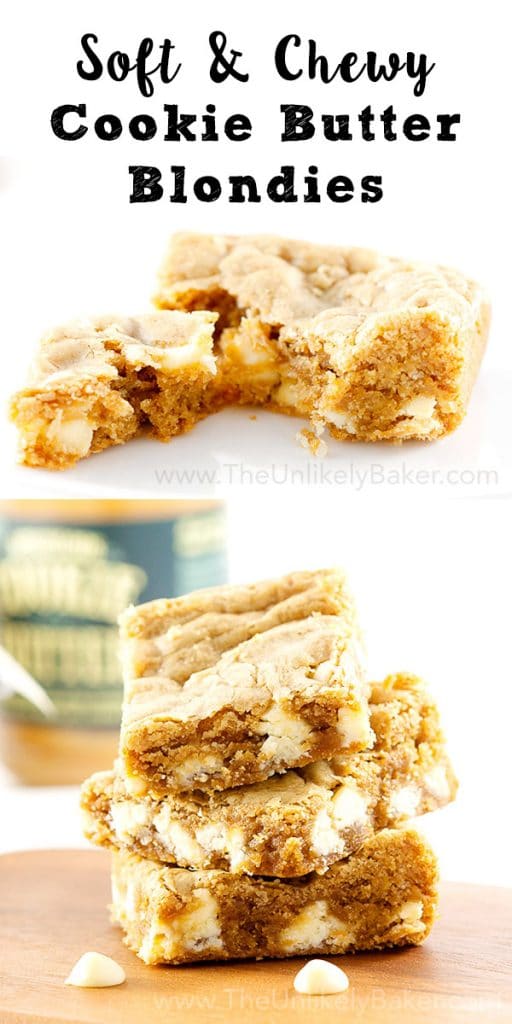 Do you want to improve your food photography, monetize your blog or start your very own food blog? Check out the awesome resources at the bottom of this page (they are affiliate links).
The products below are affiliate links too – these are products that I actually use and/or think are cool. If you click on them and subsequently make a purchase, please know that I will earn a small percentage from Amazon – at no additional cost to you. (See Terms of Use for more info on privacy and how we collect/use collected data on this site.