Cookie butter blondies that will blow you away! Moist, chewy, and filled with the unique and mouth-watering cookie butter taste you love.
(Fan of cookie butter? Make this no-bake cookie butter pie. It's so good!)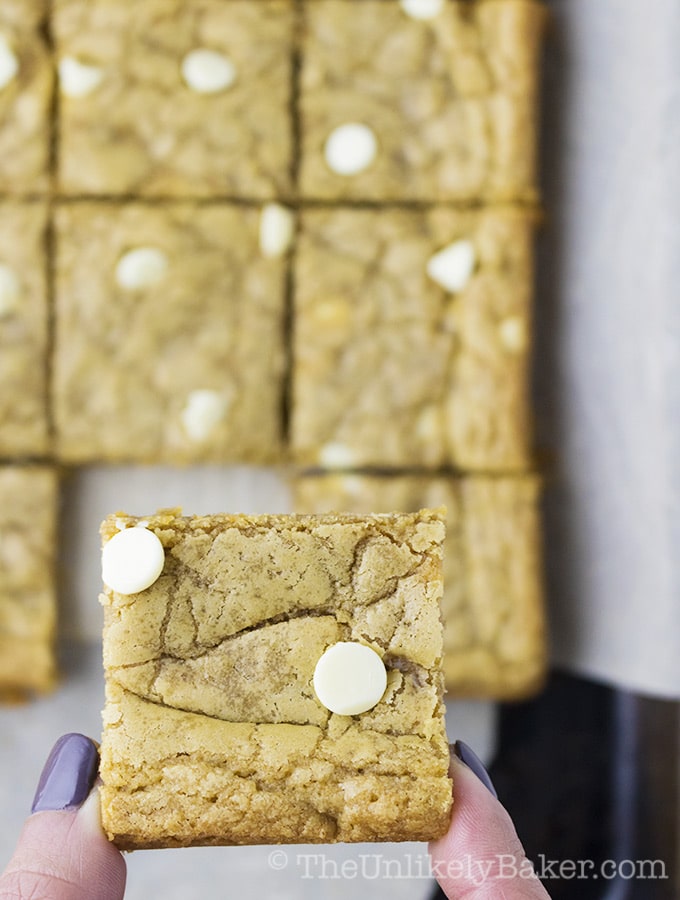 Just like the jar says – you have to taste it to understand cookie butter. I don't quite know how to describe it – it's kind of like a marriage between peanut butter and caramel that tastes like gingerbread and butter cookies.
What I do know is that these cookie butter blondies are to-die for. They are so good that before you know it, you've eaten several slices.
And they go straight to your thighs.
That makes them evil (so beware).
But you know what? Totally worth it.
I heart cookie butter blondies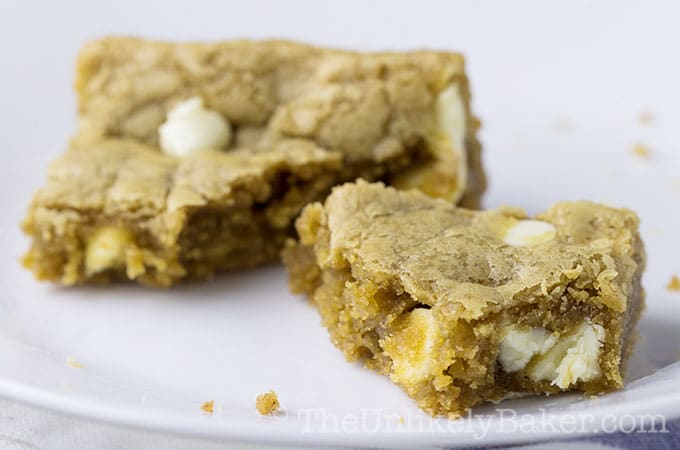 This site contains affiliate links. As an Amazon Affiliate, I earn commission from qualifying purchases. See Terms of Use for more information.
Penotti and Biscoff are more widely available here in Canada but our favourite brand is Speculoos from Trader Joe's. We love it so much it's one of the things we hoardkeep a zombie apocalypse stockpile of buy a lot of when we cross the border.
We typically eat it with pancakes and waffles (eating it directly from the jar with a spoon is a given). Red eats it with a banana.
I've used it as filling and frosting for cupcakes a few times. So I thought it would most likely work really well incorporated in a brownie or a cheesecake too.
What is a blondie?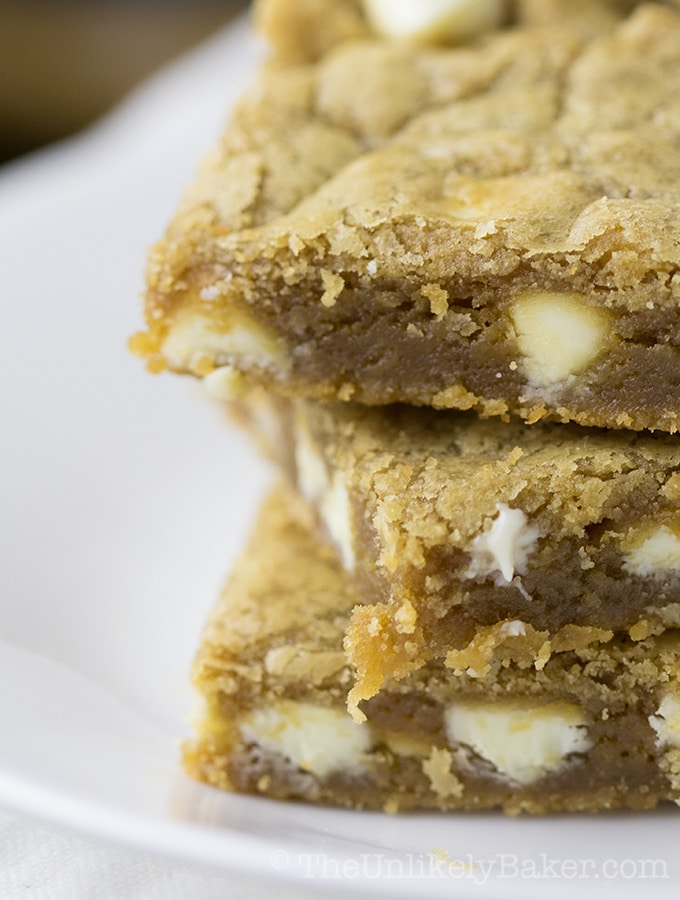 In case you don't know what a blondie is (I know I didn't; I had to Google what it was when I found this recipe) – they are, technically, butterscotch-flavored brownies (and both brownies and blondies fall under the category of bars).
Could cookie butter be a kind of butterscotch then? The mystery (or maybe just my confusion) deepens.
Ah well. Just bake these blondies and enjoy.
Cookie butter blondies recipe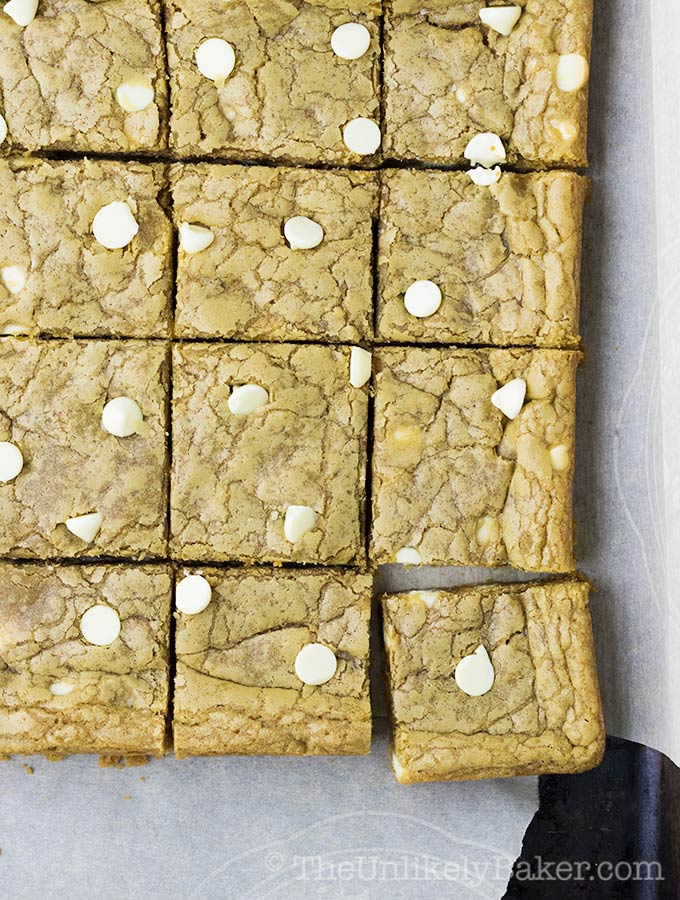 For the detailed recipe, scroll to the bottom of the page for the printer-friendly recipe card with nutritional information.
So the recipe testing begins. And this cookie butter blondie recipe results in a bar that's just as I imagined it would be – moist, chewy and with cookie butter goodness oozing from every bite.
The white chocolate chips add texture and a very distinct flavour that pairs perfectly with that awesome cookie butter taste. It's very easy to make too. No electric mixer required.
1. PREP. First you want to preheat your oven to 350F. Line a 9×9 inch baking pan with parchment paper and set aside.
2. WHISK AND COMBINE. Then you want to whisk your ingredients until combined. Fold your white chocolate chips last. Note that your batter will be very thick.
3. BAKE. Transfer the batter into your prepared pan and bake for 15-20 minutes or just when they are beginning to brown at the edges and peel away from the sides of the pan. It's important not to over bake these blondies.
These cookie butter blondies are perfect with tea, for bake sales, as a snack, as a reward at the end of a workday.
Check out the video to see how quick and easy it is to make these. Enjoy! We can exercise later.
Happy baking!
Are you a fan of Trader Joe's too? Here are Chewy Double Chocolate Chunk Cookies using their Pound Plus Dark Chocolate.
If peanut butter is more up your alley, here are treats for you: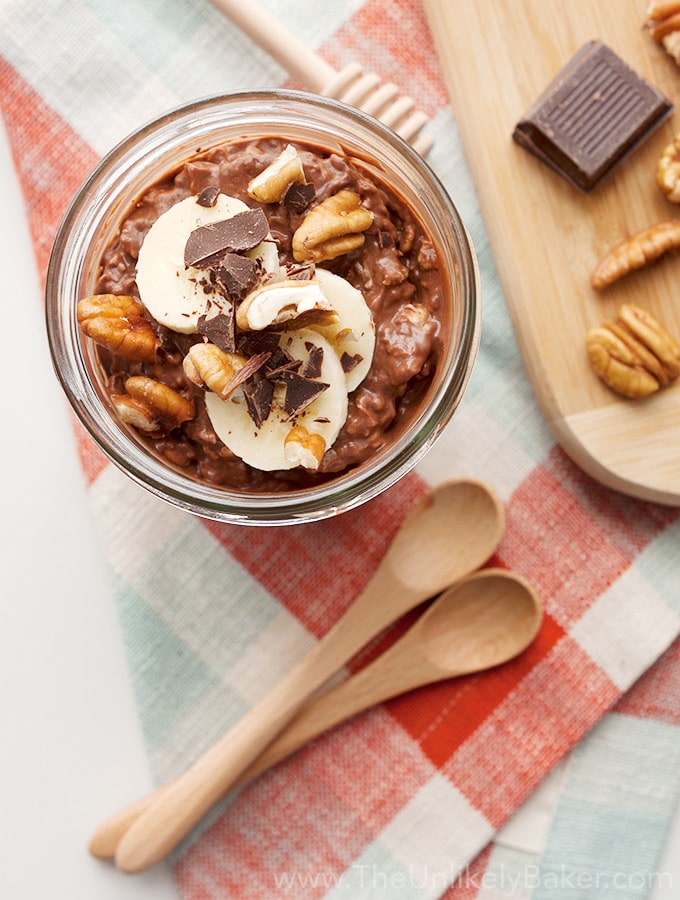 Grab and go breakfast that tastes like dessert? Yes, please! Chocolate peanut butter overnight oats is a great way to start the day.
If you like peanut butter and jelly sandwiches, you would love these peanut butter fig bars. Soft, chewy and bursting with flavours from childhood.
Did you make these cookie butter blondies? Tell me about it in the comments section below. I'd love to hear all about it.
And let's get social! Find me on Facebook, Pinterest, Instagram, Twitter and YouTube.