Rich, creamy cookie butter cream cheese filling sits on a crunchy, buttery cookie butter crust. Every bite of this no bake cookie butter pie is pure cookie butter bliss.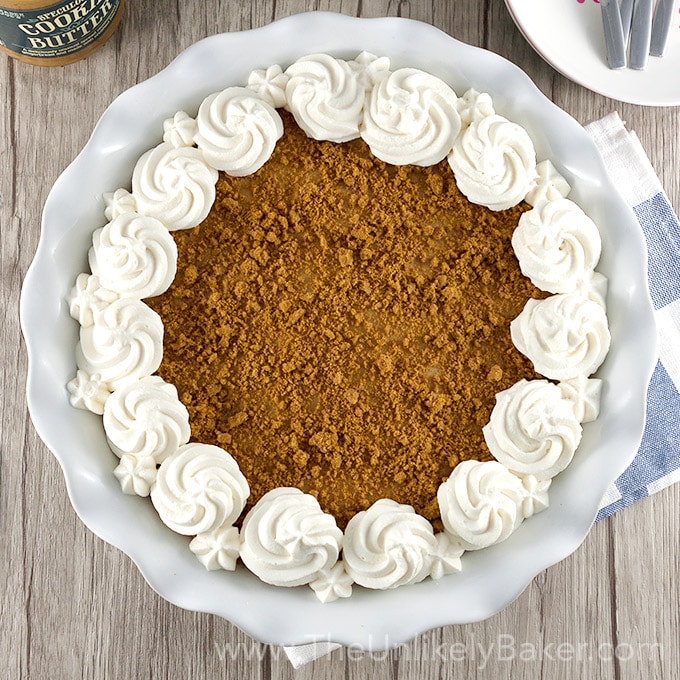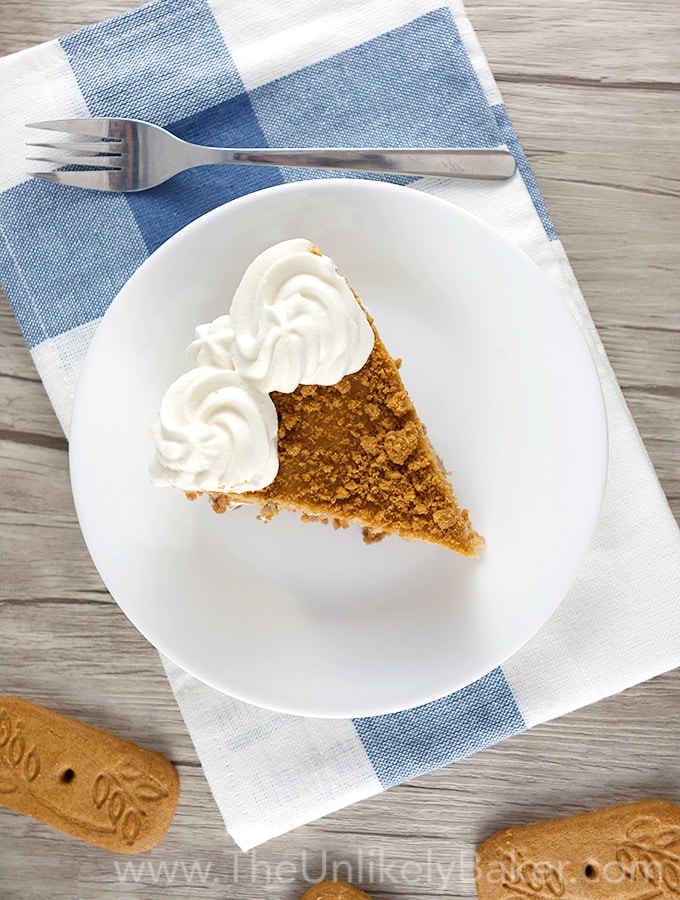 We had a quick trip to New York at the beginning of summer and to us, a trip to the States is not complete without a trip to Trader Joe's. We're big fans – these recipes were inspired by our usual hoard:
Anyway, I was not with Red when she went and I discovered that left to her own devices in Trader Joe's, Red shops like she was getting ready for the zombie apocalypse. So there we were at the airport, two crazy Canadians with a luggage full of cookie butter and fig butter and lemon cookies and herbal teas and whatever else Red picked up.
No bake cookie butter pie (a.k.a. Speculoos Spectacular)
So the other day I was looking at what has become our mini Trader Joe's pop-up shop and thought I must do something with all this food. Then I saw this peanut butter pie from The Pioneer Woman and thought I can definitely do a cookie butter version. So I did.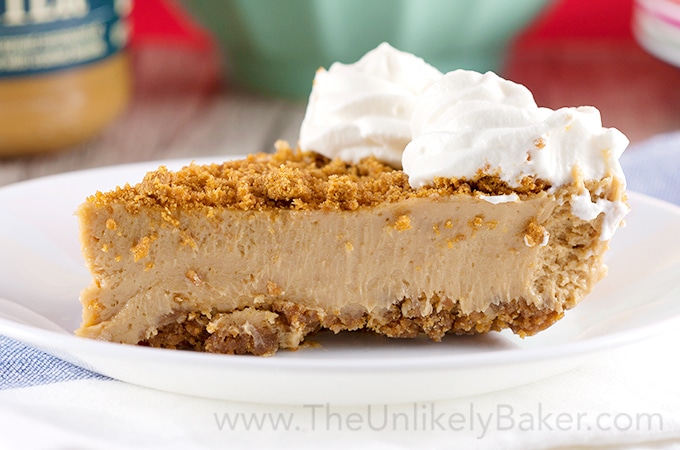 Imagine rich, creamy cookie butter cream cheese filling sitting on a crunchy, buttery cookie butter crust. Red brought some to work and her co-workers named it Speculoos Spectacular. I'm too embarrassed to actually call it that but frankly, it is quite fantastic. 
Almost no-bake
Why is it almost no-bake, you ask? It's because you need to bake the cookie butter crust for 5-7 minutes for it to set. I can't make it come together simply by freezing it so baked it, I did. And it was worth the 10 or so minutes I spent in the hot summer kitchen because the crust is to-die for.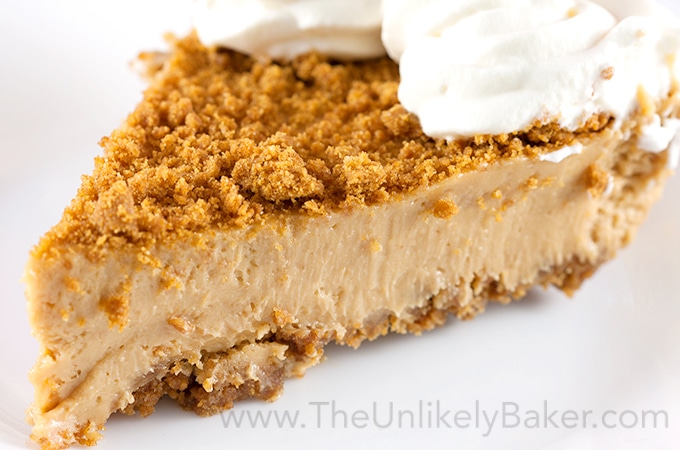 I know I promised a no-bake August so if you want to make this 100% no bake, you can buy a ready-made pie crust (I think graham or Oreo will do just fine).
[clickToTweet tweet="This cookie butter pie is pure cookie butter bliss!" quote="This cookie butter pie is pure cookie butter bliss!"]
Quite addicting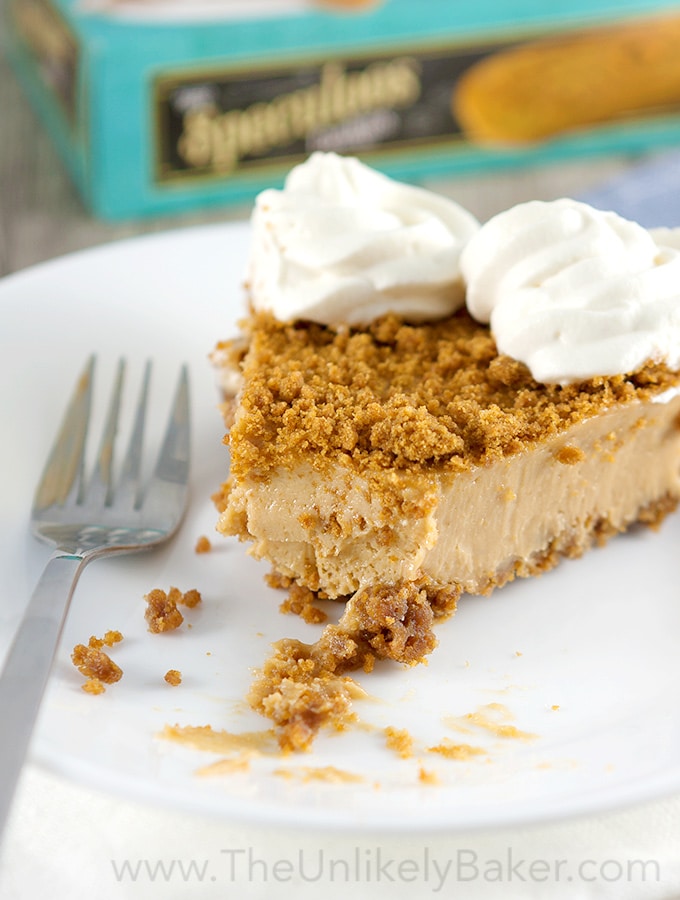 You can serve this straight out of the fridge when it's firmer and colder, or slightly room temperature when it's softer. Either way, it's delicious. It's very rich so we can really only eat a small slice at a time but find ourselves wanting mini slices several times a day. It's quite addicting. Ok? You've been warned. Go forth and make this pie. It is delicious.
Happy no-baking!
Did you make this no bake cookie butter pie? Tell me about it in the comments section below. I'd love to hear all about it. What's your favourite way to eat cookie butter?
Other (100%) no-bake treats for you:
And let's get social! Find me on Facebook, Pinterest, Instagram, Twitter, Google+ and Flipboard.
Or subscribe so you don't miss a recipe. I promise I don't spam (I hate spam too).
Do you want to improve your food photography, monetize your blog or start your very own food blog? Check out my Blogging Resources.