This croissant bread pudding is the kind of breakfast worth waking up early on a Saturday morning for. Butter croissants are slathered with a generous amount of lemon curd butter then allowed to soak in an indulgent mixture of eggs, milk, cream and limoncello before baking, and then coming out crisp, golden and delicious. What a wonderful breakfast to wake up to!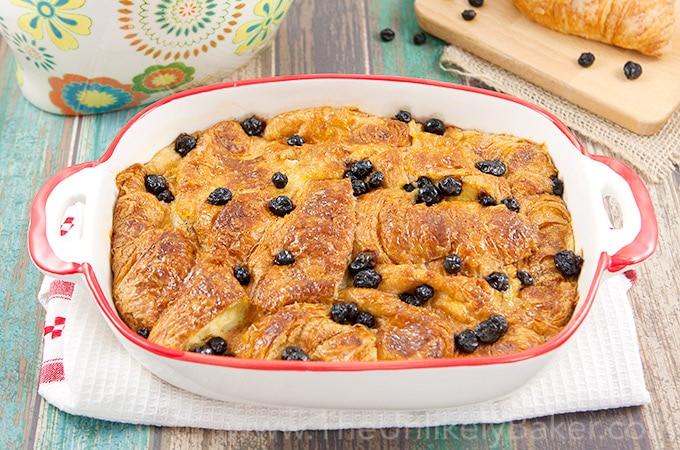 Did you ever watch that show Anna & Kristina's Grocery Bag where they reviewed and tested cookbooks by making dishes off of it and then having a professional chef come over to grade their work?
I love that show. I would watch reruns over and over and never get tired of it.
Gordon Ramsay's bread pudding
One time they featured Gordon Ramsay's Family Fare
.
They raved about the book and this bread pudding recipe in particular which was made with baguette and booze. That was one of my favourite episodes.
Sadly though I think the cookbook is out of print and mainly available through 3rd party re-sellers.
The recipe is scarce online too. I did find one that looks similar (I couldn't be sure) and when I made it we loved it and it stayed in my recipe box.
Over time though I experimented a bit and this version is my favourite by far.
My favourite bread pudding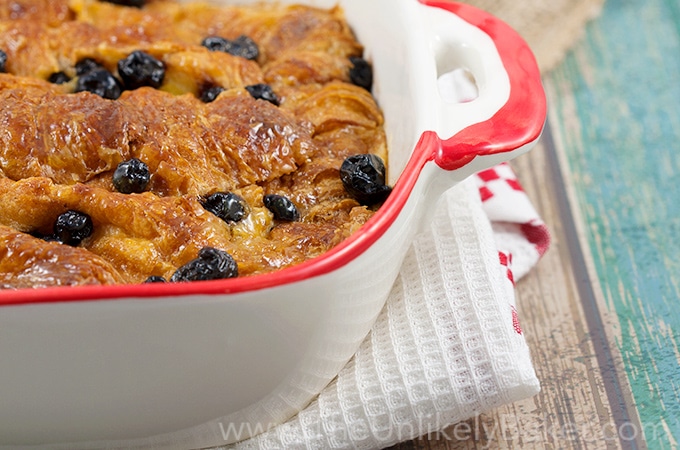 It has lemons (no surprise there), I use butter croissants instead of baguette (I prefer the flavour already in the croissants and besides, we always have extra croissants from the big box we always end up buying from Costco) but of course I kept the booze (of course).
It is outstanding. Just the kind of thing that would make us sleeping-in-on-the-weekends people wake up early on a Saturday morning.
Stale croissants
First you need stale (at least 2 days old) butter croissants.
If you use fresh ones they'd be too soft and might fall apart once soaked in the custard.
The ones we buy are big ones too, about 6 inches long, so I cut them in half lengthwise then crosswise.
Lemon curd butter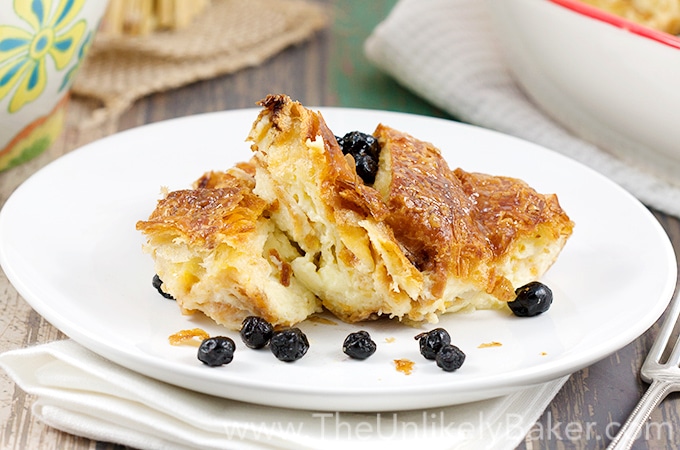 I then take lemon curd and mix it with some butter.
Now I have lemon curd butter spread which I have to stop myself from eating; instead I spread it generously on the bottom of each croissant before I arrange each piece in my baking dish.
Speaking of, I don't have any recommendations on specific dish size because I've used different sizes and they all worked well.
I think the critical thing to remember is that it should be deep enough for all your bread to fit and be submerged in (the one on the pictures is approximately 5×10 inches and 2.5 inches deep).
Limoncello custard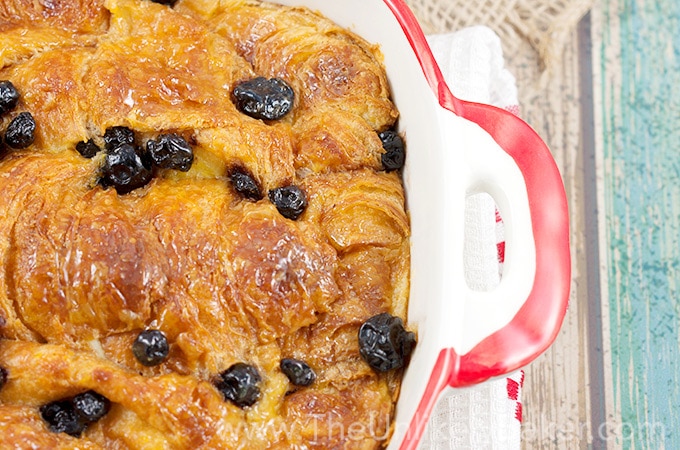 Which brings us to the custard.
Like most bread pudding, the custard mixture is a combination of milk, eggs and cream.
There's limoncello in this one and I have Chef Ramsay to thank for the idea of putting alcohol in bread puddings (genius).
Limoncello mixed with the custard just makes the custard so flavourful and wonderful.
Don't worry, you won't taste the alcohol but it does make this an adult pudding (this can be your breakfast, the kids can have their chocolate pancakes).
Croissant bread pudding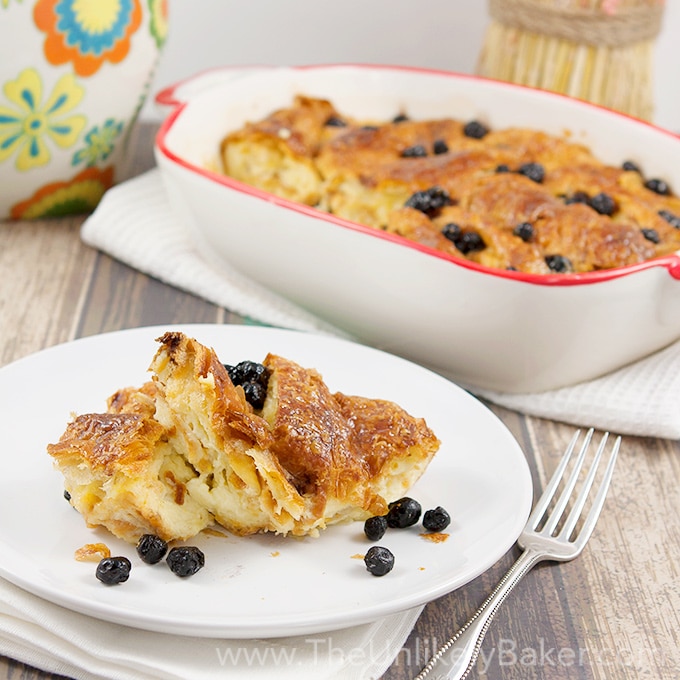 So now you wait 20 minutes for the croissants to soak in all that goodness.
Another 40 minutes in the oven. Once it's out put some lemon curd glaze on top and I promise what you'll have is the most fantastic lemon butter croissant bread pudding. Blueberries sprinkled all over is just an added bonus.
So this Saturday, get up early and wake up the rest of the house with the smell of croissant bread pudding baking in the oven.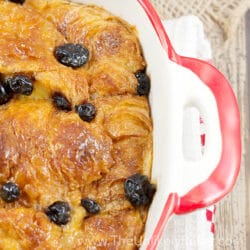 Croissant Bread Pudding with Lemon Butter and Blueberries
Breakfast will never be the same with this butter croissant bread pudding. With lemon curd, blueberries, limoncello – a wonderful dish to wake up to.
Ingredients
For the Pudding:
4

pieces

6-inch butter croissants

cut into quarters (slice half lengthwise then crosswise)

¼

cup

salted butter

room temperature

2

tablespoons

lemon curd

¼

cup

dried blueberries

3

pieces

large eggs

room temperature

¼

cup

granulated sugar

1 ¼

cups

heavy cream

room temperature

1 ¼

cups

milk

room temperature

3

tablespoons

limoncello

1

teaspoon

lemon zest
Instructions
For the Pudding:
Preheat oven to 350F.

Mix ¼ cup butter and 2 tablespoons lemon curd until fully incorporated. Spread the croissant slices with the lemon curd butter mixture and arrange on baking dish in overlapping layers.

Sprinkle ¼ cup dried blueberries between layers and all over the top. Set aside.

In a medium bowl, whisk 3 eggs and ¼ cup sugar until smooth and creamy. Add 1 ¼ cups heavy cream, 1 ¼ cups milk, 3 tablespoons limoncello and 1 teaspoon lemon zest and stir until well combined.

Pour this mixture gently into your baking dish, making sure each croissant is submerged. Gently press down if necessary. Allow the croissants to soak in the custard for about 20 minutes.

Put the baking dish in a roasting pan filled with hot water that goes halfway up the sides of the dish. Bake for 40-60 minutes or until golden brown and the inside of the pudding is set.
For the Glaze:
Microwave 1 teaspoon lemon curd for about 15 seconds to make it easier to spread. Once the bread pudding is out of the oven and still warm, spread the glaze on top of the pudding immediately.
Notes
Tip on the dish to use – assemble your cut croissants in the dish you're planning to use first. If they all fit and they can easily be submerged by the custard, you're good.
Make sure the croissants absorb the custard properly. If your bread still looks dry after 20 minutes, press down gently and soak for another 10 minutes or so.
Check your pudding at the halfway mark. If you think the tops are getting a little too brown too fast, you can loosely cover it with aluminum foil and continue baking.
You can check for doneness by gently peeking in the middle of your bread pudding with a knife or fork. If liquid comes out or if it's still too mushy, adjust your bake time.
Nutrition
Calories:
191
kcal
Carbohydrates:
13
g
Protein:
2
g
Fat:
14
g
Saturated Fat:
9
g
Polyunsaturated Fat:
1
g
Monounsaturated Fat:
4
g
Trans Fat:
1
g
Cholesterol:
48
mg
Sodium:
68
mg
Potassium:
79
mg
Fiber:
1
g
Sugar:
11
g
Vitamin A:
528
IU
Vitamin C:
1
mg
Calcium:
48
mg
Iron:
1
mg
Nutritional information are estimates only.
Tried this recipe? Leave a star rating today!
Also tag @iamtheunlikelybaker I'd love to see your creations.
Happy baking!
Did you make this croissant bread pudding? Tell me about it in the comments section below. I'd love to hear all about it.
What's your favourite thing to make/eat for breakfast on a Saturday or any day? Here's The Ultimate List of Breakfast Ideas if you can't decide!