With this quick and easy one-pot recipe, you can make your very own summer-in-a-jar homemade lemon curd anytime. You won't go back to store-bought lemon curd again.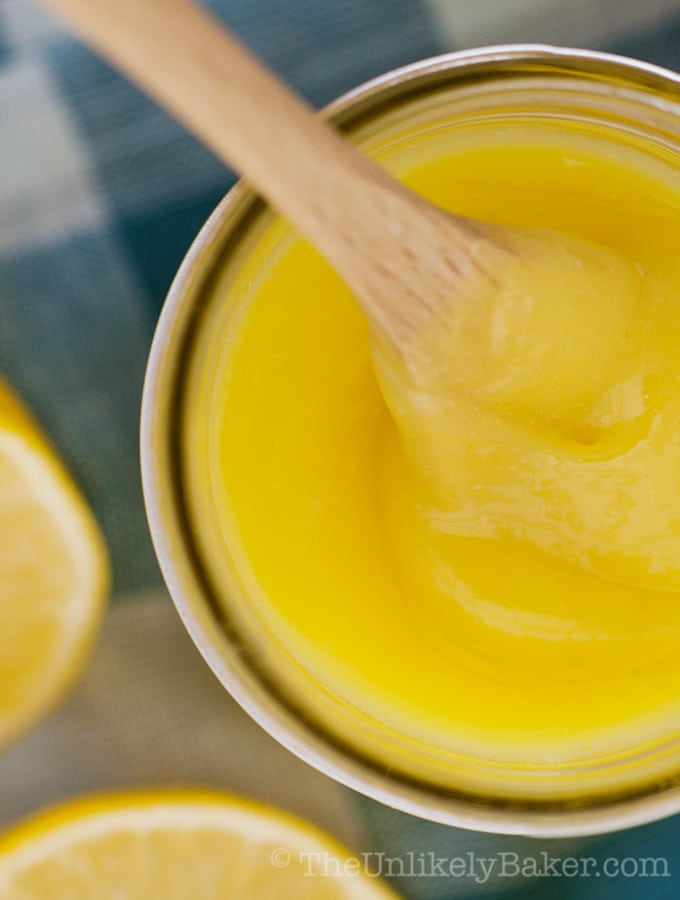 I recently baked a cake that only needed egg whites so I ended up with 5 extra (golden and beautiful) egg yolks. Me version 1 would have made such a big fuss about this whole scenario. I never know what to do with these dang yolks.
But now, I look forward to actually having extras so I can make my very own summer-in-a-jar homemade lemon curd (and man do I need summer now; it feels like -32C as I type this). It's great with scones, as filling for cakes and it's so delicious I eat it on its own (with a spoon, out of the jar, like peanut butter, don't judge me).
Me vs. Stove
I used to ignore these kinds of recipes because I only get along with ovens; stoves, not so much. And the recipes I initially found involved double boilers and tempering eggs which I didn't care for (that is to say: have no talent for).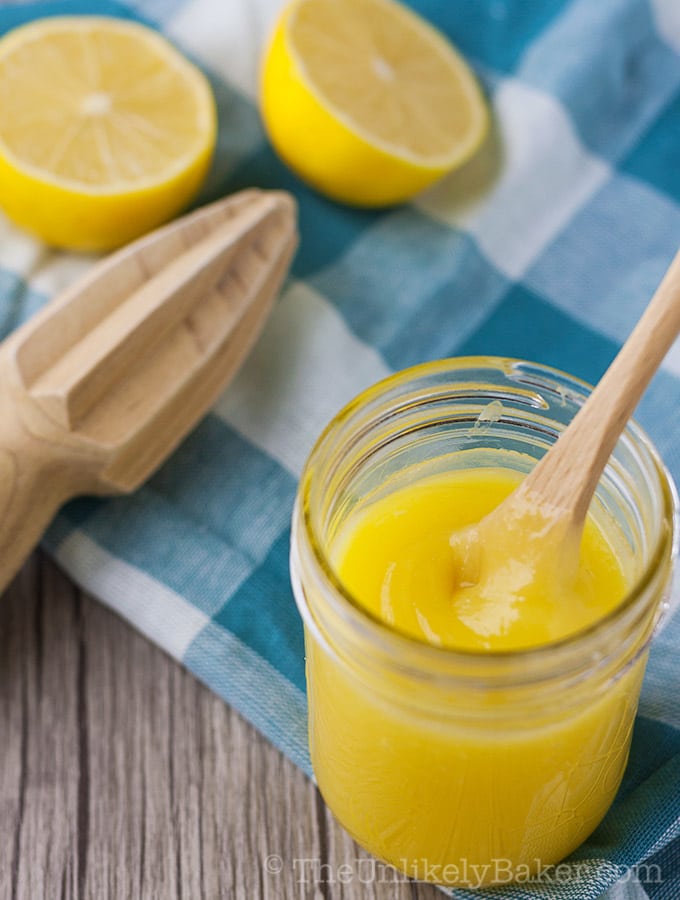 Either it takes me too long or I make a mess of things or I just simply cannot for the life of me do it right (I mean, it's difficult to ensure the boiling water doesn't touch the bowl, right?).
Quick, easy, one-pot homemade lemon curd
So I thought instead of giving myself unnecessary stress, why not take the simplest route? Put them all in one pot and just be extra conscientious about stirring to avoid ending up with scrambled eggs. And that's how I've been making my lemon curd ever since.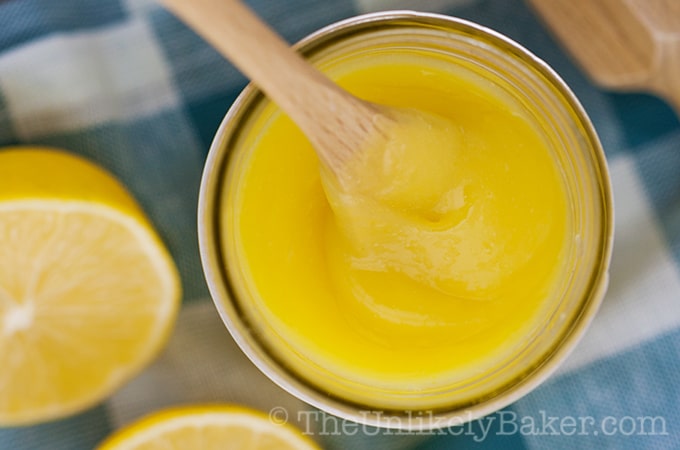 I promise you – try this recipe once and like me, you won't go back to store-bought lemon curd again. This homemade version is thicker, brighter, silkier, and just all around better.
I had a jar of store-bought lemon curd sitting around in the fridge when I made this and I can really taste the difference. Put side-by-side, by colour alone (I can show you but I'm wary of lawsuits), homemade lemon curd wins.
When life gives you lemons…
So when life gives you lemons (and extra egg yolks), make your very own lemon curd!
And if you can, use Meyer lemons – they are sweeter. I always keep a stash of those around. I buy them at Costco, put them in a Ziploc bag, straight into the fridge and they last me several weeks. I've also learned how to freeze both the juice and the zest and they last a very long time.
Related: How to Take Delicious Food Photos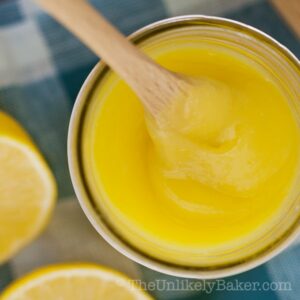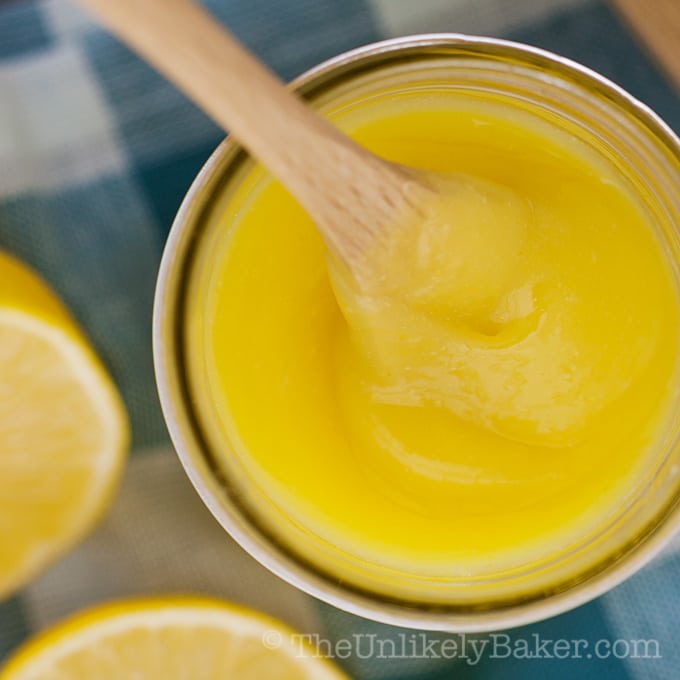 Quick and Easy Homemade Lemon Curd
With this quick and easy one-pot recipe, you can make your very own summer-in-a-jar homemade lemon curd anytime.
Print
Rate
Ingredients
5

pcs

egg yolks from large eggs

beaten

1

cup

granulated sugar

1/3

cup

lemon juice

see note 1

4

tbsp

lemon zest

see note 2

1/2

cup

salted butter

cut into parts
Instructions
In a medium saucepan, combine 5 egg yolks, 1 cup sugar, 1/3 cup lemon juice, lemon zest and 1/2 cup butter.

Cook over medium heat, constantly stirring until the mixture is thick enough (it usually takes me 10 minutes to get the consistency I want).

Remove from heat and carefully transfer the hot mixture into a heat-proof container. Use a strainer when transferring so you end up with smooth, silky, pure lemon curd.

Cover by putting a layer of plastic wrap directly on the surface of the curd and refrigerate overnight.
Notes
I used about 4 regular-sized Meyer lemons.
Use all the zest from the lemons you juiced.
Happy Lemon Curd-ing!
Did you make homemade lemon curd?  Tell me how it went in the comments section below. I'd love to hear all about it.
Here are more lemony treats for you:
And let's get social! Find me on Facebook,  Pinterest,  Instagram,  Twitter,  Google+  and  Flipboard.
Or subscribe so you don't miss a recipe. I promise I don't spam (I hate spam too).
Do you want to improve your food photography, monetize your blog or start your very own food blog? Check out my Blogging Resources.