This quick and easy grapefruit tart is light, bright and so refreshing. Topped with toasted coconut and chopped almonds, it is perfectly sweet and tangy – just how grapefruits should be.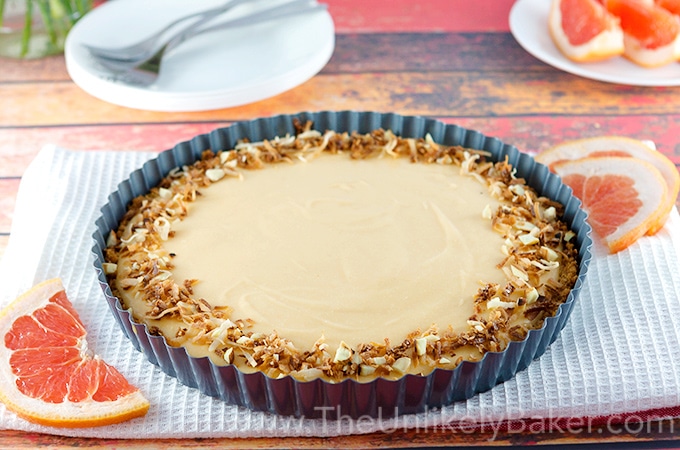 I know grapefruits are at their best in the winter. But they're always available where we shop. And Red is a little obsessed with them so we always have them around. So I decided it's time to get in on the action and bake something grapefruit-y.
Grapefruit tart
Instead of a cake, I decided to make a grapefruit tart. It's summer after all and I wanted something light and refreshing. And refreshing, this is.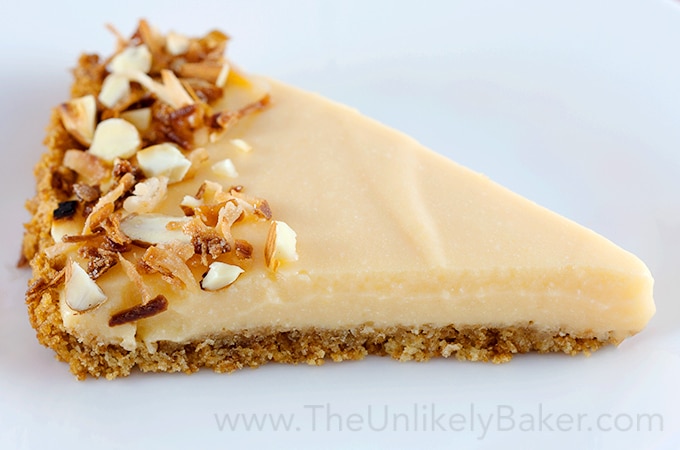 Creamy, not overly sweet, with a hint of that grapefruit tartness – a slice of this on a hot summer day will immediately cool you down (or on a cold winter day – cheer you up!) Don't skip the toasted coconut and almonds – coconut with grapefruit is the flavour combination food dreams are made of.
[clickToTweet tweet="Grapefruit tart – light, bright and so refreshing!" quote="Grapefruit tart – light, bright and so refreshing!"]
Grapefruits are not acidic enough
I love key lime pie. So I initially thought I could just switch the citrus and use my eggless key lime pie recipe. But after much research I found that the acidity of grapefruit is lower than key limes (or lemons) so the pie will not set if they are subbed.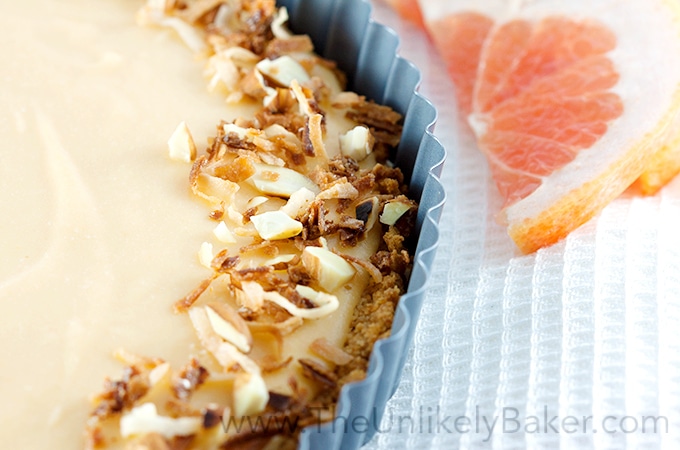 Cornstarch?
There were lots of ideas out there about how to address this including putting crushed vitamin C into the recipe. I was not comfortable with putting any kind of medicine into my tart so I settled on cornstarch. The original recipe asked for 3 tablespoons, which I thought was a lot but I promise you will not taste it in the tart.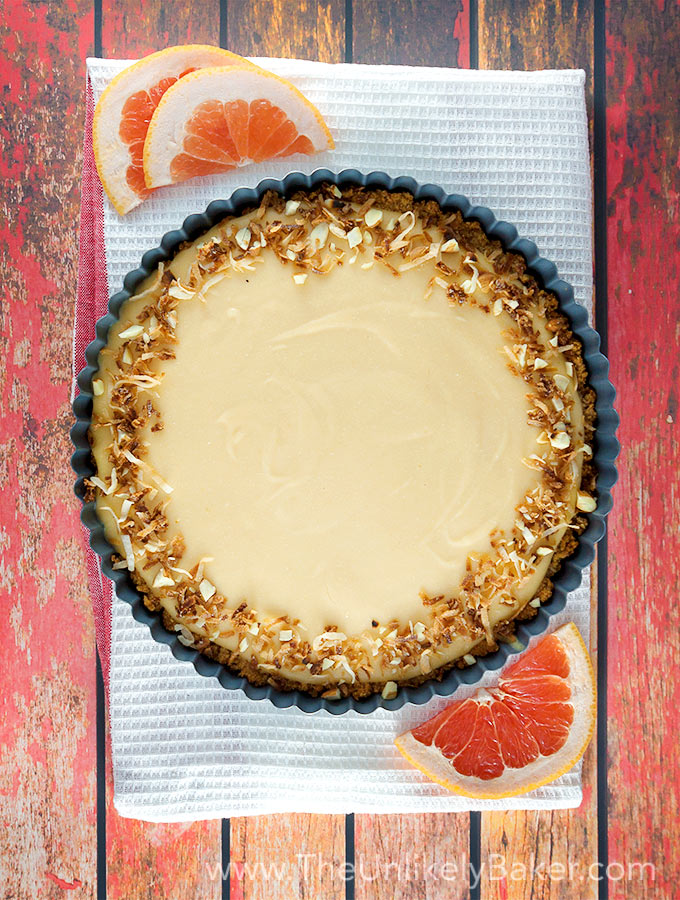 Slice of the tropics
The only thing you will taste is deliciousness. Served cold and topped with toasted coconuts and chopped almonds, a slice of this tart is pure bliss. It's luxuriously creamy, it has the perfect balance of sweet and tangy, the coconut lending crunch and a tropical flair.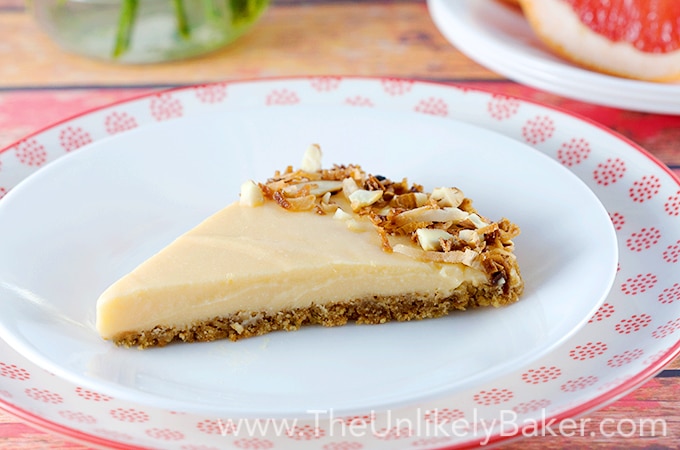 I'm not a big grapefruit fan but I am a huge fan of this tart. If you manage to get a hold of grapefruits this season, grab a few and treat yourself to a unique tart with flavours that are hard to beat.
Summery Grapefruit Tart
This grapefruit tart is light, bright & so refreshing. Topped with toasted coconut & chopped almonds – it's a flavour combination that's hard to beat.

Ingredients
1 1/2 cups graham cracker crumbs
1/3 cup salted butter, melted
1 large egg white, lightly beaten
1/2 cup condensed milk
3 tablespoons cornstarch
1 1/2 cups fresh ruby red grapefruit juice (from about 2-3 grapefruits)
3 large egg yolks, lightly beaten
6 tablespoons unsalted butter, room temperature
Pinch of salt
1/4 cup shredded coconuts, toasted
1/4 cup chopped almonds, toasted
Instructions
Preheat oven to 400F.
Mix 1 1/2 cups graham cracker crumbs and 1/3 cup butter until the crumbs are evenly moist. Press on the bottom and sides of a 9-inch tart pan with a removable bottom. Lightly brush with egg white and bake for 5-7 minutes or until light, golden brown. Set aside and turn the oven off.
In a medium saucepan stir 1/2 cup condensed milk, 3 tablespoons cornstarch and 1 1/2 cups grapefruit juice until well combined. Cook on medium heat until thick and bubbly. Lower the heat and add the 3 egg yolks. Stir constantly to avoid scrambling the eggs. Bring to a light boil. Cook and stir for another 2 minutes.
Remove from heat and add the 6 tablespoons of butter until melted. Add a pinch of salt and give the mixture one final stir.
Strain the mixture through a fine mesh sieve into the prepared crust. Cover loosely with aluminum foil and chill for at least 6 hours or until set.
Top with toasted coconut and almonds and serve cold.
© 2021 This delicious recipe brought to you by www.TheUnlikelyBaker.com | (c) 2016-2017
(Recipe adapted from BHG).
Happy baking!
Did you make this grapefruit tart? Tell me about it in the comments section below. I'd love to hear all about it.
Here are more tarts for you:
And let's get social! Find me on Facebook, Pinterest, Instagram, Twitter, Google+ and Flipboard.
Or subscribe so you don't miss a recipe. I promise I don't spam (I hate spam too).
Do you want to improve your food photography, monetize your blog or start your very own food blog? Check out my Blogging Resources.