Eggless key lime pie with a crunchy cookie crust and melt-in-your-mouth filling. The best and the only key lime pie recipe you'll ever need.
This key lime pie is so easy to make you don't even need an electric mixer. Don't let the simplicity of it fool you though – the end product might just be the best key lime pie you'll ever taste. The graham cookie crust is sweet and succulent, the melt-in-your-mouth filling is the perfect combination of sweet and tangy, and topped with homemade whipped cream and lime zest – it is outstanding.
No raw eggs for me
A lot of the key lime pie recipes out there involve raw eggs, which I am utterly afraid of. I've wanted to make this for a long time but the raw egg situation was stopping me. Until I stumbled upon this recipe that have no eggs in it therefore addressing my (not entirely irrational) fear of raw eggs. And what an awesome recipe it turned out to be.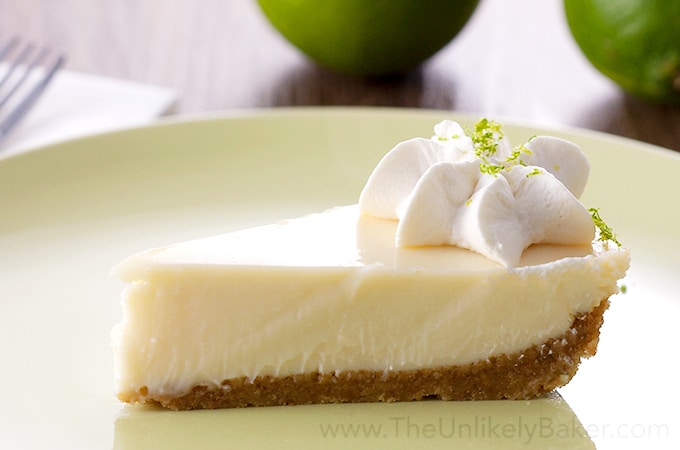 This eggless key lime pie is summer on a plate
It's -11C and it's snowing as I type this so taking a bite of this key lime pie gives me hope that summer exists. And it's a mere 4 months away. Each bite is sweet and refreshing and – even though it's made with condensed milk which you'd think would weigh the pie down – surprisingly light.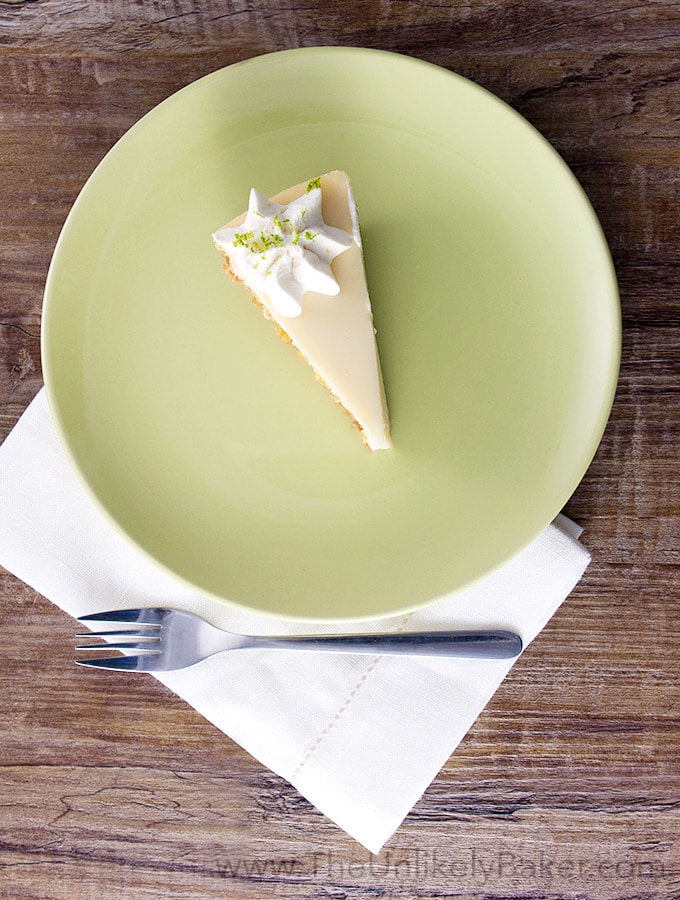 [clickToTweet tweet="This eggless key lime pie is summer on a plate http://wp.me/p78RTV-5W" "rel=nofollow" quote="This eggless key lime pie is summer on a plate! "]
So easy to make
And it's also surprisingly easy to make. Put all your ingredients in a bowl. Mix. Transfer to pie plate. Bake. Chill. Serve. Seriously, the hardest part was chilling it – waiting for it to set because as soon as it comes out of the oven, you'd want to devour it.
No key limes, no problem
Having a hard time finding key limes? Not a problem. A great substitute is to mix 75% good old-fashioned lime juice and 25% lemon juice and you're done. Don't let the lack of key limes stop you from making this amazing pie. (I'd suggest not calling it 75% Lime Juice 25% Lemon Juice Pie though – probably not as enticing a name.)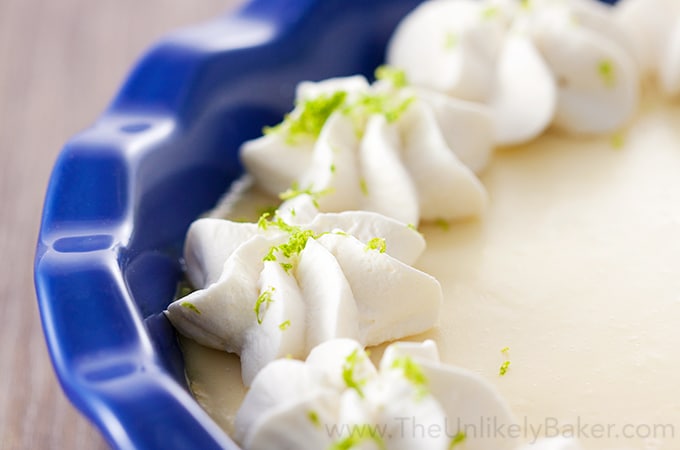 So go ahead! Impress your family and friends with this great looking pie that tastes as good as it looks (this would be great to bring to Easter lunch or for Pi Day if you're so inclined).
Ingredients
Crust:

1 1/4 cups graham cracker crumbs
1/4 cup granulated sugar
5 tablespoons salted butter, melted
Filling:

2 300ml cans condensed milk
1/2 cup sour cream
3/4 cup key lime juice
Instructions
Crust:

Preheat oven to 350F.
Mix 1 1/4 cups graham cracker crumbs, 1/4 cup sugar and 5 tablespoons melted butter until evenly moist and crumbly.
Press onto the bottom and sides of a 9-inch pie pan. Set aside.
Filling:

In a medium bowl, combine 2 cans of condensed milk, 1/2 cup sour cream and 3/4 cup key lime juice. Stir with a wooden spoon until smooth and well combined.
Sift into pie pan to get rid of lumps.
Bake for 10 minutes or until tiny bubbles appear on the surface of the pie.
Turn off oven but leave the pie inside for another 30 minutes. Watch it though - don't allow it to brown.
Remove from oven, allow to cool slightly then chill in the fridge, preferably overnight.
Garnish with lime zest and whipped cream before serving.
https://theunlikelybaker.com/key-lime-pie/
This delicious recipe brought to you by www.TheUnlikelyBaker.com | (c) 2016-2017
(This recipe adapted from Your Home Based Mom.)
Happy baking!
Did you make this key lime pie? Tell me about it in the comments section below. I'd love to hear all about it. Are you into all things citrus? Check out I love lemons for more sweet and tangy treats.
And let's get social! Find me on Facebook, Pinterest, Instagram, Twitter, Google+ and Flipboard.
Or subscribe so you don't miss a recipe. I promise I don't spam (I hate spam too).
Do you want to improve your food photography, monetize your blog or start your very own food blog? Check out my Blogging Resources.