Imagine oooey gooey cheese custard nestled in a flaky butter crust. These baked lava cheese tarts are luxurious and incredibly delicious.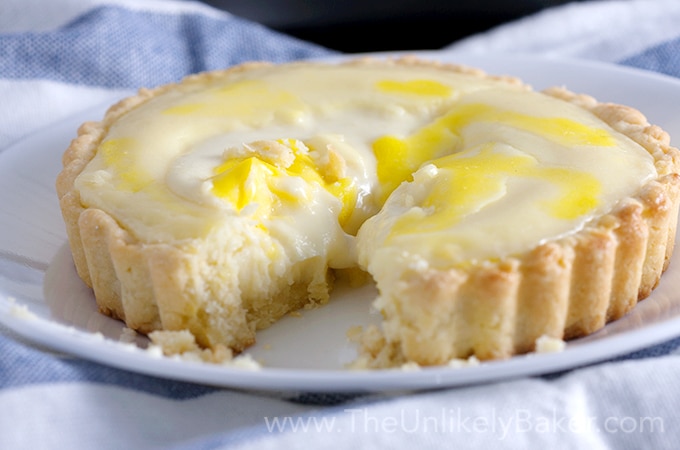 If you're still working on that eat-healthier-this-year resolution, look away. Look away now. Because what I have here are baked lava cheese tarts – thick, silky custard with 4 (yes, four!) kinds of cheese sitting on a buttery crust.
They are so delicious there's no way you can stop at just one bite. They are delightfully sinful and you can actually feel each bite go straight to your thighs. But would you care? Most likely not. Because you'd be in cheese heaven. Exercise can wait.
Asia loves baked lava cheese tarts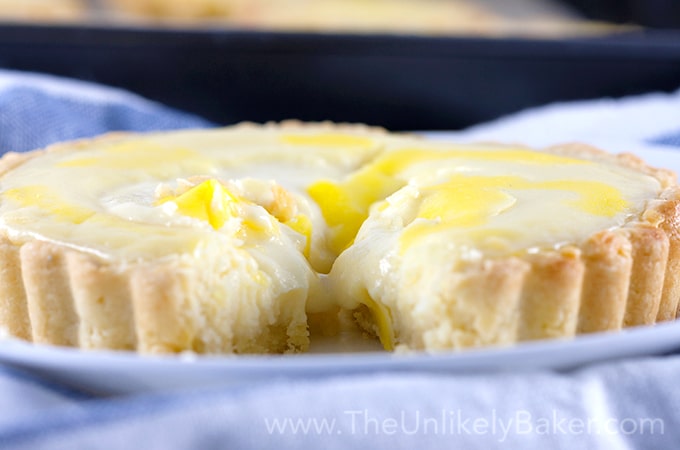 I originally wanted to make egg tarts for Chinese New Year (Filipinos technically don't celebrate CNY but lots of Chinese customs are so ingrained in our culture we might as well! For example – I'm wearing something red on CNY for good luck. Anyway, I digress). In my search though I saw these little bites of cheese awesomeness. How can I say no?
Apparently they were all the rage in Asia in 2016 (think: line-ups around the block). Originally from Hokkaido, Japan the insanity spread to Singapore, Hong Kong and yes, even the Philippines.
I haven't seen them reach these shores yet so I might as well stay ahead of the curve, learn how to make them and save myself from annoying line-ups. (Same logic I had for this Japanese Cheesecake – why line up when you can make it yourself from the comforts of your own home?)
[clickToTweet tweet="Baked lava cheese tarts – what cheese heaven must be like! Recipe here >>" quote="Baked lava cheese tarts – what cheese heaven must be like!"]
If at first (or second) you don't succeed…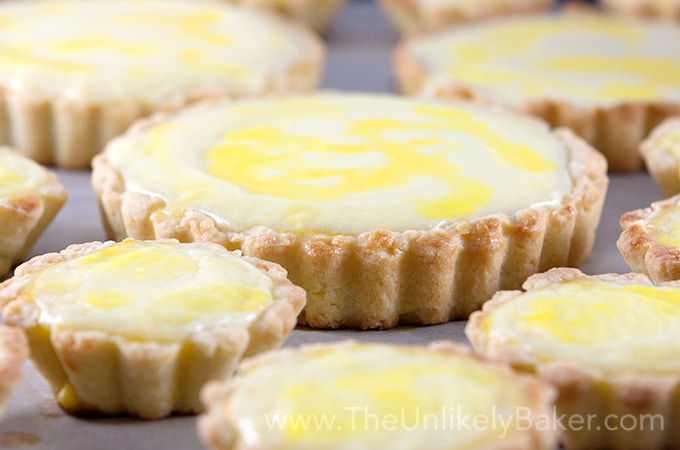 It was not as easy as I thought though. Took me 3 tries to get it right.
As you know my big thing this year is getting better with dough (breads, pies, tarts) and boy this tart challenged me. The crust was always a disaster. I'd save you from the gory (a.k.a. embarrassing) details but in the end I found that:
Instead of rolling the dough flat, it's easier to get chunks of it, roll them into small balls then press them onto the bottom and up the sides of your tart tins
If your crust puffs up too much – don't worry. As soon as they come out of the oven gently flatten them out with a teaspoon (or melon baller which was what I used, no reason, it was the first thing I grabbed)
There was the egg yolk glaze dilemma too – I couldn't figure out how to brush them on the tarts without destroying the tops. And leaving them out resulted to really pale tarts. So in the end I drizzled them. Which worked fine, like a marbled design. Though perhaps next batch I will spoon them over the tops just to see what happens.
Amazing fresh out of the oven, the day after or chilled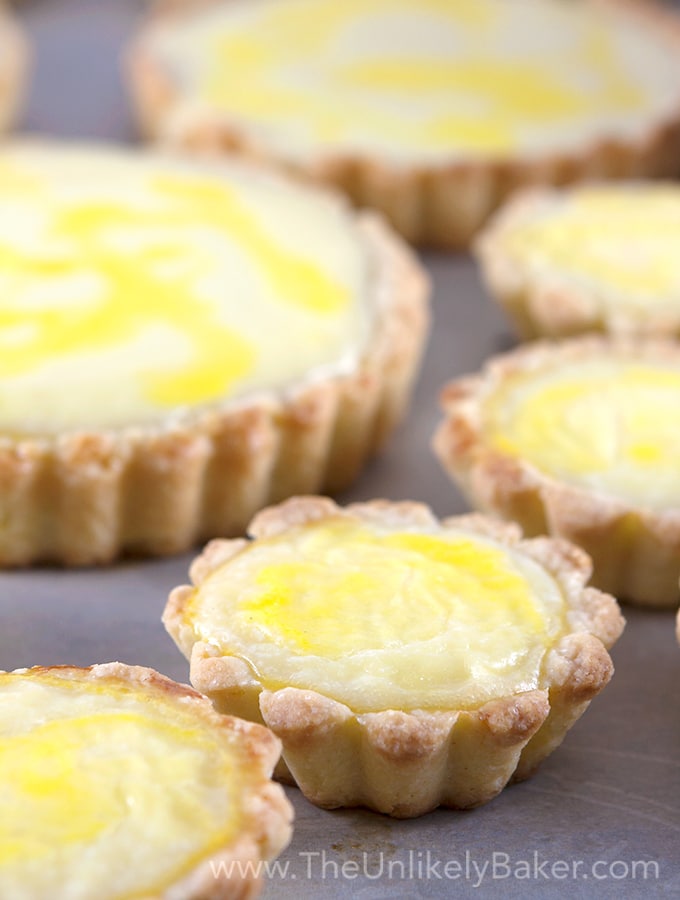 These baked lava cheese tarts are incredible freshly baked. Slice into one, watch the cheese ooze out and once you get over the oohs and the aahs of that moment, take your first bite and…nothing else matters.
They are still great the day after though. The cheese custard would have already set completely by then but man, it is no less amazing.
And you know what? Try them chilled. They are delicious straight out of the fridge too!
[clickToTweet tweet="Love cheese? You gotta try these baked lava cheese tarts >>" quote="Love cheese? You gotta try these baked lava cheese tarts!"]
Make them your own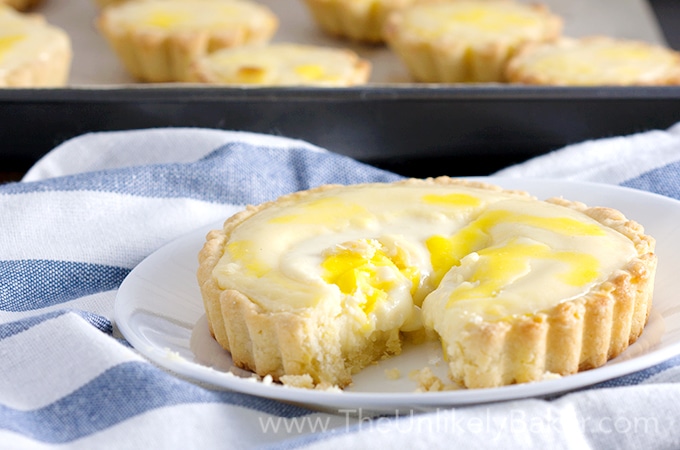 Most of the recipes you'd find online are made with ingredients more commonly available in Asia. As I have no idea where to get Hokkaido cheese (though won't that be lovely?), I made these tarts with whatever cheese we had on hand. Hard to go wrong with cheese after all.
I also did not add any salt to the crust or custard because the cheese I used were already salty. If you're changing things up though, you'd need to taste your custard and decide on the salt situation yourself.
Whatever you decide, one thing is certain: make baked lava cheese tarts. They are so good, almost addicting. They're unlike anything you've had before.
Baked Lava Cheese Tarts
Love cheese? You gotta try these baked lava cheese tarts. Oooey gooey four-cheese custard nestled in a flaky butter crust. Cheese heaven.

Notes
I recommend weighing the ingredients where provided. The corresponding volume measurements are close approximations.
The size of the dough chunk you need depends on the size of your tart tin. I used 2-inch tart tins and 4-inch tart pans (the ones with removable bottoms). For the tins, I needed about a heaping tablespoon of dough. For the pans, I needed double that. You can always add more dough to the tins to patch holes as necessary.
My 2-inch tarts were done in 10 minutes. My 4-inch tarts were done in 12.
Using these pan sizes, the yield was 12 2-inch tarts and 3 4-inch tarts. I did have enough filling for another 4-inch tart leftover.

Ingredients
For the Crust:
300 grams or 2 1/2 cups all purpose flour (see notes)
60 grams or 1/4 cup + 1 tablespoon granulated sugar
150 grams or 1/2 cup + 3 tablespoons unsalted butter, cold and cut into cubes
3 egg yolks from large eggs
1 1/2 tablespoons milk
For the Cheese Custard:
227 grams or 8 ounces cream cheese
113 grams or 4 ounces brie (with the rind scraped off)
113 grams or 4 ounces mascarpone
113 grams or 4 ounces grated parmesan
50 grams or 1/4 cup unsalted butter
1 cup milk
78 grams or 1/2 cup confectioner's sugar, sifted
30 grams or 1/3 cup cornstarch, sifted (may need more depending on how thick you want the custard)
2 large eggs
2 tablespoons lemon juice
1/2 teaspoon vanilla extract
For the Egg Yolk Glaze:
1 egg yolk from a large egg
1 teaspoon milk
Instructions
For the Crust:
Combine 300 grams flour and 60 grams sugar in a large bowl. Add 150 grams butter and combine using your fingertips until the mixture resembles a coarse meal.
Add 3 egg yolks and mix using a dough/bench scraper or spatula. Once combined, again use your hands to continue to mix the dough until it starts to come together. Add 1 1/2 tablespoons milk and continue to work the dough until it becomes slightly elastic.
Form it into a ball, remove from the bowl and wrap with plastic wrap. Chill for at least an hour.
Once your dough is ready, preheat the oven to 350F. Bring the dough out of the fridge and knead slightly on a floured surface.
Take a chunk of dough (see notes), roll it into a ball then press onto the bottom and up the sides of your tart tins. Gently poke holes on the bottom of the crust using a fork. Place the tins on a baking sheet and bake for 12-15 minutes or until they turn a light golden brown.
Remove from the oven and transfer to a wire rack to cool. Once they are cool enough to handle, remove the crust from the tins (they should pop right out) and place on another baking sheet covered with parchment paper while you prepare the custard.
For the Cheese Custard:
Add all your cheese, 50 grams butter and 1 cup milk in a large bowl set atop a saucepan with simmering water. Stir until the cheese and the butter are completely melted and no big chunks of cheese remain (little lumps are ok).
Add 78 grams confectioner's sugar and 30 grams cornstarch and stir until well combined. Then add 2 eggs, 2 tablespoons lemon juice and 1/2 teaspoon vanilla extract. Continue stirring until the mixture is thick and creamy. You can add more cornstarch a little at a time until you achieve the consistency you want. Strain the mixture into another bowl and let cool slightly. Preheat oven to 425F.
For the Egg Yolk Glaze:
In a small bowl, lightly beat 1 egg yolk with 1 teaspoon milk and set aside until ready to assemble.
Assembly:
Transfer your custard into your cooled crusts and fill until almost full. Drizzle with the egg yolk glaze and bake for 10-12 minutes or until set - firm but still wobbly in the centre (see notes).
Take out of the oven and serve warm.
© 2021 This delicious recipe brought to you by www.TheUnlikelyBaker.com | (c) 2016-2017
Happy baking!
Did you make baked lava cheese tarts? Tell me about it in the comments section below. Do you celebrate Chinese New Year? I'd love to hear all about it.
If you're a fan of tarts, here are other recipes you'd enjoy:
And let's get social! Find me on Facebook, Pinterest, Instagram, Twitter, Google+ and Flipboard.
Or subscribe so you don't miss a recipe. I promise I don't spam (I hate spam too).
Do you want to improve your food photography, monetize your blog or start your very own food blog? Check out my Blogging Resources.