Get creative this Christmas with homemade chocolate bark! They're fun, easy to do and make for thoughtful Christmas presents. You don't even need a recipe! All you need? Your favourite chocolate and your imagination. The possibilities are endless.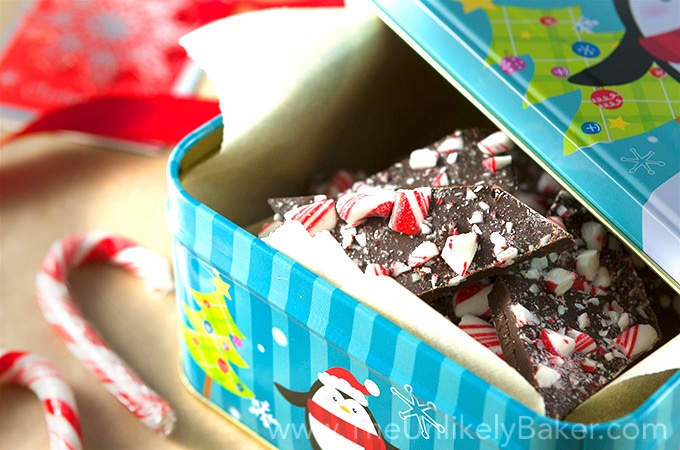 Ok. I may have oversold the easy part a little. While it's true that you don't need a recipe to make chocolate bark, you do need to know how to properly temper chocolate. Whether this would be a breeze or painstakingly difficult is, I think, dependent on your temperament (see what I did there?).
Good news is you can still make homemade chocolate bark without tempering chocolate. Intrigued?
Chocolate 101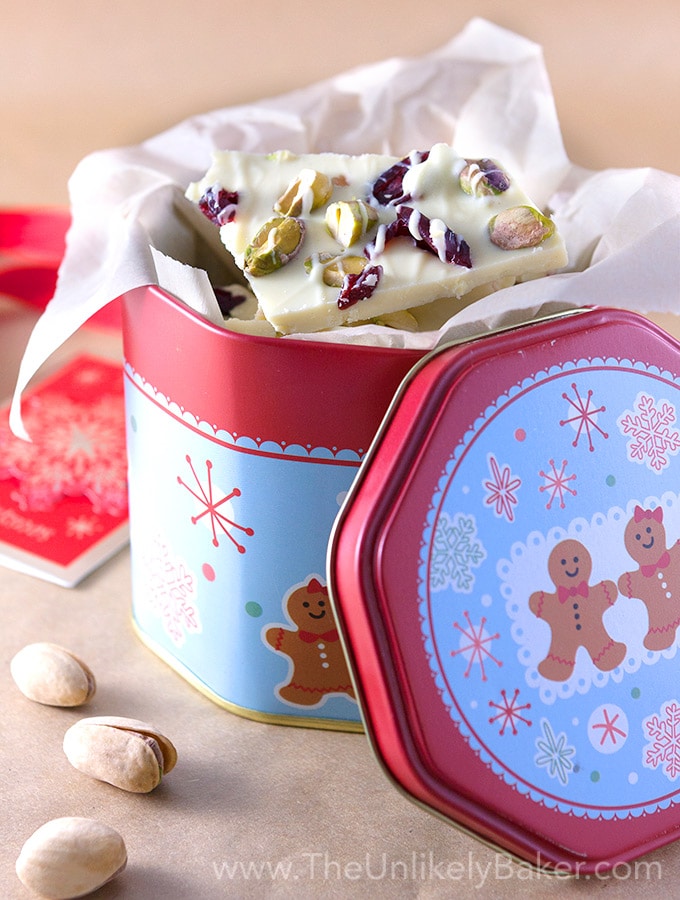 So I was at my local baking goods store hovering over the many (so many!) chocolate options.
Me: Hi. What's the best chocolate to use if I wanted to make chocolate bark?
Them: Well. That depends. Do you know how to temper chocolate?
Me: (Thinks for a second. Many, many seconds). Well I really just usually melt chocolate in the microwave (smiles sheepishly).
Them: (Aghast! Recovers and tries to hide their shock at the horror of what I just said. Then very politely steers me away from the expensive couverture chocolates.) Do you want to try compound chocolates?
The look of fear on their faces made me buy the compound chocolates
even though I didn't know what they were. And I said I will try. They looked pretty relieved pleased with that.
Compound Chocolate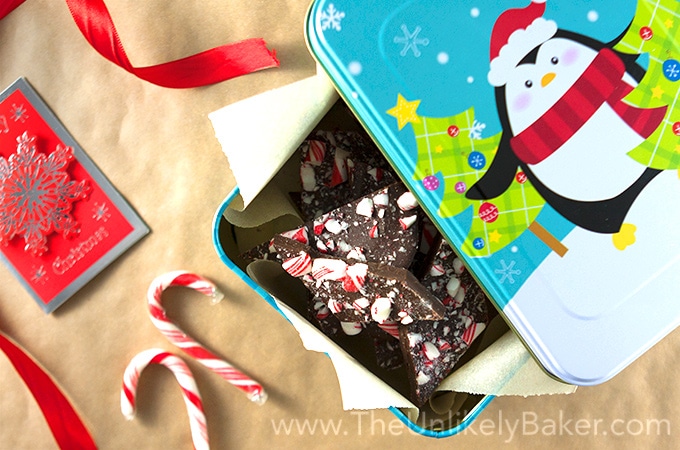 As it turns out, there are 2 categories of chocolate (who knew? Evidently not me): real and compound. Here's a really great article on that. Bottom line is, real chocolate needs to be tempered and compound chocolate does not (i.e. it's perfectly fine with my microwave melting method).
I made 2 batches of chocolate bark using compound chocolate and it's really not bad. Not bad at all. Easy to work with. Tastes like chocolate. But once it sets, it gets a little too matte for my taste and turns a not very pretty shade of brown.
So it's great if you're craving for chocolate bark and want to make yourself some. But if you're giving them out as gifts (as I was), you may want to reconsider.
So back to the store I go and grab myself bags (yes, plural, in case I lose my temper tempering ha ha sorry I can't help myself) of couverture chocolates
and try again.
Glorious homemade chocolate bark
As it turns out, tempering chocolate is really not as difficult as it sounds. Requires patience, yes. Tedious, just a bit. I used this guideline from The Kitchn and things went relatively smoothly.
The resulting bark was not as glossy as I would have wanted (I need to work on that!) but looked so much better. And although there is nothing wrong with how compound chocolate tastes like, real chocolate is the real deal.
No recipe required
Once you get over the temper or not to temper issue, making your own homemade chocolate bark is a breeze and so much fun. There's really no recipe – you don't need one! I just make sure I have at least 1 pound (16 ounces or about 450 grams) of chocolate then I go crazy.
The combinations I share below are just two of the ones I made to give out as gifts this holiday season.
[clickToTweet tweet="Get creative this Christmas with homemade chocolate bark! http://wp.me/p78RTV-vb" "rel=nofollow" quote="Get creative this Christmas with homemade chocolate bark! "]
Awesome gifts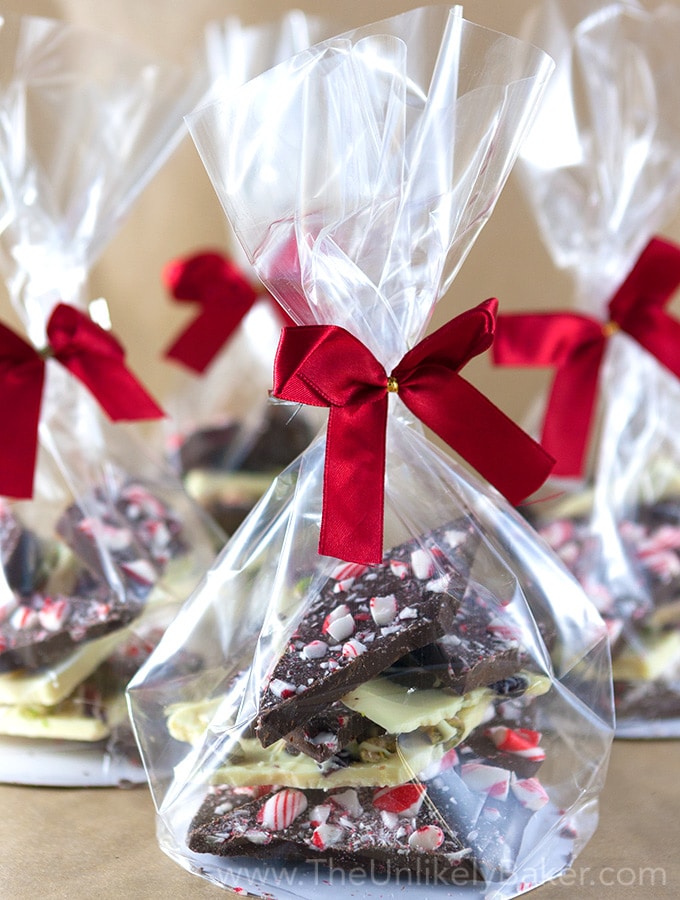 And they make wonderful gifts! Not only are they delicious, they look so festive too. And the person you're giving it to would know that you put time and effort in them.
You want to go all out? You can customize your bark per person. Put one set of toppings on the left side of your chocolate and another set on the right. There are countless combinations you can experiment with.
So whatever kind of chocolate you decide to use, I urge you to make homemade chocolate bark. They're fun, delicious and thoughtful gifts this Christmas.
How to Make Homemade Chocolate Bark
Get creative this Christmas with homemade chocolate bark! They're fun, easy to do and make for thoughtful presents. You don't even need a recipe.

Notes
Some recipes recommend putting the bark in the fridge to speed up the setting process but the ladies at my baking store strongly discouraged this. So I let mine set on the counter. Just make sure your kitchen is not too warm or humid or it might not set properly.

Ingredients
For the Dark Chocolate Bark with Crushed Candy Canes:
1 pound semi-sweet chocolate, melted (see my notes on melting above)
About a cup of crushed candy canes
For the White Chocolate Bark with Pistachios and Cranberries:
1 pound white chocolate, melted (see my notes on melting above)
About ½ cup salted pistachios, shelled and roughly chopped
About ½ cup dried cranberries
Instructions
Line a cookie pan/baking sheet with parchment paper (1 pan per kind of bark).
Transfer your melted chocolate to your pan and spread using an angled spatula. It doesn't have to be perfectly smooth but try to keep the thickness even and about 1/8 – 1/4 inch thick.
Sprinkle your toppings on top of your chocolate and let the bark set for at least 4 hours in room temperature (see notes).
Once set, break apart and serve.
© 2021 This delicious recipe brought to you by www.TheUnlikelyBaker.com | (c) 2016-2017
Happy chocolate melting!
Did you make homemade chocolate bark? What toppings did you use? Tell me about it in the comments section below. I'd love to hear all about it.
Here are our cookie week recipes from last week in case you missed them:
And let's get social! Find me on Facebook, Pinterest, Instagram, Twitter, Google+ and Flipboard.
Or subscribe so you don't miss a recipe. I promise I don't spam (I hate spam too).
Do you want to improve your food photography, monetize your blog or start your very own food blog? Check out my Blogging Resources.