These lemon buttermilk scones are light, flaky, delicious and ready in 15 minutes! You don't even need an electric mixer.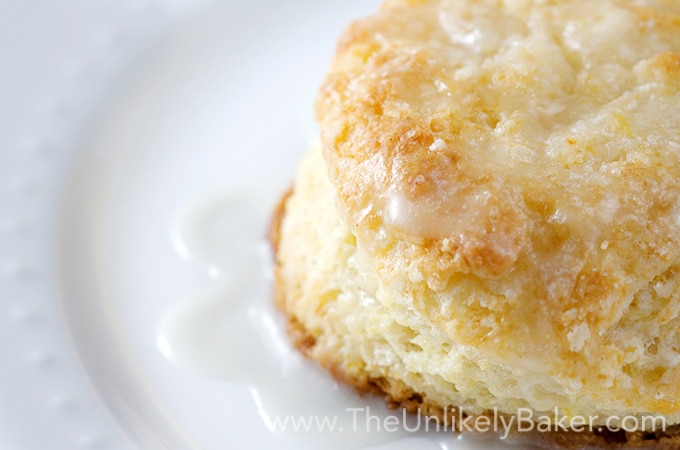 I'm a huge fan of scones.
My recipe for Classic Buttermilk Scones was one of the very first recipes I shared here and it's become one of the most popular. And for good reason – it's so easy to make, it's absolutely delightful and it's ready in no time at all.
One day though, as is usual in the TUB household, I had extra lemons lying around.
So I experimented with my time-tested recipe and made a lemon version. And it turned out quite lovely too!
Change #1: lemon sugar
I didn't change the recipe drastically (why fix what's not broken, right?). I just added lemon sugar by rubbing lemon zest and sugar together using my fingertips until our whole house smelled like lemon heaven.
Try it even if you don't really need lemon sugar (though I'm sure we'll find a use for it). It's amazing.
Change #2: lemon glaze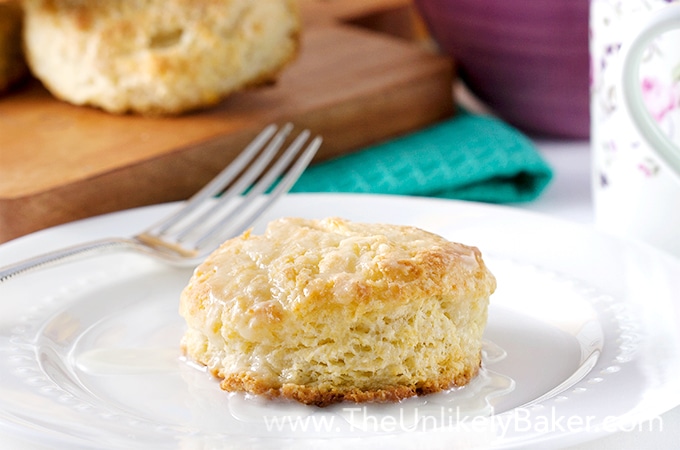 Then I added a lemon glaze to make it even more lemony. I like my lemon buttermilk scones plain but if you're looking for a touch of lemony sweetness, the glaze is for you.
Change #3: frozen grated butter
Instead of using cold and cubed butter, I froze my butter, grated it, then put it back in the freezer while I prepped everything else. It was a tip I saw on The Kitchn.
It's genius (albeit a bit of work)! It results to flakier scones and it's how I make even my classic scones now.
Change #4: rounds instead of triangles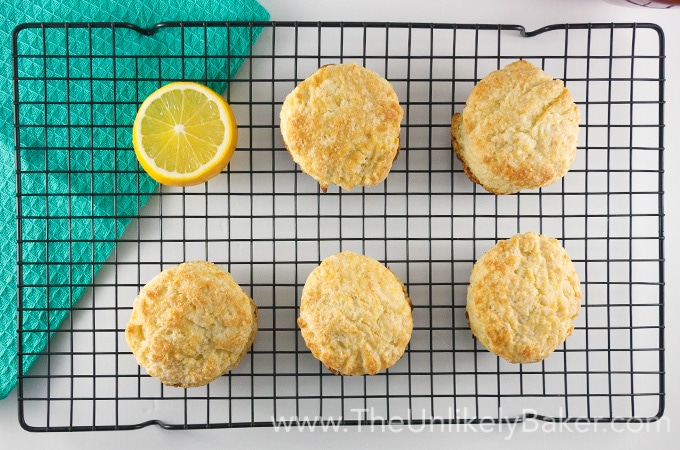 I bought this cookie cutter from the baking supplies store which I have not used ever and for which Red constantly gives me the side-eye for (what can I say, it was cute and less than $5!). So I finally used it and made round scones.
You can shape your scones any which way you like, no side-eyes from me. Just keep them all the same shape so they bake evenly.
Result: lemon buttermilk scones nirvana
All these little changes resulted to a scone as lovely as the original.
It's not overtly lemony and like my original scones recipe, not excessively sweet.
I love it freshly baked, slathered with butter (or clotted cream
if I can get my hands on a jar), perfect for brunch.
Great for Easter!
Speaking of brunch. If Easter brunch is your thing, these lemon buttermilk scones would be perfect. Make them just before guests arrive.
Or you can make them the night before – just freeze in Ziploc bags, then reheat when you're ready to serve. They won't be as flaky but they will still be delicious.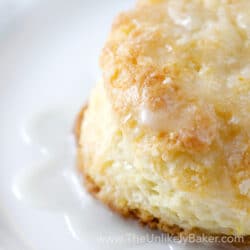 Quick & Easy Lemon Buttermilk Scones
Elevate your brunch game with these light and flaky lemon buttermilk scones! Enjoy them freshly baked, slathered with butter or clotted cream.
Ingredients
For the Optional Lemon Glaze:
Instructions
For the Scones:
Preheat oven to 400F. Lightly grease 2 baking sheets and set aside.

In a small bowl, using your fingertips, rub lemon zest and sugar together until fully combined and fragrant.

In a large bowl, combine flour, all of your lemon sugar, salt, baking powder and baking soda.

Add the grated butter and cut with a pastry cutter or a fork until the mixture looks coarse (you should still see pieces of butter/flour "balls" about the size of chickpeas).

Make a well in the middle and add buttermilk. Mix until just combined. Don't over mix.

Transfer the dough to a floured surface and lightly knead into a ¾ inch thick rectangle (see notes). Cut out using a 2 to 3-inch cookie cutter and place on your prepared baking pans. Space them out evenly, about 2 inches apart.

Bake for 12-15 minutes or until lightly browned. In the meantime, prepare your glaze.
For the Optional Lemon Glaze:
Whisk confectioner's sugar and lemon juice until your mixture becomes pasty. Add more sugar or juice to achieve desired consistency.

Drizzle on warm scones and serve.
Notes
To make grating butter easier, put the butter in the freezer at least an hour before you plan to grate it. I use a cheese grater. Once you've grated all the butter, put it back in the freezer until ready to use. Of course, you can also opt to just use chilled and cubed butter.
You also have the option to divide your dough into two ¾ inch thick, 6-diameter rounds. Cut each round into 8 wedges.
Nutrition
Calories:
217
kcal
Carbohydrates:
31
g
Protein:
3
g
Fat:
9
g
Saturated Fat:
6
g
Polyunsaturated Fat:
1
g
Monounsaturated Fat:
2
g
Trans Fat:
1
g
Cholesterol:
25
mg
Sodium:
125
mg
Potassium:
114
mg
Fiber:
1
g
Sugar:
12
g
Vitamin A:
291
IU
Vitamin C:
1
mg
Calcium:
51
mg
Iron:
1
mg
Nutritional information are estimates only.
Tried this recipe? Leave a star rating today!
Also tag @iamtheunlikelybaker I'd love to see your creations.
Happy baking!
Did you make lemon buttermilk scones? I'd love to hear from you in the comments section below.
Looking for more breakfast and brunch inspiration? Here are other breakfast and brunch ideas and bread and biscuit recipes.
We also recently did a fabulous round-up of the Ultimate List of Breakfast Ideas. Check it out!