Mini cheesecakes are just like regular-sized cheesecakes, but lower maintenance. No need for a spring form pan, no need to worry about the tops cracking, no need for a water bath, no need to worry about seepage. They're so easy to make you really only need to worry about having to stop at eating just one.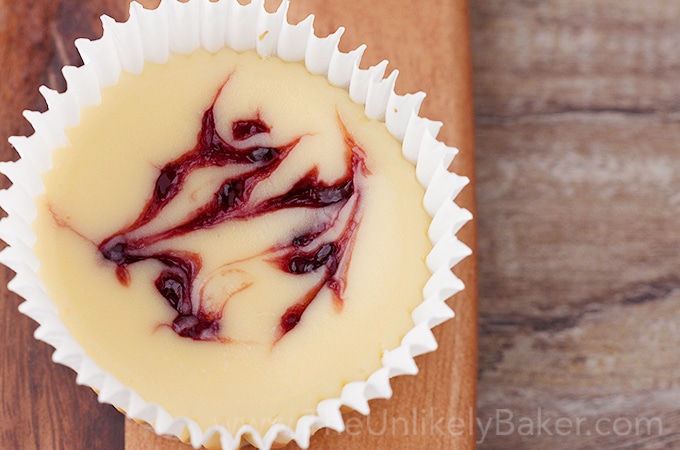 Baking a perfect, New York-style cheesecake is an accomplishment for any baker. Smooth top, creamy texture, perfect crust. Baking a perfect New York-style cheesecake is stressful (for me anyway). Water bath, heavy-duty aluminum foil, spring form pan.
I make them and they are delicious. But I'm far from perfecting the technique (apart from saying "cover the cracks with desired topping") so that won't be on the blog today. (Though I make a pretty mean Japanese Cheesecake and Lemon Cheesecake.)
Mini cheesecakes
What we have today is the same delicious cheesecake taste, texture and…nirvana…but without the stress. Isn't that great? You don't need to bother with slicing too. Just sit back, unwrap and bite into mini cheesecake heaven.
Bake in cupcake pans
What you do is take your cheesecake batter and bake them in cupcake pans lined with paper liners. Put them in the oven and you're done. Isn't that brilliant? Whoever first thought of this has my eternal gratitude.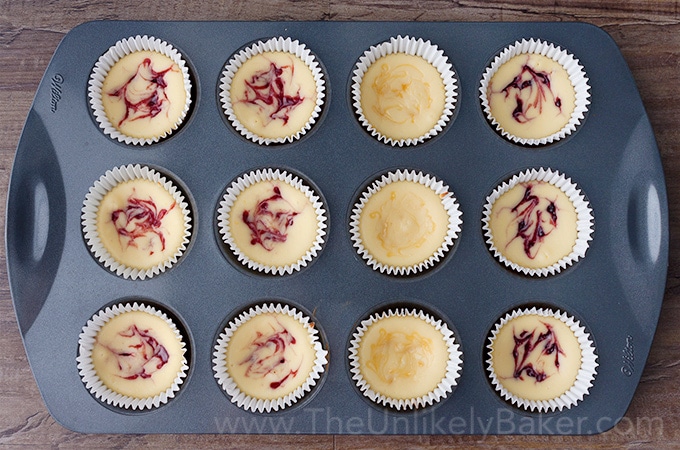 Personalize your mini cheesecakes
They are so versatile too. You can eat them on their own or, just like their big brother, top them with whatever you like. Take advantage of whatever fruit is in season, do a salted caramel version or just drizzle with simple chocolate sauce.
You can do whatever you fancy. Having a party? Let each person pick the cheesecake topping of their choice.
Since they are all over Pinterest I tried doing swirly things on top too, using jam (raspberry, blackberry and lemon curd).
[clickToTweet tweet="Same awesome cheesecake taste, less cheesecake fuss!" quote="Same awesome cheesecake taste, less cheesecake fuss!"]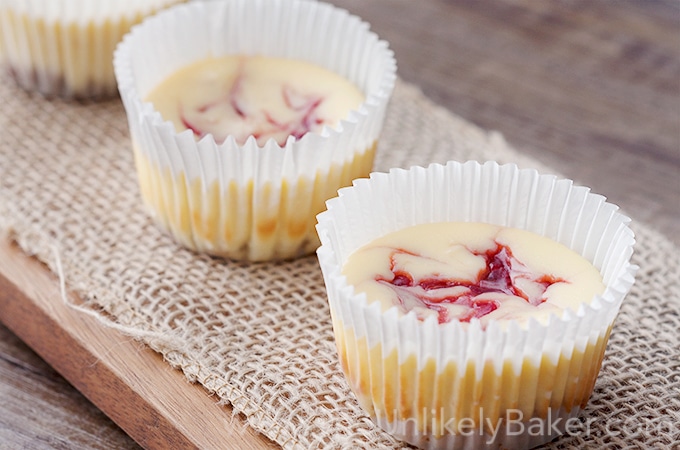 Not freaking about cracking
Don't get me wrong, these little guys will (might) crack on the top too. But mini cheesecakes have a somewhat more rustic look about them that cracks are ok. Totally acceptable. We don't care about cracks here.
And they are so tiny anyway you won't notice them. Or by the time you notice them the cheesecake will be halfway inside your mouth.
Bottom line: mini cheesecakes trump papa cheesecakes
Sounds like copping out but I am so tempted to just make mini cheesecakes from now on.
Ok.
Fine.
I know I need to master it someday so maybe I'll just go on a regular-sized cheesecake hiatus while I explore all mini cheesecake possibilities. I just cannot believe how easy these are to make. You won't believe it too. Try it. Perhaps you'll go on hiatus with me.
Mini Cheesecakes
Mini cheesecakes are so easy to make you only need to worry about having to stop at eating just one. Same awesome cheesecake taste, less fuss.

Notes
Do you want to put swirly jam on top? Before putting the cheesecakes into the oven put 4-6 drops of jam (I warmed mine in the microwave for a few seconds to make them more spreadable) on top and make swirls using a toothpick.
For other toppings (like salted caramel), you can top the cheesecakes before serving.

Ingredients
For the Crust:
3/4 cup graham cracker crumbs
1 1/2 tablespoons granulated sugar
3 1/2 tablespoons salted butter, melted
For the Cheesecake Filling:
2 8-ounce packages cream cheese, room temperature
3/4 cup granulated sugar
1 tablespoon all purpose flour
1 teaspoon lemon zest
2 large eggs, room temperature
1 teaspoon vanilla extract
1/4 cup sour cream
Instructions
For the Crust:
Preheat oven to 325F. Prep a cupcake pan by lining it with paper liners. Set aside.
In a medium bowl, stir 3/4 cup graham cracker crumbs, 1 1/2 tablespoons sugar and 3 1/2 tablespoons melted butter until the crumbs are evenly moist.
Scoop about 2 teaspoons of the crumbs into each cupcake cup and press firmly down to the bottom of pan (I used a shot glass for this - worked very well).
Bake for 5 minutes then take out of the oven and set aside to cool (don't turn the oven off). In the mean time, work on your cheesecake filling.
For the Cheesecake Filling:
Using a handheld electric mixer or a stand mixer fitted with the paddle attachment, beat the cream cheese until smooth. Add 3/4 cup sugar, 1 tablespoon flour and 1 teaspoon lemon zest and beat until well combined. Add the eggs, one at a time, until each one is incorporated. Then add 1 teaspoon vanilla and 1/4 cup sour cream and stir until just combined. Remember to scrape the bottom and sides of your bowl.
Transfer the mixture into another bowl by straining using a fine mesh sieve.
Then scoop the mixture into your prepared baking pan (each cup 2/3 full), drop the pan a few times on the counter to release any air bubbles, and bake for 20-25 minutes or until the cupcakes are puffy (don't worry, they will deflate as they cool).
Remove from oven and cool completely in the pan before putting them in the fridge to set completely (3-4 hours).
This recipe yields 12 mini cheesecakes.
© 2021 This delicious recipe brought to you by www.TheUnlikelyBaker.com | (c) 2016-2017
(Recipe adapted from Cooking Classy).
Happy baking!
Did you make these mini cheesecakes? Tell me about it in the comments section below. I'd love to hear from you. What's your favourite cheesecake?
Looking for cakes? Regular-sized ones are here and mini ones are here.
And let's get social! Find me on Facebook, Pinterest, Instagram, Twitter, Google+ and Flipboard.
Or subscribe so you don't miss a recipe. I promise I don't spam (I hate spam too).
Do you want to improve your food photography, monetize your blog or start your very own food blog? Check out my Blogging Resources.