This delicious salted caramel sauce recipe is perfect for when you don't need a whole jar. Fill a dozen cupcakes, drizzle on top of ice cream or just satisfy your salted caramel craving in a snap.
I was never a big fan of caramel. I just found it too sweet for my taste. And having memories of caramel candy getting stuck to my teeth for hours (I had braces too!) certainly didn't help. But a recent trip to San Francisco to visit my best friends changed all that. I was introduced (read: coerced, as best friends tend to do to each other) to salted caramel and that changed everything.
First – salted caramel ice cream
When I landed, my lovely hosts were immediately talking about how they needed to bring me to this famous ice cream shop so I can try their best-selling salted caramel ice cream.
Them: Do you like salted caramel?
Me: Uhm, not rea…
Them: We have to go to this place
Me: Oh-kay…
So off we went to get ice cream I didn't really want in the middle of a cold, breezy San Francisco night.
The result? The salted caramel ice cream was divine. It's not the caramel I knew (and disliked) at all. I was sold. Thank God for best friends, eh?
Next – homemade salted caramel sauce
So back home I started looking for salted caramel everything – cakes, cupcakes, cheesecakes. But I knew everything started with the sauce. The salted caramel sauce was the key to everything.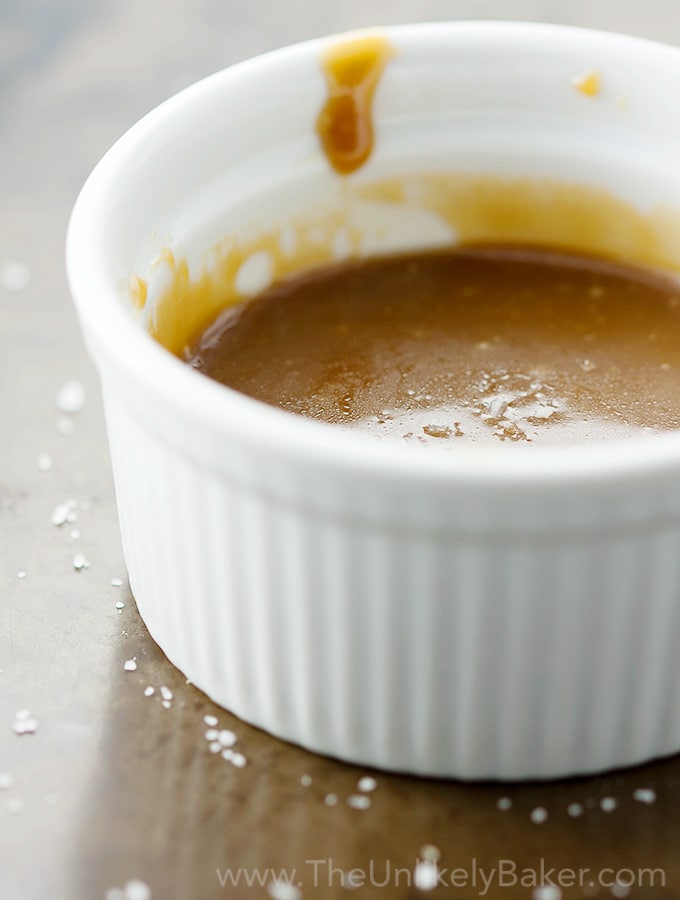 Me vs. Stove
It involved the stove though. And you know I try to avoid it if I can. This recipe is a put-everything-in-a-pot kind of recipe however so I put my stove anxieties aside and just did it. It does involve hot (hot – worth repeating) sugar so extra careful, I was.
Apart from that making this salted caramel sauce is a breeze. All you need is a pot and something to stir the sauce with (I prefer a wooden spoon). You're done in less than 15 minutes. And it is so good.
Perfect amount for your baked goodies
Another thing I like about this recipe is it doesn't yield a whole bucket of sauce. It's just about a third of a cup so it works great if you only need a small amount to fill your cupcakes with, or to drizzle on top of your ice cream, or just simply to satisfy your salted caramel cravings.
It hardens over time and I can imagine the difficulty of dealing with a jar full of hard, sticky salted caramel sauce when all you need is a teaspoon.
So whether you're a lifelong salted caramel fan, a recent convert like me or not into caramel at all – try this recipe. It is remarkably easy to make and seriously addicting.
(This is for you I-Love-Tourists and I-Love-Walking! Looking forward to our next 0.40 mile adventure.)
This delicious salted caramel sauce recipe is perfect for when you don't need a whole jar. Fill a dozen cupcakes, drizzle on top of ice cream or just satisfy your salted caramel craving in a snap.
Ingredients
2 tablespoons salted butter
1/2 cup brown sugar, packed
1/4 cup heavy cream
1/4 teaspoon kosher salt
1/4 teaspoon vanilla extract
Instructions
Whisk together all your ingredients (except the vanilla) in a heavy-bottom saucepan on medium-high heat and bring to a boil.
Bring down to a simmer and whisk until it thickens (it took me about 13 minutes - but make sure not to thicken it too much; it will continue to harden as it cools).
Once thick enough, whisk in the 1/4 teaspoon vanilla then remove from the heat.
Very carefully pour the caramel into a heatproof container. Allow to cool slightly before using (remember: hot sugar!).
Notes
The sauce will harden as it cools. However, you can just pop it into the microwave for a few seconds to soften it up again.
https://theunlikelybaker.com/salted-caramel-sauce/
This delicious recipe brought to you by www.TheUnlikelyBaker.com | (c) 2016-2017
(This recipe adapted from Baker by Nature)
Happy stirring!
Did you make this salted caramel sauce? Tell me about it in the comments section below. I'd love to hear all about it.
Love salted caramel? Check out these out:
And let's get social! See the sidebar (if on your desktop) or the bottom of this page (if on your mobile) to see how we can connect.
Or subscribe so you don't miss a recipe. I promise I don't spam (I hate spam too).
Do you want to improve your food photography, monetize your blog or start your very own food blog? Check out my Blogging Resources.