Sans rival is a Filipino layer cake made of buttercream, meringue and toasted cashews. It's chewy, crunchy, sweet and salty all in one glorious bite.
(If you love sans rival, you would love its cookie cousin, silvanas! Meringue cookie sandwiches filled with luxurious buttercream and coated with cookie crumbs. Delicious. Check it out!)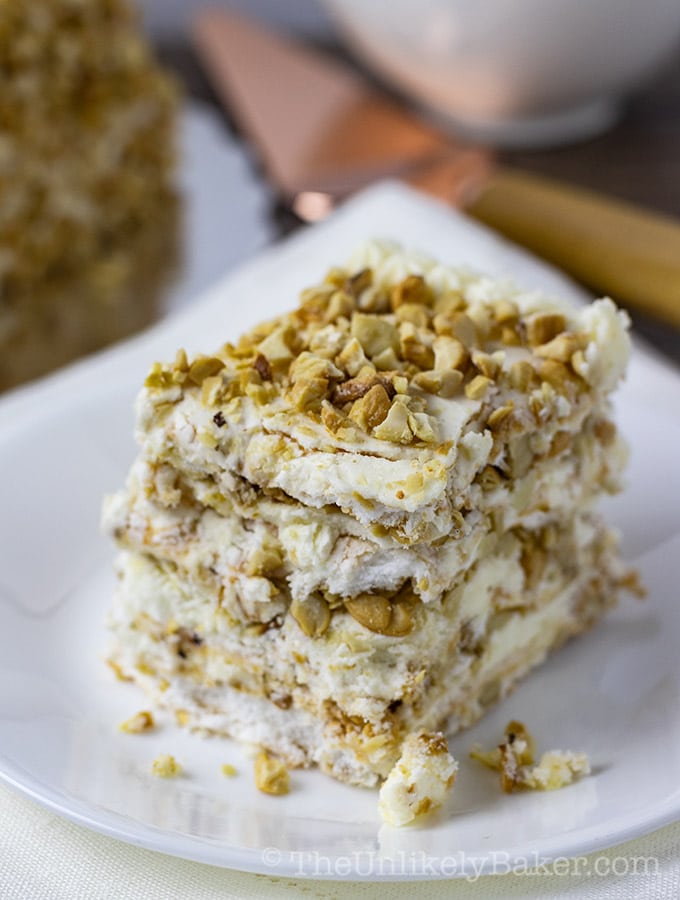 Sans rival is not your ordinary, everyday cake. It's reserved for special occasions like Christmas, Easter or a loved one's birthday.
With rich, creamy buttercream sandwich in between layers of chewy meringue, slathered with crunchy, toasted cashews throughout, sans rival is a cake so sublime a single bite will make your tastebuds sing.
What is sans rival?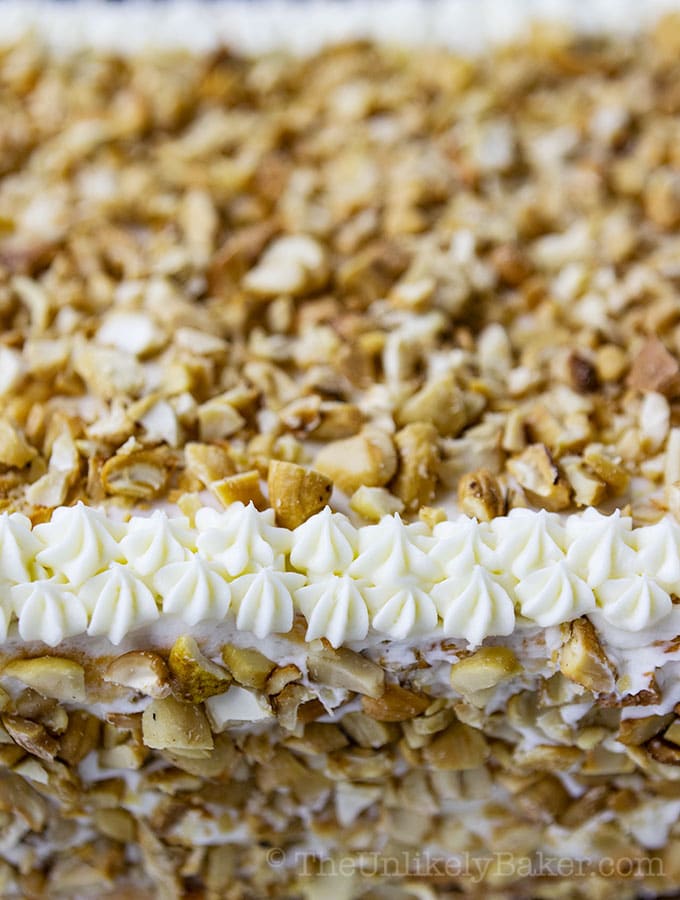 Sans rival (pronounced "sans-ree-val") literally means "without rival". And how appropriate that this cake is called that.
It's very much like, and can probably trace its origin back to, the French Dacquoise (yes, very fancy).
According to Bakepedia, a dacquoise is a meringue made with finely chopped nuts folded into the mixture before baking. It's then piped or spread into shapes and baked until crisp in a low temperature oven then layered with buttercream (whipped cream or ice cream).
A dacquoise is supposed to be crisp but sans rival (this version anyway) is more chewy than crisp. It gets its crunch from the toasted cashews.
How to make sans rival cake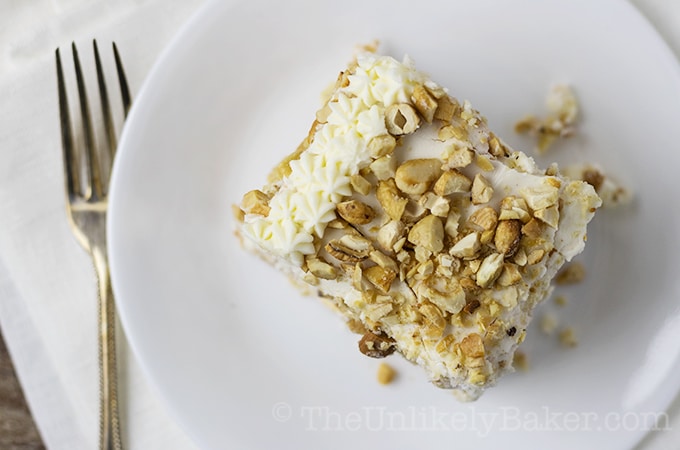 There are 3 components to making this easy sans rival recipe: the toasted cashews, the meringue and, finally, the buttercream.
Toast your cashews
First, prep your cashews because you need it ready before you can make your meringue. Just toast your cashews on a skillet until they're a light golden brown and fragrant.
Then roughly chop and set aside. You can use a food processor
to make chopping easier but be careful not to chop the nuts too finely; you want to feel that crunch in every bite.
Make your meringue
I share tips on how to successfully make meringue when I shared my recipe for Brazo de Mercedes cupcakes. So head on over there for a second if you want to get more in-depth.
Long story short:
Ensure that your egg whites are room temperature.
Make sure that your bowl and whisk are oil-free.
Be very patient when adding your sugar; a little at a time does it.
Once your meringue is ready, you have two options. You can either:
1. Transfer the meringue into a cookie sheet lined with parchment paper and spread it out so you can cut it into pieces later, or
2. You can get a piping bag (a large Ziploc bag works too – just cut a hole in one corner), scoop your meringue into it and pipe the meringue onto your cookie sheet (also lined with parchment paper) already in the shape/size you want (you can see what this looks like in the recipe below).
I always go for option 2. I find it saves me time (and possible heartache) from cutting the meringue into pieces later (breaking it is a real possibility) so that's what I recommend in this sans rival recipe.
You can go for option 1 though. Experiment and see what works for you.
Make your buttercream
Making the buttercream is fairly straightforward – beat the butter until light and fluffy. Gradually add the confectioner's sugar. Then the vanilla and milk.
And just continue until your buttercream is smooth, creamy, spreadable and just all-around luxurious.
Ingredients you need to make this easy sans rival recipe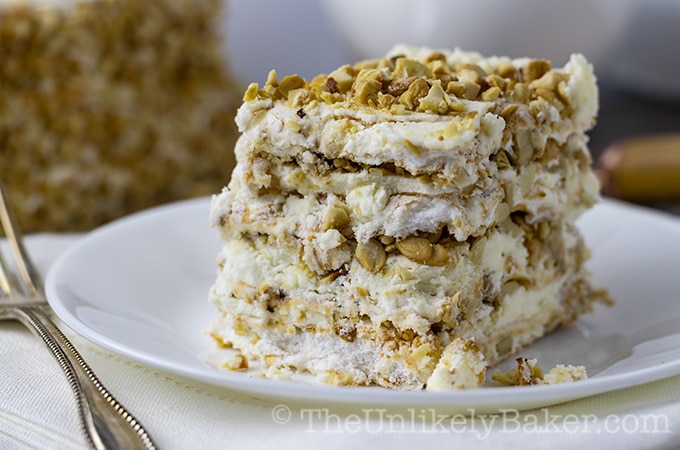 Sans rival looks intimidating but if you look at the ingredients, they're as simple as can be.
For the meringue, you would need:
And for the buttercream:
Tools you need to make sans rival cake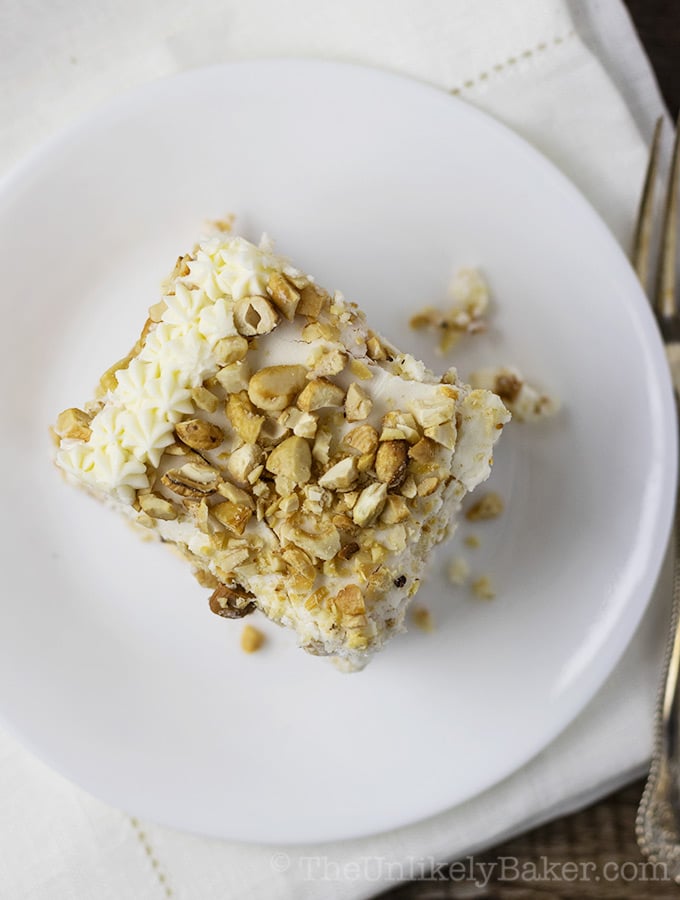 Because sans rival is technically a meringue cake, making the meringue is the bulk of the work in making this cake. A stand mixer
would make the job of whipping and achieving stiff peaks that much easier.
You can also do this with an electric handheld mixer
though, it will just take a little bit more time.
In fact, I know of some bakers who prefer whipping their egg whites by hand so that's totally doable too. I tried it once and swore never to do it again (my arms were sore for days) but hey, it's worth trying everything once, eh?
Other things you'd need include:
And nice-to-haves:
No lies: baking sans rival takes a bit of work (Je suis fatigue) – toasting and chopping the cashews, making the meringue, making the buttercream, assembling everything.
But with a little planning (mis en place), things should go very smoothly. And the end product? Just divine. Try it!
Other Filipino dessert recipes
Filipinos love dessert and it shows. Here are other treats that show up on Filipino tables around the world on Christmas Eve, Mother's Day, Easter or just about any celebration:
Leche flan is a decadent custard that's as smooth as can be. Made of just egg yolks, it's rich and remarkably creamy.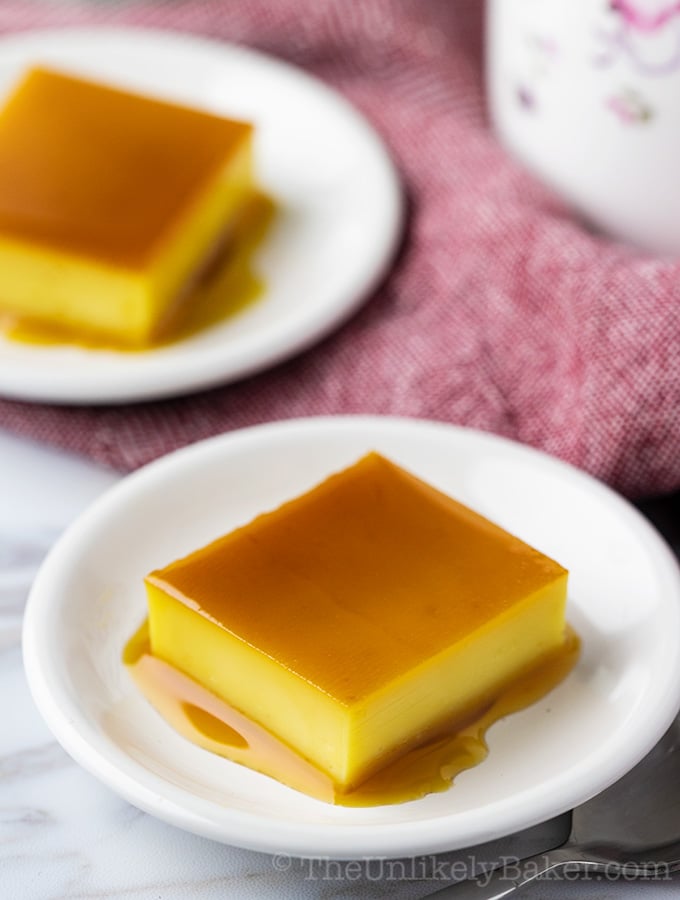 Ube cake is on everyone's radar these days but Filipinos have loved this delicious purple yam cake for years.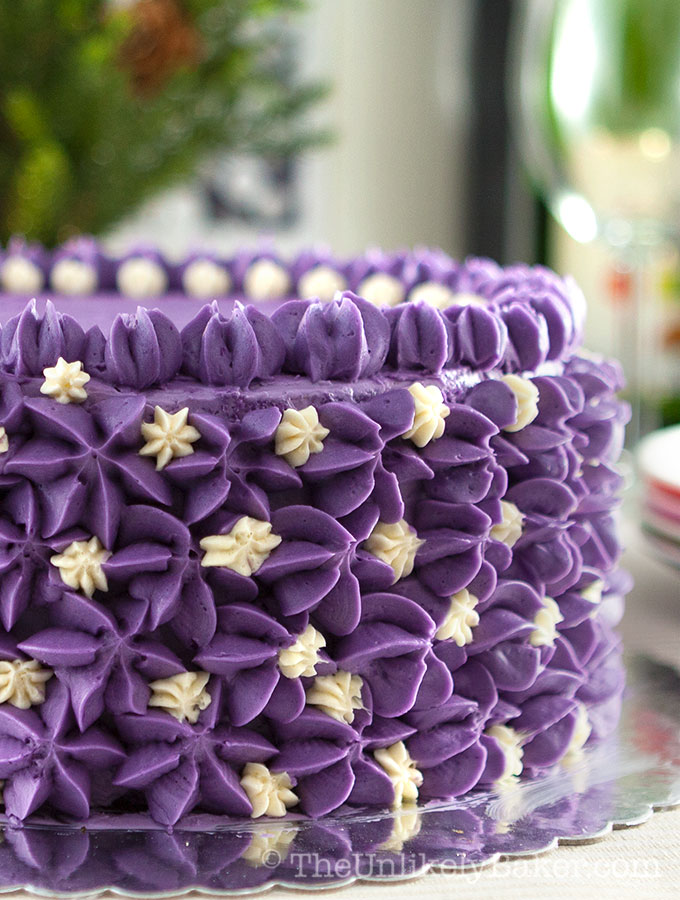 Apple buko salad is a staple Christmas and New Year's Eve Filipino dessert. Sweet and refreshing!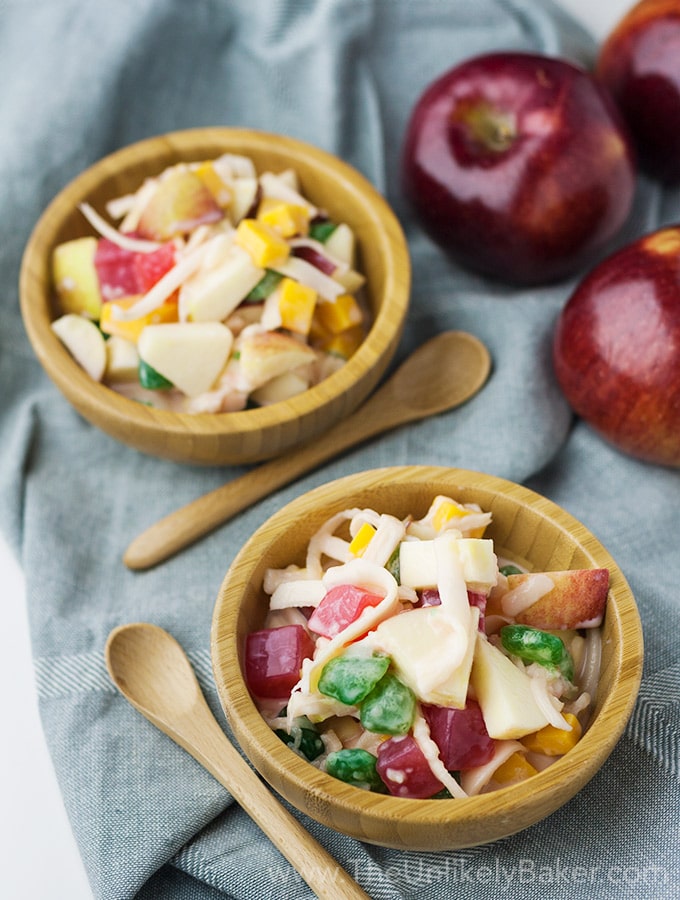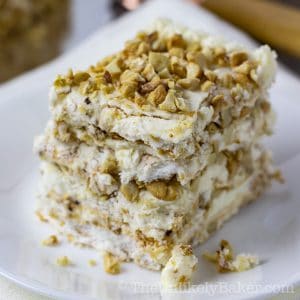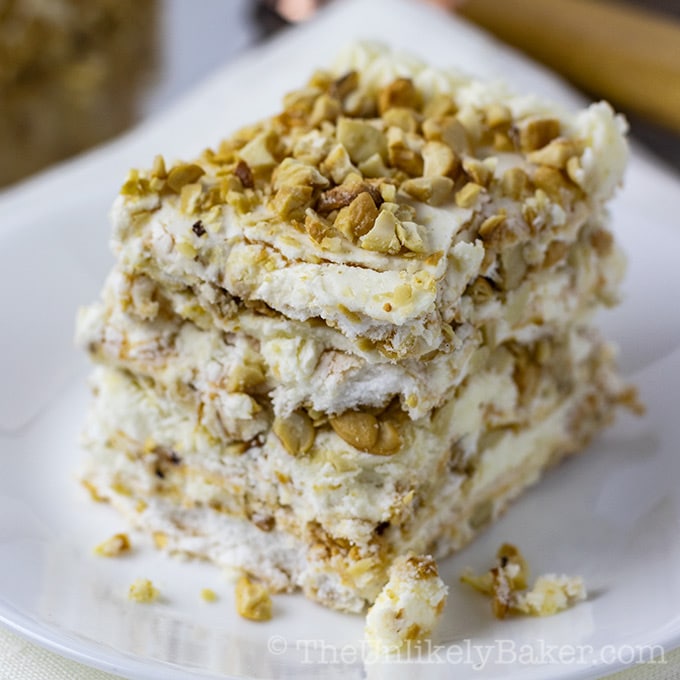 Sans Rival (French Dacquoise, Filipino-style)
Sans rival is a Filipino layer cake made of buttercream, meringue and toasted cashews. It's chewy, crunchy, sweet and salty all in one glorious bite.
Ingredients
For the Meringue:
10

pcs

egg whites from large eggs

room temperature

3/4

tsp

cream of tartar

1

cup

granulated sugar

1

cup

cashews

toasted and roughly chopped
For the Buttercream:
1 1/2

cups

unsalted butter

softened

3

cups

confectioner's sugar

1

tsp

vanilla extract

2

tbsp

milk

1 1/2

cups

cashews

toasted and roughly chopped
Instructions
For the Meringue:
Using a stand mixer fitted with the whisk attachment (or a handheld electric mixer), whisk 10 egg whites on medium high speed until foamy.

Add the 3/4 teaspoon cream of tartar and continue whisking until soft peaks.

Gradually (about a teaspoon at a time) add the 1 cup sugar until stiff peaks form.

Remove the bowl from the mixer and gently fold your 1 cup toasted cashews.

Transfer your meringue to a piping bag and pipe 4 rectangles onto your cookie sheet that's roughly 8x5 inches in size (if they don't fit in 1 pan, use 2 pans).

Bake for 30-40 minutes or until the top turns a light golden brown. Once that happens, turn the oven off but leave the meringue in there for another 20 minutes.

Take the meringue out of the oven and leave on the cookie sheet until it's cool enough to handle (don't leave on the pan for too long or they will become too brittle). Carefully peel them off the parchment and trim the sides so they're even. Cool completely before assembly.
For the Buttercream:
While your meringue is baking, let's make the buttercream. Using an electric handheld mixer or a stand mixer fitted with the paddle attachment, beat 1 1/2 cups butter on medium high speed until light and fluffy.

Switch to low speed and gradually (about 1/2 cup at a time) add the confectioner's sugar. When you've added 2 cups, add the 1 teaspoon vanilla and 2 tablespoons milk and continue mixing.

When you've added the rest of your sugar continue to beat on medium high speed until your buttercream is smooth, creamy and spreadable.

For the Assembly:
Place one layer on a cake stand or platter or turntable (smooth side down) and spread about 1/4 of your buttercream evenly on it.

Sprinkle with toasted cashews (plan this well - you should have enough cashews for all the layers plus the sides of your cake). Do the same thing for the rest of your layers. For your last one, make sure to put the smooth side up so your cake looks nice and even on top.

Then you can go crazy - frost your entire cake with buttercream and slap on the rest of your cashews on the sides (and even on the top if you like).

Refrigerate for at least 2 hours for it to set. Leave on the counter at room temperature for about 10 minutes before serving.
Nutrition
Calories:
402
kcal
Carbohydrates:
41
g
Protein:
3
g
Fat:
26
g
Saturated Fat:
12
g
Cholesterol:
45
mg
Sodium:
7
mg
Potassium:
163
mg
Sugar:
35
g
Vitamin A:
530
IU
Vitamin C:
0.1
mg
Calcium:
15
mg
Iron:
1.4
mg
Nutritional information are estimates only.
Happy baking!
Did you make sans rival? I'd love to hear from you in the comments section below.
And let's get social! Find me on Facebook, Pinterest, Instagram, Twitter and Flipboard.
(This post was updated on 15 February 2019.)