Swiss meringue buttercream is the cure for all of our frosting heartache. It is consistently smooth, glossy and stable to make our cakes and cupcakes shine.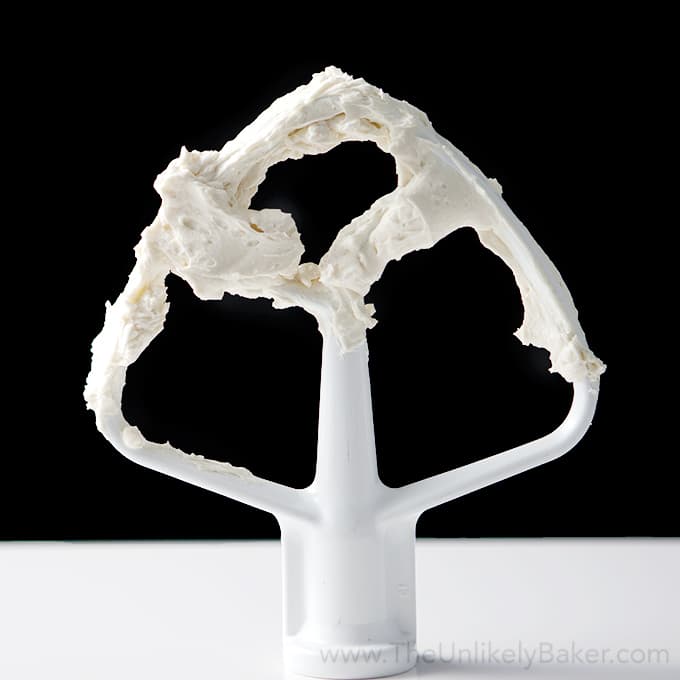 When I first learned how to bake, I struggled with buttercream and cream cheese frosting (who am I kidding – I still do). I couldn't always get the consistency I wanted – smooth and creamy so I can properly frost with it but also stiff enough so it doesn't fall off the cake (or cupcake). Then I discovered Swiss meringue buttercream – the frosting of my dreams.
Frosting fails
I've had my share of frosting fails. Some batches were way too soupy. I tried to refrigerate lemon cream cheese frosting once and when I thought it hardened enough I started frosting my cupcakes; it started melting 2 minutes later. I just told our guests (good friends, fortunately) that it was called the cascading waterfall frosting style (they still ate it, bless them).
Some batches I just had to throw out – in my effort to stiffen them up, I kept adding confectioner's sugar that in the end, they just tasted like, well, confectioner's sugar.
Swiss meringue buttercream
I've heard about but mostly ignored Swiss meringue buttercream because it involved a slightly more complicated process (plus a stove, which as you know I am a little averse to). Then I saw this video by Thomas Joseph. He made it look sooo easy.
But it was this excellent, step-by-step tutorial by Sweetapolita that finally convinced me to try. And my oh my, where have you been all my life Swiss meringue buttercream?
Not difficult
While it does involve a stove, the method is easy enough that someone like me can do it (therefore, so can you!). I did invest in a candy thermometer (found a $10 one at the local Walmart…doesn't need to be fancy) because I was dealing with eggs (if you read my post on Key Lime Pie, you'd know I have egg… issues concerns). But after the first part's done it's really just making meringue but with butter.
At times it will look like a complete disaster (think: curdled and looking like somebody threw up – I kid you not), don't give up. Just keep whipping and you will end up with this wonderful buttercream – smooth, shiny and creamy, can be made ahead and frozen (handy when you have extra egg whites), and so versatile. I've done the traditional vanilla, lemon, cookie butter and chocolate.
I must say this though, it is a little challenging to tint. I use the gel icing colour that's really concentrated but I've found that it takes a lot for Swiss meringue buttercream to darken. If you're going for light pastel colours then it's fine. But last Christmas I had to mix lots of browns, blues and greens to get to a vibrant Christmas green but I couldn't for the life of me make it turn Christmas red (it turned coral instead).
Regardless, it's my go-to frosting now. Try it! You'll discover why lots of bakers (pros and amateurs alike) love it.
Swiss Meringue Buttercream
Swiss meringue buttercream is the cure for all of our frosting heartache. It is consistently smooth, glossy and stable to make our cakes and cupcakes shine.

Notes
At some point your meringue will look curdled and really quite awful. Don't worry. Just keep whipping.
I have no exact recipe for flavoured Swiss meringue buttercream. I just add whatever ingredient it is (e.g. melted chocolate or peanut butter) a little at a time until I get the flavour I want. Just make sure what you're adding is room temperature.
This yields about 4 cups of frosting. I've found that it's not enough to frost and fill a 2-layer, 9-inch cake (but I'm a heavy froster so that's something to keep in mind).

Ingredients
5 egg whites
1 cup + 2 tablespoons granulated sugar
Pinch of salt
2 cups unsalted butter cut into parts, room temperature
1 1/2 teaspoons vanilla extract
Instructions
Put your 5 egg whites, 1 cup + 2 tablespoons sugar and a pinch of salt in the bowl of your stand mixer (which hopefully is heatproof) and set that over a pan of simmering water. If you own a candy thermometer, clip that onto your bowl too.
Constantly whisk your mixture by hand until the temperature reaches 140F. No thermometer? No problem. If the mixture feels warm and if you don't feel any grains of sugar anymore when you rub a small amount between your fingers - you're good. BTW, while whisking, swipe the sides of your bowl with your whisk once in a while to make sure no sugar crystals form.
Take the bowl out of the heat and directly into your stand mixer fitted with the whisk attachment. Whisk on medium-high speed until you reach stiff peaks, the mixture is smooth and fluffy, and the bottom of your bowl is cool to the touch.
With the mixer on medium-low speed, start to gradually add the 2 cups butter, small parts at a time, mixing well after each addition. Remember to scrape the bottom and sides of your bowl.
Once you've added all the butter add the 1 1/2 teaspoons of vanilla and stir.
Switch to your paddle attachment and continue beating on medium-low speed until your meringue becomes smooth, glossy and creamy.
© 2021 This delicious recipe brought to you by www.TheUnlikelyBaker.com | (c) 2016-2017
(Recipe adapted from Martha Stewart).
Happy whipping! Check out this post to see how I use Swiss meringue buttercream to frost a childhood favourite.
Did you make Swiss meringue buttercream? Tell me about it in the comments section below. I'd love to hear all about it.
And let's get social! Find me on Facebook, Pinterest, Instagram, Twitter and Google+. Or subscribe so you don't miss a recipe (if you missed the pop-up form, there's another form at the bottom of this page).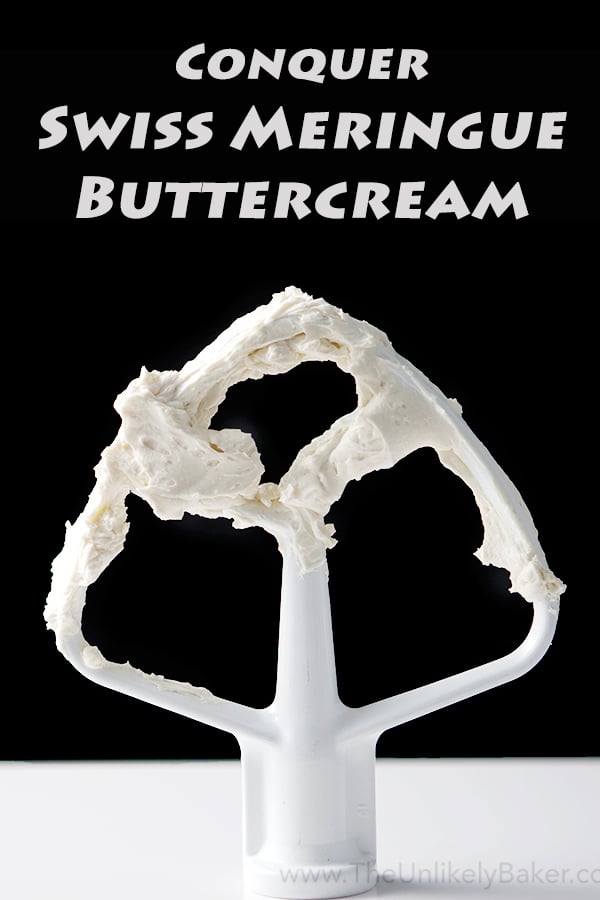 Do you want to improve your food photography, monetize your blog or start your very own food blog? Check out the awesome resources at the bottom of this page (they are affiliate links).
The products below are affiliate links too – these are products that I actually use and/or think are cool. If you click on them and subsequently make a purchase, please know that I will earn a small percentage from Amazon – at no additional cost to you. (See Terms of Use for more info on privacy and how we collect/use collected data on this site.)