Shaker lemon bars are lemon bars that use the whole lemon for the perfect blend of sweet, tangy and satisfying bitterness in one delicious bite.
(Craving for traditional lemon bars instead? You'll love these Meyer lemon bars, which you can also make with regular lemons if Meyer lemons are not available.)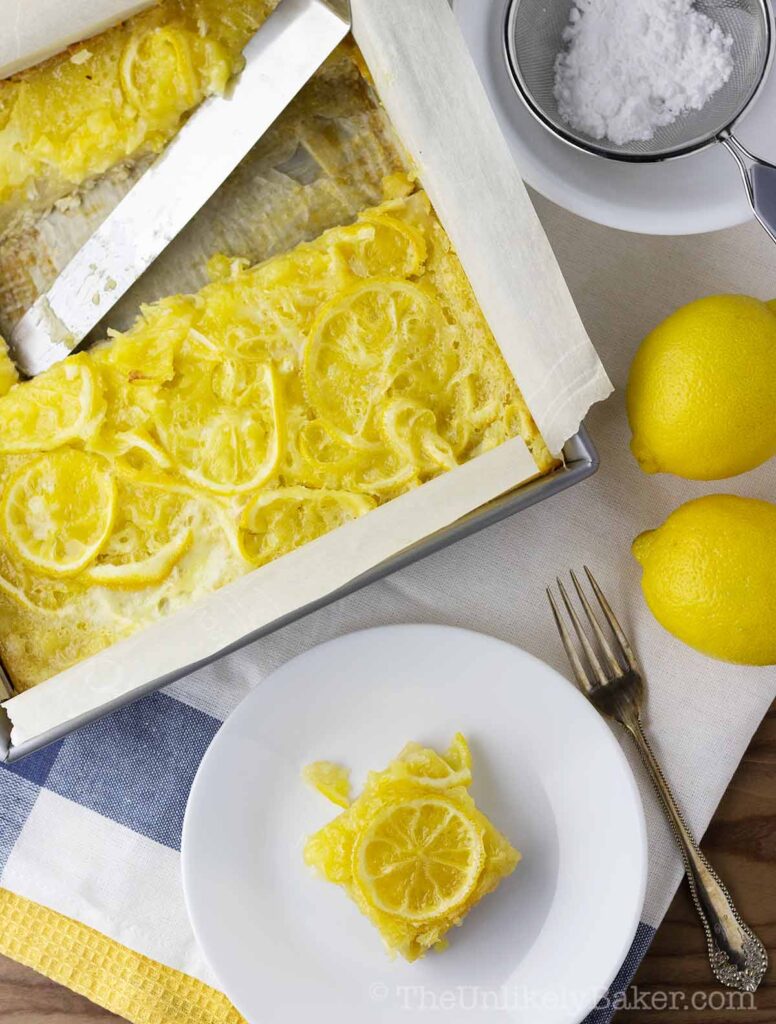 The Shakers were a religious group in the early nineteenth-century. Shaker cooks wasted nothing so their signature delicacy — the shaker lemon pie — is a lemon pie that uses the whole lemon and not just the lemon juice or the lemon zest.
The resulting pie is sweet, tangy and pleasantly bitter in one amazing bite. It's a lemon lover's dream.
This shaker lemon bar recipe is a lemon bar version of that pie and is delicious. Consider it a grown up version of the lemon bars of your childhood. Let's get to it!
Shaker lemon bars ingredients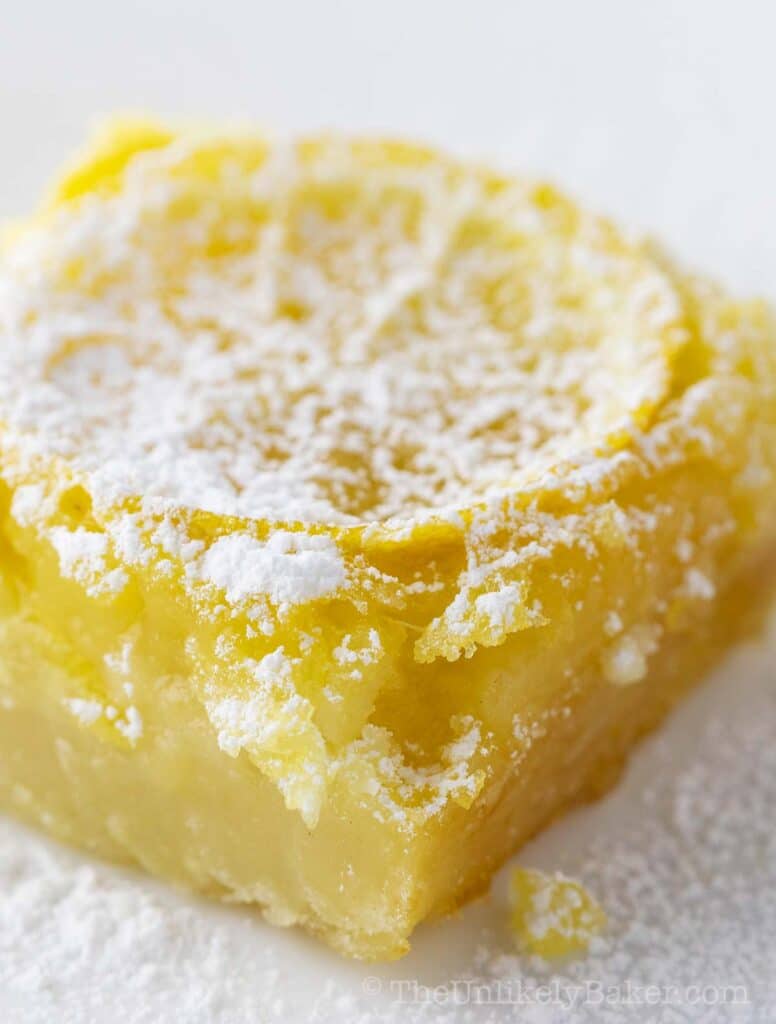 While regular lemons would work, for best results, I suggest using Meyer lemons when making shaker lemon bars.
Meyer lemons are only moderately acidic and don't have the same strong tang as regular lemons. They're much sweeter, more fragrant and have smoother, thinner skin too.
But like I said, regular lemons would work wonderfully too.
In addition to lemons, you only need to gather these basic pantry staples:
All purpose flour
Unsalted butter
Granulated sugar
Vanilla extract
Eggs
Salt
How to make lemon bars, shaker-style
1 MACERATE. First thing you'll need to do is break down and soften your whole lemons. Do this by tossing sugar and sliced lemons together in a glass or stainless steel bowl and letting the mixture sit at room temperature for at least 4 hours (even overnight). The longer this mixture sits, the better.
2 PREHEAT. Once your lemon mixture is ready, preheat your oven to 350F and line a 9×9 inch baking pan with parchment paper with a slight overhang on each side.
3 CRUST. Make the crust by stirring together melted butter, sugar, vanilla extract and salt in a large bowl. Add flour and stir until combined.
4 BAKE. Transfer the batter to your prepared pan and press firmly down the bottom. Dock the crust with a fork and bake for 15 minutes or until a light golden brown. Set aside while you prepare the lemon filling. Keep the oven on.
5 LEMON FILLING. In a small bowl or measuring cup, combine eggs and salt. Add to your macerated lemons and stir.
6 POUR. Pour your lemon filling onto your crust and bake for 30 minutes or until the edges start turning golden brown and the centre is set.
7 COOL. Remove from the oven, cool completely, then refrigerate for at least an hour to allow it to set before cutting into squares. Sprinkle with confectioner's sugar, enjoy!
How to properly macerate whole lemons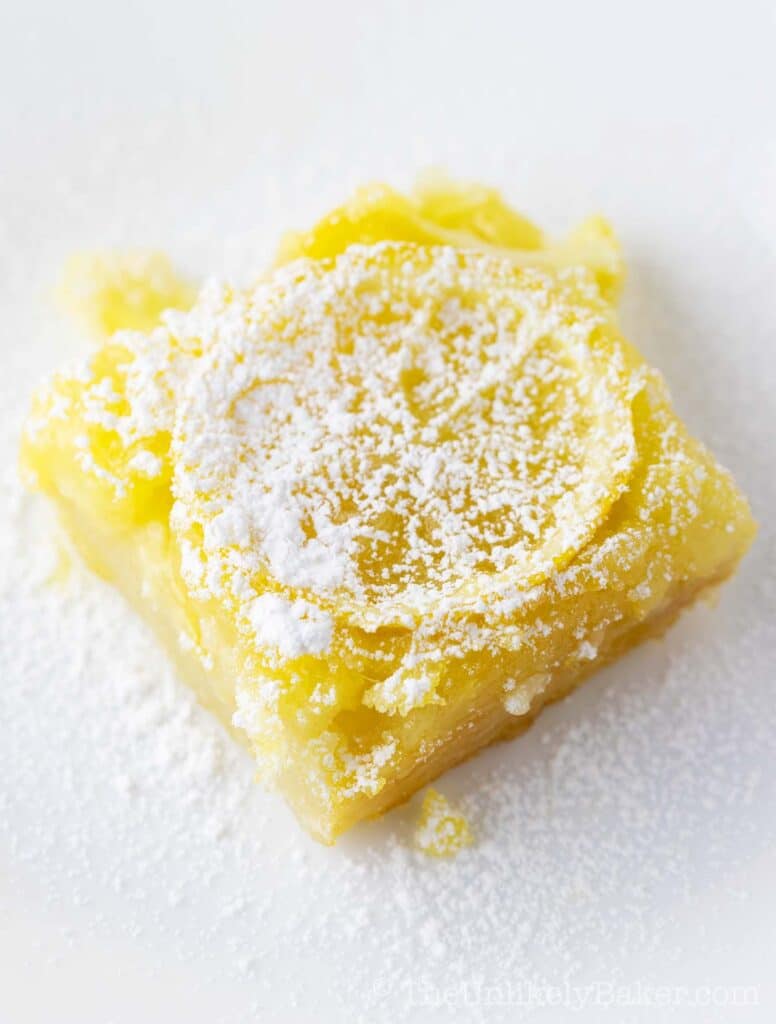 When macerating your lemons, remember to:
Slice your lemons as thin as possible. Discard the stem ends of the lemons then, using a mandoline or a very sharp knife, slice the lemons as paper-thin as you can. Discard the seeds as well.
Use a non-reactive bowl. This means glass or stainless steel. Using reactive bowls like aluminum, copper, iron or non-stainless steel can discolour acidic food and give them an unpleasant taste.
Allow enough time for the mixture to soak. This step softens the skin of the lemons and allows the sugar to completely dissolve.
My whole lemon bars are too bitter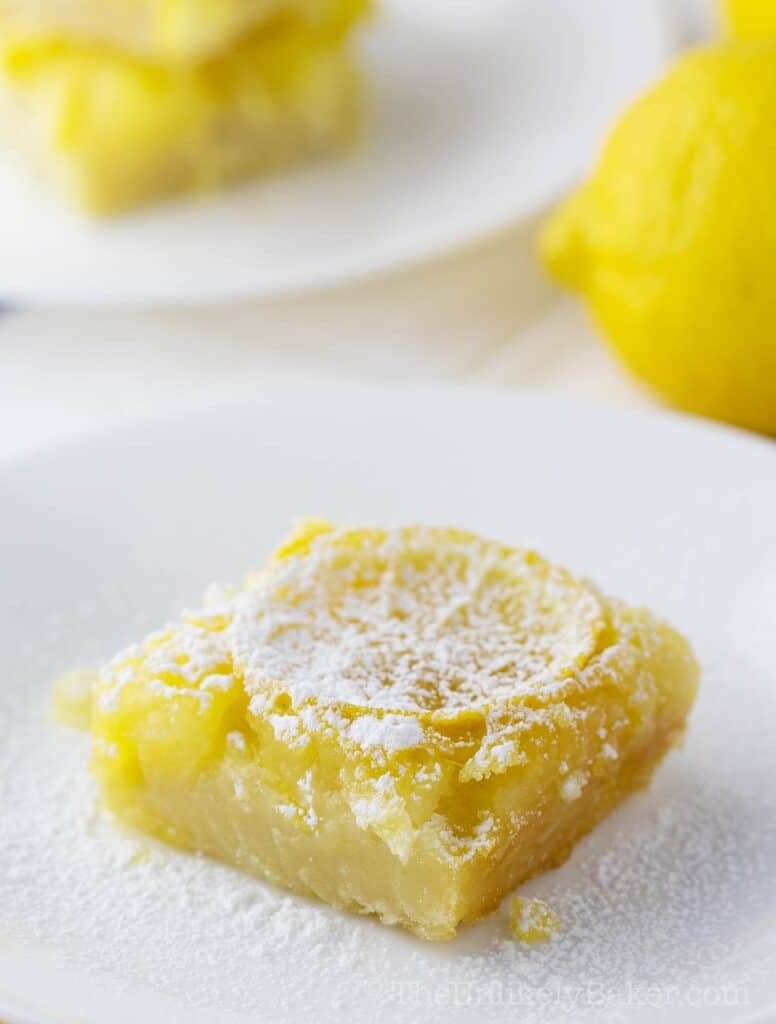 Most lemon recipes warn against zesting too far into the lemon; we usually only want the zest, with its bright vibrant flavour, and avoid the pith because it's very bitter.
This recipe uses the whole lemon though, including the pith, so there will be a nice, subtle bitterness to it.
To avoid whole lemon bars that are overwhelmingly bitter, slice the lemons as thinly as you can and macerate in sugar for at least 4 hours.
How to properly wash lemons
According to Taste of Home:
"Many fruits naturally produce wax. But after they've been picked and washed, the fruit's natural coat comes off. Artificial wax is then sprayed onto fruit to keep the produce fresh and presentable for grocery stores."
This wax is perfectly safe though so when washing lemons, all you really need to do is rinse them under cool water before use. Then, dry them with a towel. That's it!
How to store shaker lemon bars
Shaker lemon bars are best refrigerated the same day you baked them. They should keep for up to 3 days in the fridge in an airtight container.
They also freeze well. Once the lemon bars cool completely, slice them and wrap each piece in plastic wrap. Then wrap them in foil and place them in a freezer-safe container or Ziploc bag.
To thaw, just bring out the pieces you plan on eating or serving and leave them out on the counter to allow them to come to room temperature.
Lemons are great all year but they're at their best in the winter months. So take advantage of citrus season! These tangy lemon squares are delicious and wonderful bursts of sunshine on a gloomy winter day.
They're also perfect in the spring, for summer picnics, afternoon tea, any day you're craving something lemony. Enjoy!
Happy baking!
Did you make shaker lemon bars? I'd love to hear from you in the comments section below.
And let's get social! Find me on Facebook, Pinterest, Instagram, Twitter and YouTube.