Meyer lemon bars with shortbread crust are perfectly sweet and tangy, a burst of sunny lemony flavour in every bite.
(Craving for something with a bit more tang? You will love these shaker lemon bars. The recipe uses whole lemons – perfect for lemon lovers!)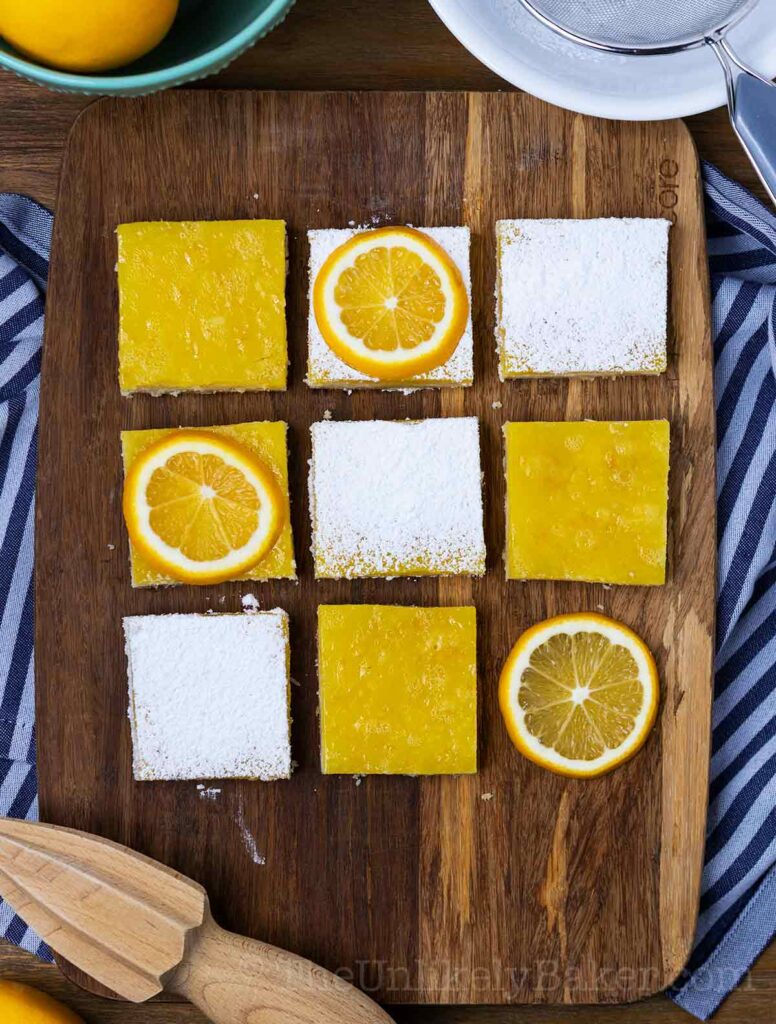 I'm not a big fan of winter but Meyer lemons make everything better. They're in season from about December to May and just the sunshine we need on gloomy winter days.
Every year, I grab a bag (ok maybe 2) of Meyer lemons as soon as I see them in-store (I wish we had a Meyer lemon tree) and these easy lemon bars are one of the first treats I make.
They go perfectly with everything. They're great with tea. They're a light and refreshing dessert after a meal. Lemon bars are also a hit at wedding showers and baby showers.
For me, lemon bars (and lemon desserts in general) just make me really happy. Hope they make you smile too.
What is the difference between Meyer lemons and regular lemons?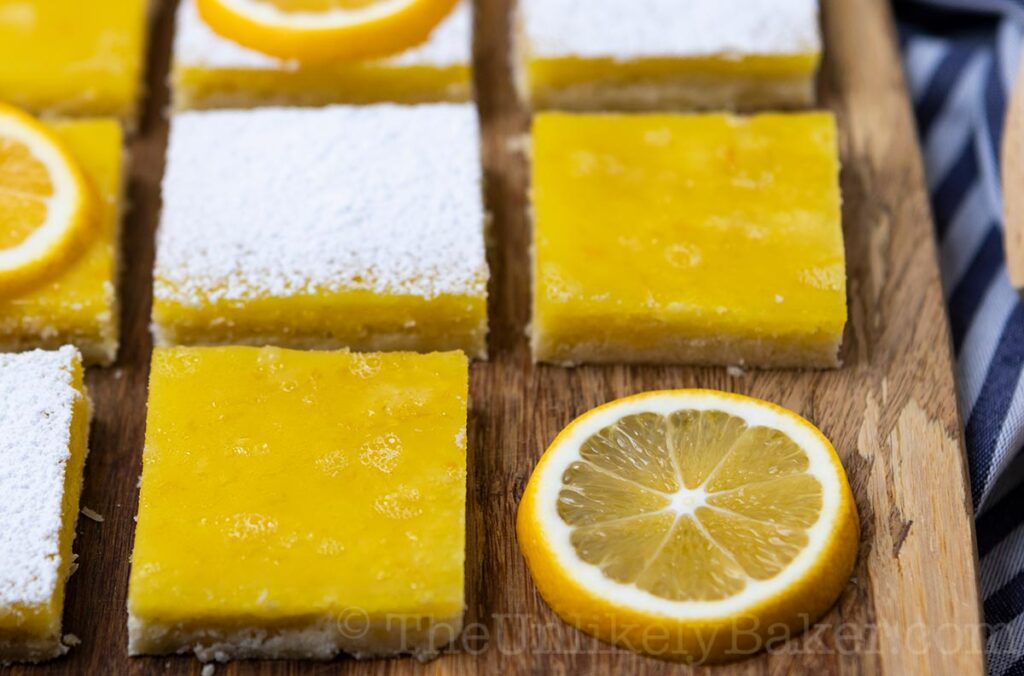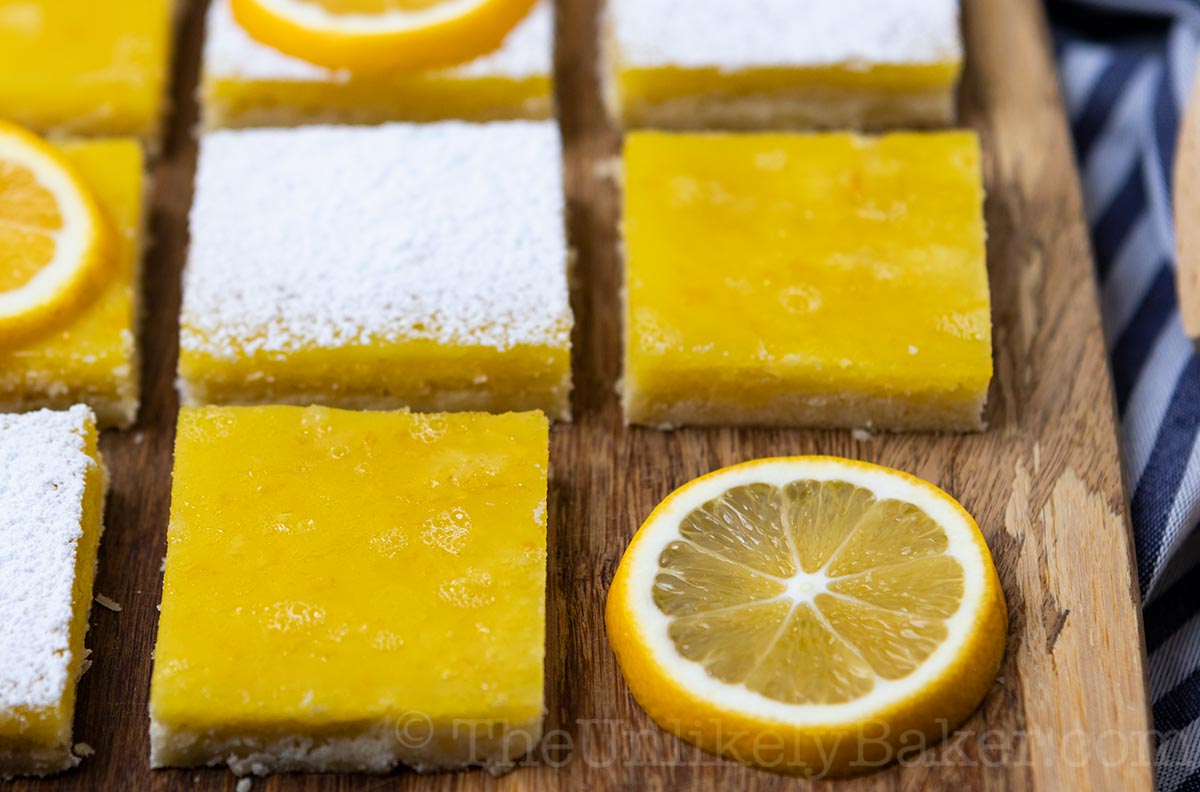 But first, what are Meyer lemons?
Meyer lemons were first introduced to the States from China in the early 20th century by Frank Meyer (thus the name). This wonderful winter citrus is a cross between regular lemons and mandarin oranges.
Naturally, the main difference between Meyer lemons and regular lemons is the taste.
Meyer lemons are only moderately acidic and don't have the same strong tang as regular lemons. They're much sweeter and more fragrant too.
They're also not available year-round like regular lemons. You would usually see them in stores from early winter to late spring.
They look different as well. They're smaller, rounder and deeper yellow than regular lemons.
How to make lemon bars with shortbread crust
For the detailed recipe, scroll to the bottom of the page to find the printer-friendly recipe box.
Now that we know what we're dealing with, it's time to make this delicious Meyer lemon dessert!
First you want to work on your buttery shortbread crust.
1. PREP BAKING PAN. Preheat your oven to 325F and prep a 9×13 inch baking pan by lining it with parchment paper with a slight overhang on each side. This will make it easier to lift the lemon squares out later.
2. MAKE CRUST. Using a handheld mixer or a stand mixer fitted with the paddle attachment, beat butter, flour, granulated sugar and salt until it resembles a coarse meal. Do not over beat. You'll know you're done when no big chunks of butter and large streaks of flour remain.
3. TRANSFER DOUGH TO PAN. Transfer the dough to your pan and, using your hands, press evenly and firmly onto the bottom. You want to be conscientious about this — make sure the crust is packed tightly and evenly so you won't have to deal with a possible seeping situation later.
4. BAKE AND COOL. Bake for 30 minutes or until it turns a light golden brown. Take out of the oven and allow to cool while you work on your filling. Do not turn your oven off.
For the lemon filling:
1. WHISK DRY INGREDIENTS. In a large bowl, whisk granulated sugar and flour until combined.
2. ADD EGGS. Add eggs to the flour mixture and whisk.
3. ADD MEYER LEMON JUICE AND ZEST. Add Meyer lemon juice and Meyer lemon zest and continue whisking. Stop when the mixture gets foamy.
4. POUR OVER COOLED CRUST AND BAKE. Pour the filling over your cooled crust and bake for an additional 30 minutes or just until the filling is set. Take the bars out of the oven and leave on the counter to cool completely before cutting into squares. Serve with a dusting of confectioner's sugar.
Ingredients for this Meyer lemon bar recipe
This site contains affiliate links. As an Amazon Affiliate, I earn commission from qualifying purchases. See Terms of Use for more information.
All the ingredients you need to make this Meyer lemon bar recipe are pantry staples:
If you can't find Meyer lemons, you can use the same amount of regular lemons for a tarter but still delicious lemon treat.
Tools you need to make Meyer lemon squares
I like using my stand mixer to make the crust because it's faster, but a handled electric mixer will do just fine. Other than that, all you need are:
Recipe FAQs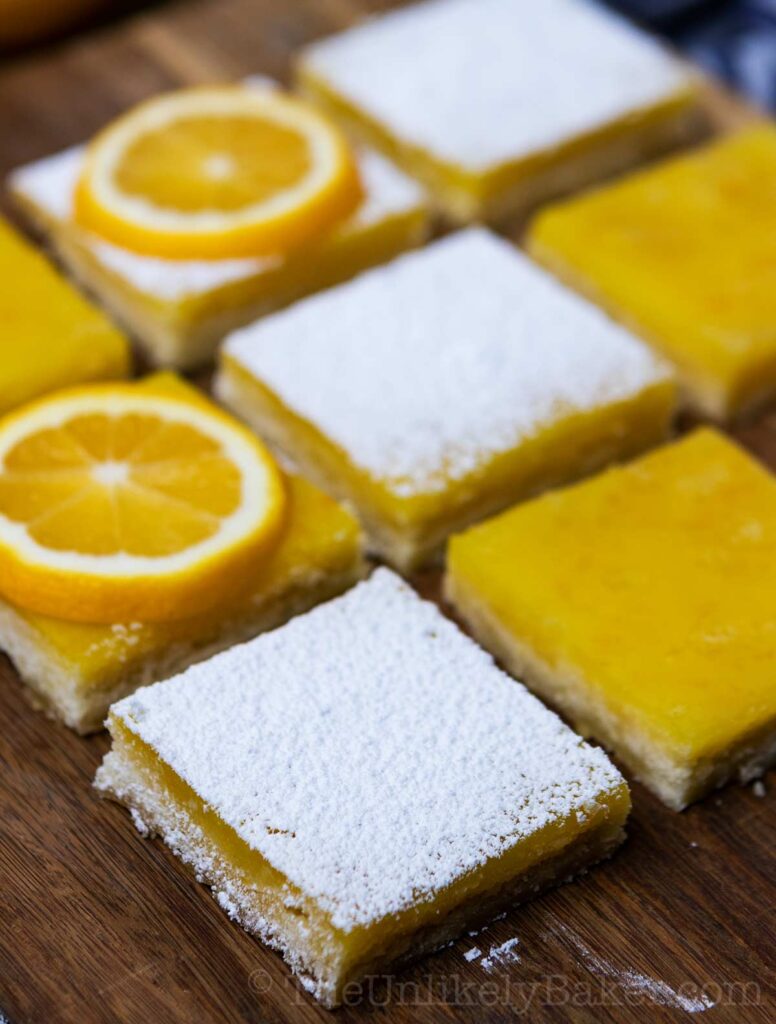 Lemon bars are one of those recipes every baker has in their arsenal. I hope this one makes it to yours! Here are some tips to make baking them even easier.
How do you know when lemon bars are done baking?
You know when your bars are done baking if the sides start to turn a light golden brown. The filling should look set as well, which means it's not soupy or runny anymore.
Be careful not to overdo it though. Remember that your bars will continue baking as they cool in the pan. So for me, slightly wobbly is okay (think: firm Jello) but if it jiggles and moves too much in the pan, I keep it in the oven a few minutes more.
Do lemon bars need to be refrigerated?
Since lemon bars are basically a custard and made with eggs, they are best refrigerated if you're not serving them the same day you baked them.
You can eat them cold, though we prefer bringing them down to room temperature and even microwaving them a few seconds if we're in a rush!
They should keep for up to 3 days in the fridge.
Can Meyer lemon bars be frozen?
If you want to keep them for longer, another option is to freeze them. And they freeze beautifully!
Freezing lemon bars is similar to how I freeze my fudgy walnut brownies —once the lemon bars cool completely, slice them and wrap each piece in plastic wrap. Then wrap them in foil and place them in a freezer-safe container or Ziploc bag.
To thaw, just bring out the pieces you plan on eating or serving and leave them out on the counter to allow them to come to room temperature. That's it!
I don't usually sprinkle powdered sugar on lemon bars that I plan to freeze. I do that once I'm about to serve them.
If you're freezing leftovers though, no worries. You can place parchment paper on top of the powdered sugar before you wrap the bars in plastic wrap so you don't get a sticky mess later.
Can I make lemon bars with a graham cracker crust?
I always make my Meyer lemon bars with a shortbread crust. I love the combination of the buttery crust and the tangy filling.
I tried making lemon bars with graham cracker crust once and lemme tell you, it was a soggy disaster. This buttery shortbread crust, on the other hand, is always sturdy enough to hold the filling up.
So while you can try graham crackers (I'm sure Google will turn up lots of results), I always make mine with shortbread and with great success!
I love lemons, graham crackers and coconut though so if you want to explore that flavour combination, try these recipes:
The best way to neatly cut lemon squares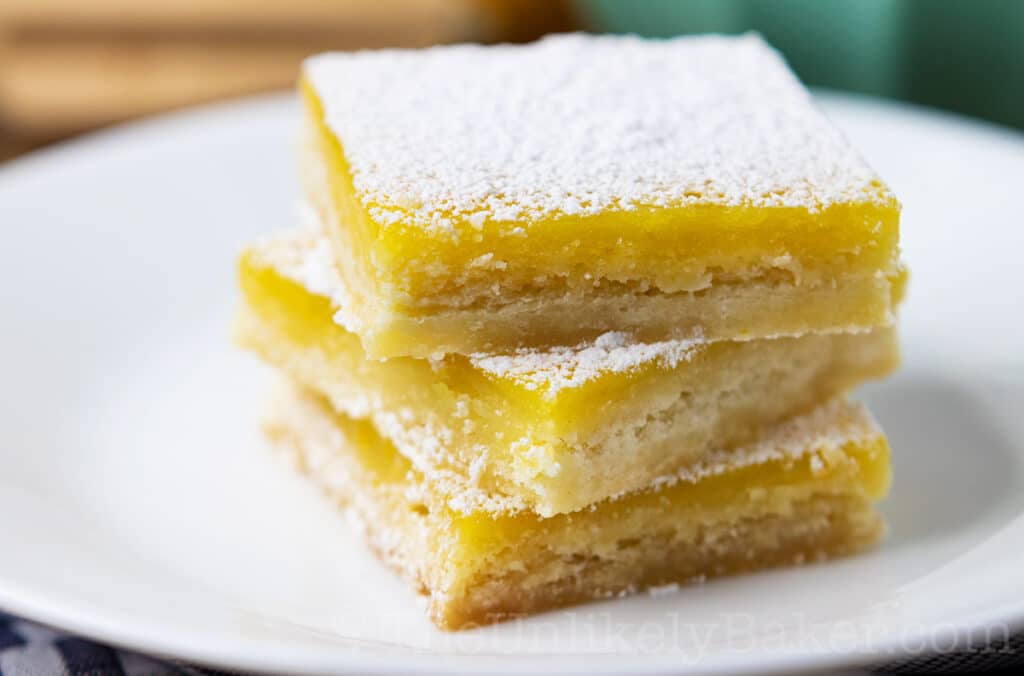 To end up with nice, cleanly cut Meyer lemon squares, make sure to cool the bars completely before cutting. You can even chill them for a few minutes for good measure.
It's the same way I cut my crowd-favourite Pecan cheesecake bars (which are super ooey and gooey):
Put hot water in a glass and dip your sharp knife into it. Wait a few seconds until the knife is warm to the touch. Dry it with a tea towel.
Lift the lemon bars from the pan and transfer to a cutting board.
Make your first slice then wipe your knife clean with a paper towel. Dip your knife into the glass with hot water again and dry.
Repeat until you've sliced everything.
Enjoy!
The best Meyer lemon recipes
If you love Meyer lemons as much as I do, you'll love these:
Homemade Meyer lemon curd is such a delightful treat. It takes 10 minutes to make and perfect on buttermilk scones, cakes and cupcakes, your favourite yogurt waffles or simply eating straight out of the jar!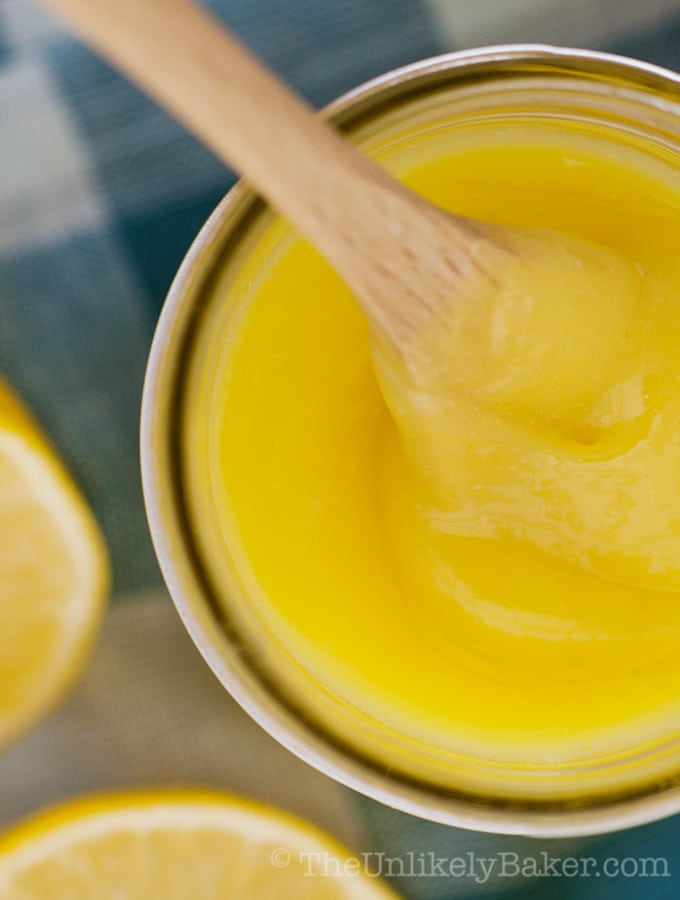 Looking for a Meyer lemon cake recipe? Look no further than this lemon cake with lemon curd filling and lemon buttercream. It's a cake especially made for lemon lovers!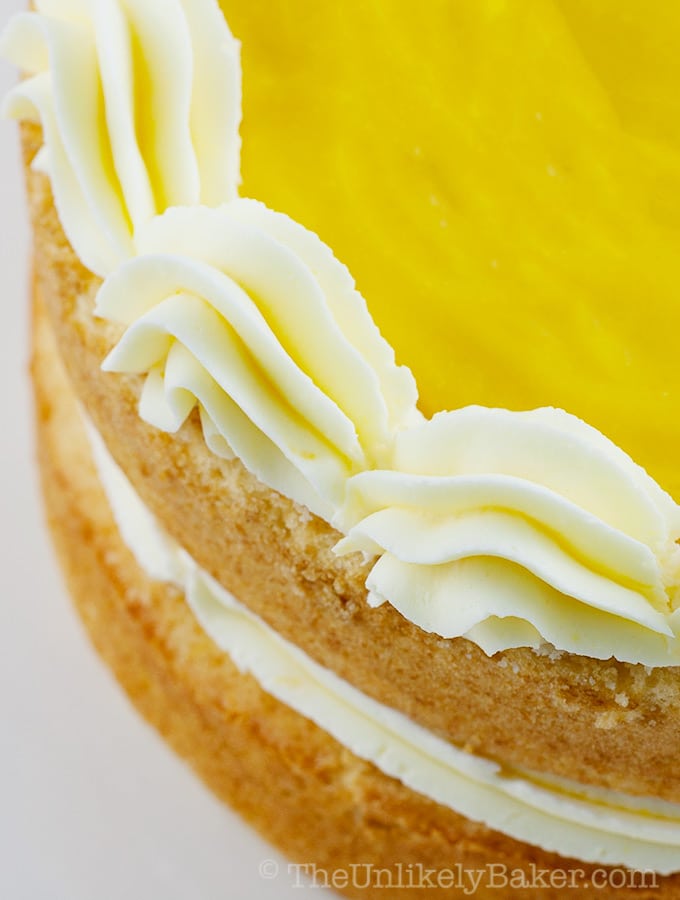 If you want a simple, everyday cake, this Meyer lemon ricotta pound cake is one of the easiest recipes you can make with Meyer lemons. Great on its own; no frosting or glaze necessary.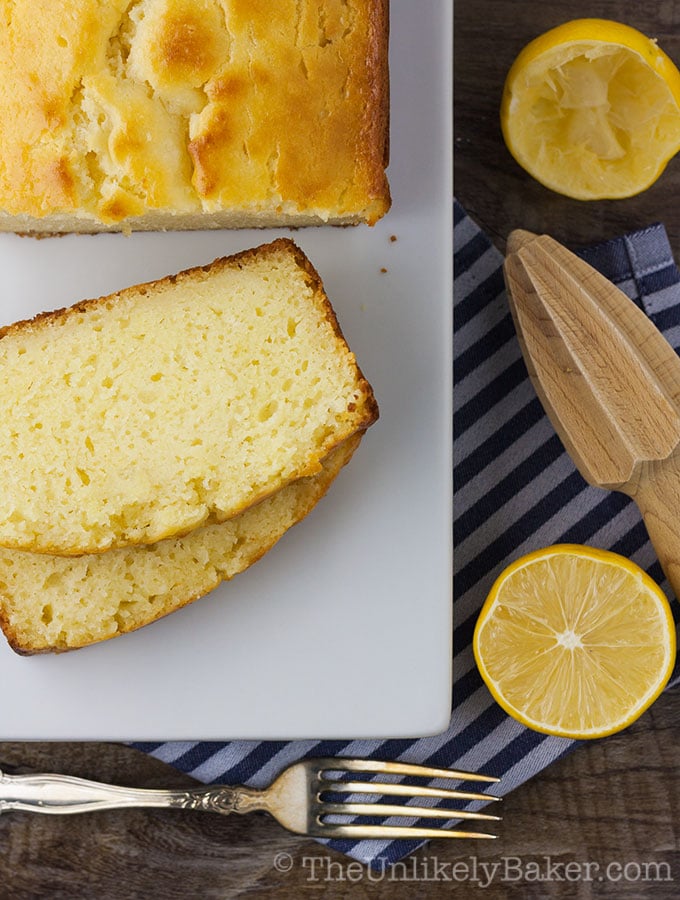 Happy baking!
Did you make Meyer lemon bars? I'd love to hear from you in the comments section below.
And let's get social! Find me on Facebook, Pinterest, Instagram, Twitter and YouTube.