These lemon bars with shortbread crust are perfectly sweet and tangy, a burst of sunny lemony flavour in every bite.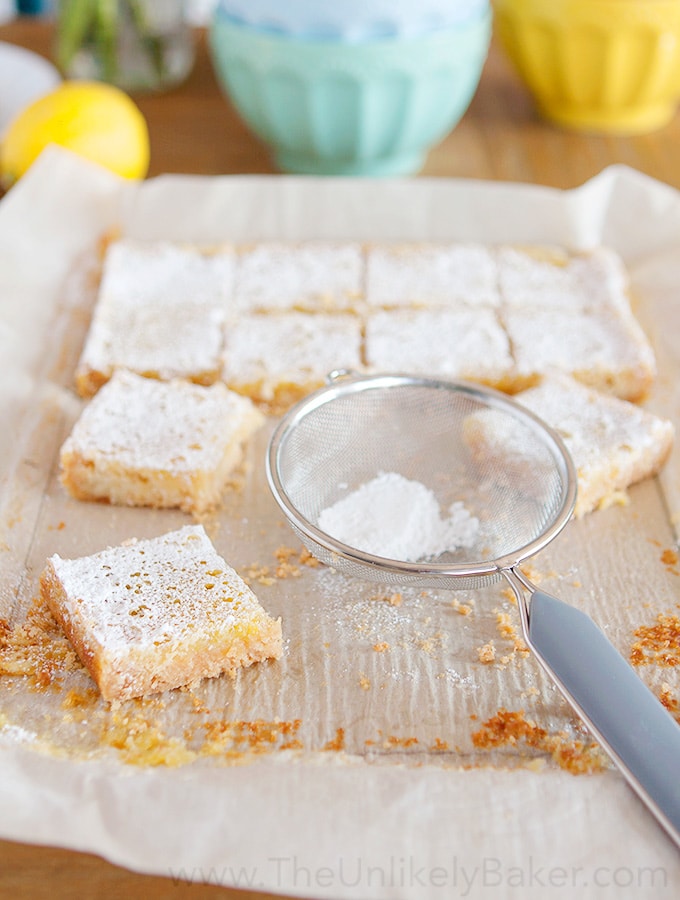 I have been professing my love for lemony desserts from the beginning (if there was a club, I would be president). And I think every self-proclaimed lemon dessert lover like me would (should) have a beloved lemon bar recipe in their arsenal. Here's mine.
Crust to Filling Ratio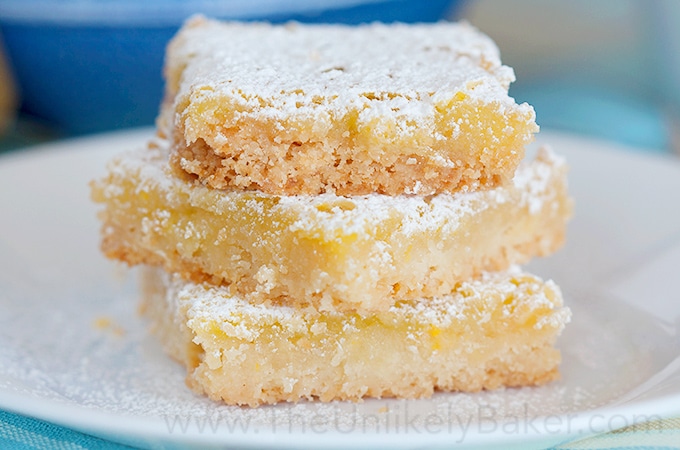 Now the crust-to-filling ratio for lemon bars is a real thing. It's a serious topic of discussion among lemon…connoisseurs. Some people like it 20% crust, 80% filling. Others want it the other way around. This recipe is approximately 40-60. You get an almost equal amount of buttery shortbread crust to complement the sweet-tangy lemon filling. I'm no expert (I just love lemons) but to me, that is perfect.
Lemon bars with shortbread crust
And yes, shortbread crust is a must. I tried graham cracker crust once and the filling just bled into the crust; it was one soggy mess. This buttery shortbread crust, on the other hand, is sturdy enough to hold the filling together but doesn't get too hard (you bake it twice) that you risk breaking your teeth as you bite into it.
Chewy is the way to go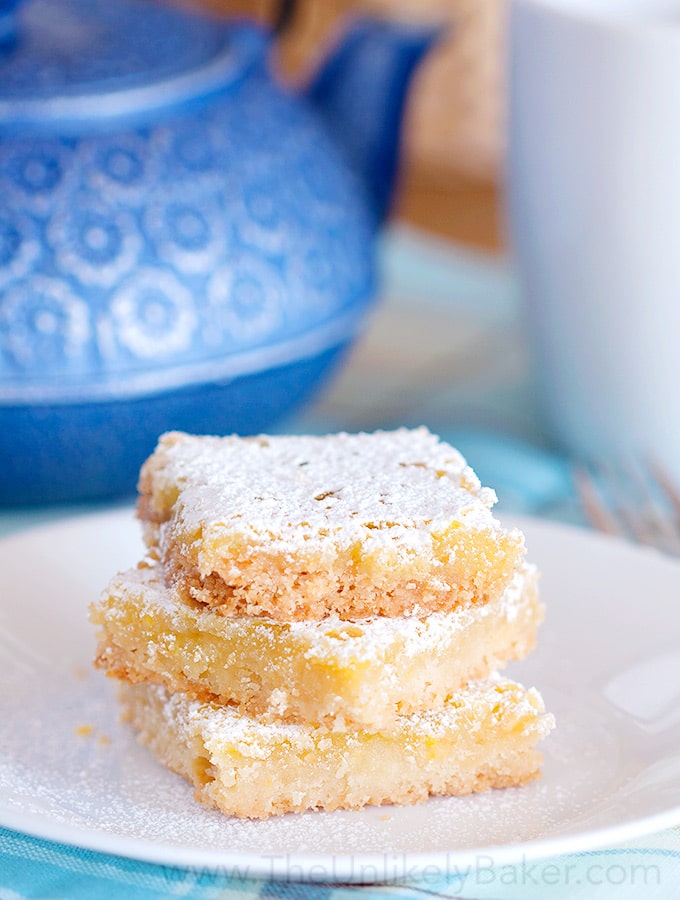 Because lemon bars must be chewy and not hard and crispy. To achieve that, do not over bake. Take them out as soon as they look set (I always take mine out at the 30-minute mark). They will look underdone and way too jiggly but they will continue to harden as they cool and become the chewy lemon bar you're craving for.
Little bars of sunshine
Lemon bars go perfectly with everything. They're great with tea. After a meal. For a picnic. Warmer weather is finally here so we're very excited to bust our bikes out of storage and go for our first bike ride of the season. Guess what I will have in my bike basket (yes, I have one of those girly girl Dutch bikes don't judge me)? Lemon bars with shortbread crust (naturally).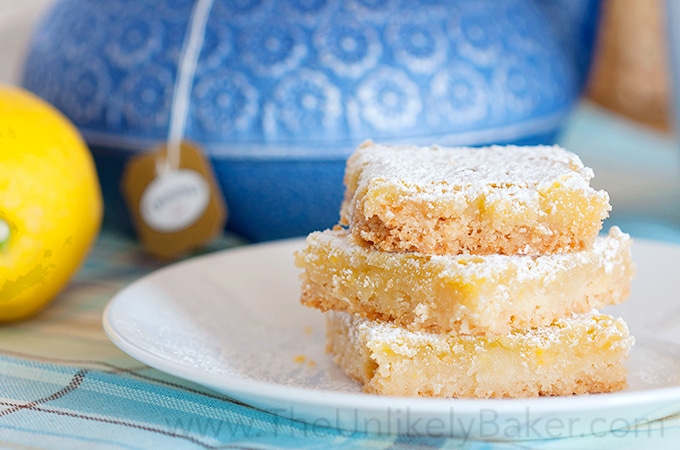 I get so hungry just talking about this. So go ahead and try this beloved recipe. And bask in the sunshine while you're at it.
Lemon Bars with Shortbread Crust
These lemon bars with buttery shortbread crust are perfectly sweet and tangy and are very easy to make. They are little bars of sunshine!
Ingredients
For the Crust:

1 cup unsalted butter, softened
2 cups all purpose flour
1/2 cup granulated sugar
1/4 teaspoon salt
For the Filling:

1 1/2 cups granulated sugar
1/4 cup all purpose flour
4 eggs, room temperature
1/2 cup lemon juice (about 3 medium sized lemons)
2 tablespoons lemon zest
For Dusting:

Confectioner's sugar
Instructions
For the Crust:

Preheat oven to 325F. Prepare a 9x13 inch baking pan by lining it with parchment paper (see how in my

Baking Cheatsheet

below).
In a medium bowl, using a handheld electric mixer or a stand mixer fitted with the paddle attachment, beat 1 cup butter, 2 cups flour, 1/2 cup sugar and 1/4 teaspoon salt until it resembles a coarse meal. Do not over beat. You'll know you're done when no big chunks of butter remain.
Press evenly and firmly onto the bottom of your pan (be conscientious about this - make sure the crust is packed tightly and evenly - so you won't have to deal with a possible seeping situation later).
Bake for 30-35 minutes or until it turns a light golden brown.
Take out of the oven and allow to cool completely while you work on your filling. Do not turn off your oven.
For the Filling:

Using a handheld electric mixer or a stand mixer fitted with the whisk attachment, whisk 1 1/2 cups sugar and 1/4 cup flour until combined.
Beat the 4 eggs then add to the flour mixture. Then add the 1/2 cup lemon juice and 2 tablespoons lemon zest and continue whisking. Stop when the mixture gets foamy.
Pour the filling over your cooled crust and bake for an additional 30 minutes.
Take the bars out and leave on the counter to cool completely before cutting into squares. Serve with a dusting of confectioner's sugar.
Notes
I usually refrigerate these bars and serve them the next day. They achieve their perfect chewiness overnight!
https://theunlikelybaker.com/lemon-bars/
This delicious recipe brought to you by www.TheUnlikelyBaker.com | (c) 2016-2017
(This recipe adapted from All Recipes).
Happy baking!
Did you make these lemon bars with shortbread crust? Tell me about it in the comments section below. I'd love to hear all about it. If you love lemony desserts like I do, you can find more here.
And let's get social! Find me on Facebook, Pinterest, Instagram, Twitter and Google+. Or subscribe so you don't miss a recipe (if you missed the pop-up form, there's another form at the bottom of this page).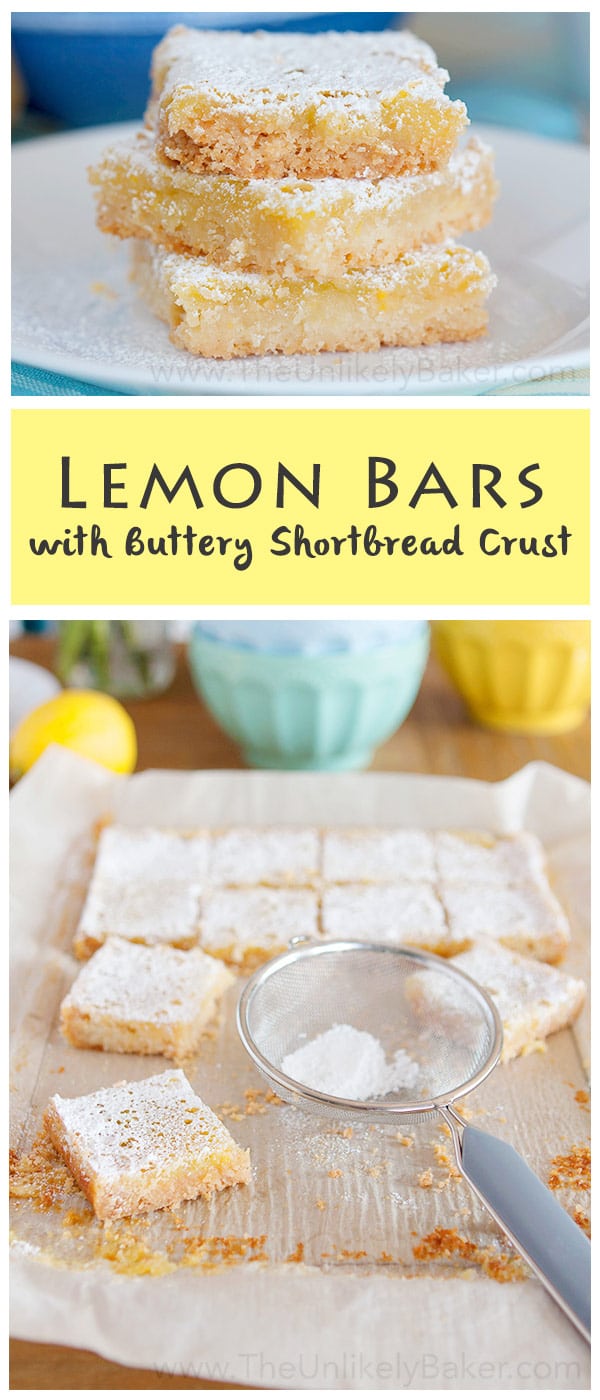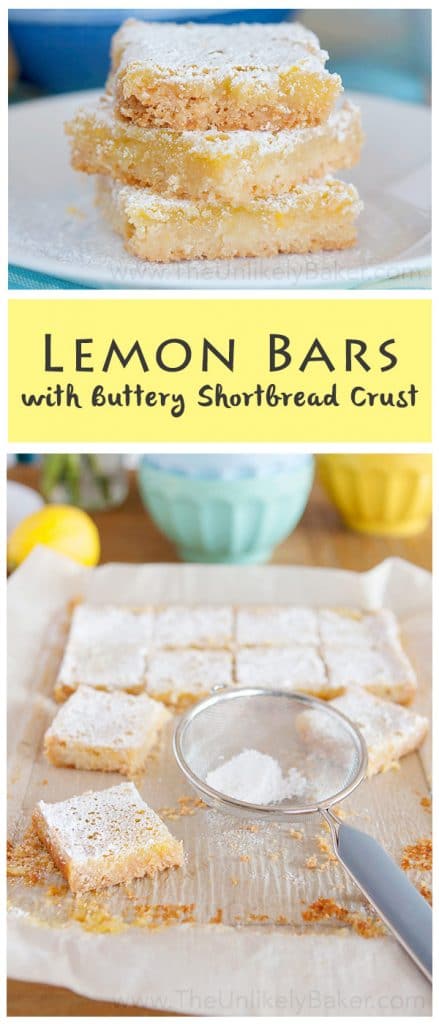 Do you want to improve your food photography, monetize your blog or start your very own food blog? Check out the awesome resources at the bottom of this page (they are affiliate links).
The products below are affiliate links too – these are products that I actually use and/or think are cool. If you click on them and subsequently make a purchase, please know that I will earn a small percentage from Amazon – at no additional cost to you. (See Terms of Use for more info on privacy and how we collect/use collected data on this site.)