This sweet potato breakfast hash is delicious and filling. And with all the best things about breakfast – potatoes, sausages, bacon and eggs – in one pan, it's a great way to start your day!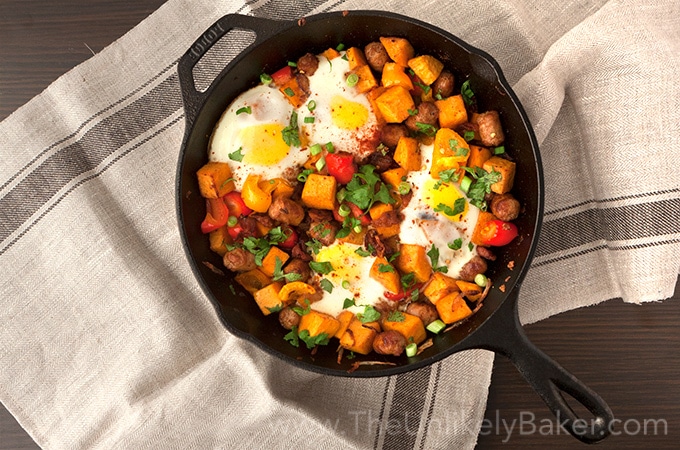 Let me start with this disclosure: I did not make this sweet potato breakfast hash. Red did.
Those of you who know me and who've followed my blog know that I cannot cook (our stove hates me and hot oil scares me) so Red does all the cooking at home.
I will still take credit for the recipe though. I mean, I deserve it! Have you ever followed around a grumpy cook, constantly asking "what are you doing now?" in the hopes of documenting a recipe? And then proceeding to take pictures of the food while said cook who you've annoyed all morning sits there giving you the evil eye, waiting, hungry and grumpier than ever?
I think not. So say no more. I do what I must to bring you the best, the most delicious recipes. And delicious, this sweet potato breakfast hash is!
Great way to clean out your fridge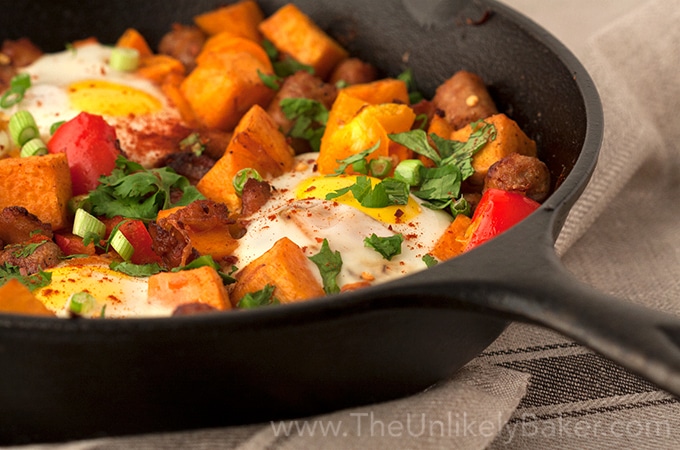 It's also a great way to clean out your fridge. If you've ever looked in there and thought what the heck are you going to do with that lone sausage, few strips of bacon, half a bell pepper and other things leftover from your other recipes – make a hash!
You just need to have a piece of sweet potato as base, some eggs, and you have yourself a dish that the whole family will enjoy.
Sweet potato breakfast hash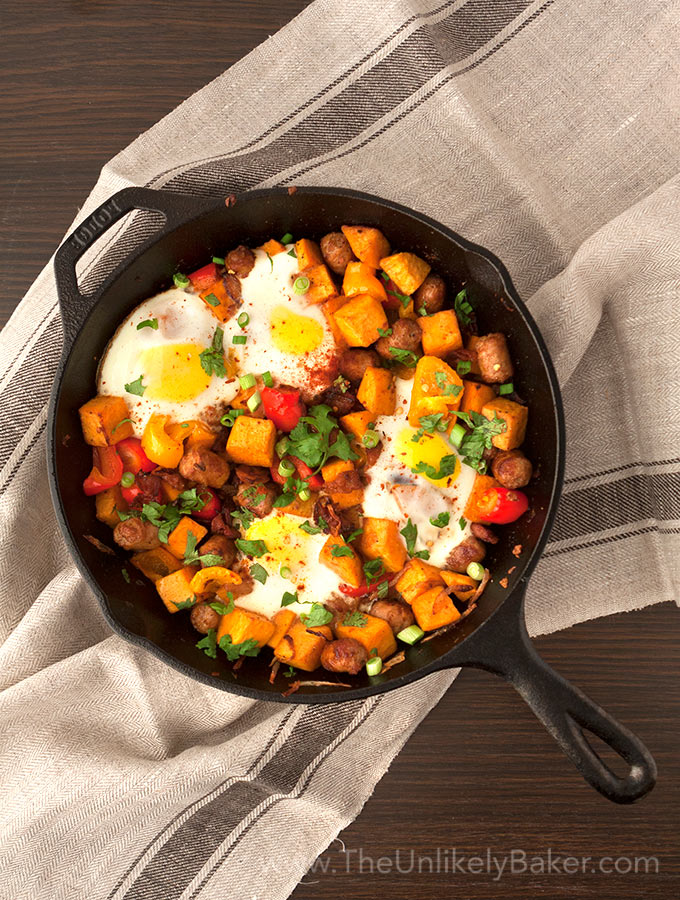 You can use a normal potato; we personally just prefer a sweet potato – we find it so much more flavourful and it brings a delightful sweetness to this savoury dish.
You can experiment with the toppings too. No bacon? Add ham. No sausage? Add hotdog (why not? It's your hash). Then all you need to do is start cooking your ingredients in the stove and finish it in the oven. For how long depends on how you want your eggs.
This sweet potato breakfast hash is a great way to start your day!
Click To Tweet
Great start to the day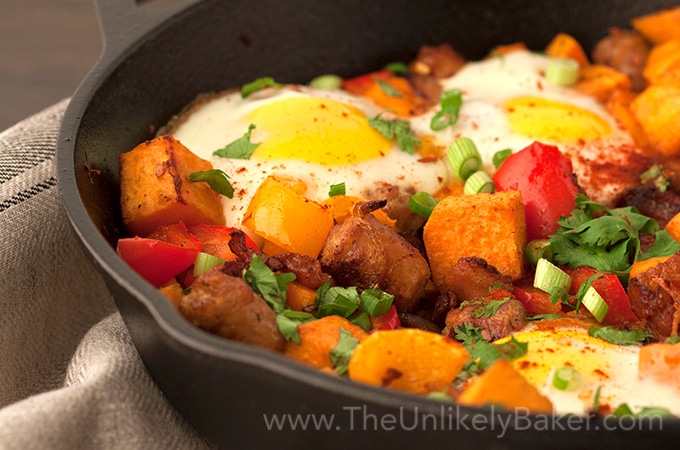 This sweet potato breakfast hash is so filling and delicious and takes no time at all (that is, if you don't have a food blogger hovering over you lol). It's also a great alternative to pancakes and other sweet breakfast options…though it goes great with pancakes too if you're thinking of doing an epic breakfast spread.
Here are other ideas, if you are:
So tonight, have a look in your fridge. You may just have a delicious breakfast hash in your future tomorrow!
Sweet Potato Breakfast Hash with Sausage, Bacon and Eggs
All the best things about breakfast – potatoes, sausages, bacon, eggs – in one pan. This sweet potato breakfast hash is a great way to start your day!
Ingredients
6 pieces breakfast sausage, sliced
5 strips of bacon, sliced
2 shallots, sliced
5 garlic cloves, minced
1 regular sized sweet potato, peeled and diced
1/4 cup chopped bell pepper
1/4 teaspoon garlic powder
1/4 teaspoon smoked paprika powder
Salt and pepper to taste
4 large eggs
Chopped cilantro and green onion to garnish (optional)
Instructions
Preheat oven to 350F.
In a medium sized oven-safe skillet, cook sausages and bacon on medium heat until brown. Remove from pan.
Using the same pan, sauté shallots and garlic until translucent. Add sweet potato and cook for 5 minutes. Toss back the sausages and bacon, add the bell pepper, and stir.
Add garlic powder, smoked paprika, salt and pepper. Stir to combine. Remove from heat and make 4 wells. Gently drop an egg in each well.
Bake for 10-15 minutes until the eggs are cooked to your liking (15 minutes = hard boiled egg). Sprinkle with chopped cilantro and green onion before serving.
https://theunlikelybaker.com/sweet-potato-breakfast-hash-sausage-bacon-eggs/
This delicious recipe brought to you by www.TheUnlikelyBaker.com | (c) 2016-2017
Happy cooking and baking!
Did you make sweet potato breakfast hash? How did it go? Tell me about it in the comments section below. I'd love to hear all about it.
Other savoury recipes are here.
And let's get social! Find me on Facebook,  Pinterest,  Instagram,  Twitter,  Google+  and  Flipboard.
Or subscribe so you don't miss a recipe. I promise I don't spam (I hate spam too).
Do you want to improve your food photography, monetize your blog or start your very own food blog? Check out my Blogging Resources.