White chocolate and blackberries make an unlikely but delicious pair in these white chocolate blackberry muffins! They're great for breakfast, afternoon snack or those midnight cravings.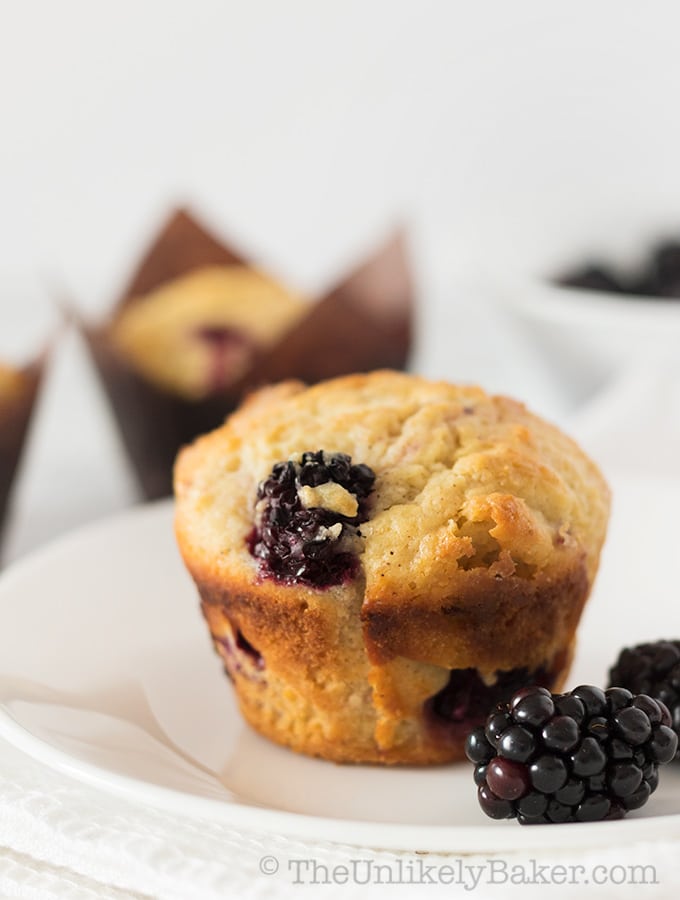 I like blackberries (I eat them raw and whole) but I know some people are bothered by its slight bitter aftertaste.
Which is why I really like these white chocolate blackberry muffins. They're sweet enough to mask the slight bitterness of the berries but not too sweet that you can't taste the fruit.
They're the perfect texture too – firm but not tough. Filling but not too dense. And they are a breeze to make. Let me show you how!
What is the muffin method
There are two ways to mix a cupcake or muffin batter – the creaming method and the muffin method.
The creaming method is when you take butter then sugar and beat until the mixture is light and fluffy. You usually see this in recipes for cakes and cupcakes because we want them light and airy.
If you want your muffins stockier though, use the muffin method (thus, the name).
It's when you mix the dry and wet ingredients separately, then fold them together only until they are combined.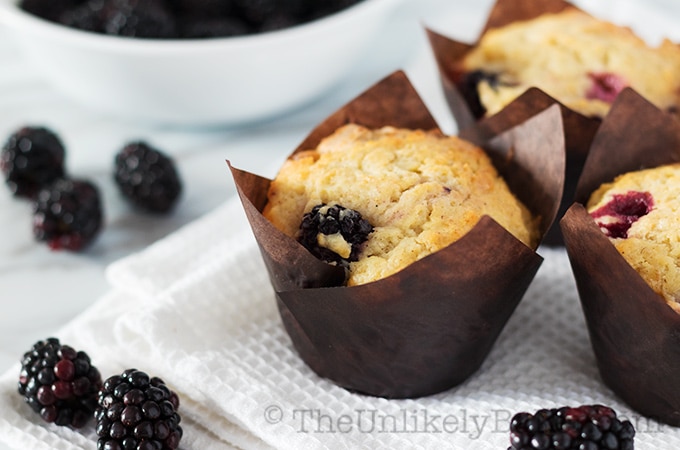 I used the muffin method in these recipes:
Mix the batter by hand
It's also always a good idea to mix muffin batters by hand. This allows you much more control over how you're stirring.
Because there are two important things to remember when stirring muffin batter:
Stir gently. Avoid doing any vigorous stirring because this will make your muffins tough.
Do not over mix. As long as you don't have massive patches of flour in your bowl, you're good. You don't want a smooth batter; muffin batters must be thick and lumpy.
Delicious white chocolate muffins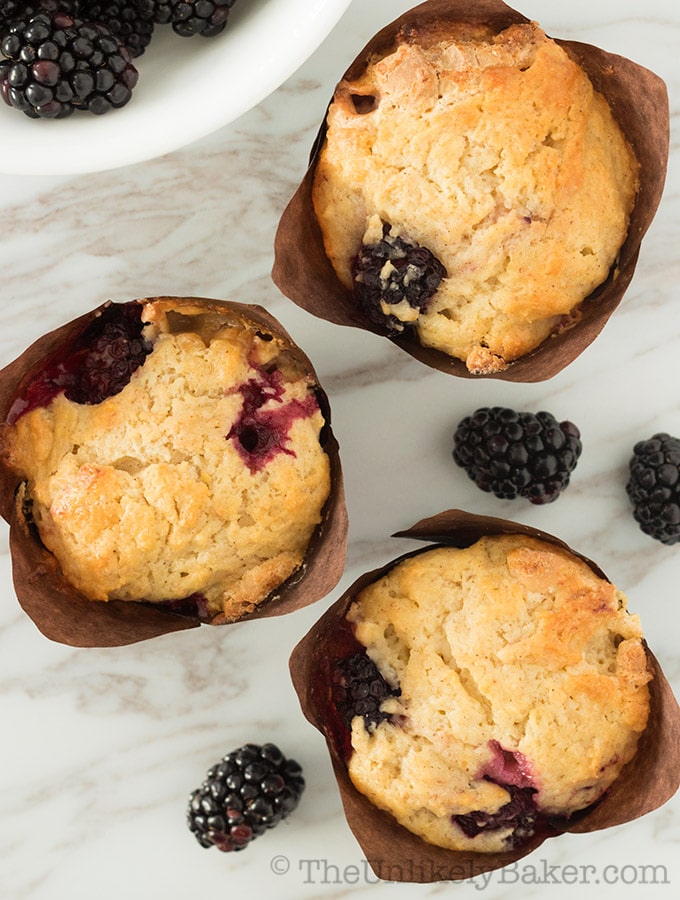 Back to these white chocolate blackberry muffins. They are delicious!
I added flaxseed
and its nutty taste complements the flavours perfectly.
You guys know how much I love white chocolate and this is a lovely addition to my collection. And I hope to yours too.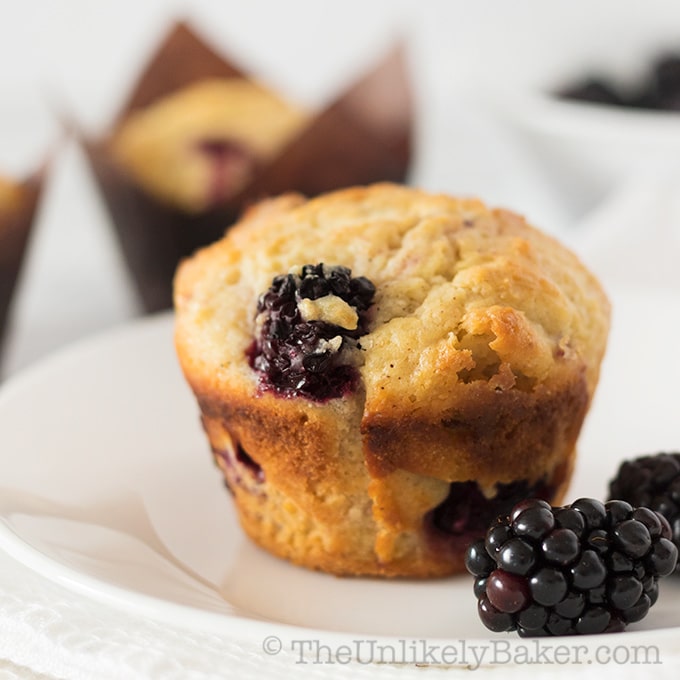 White Chocolate Blackberry Muffins
White chocolate and blackberries make an unlikely but delicious pair in these white chocolate blackberry muffins!
Instructions
Preheat oven to 350F. Line 2 muffin pans (see note 1) with muffin liners and set aside

In a large bowl, sift 2 ⅓ cups flour, 1 cup sugar, 1 tsp baking powder, ½ tsp cinnamon and ½ tsp salt. Whisk in 2 tbsp flaxseed until combined. Set aside.

In another bowl, using a handheld electric mixer or a stand mixer with the paddle attachment, beat ½ cup melted butter, 2 eggs, 1 cup yogurt, 2 tbsp milk and 1 tsp vanilla on medium speed until smooth and incorporated (2-3 minutes).

Fold your wet ingredients into your dry ingredients just until combined. Add white chocolate and blackberries and stir just until evenly distributed. Do not over mix. The batter will be thick and lumpy.

Scoop the batter into your muffin liners (at least ¾ full), making sure you get a piece of fruit in every scoop.

Bake 30-35 minutes or until golden brown and the muffins bounce back when gently pressed. Cool in the pan for 5-10 minutes before transferring to a wire rack to cool completely.
Notes
This recipe yields 14-16 muffins depending on how much batter you put in your muffin cups.
Nutrition
Calories:
280
kcal
Carbohydrates:
40
g
Protein:
4
g
Fat:
11
g
Saturated Fat:
6
g
Cholesterol:
21
mg
Sodium:
102
mg
Potassium:
153
mg
Fiber:
1
g
Sugar:
22
g
Vitamin A:
240
IU
Vitamin C:
3.3
mg
Calcium:
72
mg
Iron:
1.2
mg
Nutritional information are estimates only.
Tried this recipe? Leave a star rating today!
Also tag @iamtheunlikelybaker I'd love to see your creations.
Happy baking!
Did you make white chocolate blackberry muffins? I'd love to hear from you in the comments section below.
And let's get social! Find me on Facebook, Pinterest, Instagram or Twitter.