Start the day right with these delicious pumpkin pecan muffins. With bits of crunchy pecans mixed in with the batter and a delightful pecan streusel topping, it's a muffin especially made for a lovely fall morning.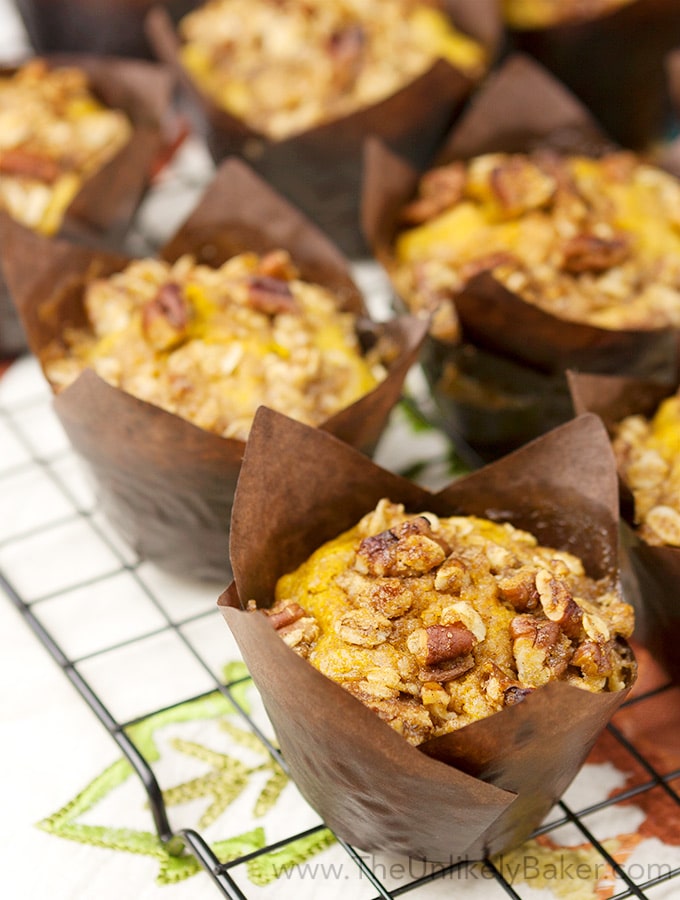 Hi everyone! A most wonderful Thanksgiving to my Canadian friends!
Welcome to my first pumpkin recipe on the blog. Can you believe it? Apart from my Kabocha Squash Fritters which technically is not pumpkin and my round-up of unique pumpkin and squash recipes, I haven't really been very pumpkin-friendly.
Apples are my ingredient of choice in the fall (have you seen my Salted Caramel Apple Cheesecake?) so I tend to bake with them more than pumpkins. But this year though, I decided to give pumpkins a shot and by golly I now understand the obsession with all things pumpkin spice! I can't believe it took me this long.
So while this pumpkin pecan muffins with pecan streusel topping is the first recipe I'm sharing, it won't be the last!
Rounded, sturdy pumpkin pecan muffins
My main challenge when baking muffins is how to get those nice rounded tops. I've had many a muffin sink to the very centre of the earth. We still ate them; they just looked very sad.
I learned that the key is not to over mix the batter. If you've been mixing for 30 seconds, you've done it too long.
You're not looking for a smooth batter but a really lumpy one so that when you scoop it onto your muffin liners they plop onto the liners like a blob and don't flow like cake batters usually do.
Check these out (wish they were more rounded! Practice, practice, practice):
Spice vs. more spice
Anyway. The recipe for these muffins came from the basic muffin recipe in the Joy of Cooking
(this is an awesome book. Highly recommended.). I just pimped it out with spices, pumpkin puree and the most delicious pecan streusel topping (more on that later).
I was very careful not to overdo the spices in this muffin though. While I wanted it to taste very…fall-y…I didn't want the spices to steal the show and overshadow everything else. You can add more if you like it spicier.
Pecan streusel topping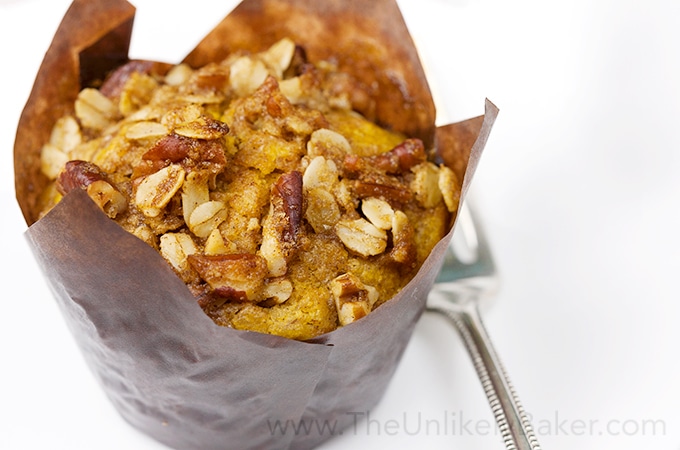 That topping though. That's the star of this muffin show. It's not overly sweet, it's the right amount of sticky and it goes so well with the pumpkin pecan muffin it sits on.
And you can use it not just on muffins but on cakes and pies too. It will make your baked goods that much better.
Hello, pumpkin!
I think this is a great start to our relationship, pumpkin and I. More pumpkin recipes to come! I am having such a blast recipe testing and I can't wait to share them with you.
In the meantime, enjoy these pumpkin pecan muffins. Especially the pecan streusel topping. Hope it brightens up your fall morning! And guess what, this is super quick to whip up and is great for Thanksgiving morning!
Happy baking!
Did you make pumpkin pecan muffins or the pecan streusel topping? What's your favourite muffin flavour? I'd love to hear from you in the comments section below.
More cupcakes less muffins for you? Here are delicious cupcake recipes you can try:
And let's get social! See the sidebar (if on your desktop) or the bottom of this page (if on your mobile) to see how we can connect.
Or subscribe so you don't miss a recipe. I promise I don't spam (I hate spam too).
Do you want to improve your food photography, monetize your blog or start your very own food blog? Check out my Blogging Resources.