Treacle tart Harry Potter's all-time favourite dessert! And for good reason. Fresh bread crumbs, delightful golden syrup, the slightest hint of lemon, buttery crust. Delicious!
(Do you like recreating recipes from books, TV shows or movies? Try this chocolate brownie tart with brown butter crust – it's based on Minny's famous chocolate pie
, while this pasta carbonara recipe is David Rossi's famous dish from the show
.)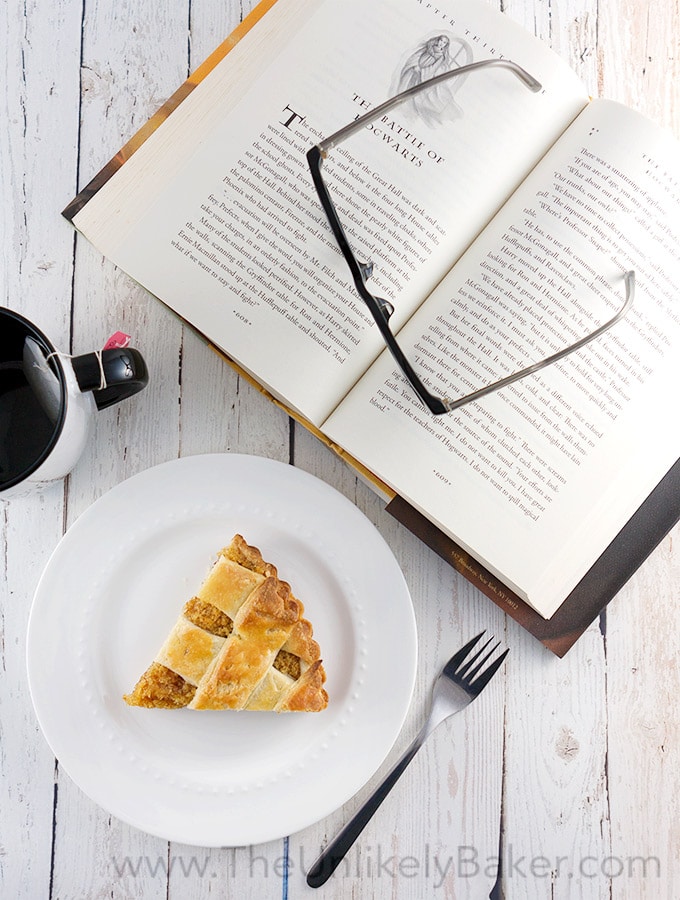 Okay you guys. This weekend is going to be a very special weekend.
And this tart is a very special tart.
Because it's for a very special boy named Harry.
Yes, I'm referring to that Harry. The Harry we all love. The boy who lived!
Granted he was born on July 31, 1980 which makes him middle-aged now (which also means I'm 1,000 years old lol)…it's his birthday and treacle tart is his favourite so I channeled my inner Hermione and made this easy treacle tart recipe that I'm sure he'll will love.
The Unofficial Harry Potter Cookbook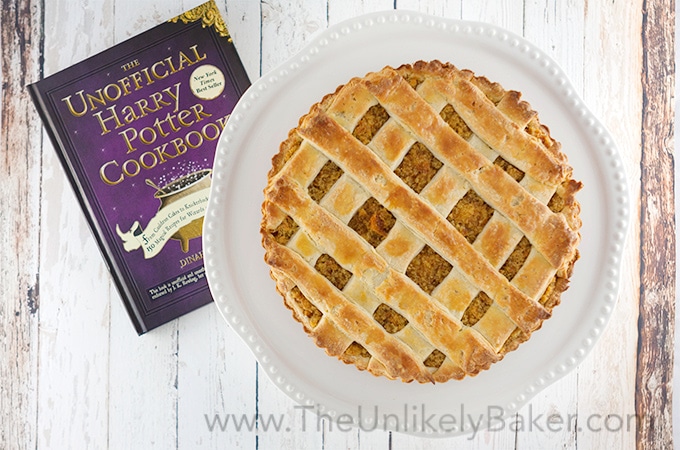 This scrumptious recipe is from The Unofficial Harry Potter Cookbook
. It's a fantastic book filled with mouth-watering Harry Potter recipes. It's a must-own for any Harry Potter fan.
I reached out to author Dinah Bucholz to officially ask permission to feature a recipe from her book in my blog.
It was a long shot, I was not expecting her to reply, but she did in a matter of hours! Isn't that lovely of her?
I instantly knew I had to bake a treacle tart. I figure, making Harry's favourite dessert is a great way to experience that universe.
What is treacle tart?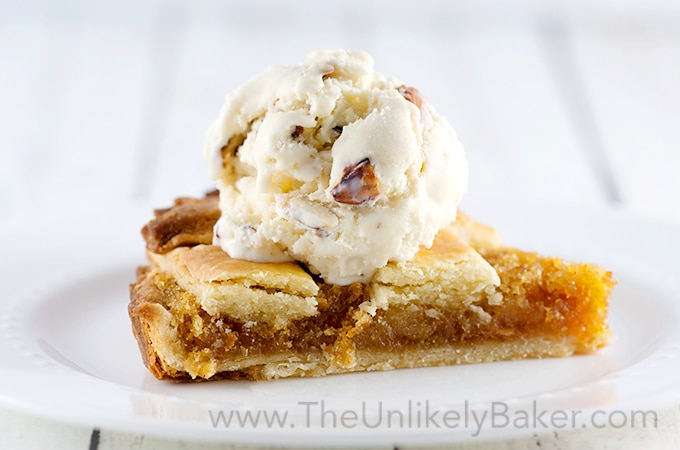 So first up, what is treacle tart? It's a traditional British dessert made of golden syrup, breadcrumbs and lemon.
It's typically served warm topped with clotted cream
, crème fraiche, whipped cream or ice cream.
And it's called treacle because golden syrup is also called light treacle.
What is golden syrup?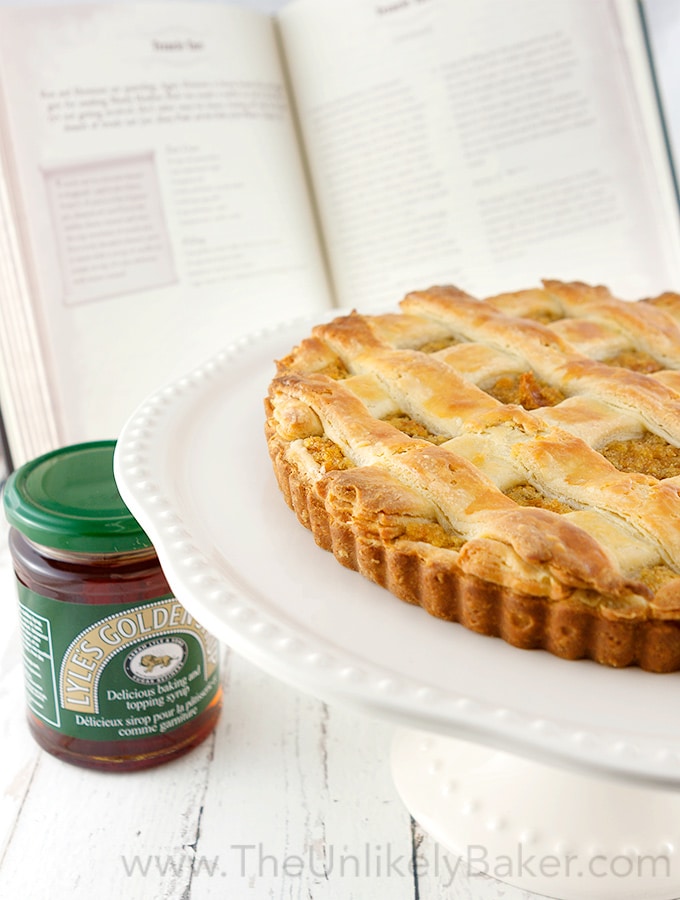 Golden syrup is the key ingredient in treacle tart and it is delicious. Have you heard of it?
According to Wikipedia, it's a thick, golden inverted sugar syrup that's a result of refining sugar cane into sugar.
Sounds like something out of Potions Class? Yeah, I didn't attempt to understand it either. Bottom-line: it's fantastic
The most well-known brand is Lyle's Golden Syrup
. It's not as commonly available here as it is in the UK but once you find it, trust me, you would want to buy a couple of jars or tins .
I used golden syrup to make these bourbon pecan pie bars. It's magic, I tell you.
(Can't find golden syrup? You can also try making your own!)
What does treacle tart taste like?
Because its main component is golden syrup, treacle tart is sweet. Although the lemon juice helps in cutting through that sweetness so you would taste a nice hint of citrus flavour too.
Buttery crust. Moist, chewy centre. Golden syrup. The closest I can compare it to is pecan pie.
How to make treacle tart Harry Potter's favourite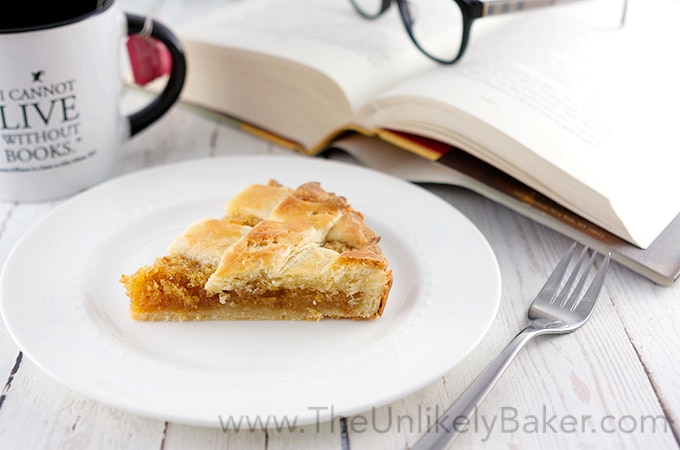 The first treacle tart I baked was a disaster.
My single mistake? A rookie one. A really silly one. An I-should-have-known-better one.
I didn't follow the recipe.
It says fresh bread crumbs but I thought well, bread crumbs are available in a can too so surely they're the same thing. They are most definitely not.
Do not (I repeat, DO NOT) use those ready-made bread crumbs you can buy in a can. My practice tart came out too dry and hard as a rock.
What you do is buy bread a couple of days before you plan to bake this tart (because stale bread is better) then make your own breadcrumbs. They're so easy and takes no time at all.
You can use a food processor to grind them or a cheese grater like I did.
Ingredients for easy treacle tart
In addition to fresh breadcrumbs, other ingredients you would need include, for the crust:
Meanwhile, for the filling, you would need:
Golden syrup

Fresh bread crumbs

Lemon zest and lemon juice

Egg for the egg wash
Tools you need to make this treacle tart recipe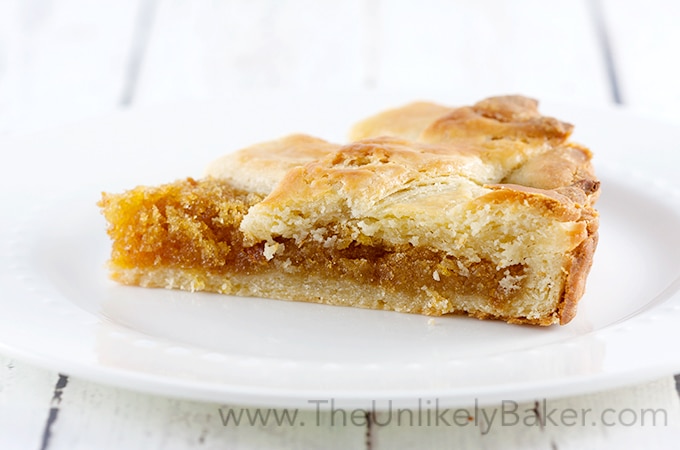 A food processor
would be helpful for making the pie crust but you can make it without one, like I did. I made the crust by hand.
I just had to make sure the butter was cold and I was careful not to overwork the dough (I stopped crumbling the butter when they were just about pea-sized and my flour mixture had a slight tinge of yellow to it).
Once you have everything ready, this tarts comes together pretty easily. You can even make the crust up to 3 days ahead.
We eat it warm with ice cream on top. Also pairs very well with coffee or tea.
I am sharing the original recipe below for you to try out. And try you must! It's delicious.
Happy birthday Harry! (You'll forever be 11 in my heart.)
Other pie and tart recipes
Do you like pies and tarts? Try these easy and delicious pie and tart recipes.
You only need to bake the crust to make this cookie butter pie. The creamy filling needs no oven time at all!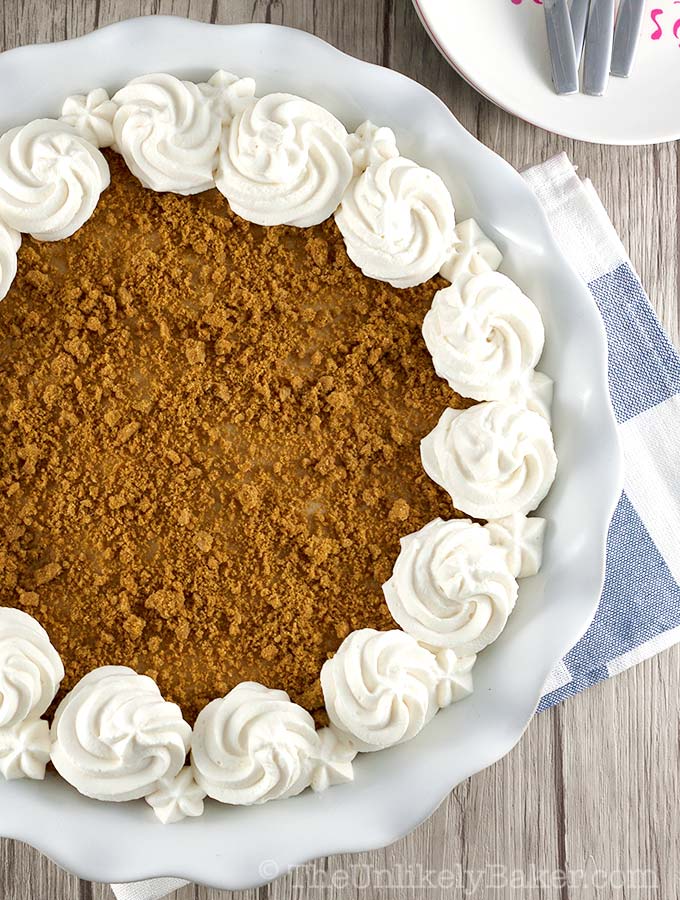 Want something a little boozy and 100% no-bake? You'd love this Baileys chocolate mousse pie. It has delightful specks of chocolate in it.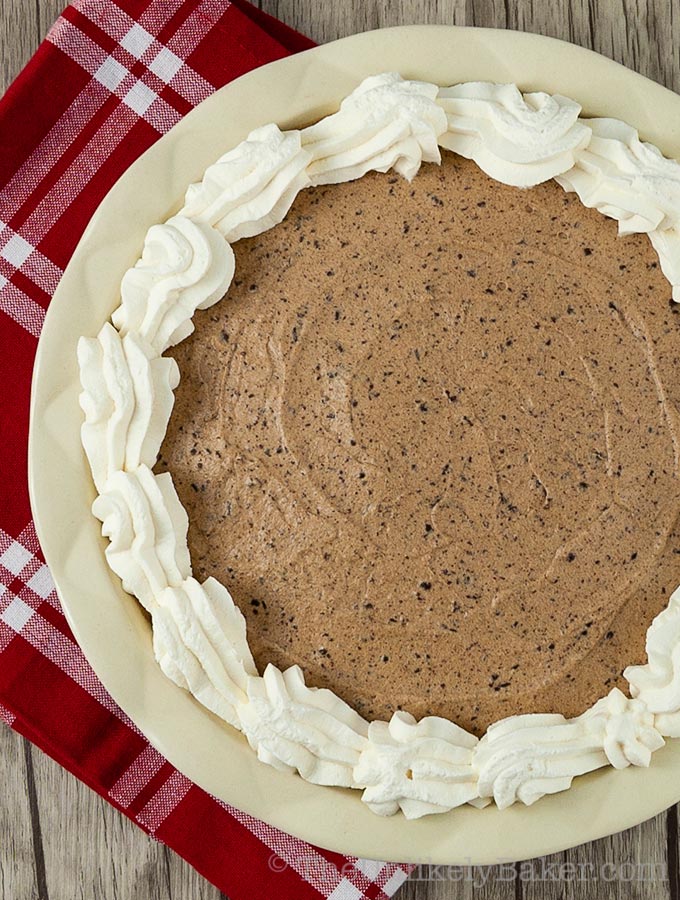 A refreshing spring and summer treat, this no-bake raspberry white chocolate tart sits on a fabulous Oreo cookie crust and is bursting with white chocolate flavour.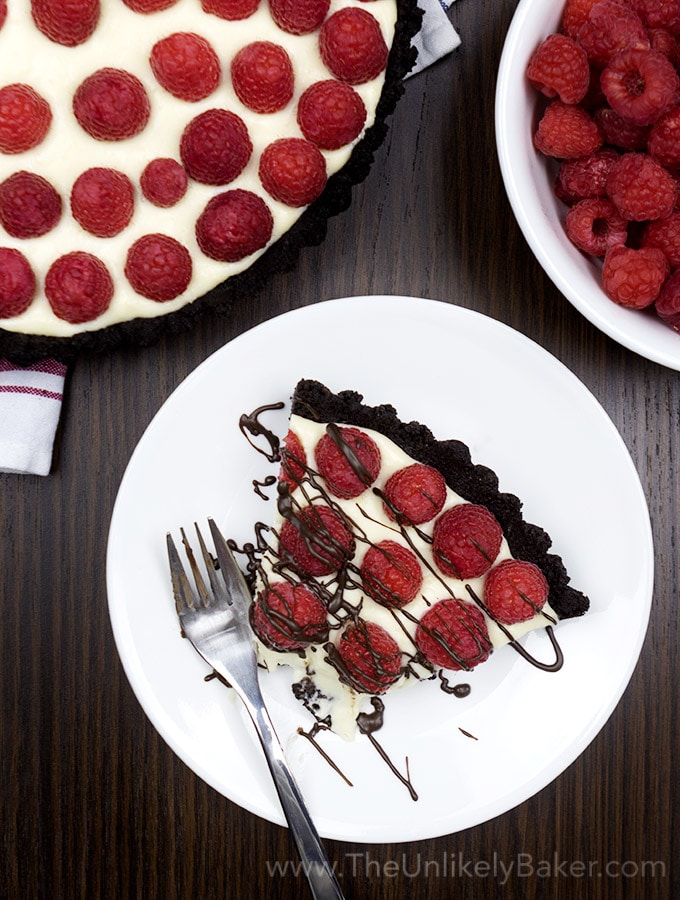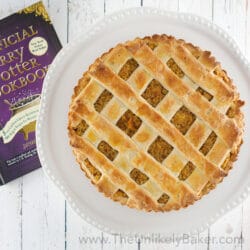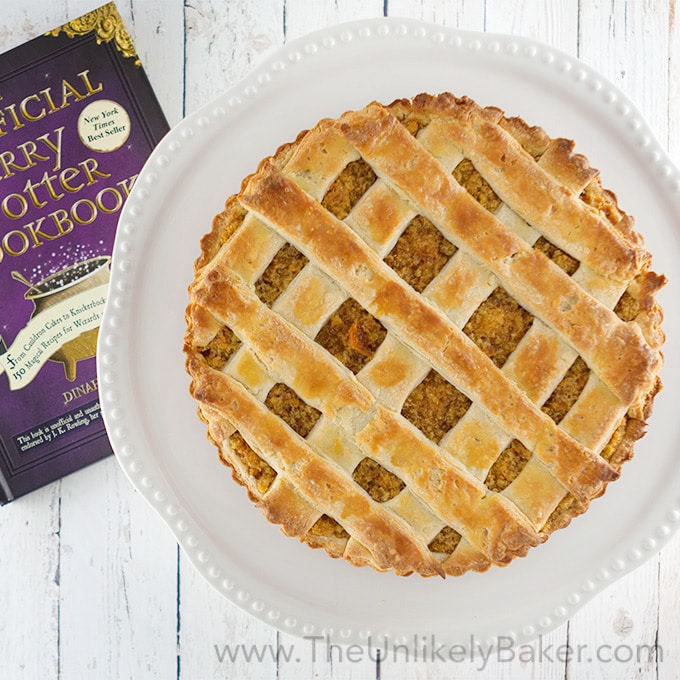 Treacle Tart Harry Potter's Favourite!
Treacle tart Harry Potter's all-time favourite dessert! And for good reason. Fresh bread crumbs, delightful golden syrup, the slightest hint of lemon, buttery crust. Delicious.
Ingredients
Filling:
1

cup

golden syrup or light molasses or corn syrup

2 ¼

cups

fresh bread crumbs

Grated zest and juice of 1 lemon

1

egg

beaten with 1 tablespoon water, for brushing over the crust
Instructions
For the crust, place the flour, confectioner's sugar, and salt in the bowl of a food processor and pulse to combine. Scatter the pieces of butter over the flour mixture. Pulse until the mixture resembles coarse yellow meal without any white powdery bits remaining, about 20 pulses. Transfer the mixture to a large mixing bowl. Beat the egg yolks with the cream and vanilla and pour them into the flour-butter mixture. Toss with a spatula until the dough clumps together. If the dough is dry, add 1 more tablespoon heavy cream (better too wet than too dry). Divide the dough in half, form into disks, wrap in plastic wrap, and chill at least 2 hours or up to 3 days.

Just before you are ready to roll out the dough, prepare the filling. Warm the golden syrup in a saucepan until it is runny, or microwave it for 1 minute. Combine the golden syrup, bread crumbs, lemon zest, and lemon juice in a mixing bowl and mix well.

Preheat the oven to 400F. Remove the dough from the refrigerator. On a floured surface, roll out the larger disk to an 11-inch circle. Fold it into quarters, brush off the excess flour with a pastry brush after each fold, then unfold it into a 9-inch tart pan, easing the sides gently into the pan and pressing the dough into the fluted edges. Trim the dough even with the rim. Roll out the second disk ⅛-inch thick. Cut the dough in long strips for the lattice topping.

Scrape the filling into the prepared crust and smooth the top with a rubber spatula. Lay half the strips of dough over the filling in one direction and the other half in the opposite direction to form a lattice. Trim the overhang. Gently brush the beaten egg over the lattice.

Bake for 10 minutes, then reduce the temperature to 375F and bake another 25 minutes until the crust is browned and the filling puffs up in the centre. Serve warm with custard or whipped cream. Serves 8.
Notes
Tart dough is hard to roll out because it is sticky and tears easily. Make sure the surface you work on is generously floured. If the dough sticks, simply scrape it off, clump it back together, and reroll it. If the dough breaks or tears, don't worry. You can easily patch it in the pan with extra pieces of dough and a bit of water.
(Recipe used with written permission from the author. Copyright Adams Media 2012.)
Nutrition
Calories:
516
kcal
Carbohydrates:
100
g
Protein:
9
g
Fat:
7
g
Saturated Fat:
3
g
Cholesterol:
83
mg
Sodium:
384
mg
Potassium:
121
mg
Fiber:
2
g
Sugar:
50
g
Vitamin A:
240
IU
Calcium:
77
mg
Iron:
3.5
mg
Nutritional information are estimates only.
Tried this recipe? Leave a star rating today!
Also tag @iamtheunlikelybaker I'd love to see your creations.
Happy baking!
Did you make Harry Potter's all time favourite dessert, treacle tart? I'd love to hear from you in the comments section below.
And let's get social! Find me on Facebook, Pinterest, Instagram or Twitter.