Crema de Fruta is a Filipino dessert made of delicious layers of soft fluffy cake, rich creamy custard, and fruit blanketed in gelatine. Fun, festive, definitely deserves a place in your celebrations.
(Getting ready for the holidays? Add Apple Buko Salad to your menu. It's red, green, delicious and so easy to make! Cathedral windows are a favorite at Christmastime too!)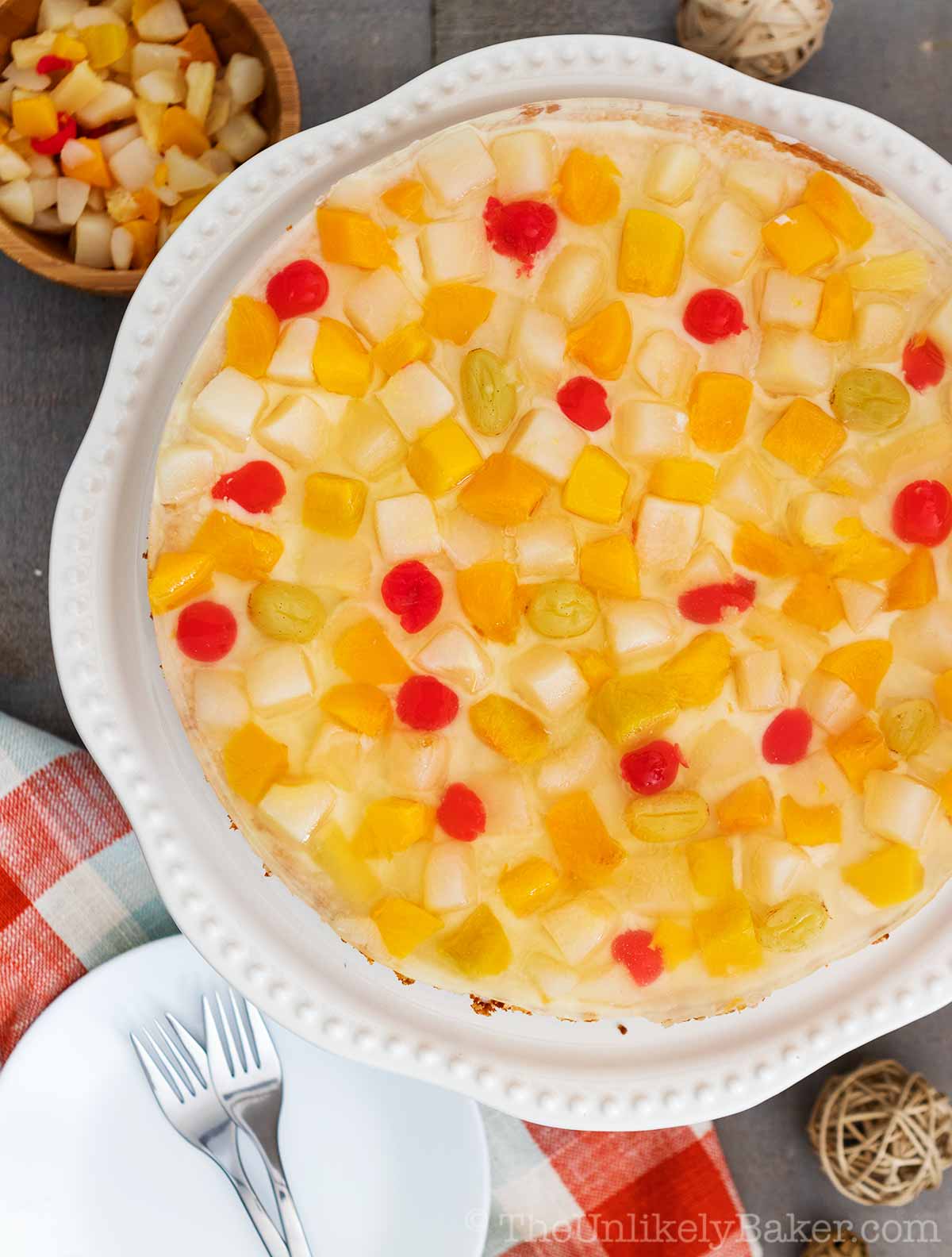 You know it's Noche Buena or Christmas Eve in the Philippines when boxes and boxes of crema de fruta is on display at Goldilocks (a popular bakeshop chain). They will be gone in a flash so if you want one, you better line up early.
It's the same situation on New Year's Eve. You snooze, you definitely lose out on one of the season's favourite desserts.
Crema de fruta is one of those cakes you buy just because. You have to have something to celebrate. With its burst of colour and mouthwatering layers, it's most definitely a party cake.
What is crema de fruta?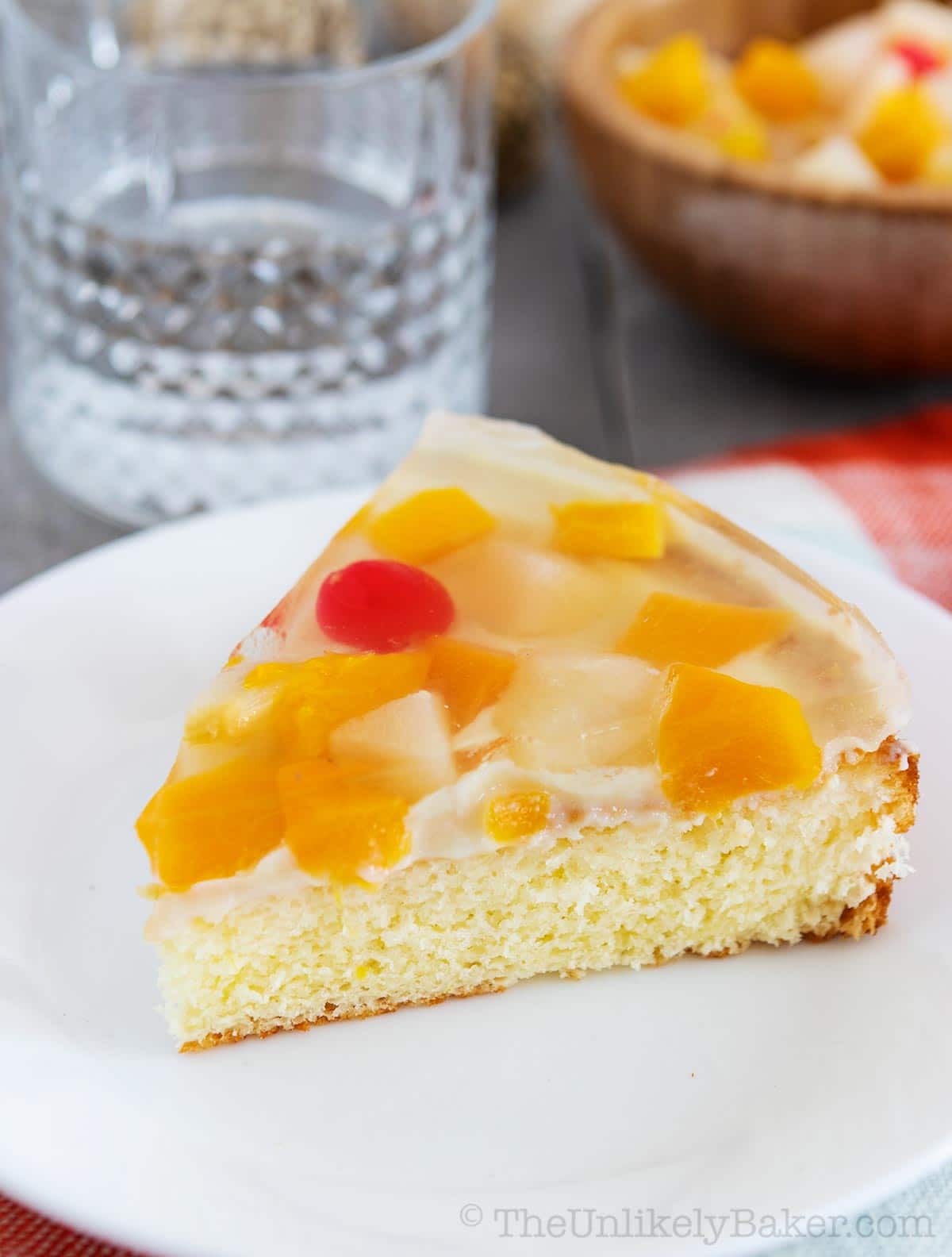 Crema de fruta is a traditional Filipino dessert made with layers of sponge cake, sweet custard, gelatine and fruit.
You'll find many variations: from the base used (chiffon cake or ladyfingers instead of sponge cake) to the fruits used as topping (fruit cocktail, pineapples or peaches).
A lot of people also consider mango float (or mango graham cracker cake) its no-bake, relatively easier to make, cousin.
How to make (with photos)
Crema de fruta cake is not hard to make but there are a lot of steps. They key is organization. Get everything out, measured and ready to go.
It also helps to keep in mind that the end result is worth all that planning!
So first we make the cake.
How to make the sponge cake
1 PREHEAT. Preheat your oven to 350F and line the bottom of a 9 or 10-inch springform pan with parchment paper.
2 EGG WHITES. Get your egg whites ready. In a large bowl using a handheld electric mixer or using a stand mixer fitted with the whisk attachment, whisk egg whites and cream of tartar on medium high speed until stiff (but not dry). Set aside.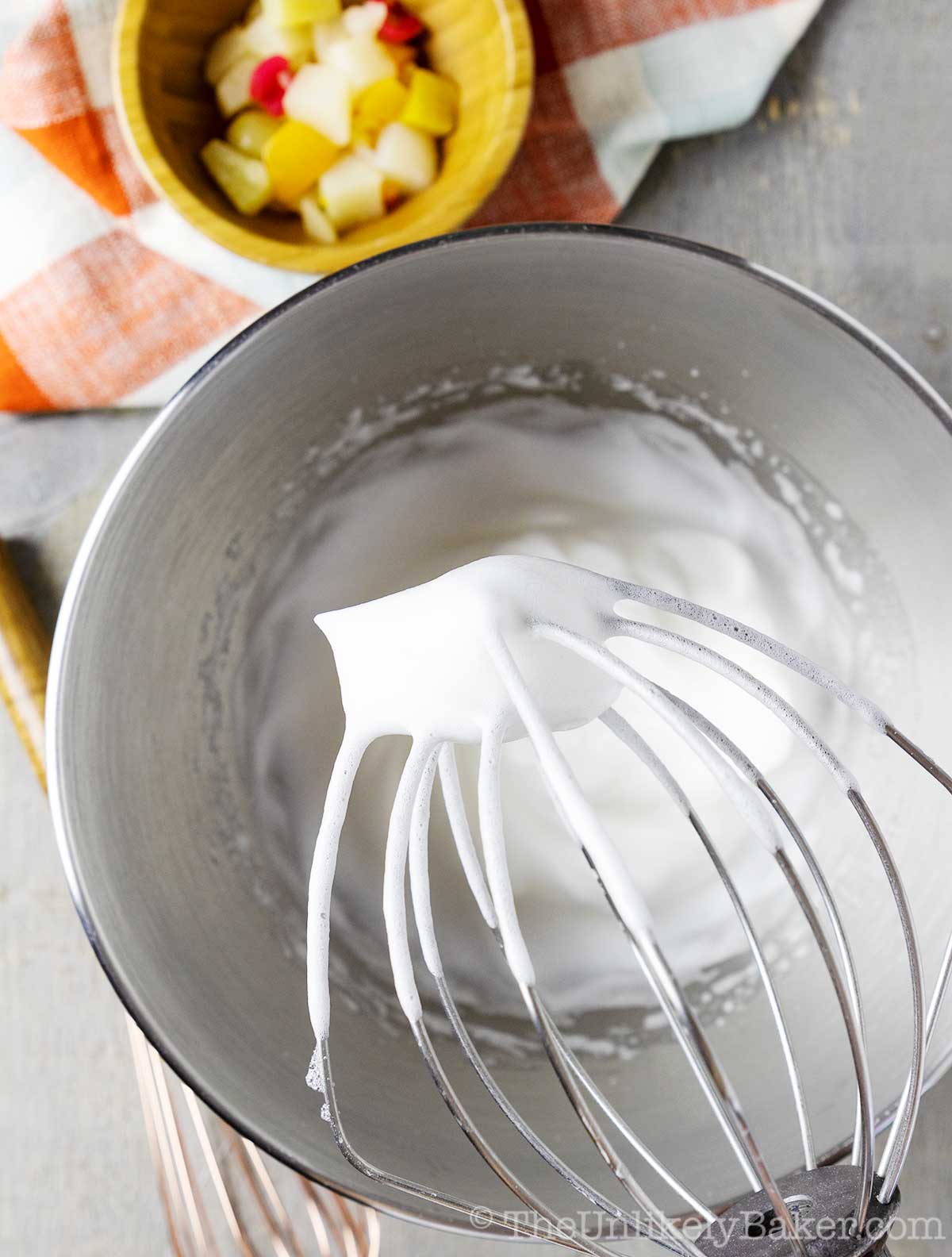 3 SIFT. In medium bowl, sift cake flour, baking powder and salt. Set aside.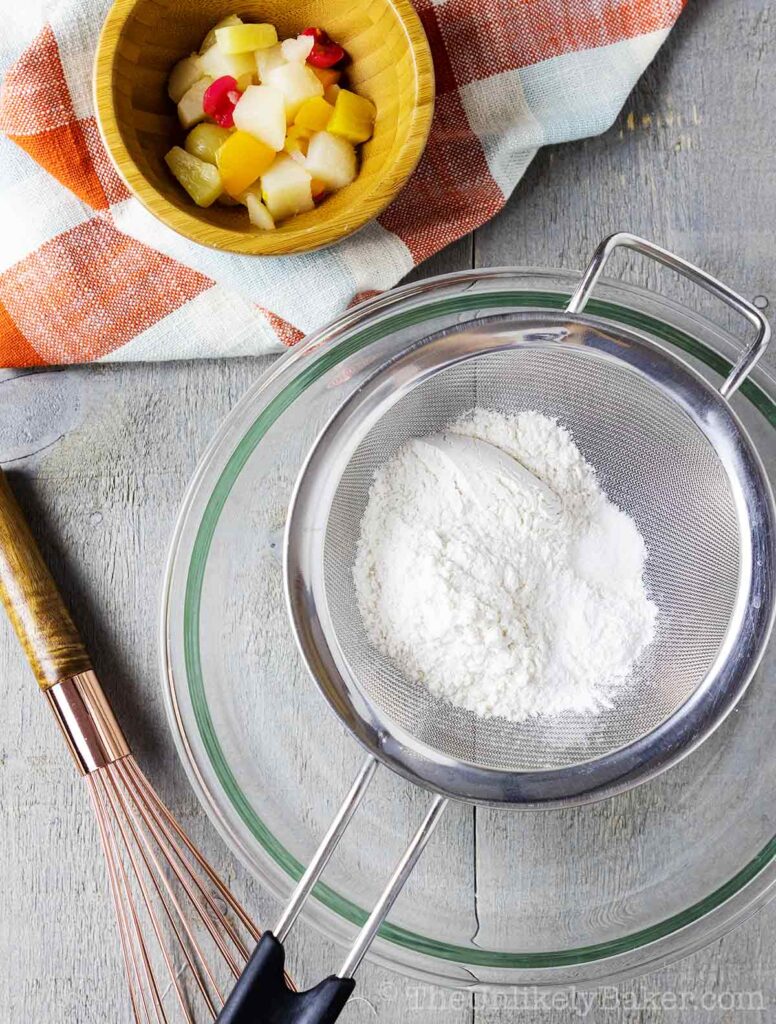 4 EGG YOLKS. In another bowl using a handheld electric mixer or using a stand mixer fitted with the paddle attachment, beat egg yolks on medium speed until thick (about 3 minutes).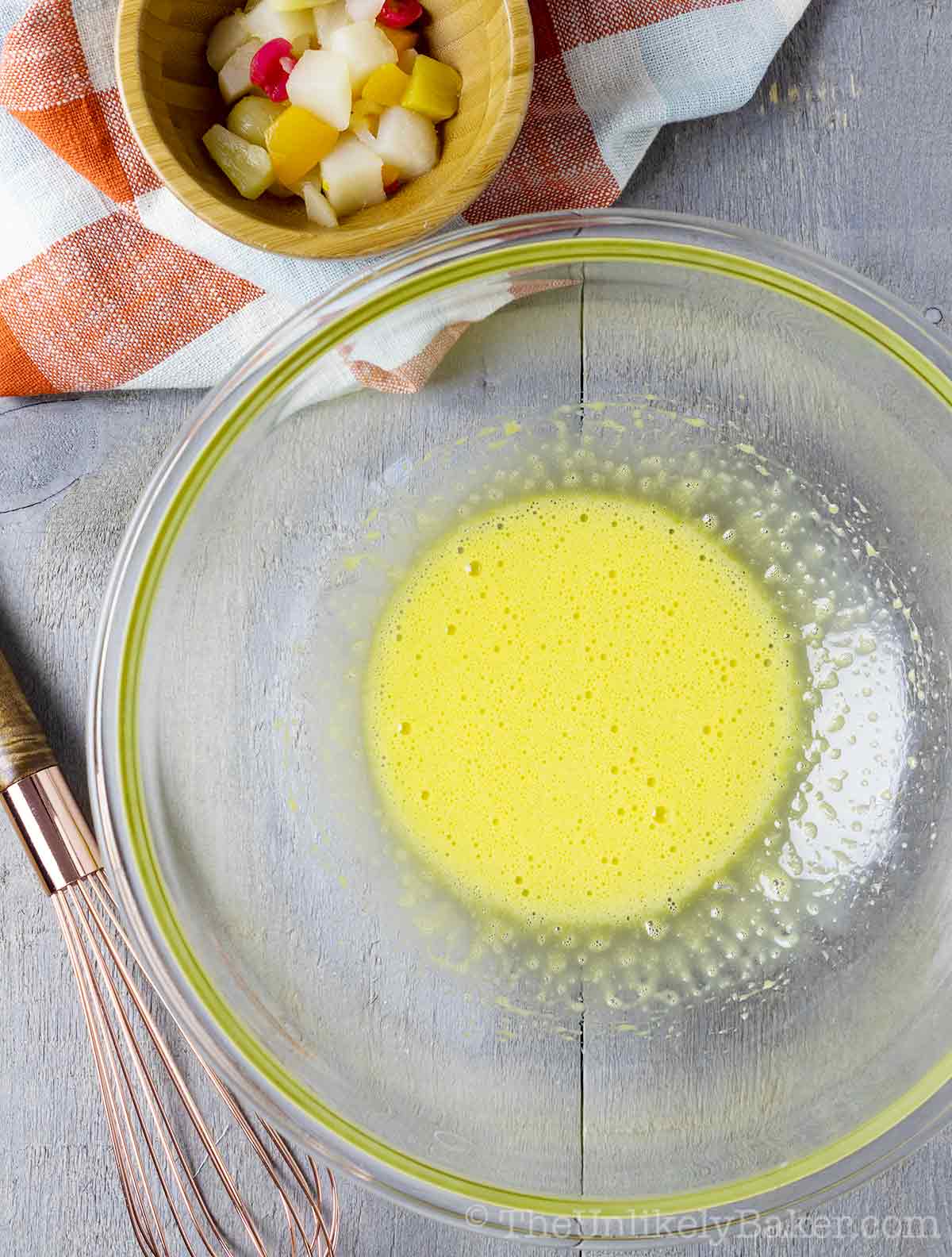 5 SUGAR. Gradually add the sugar and beat some more (another 3 minutes).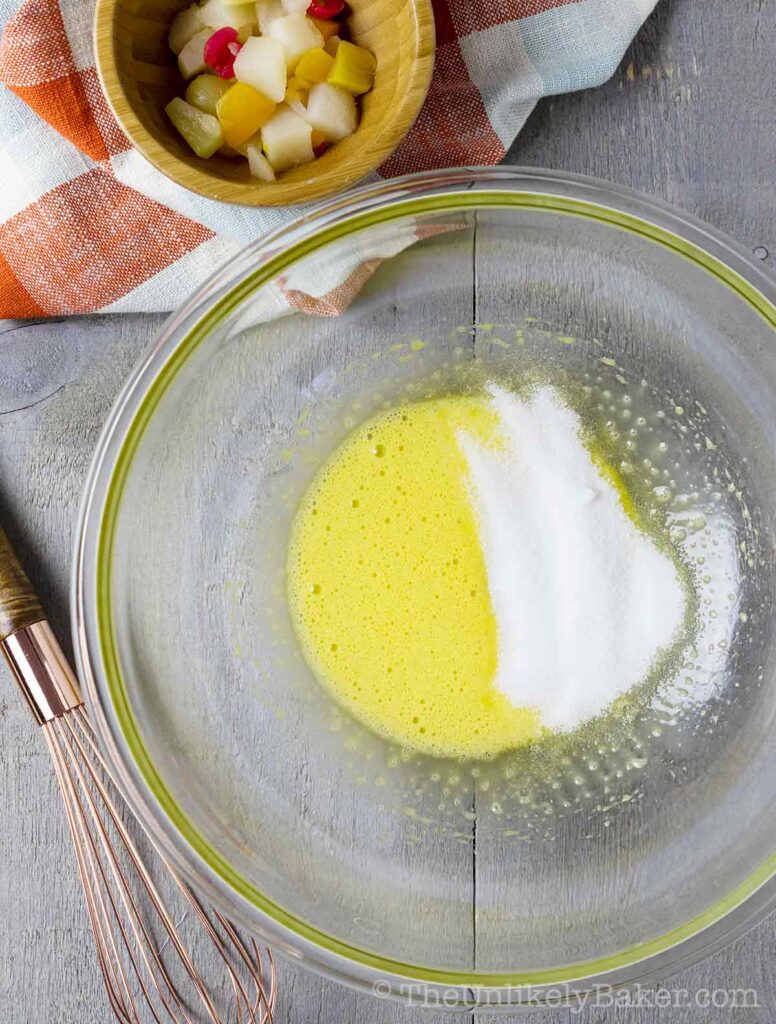 6 HOT WATER. Add hot water and continue beating until bubbly and incorporated.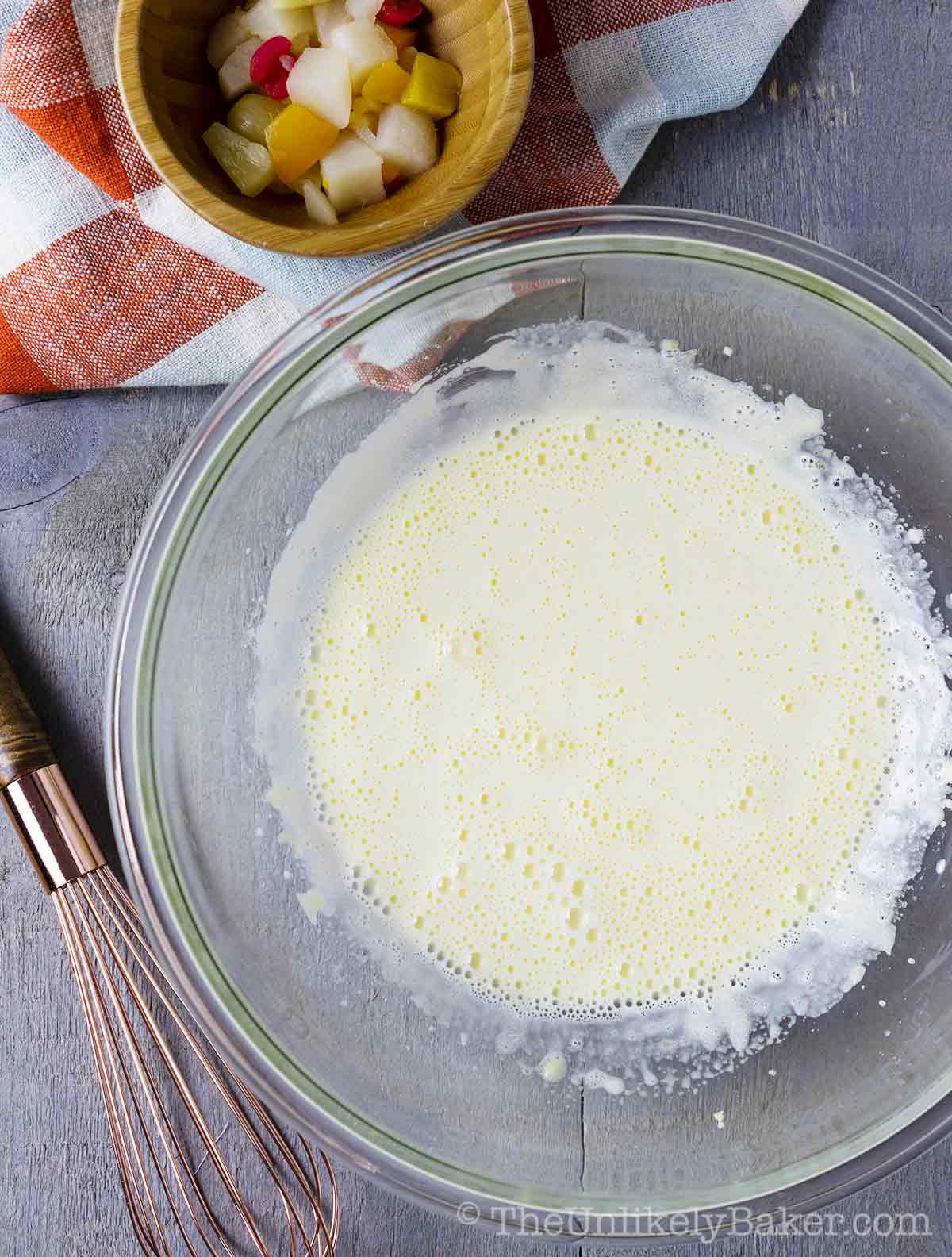 7 WET INGREDIENTS. Add the rest of your wet ingredients (lemon juice + zest and vanilla) and yes, continue beating.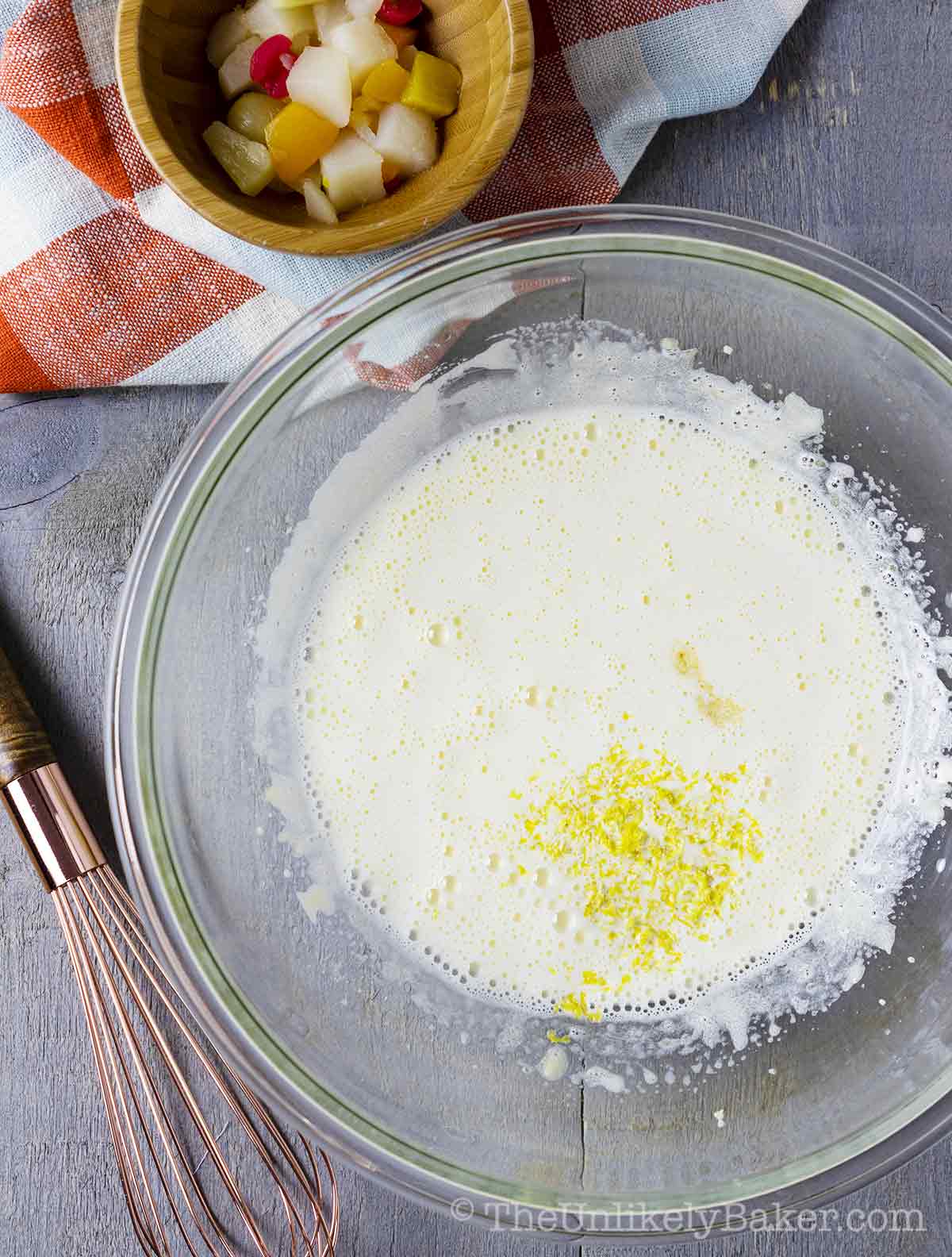 8 FLOUR MIXTURE. Lower speed and gradually add your flour mixture to the cake batter and stir until combined.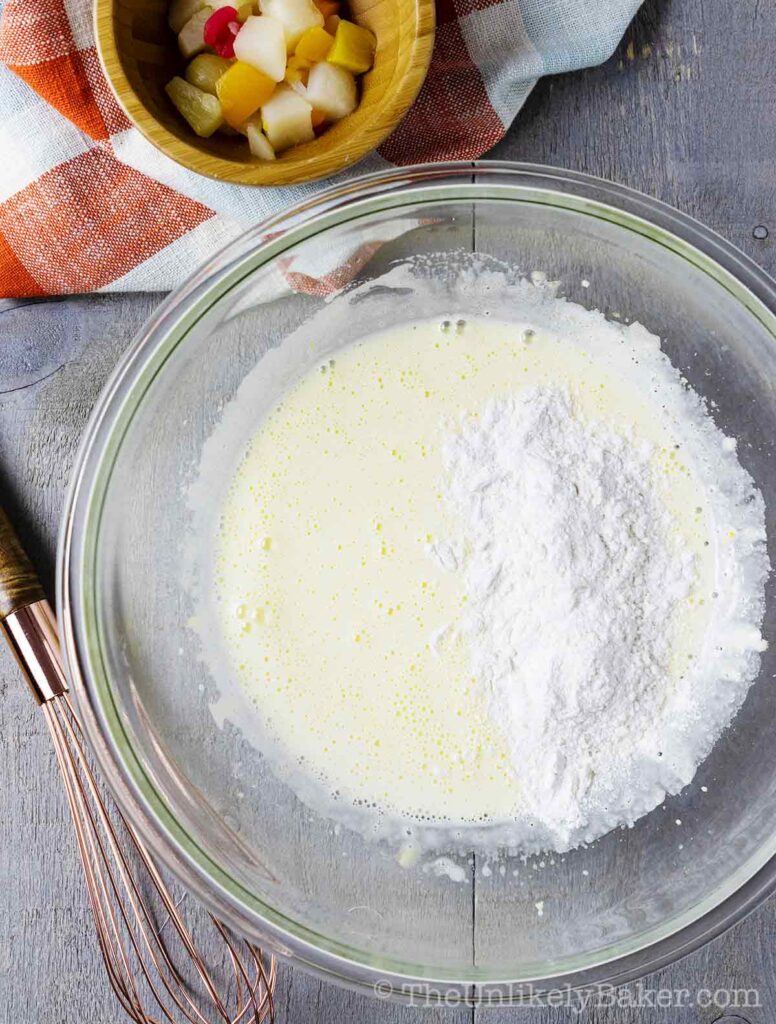 9 FOLD. Gently fold your egg whites into the batter about ⅓ cup at a time until everything is incorporated.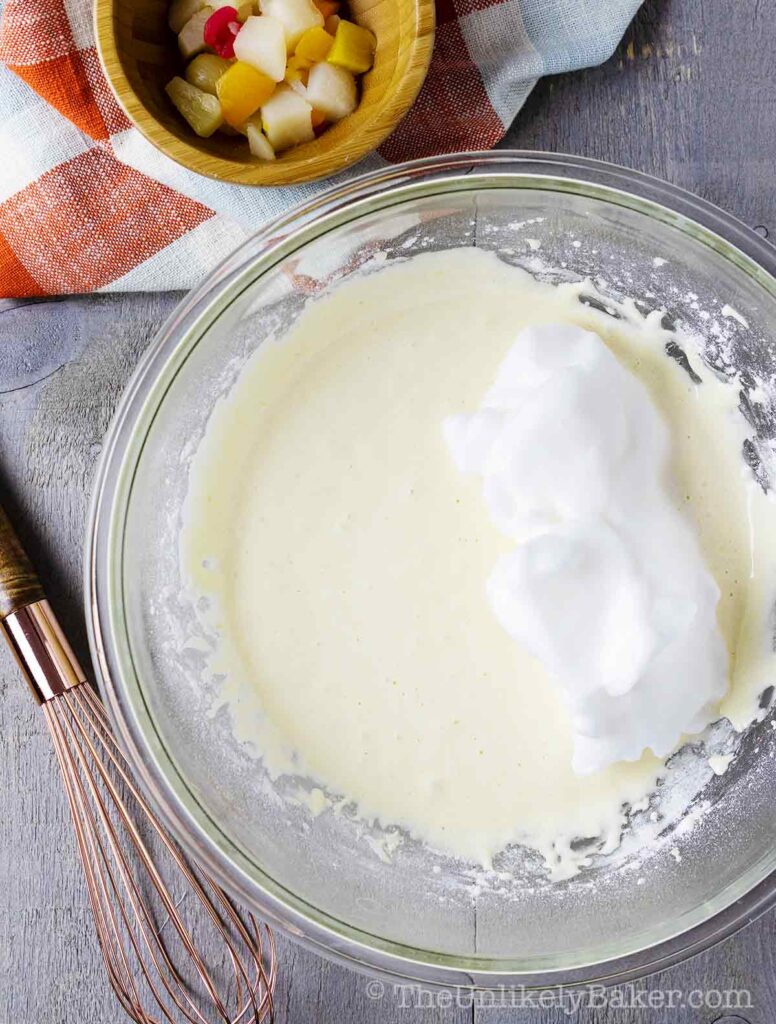 10 BAKE. Transfer the cake batter into your prepared pan and bake for 20-30 minutes or until the cake springs back when gently pressed and a toothpick inserted in the centre comes out clean.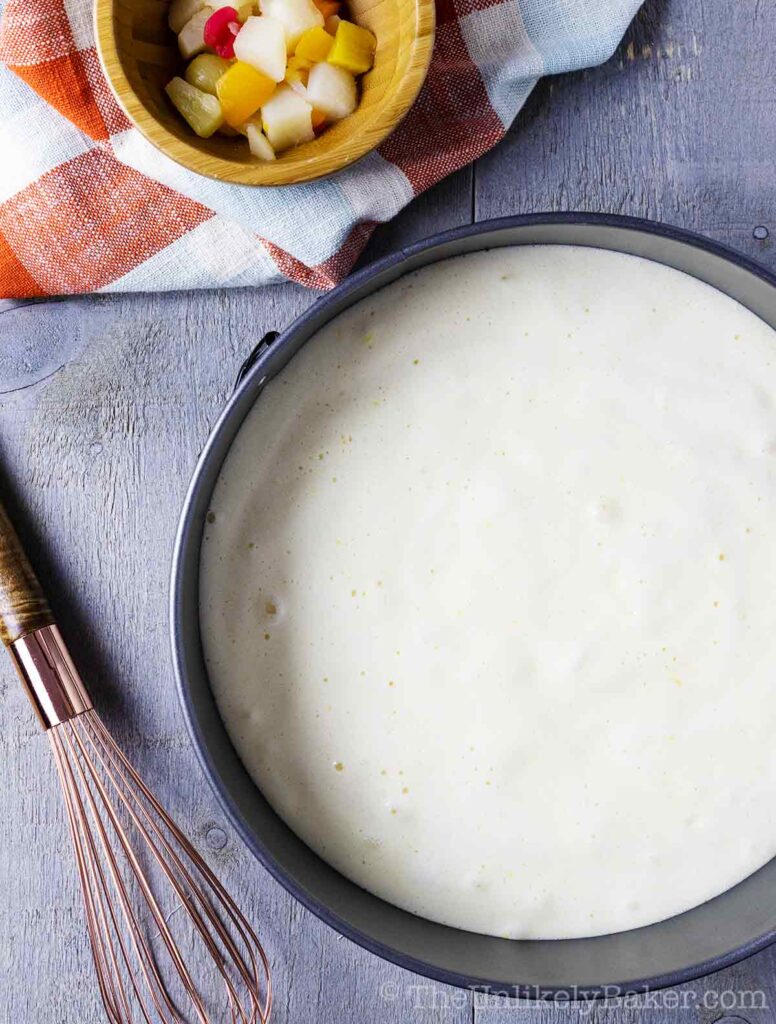 While your cake is baking, you can make your custard.
How to make crema de fruta custard filling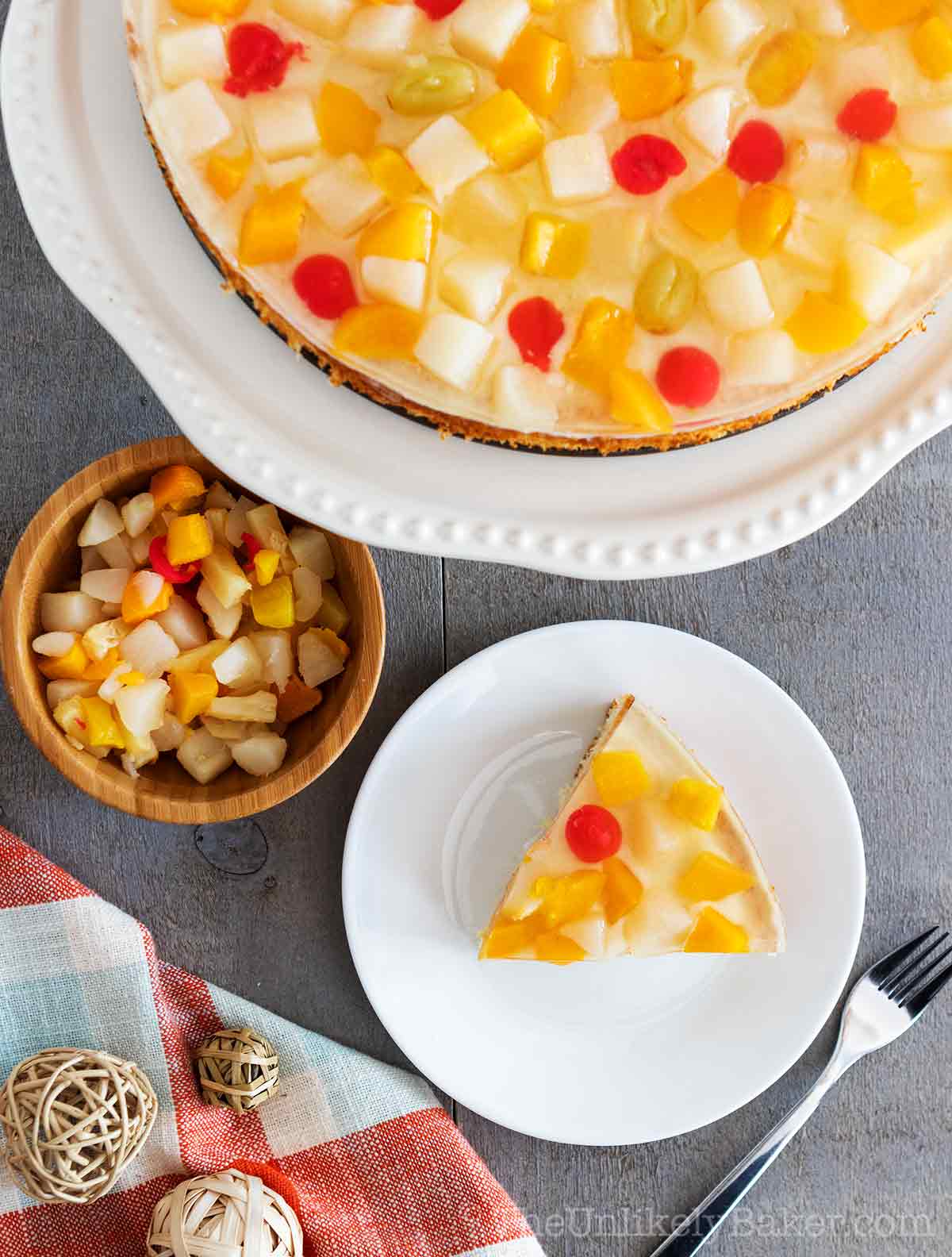 1 STIR. To make the custard, first combine cornstarch, egg and salt in a small bowl. Break apart large clumps of cornstarch, if any.
2 HEAT. In a saucepan, stir milk and sugar until combined and heat just until it boils. Then lower heat for now.
3 TEMPER. Scoop about ¼ cup of your milk mixture into your egg mixture to temper it. Pour the milk mixture gradually and while continuously stirring so as not to scramble the egg mixture. Stir until incorporated.
4 THICKEN. Pour tempered egg mixture into milk mixture, stir to combine and bring back to a gentle boil. Cook until thick (about 2 minutes). Remove from heat and stir in vanilla. Allow to cool before using. If you get lumps no worries; run the custard through a sieve to get a smooth, creamy consistency.
How to make gelatine for the fruit topping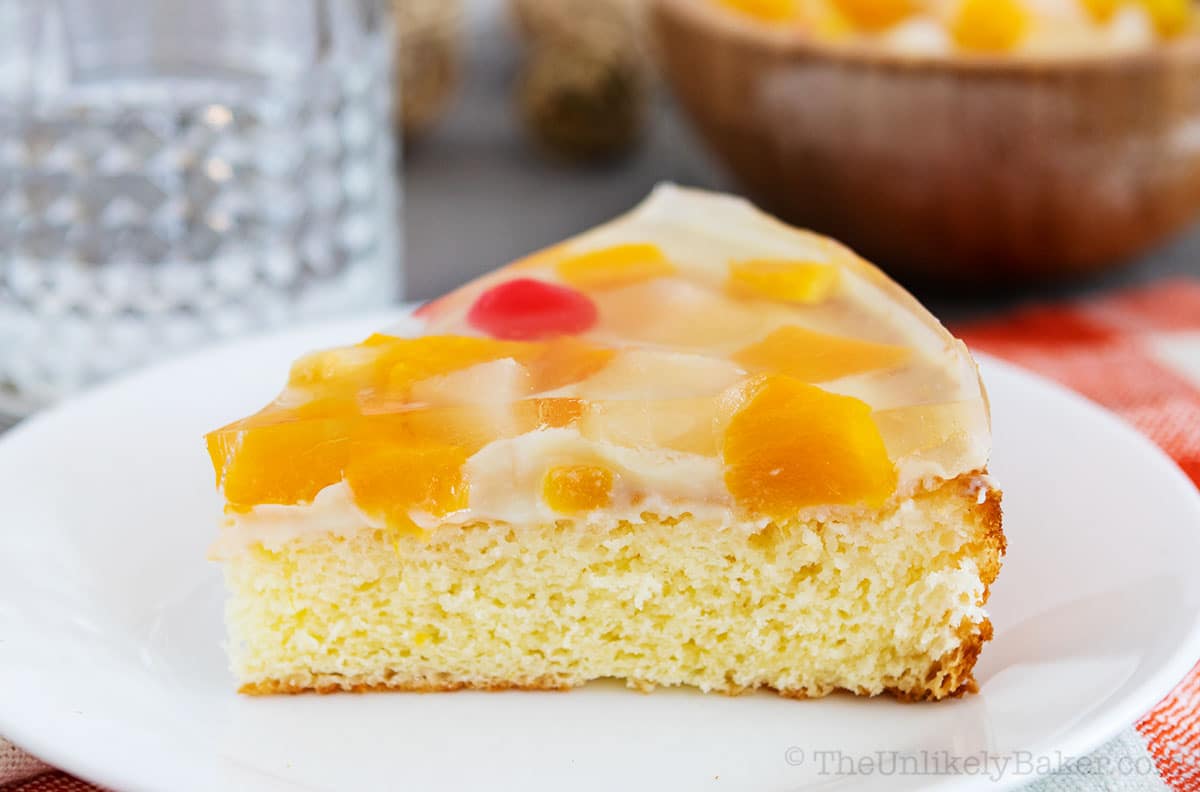 Gelatine looks like a simple ingredient but I actually find it quite finicky.
If you have a surefire way of using gelatine, I suggest stick with that. If not, see how I do it for this crema de fruta recipe below.
I usually leave making the gelatine for last, just when I'm almost ready to assemble or when I'm waiting for my other components to cool.
1 BLOOM. Start by blooming and activating powdered gelatine. Sprinkle (don't dump in one solid heap) gelatine in a cup or bowl with cold water. Leave alone for about 5 minutes.
2 BOIL. In the meantime, combine fruit cocktail juice, water and sugar in a saucepan and bring it to a boil. You don't want this mixture too sweet so taste as you go; remember that your custard is sweet already.
3 STIR. Remove pan from heat and turn your attention back to the gelatine. By this time, it should have already solidified. Microwave it in increments of 10 seconds, stirring each time, until the granules are fully dissolved. Mix the dissolved gelatine into the juice mixture and stir to combine. Set aside until ready to assemble. (Note: When you're heating the gelatine, see to it that the cup your gelatine is in never gets too hot to touch.)
Assembling your crema de fruta cake
Assembling this delicious Filipino dessert is the funnest part for me.
1 CUSTARD. First spread custard on top of your already-cool cake. Even it out with a spatula. An offset spatula works best here.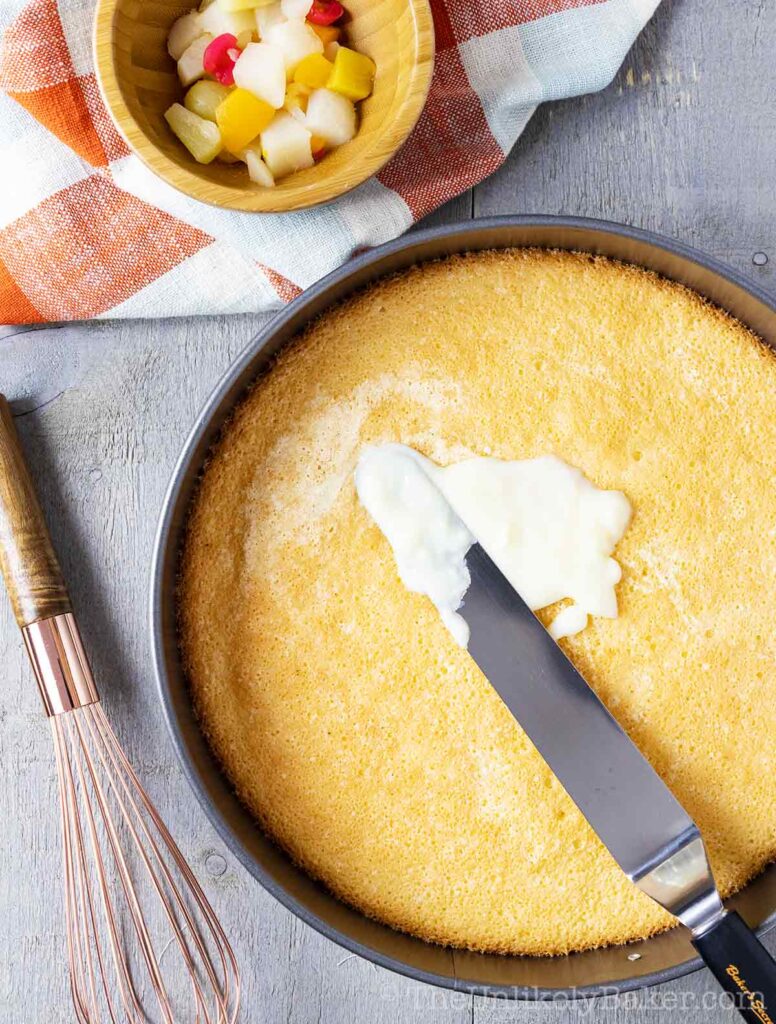 2 FRUIT. Next, arrange the fruit on top. I use fruit cocktail but you can use canned peaches, pineapple, whatever fruit you like. You can also get creative and arrange the fruit however you like.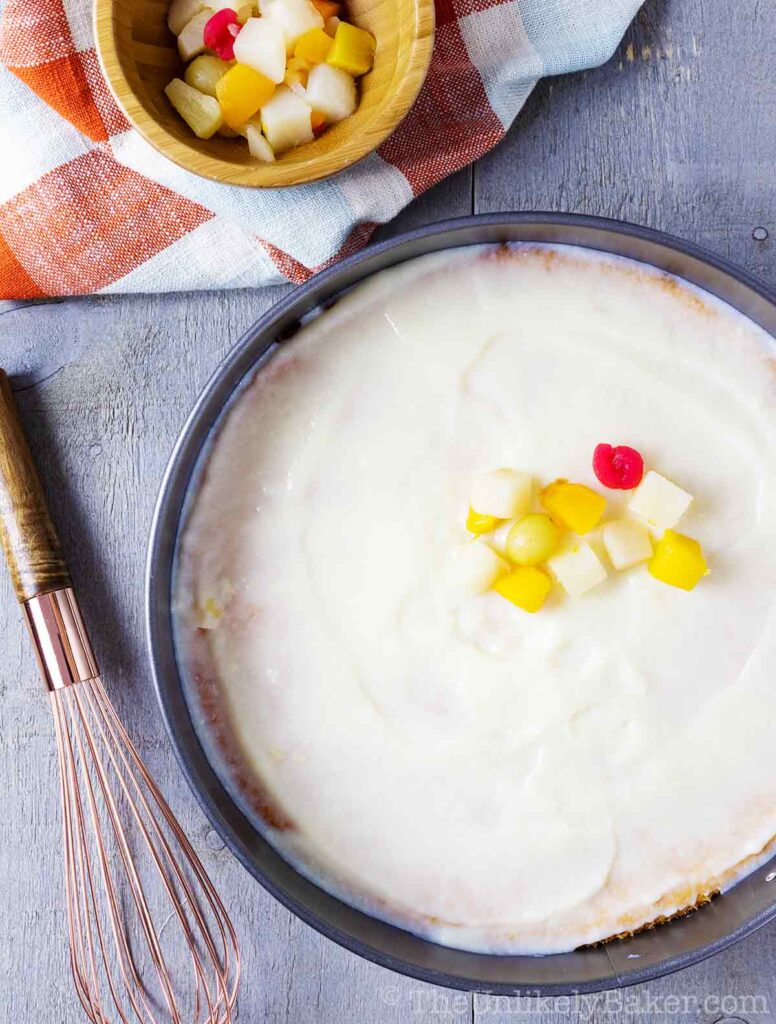 3 GELATINE. Pour the gelatine on top of your fruit layer. This gelatine mixture should be enough to cover all the fruit.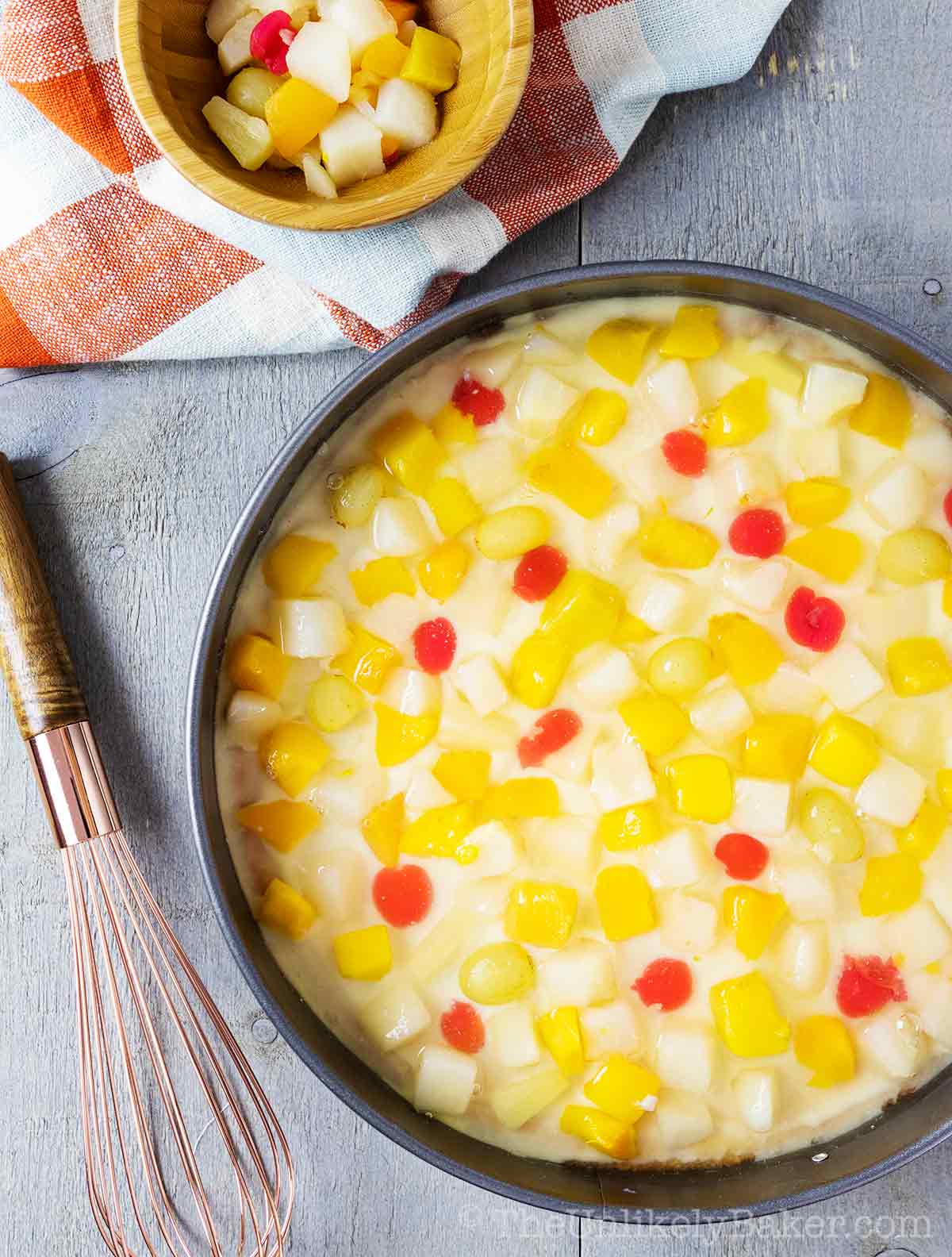 4 CHILL. Chill the cake in the fridge until the gelatine is set, about 4-6 hours. I usually leave it in the fridge overnight.
To serve, run a thin, sharp knife around the edges of your cake before releasing from the springform pan. We like to serve it closer to room temperature rather than straight out of the fridge to allow the cake to soften up.
Can I make the cake ahead of time?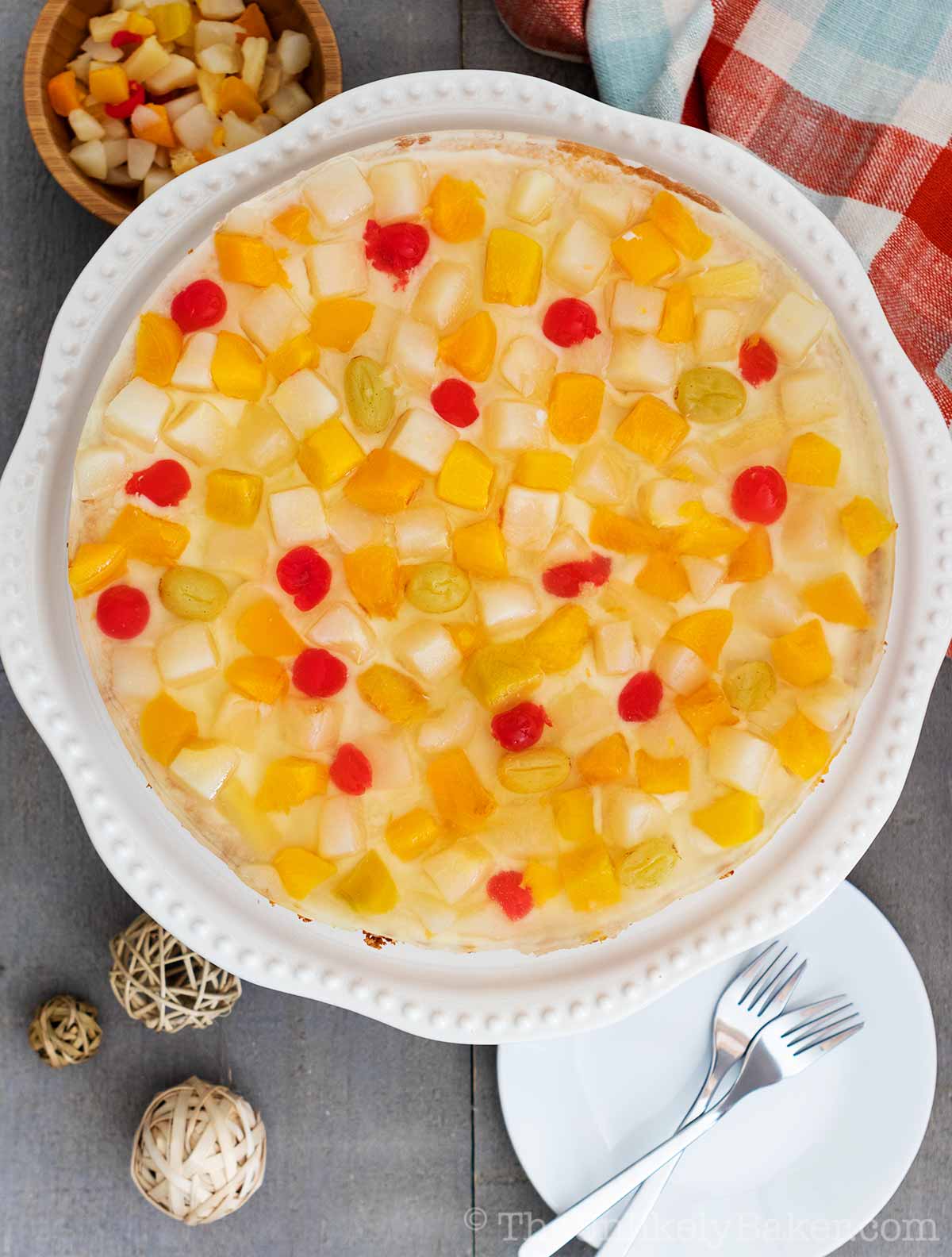 Yes, you can make the cake ahead of time. Just wrap in plastic wrap (I love Press'n Seal
) and keep in the fridge. Don't chill for too long though; it might dry out. Make sure to use within 3 days.
You can also opt to freeze the cake. I wrap unfrosted cakes in plastic wrap, aluminum foil, then place them in ZipLoc bags
. To thaw, I bring them down to the fridge (still wrapped) the night before I'm planning to decorate or serve.
Other bakers say that frozen cakes last 1-3 months though I haven't really frozen a cake for longer than a month. We like cake at our house!
What pan to use if I don't have a springform pan
If you don't have a springform pan
, you can use a similar sized round pan; you'll just need to cut then scoop your cake slices out.
Also, springform pans tend to be tall (3-inches) so make sure your pan is tall enough for all your layers. Or use several pans if necessary. A square or rectangular pan will work too. You'll just need to divide your batter.
Note that you will end up with thinner layers by doing this so watch your baking time because the cakes will be done faster.
How to make crema de fruta without baking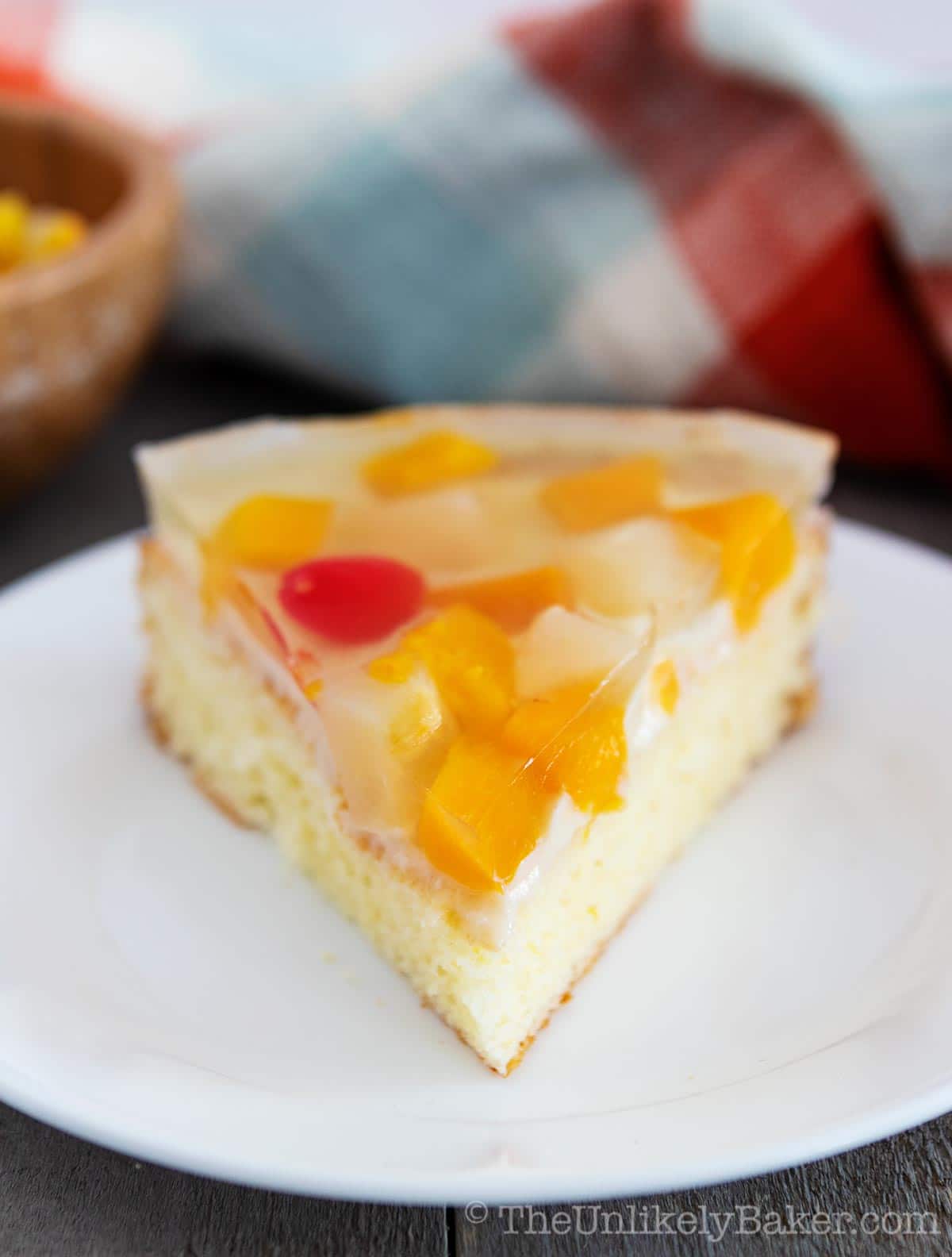 Not in the mood to bake? You can still make crema de fruta without turning the oven on!
Simply buy ready-made sponge cake and cut to fit your cake pan. Then all you'll need to make are the custard and the gelatine fruit mixture.
When buying cake, make sure to buy one that's not too soft and fluffy; you want one that's dense and sturdy enough to bear the gelatine fruit topping.
Also opt for something that's not very sweet because your other cake components are sweet too.
Crema de fruta is definitely a special occasion cake. Whether you're making it for someone's birthday, for Easter or at Christmas, it's sure to brighten everyone's day!
If you're looking for another fruity dessert, try this Che Thai recipe from Couple in the Kitchen. Delicious and refreshing!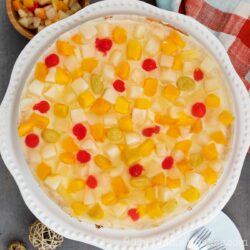 Crema de Fruta Recipe
Crema de Fruta is a Filipino dessert made of delicious layers of soft fluffy cake, rich creamy custard, and fruit in gelatine. Fun, festive, definitely deserves a place in your celebrations.
Ingredients
For the Fruit Gelatine Topping
Notes
The yield depends on how big or small you slice your cake.
Instead of canned fruit cocktail, you can also use canned peaches or any other canned fruit you like.
For the gelatine mixture, use the juice from the fruit cocktail and just add water until you get to 1 and ¾ cups.

If you end up with a lumpy custard, no worries. Simply run the custard through a sieve to get a smooth, creamy consistency.

When you're heating the gelatine, see to it that the cup your gelatine is in never gets too hot to touch.

See post for the complete step-by-step photos and more baking tips.
Nutrition
Calories:
289
kcal
Carbohydrates:
71
g
Protein:
3
g
Fat:
1
g
Saturated Fat:
1
g
Cholesterol:
5
mg
Sodium:
63
mg
Potassium:
136
mg
Fiber:
1
g
Sugar:
63
g
Vitamin A:
33
IU
Vitamin C:
1
mg
Calcium:
55
mg
Iron:
1
mg
Nutritional information are estimates only.
Tried this recipe? Leave a star rating today!
Also tag @iamtheunlikelybaker I'd love to see your creations.
Happy baking!
Did you make crema de fruta with gelatin? I'd love to hear from you in the comments section below.
Other Filipino Christmas desserts
Planning your Filipino Christmas menu? Be sure to add these easy and delicious treats the whole family will love.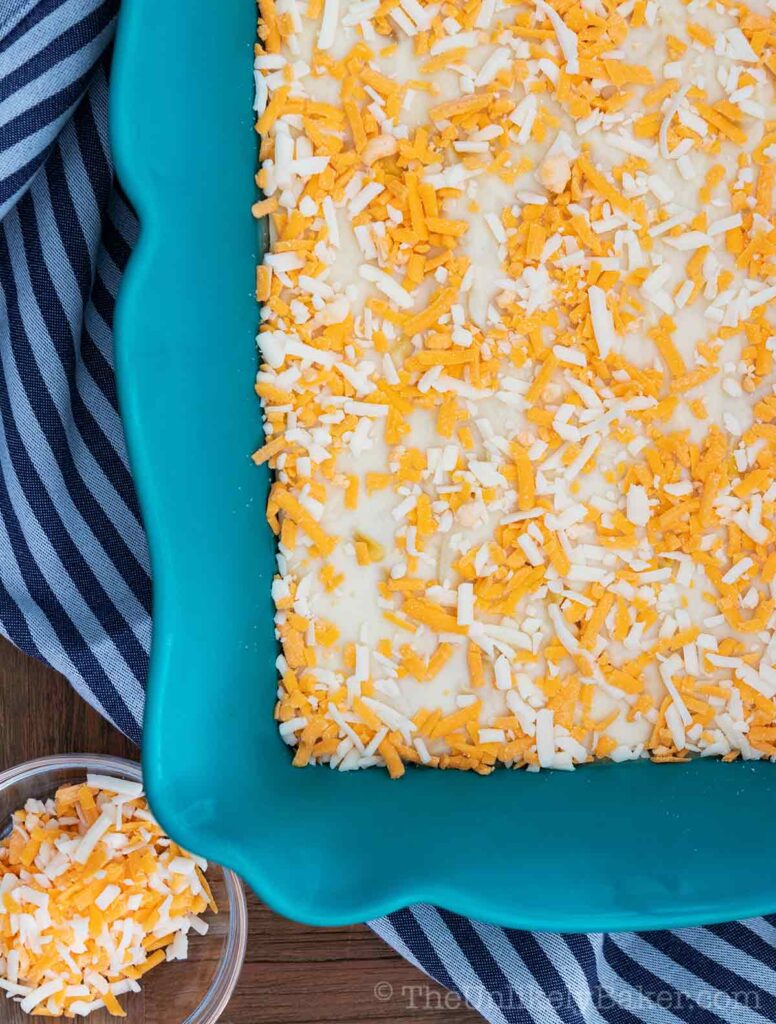 Try this maja blanca recipe for the smoothest, creamiest maja blanca. Top with shredded cheese or toasted coconut or both!
Here's an ube halaya recipe that's authentic and easy to make. It's everyone's favourite!
Who can say no to Filipino egg pie? Rich, creamy custard baked in a buttery pie crust. No wonder it's a childhood favourite.
This cassava cake with macapuno is soft and tender and the topping is perfectly sweet and toasted.