These chocolate cornflake cookies are fun desserts to make with kids and kids-at-heart. You only need 5 ingredients and no baking needed!
(Looking for more cornflake cookie recipes? Check out these meringue cornflake cookies. They're based on a popular Icelandic holiday cookie called Marens-Kornflexkökur and so good! While these ube rice krispies is a delicious twist on everyone's favorite rice krispie squares.)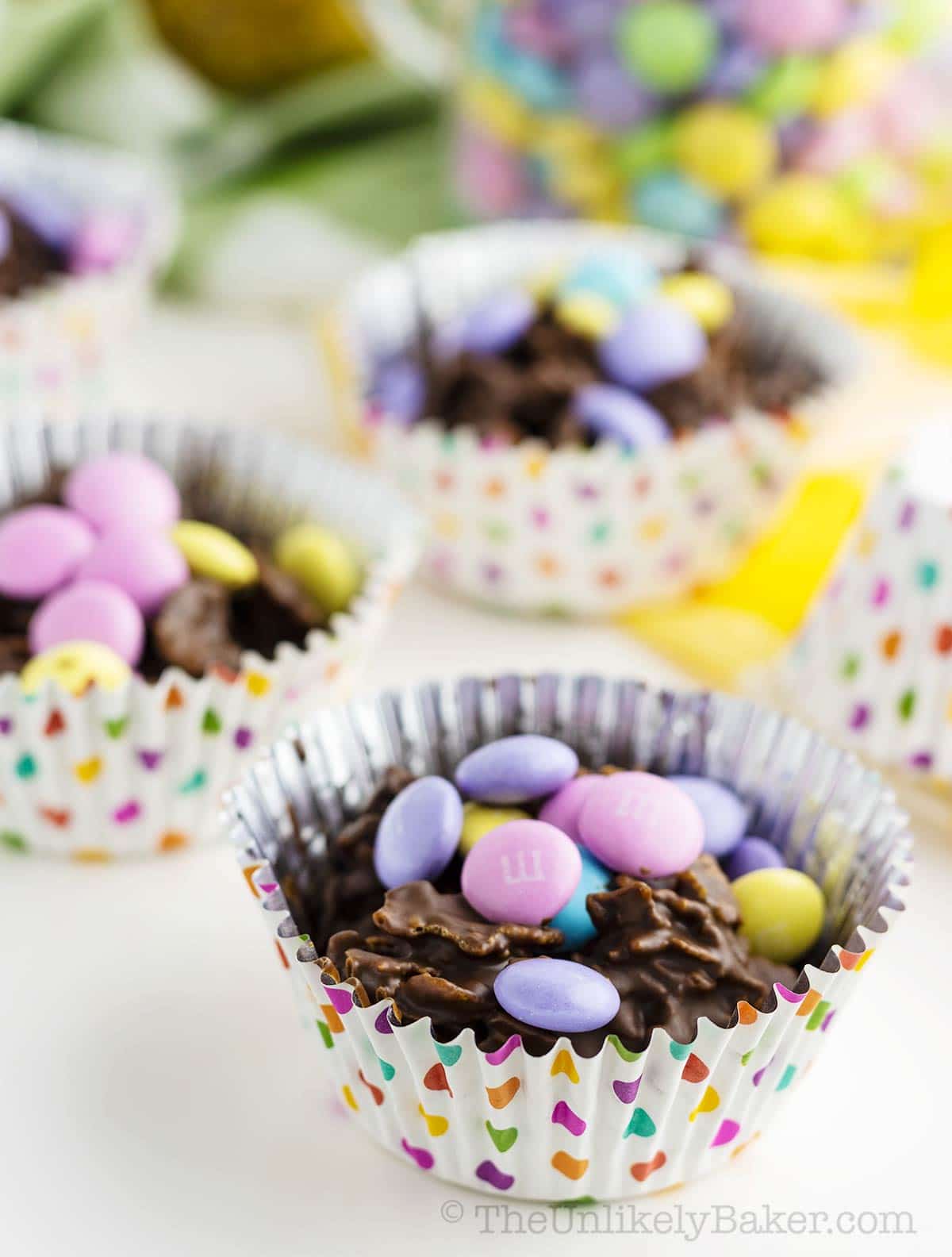 Crunchy, chocolatey, no-bake — what's not to love? These no bake cornflake cookies only need 5 ingredients and they come together so easily too.

Let's get to it.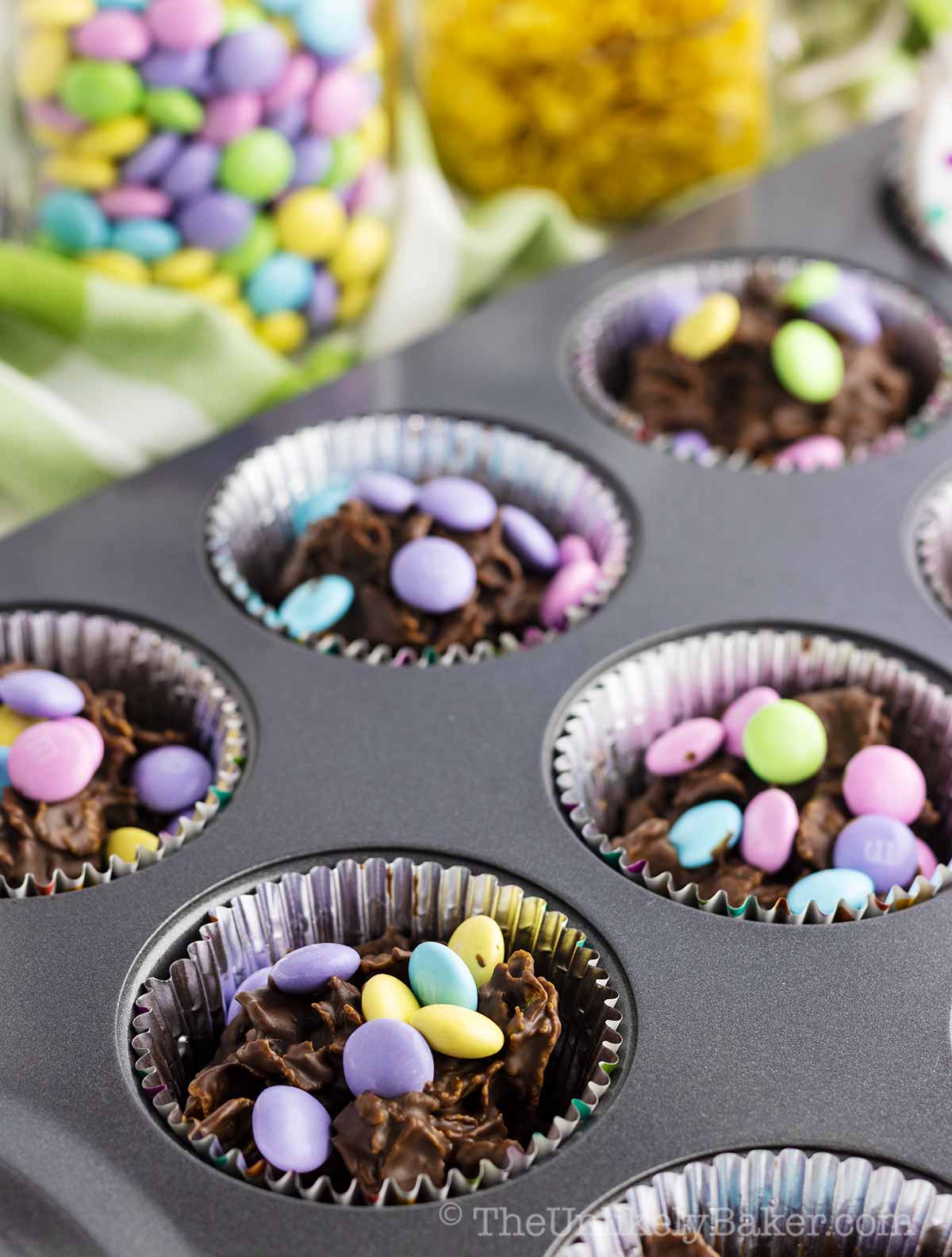 We usually make chocolate cornflake cookies (often also called chocolate cornflake clusters) at Easter and get the kids involved. It's the perfect little project for them because:
They're easy to make. It's probably best if you melt the peanut butter and chocolate for them but once the mixture is safe enough for the kids to handle, they can pretty much do all the other steps with minimal supervision.
Fun to do. Gooey peanut butter chocolate, pastel M&Ms, colourful cupcake cups. It might get messy but everyone will have a blast.
So cute! Grandma and grandpa will be so proud.
How to make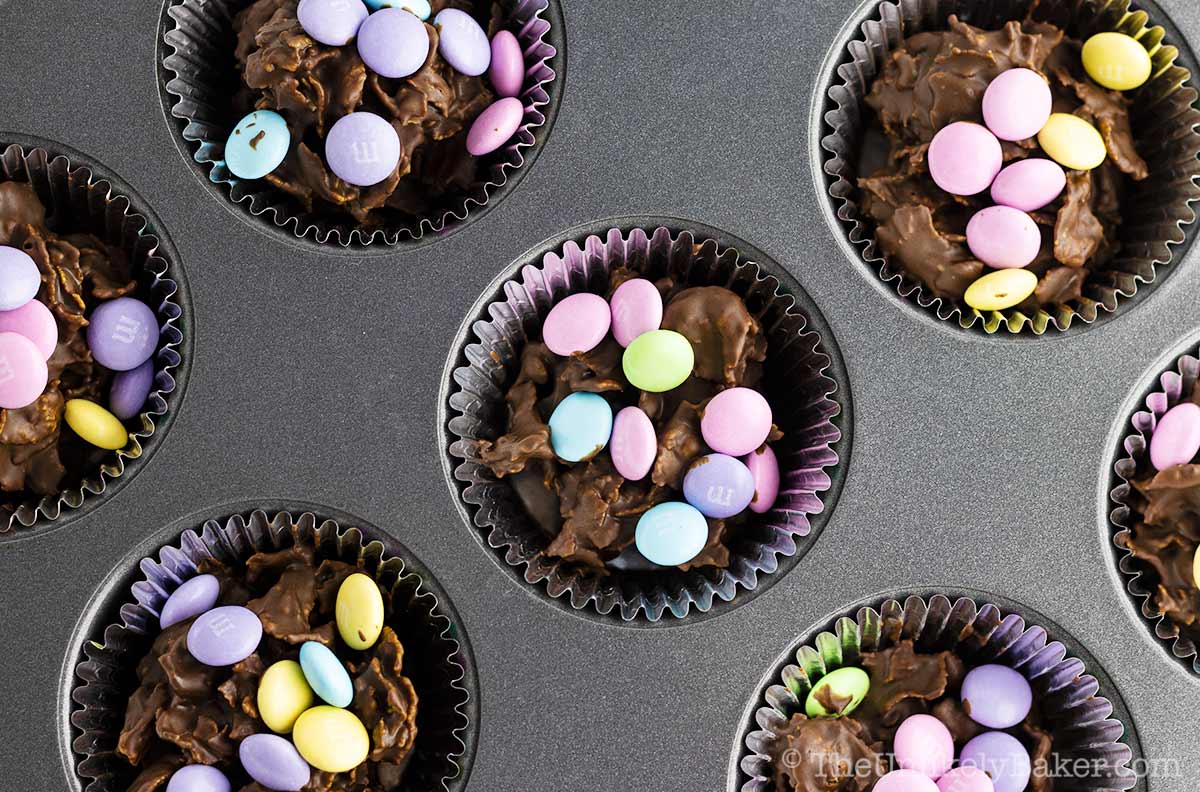 To make them, all you need to do is melt chocolate chips and peanut butter in the microwave. Forget about the double boiler. We want it as simple as possible.
Put the cornflakes in and stir. Don't worry about breaking some or majority of the cornflakes. Just have fun!
Scoop into cute little cupcake cups. Sprinkle with as many M&Ms (or your favourite chocolate) as you like.
Chill in the fridge until set. That's it! Watch the video to see just how simple and fun it is.
Recipe FAQs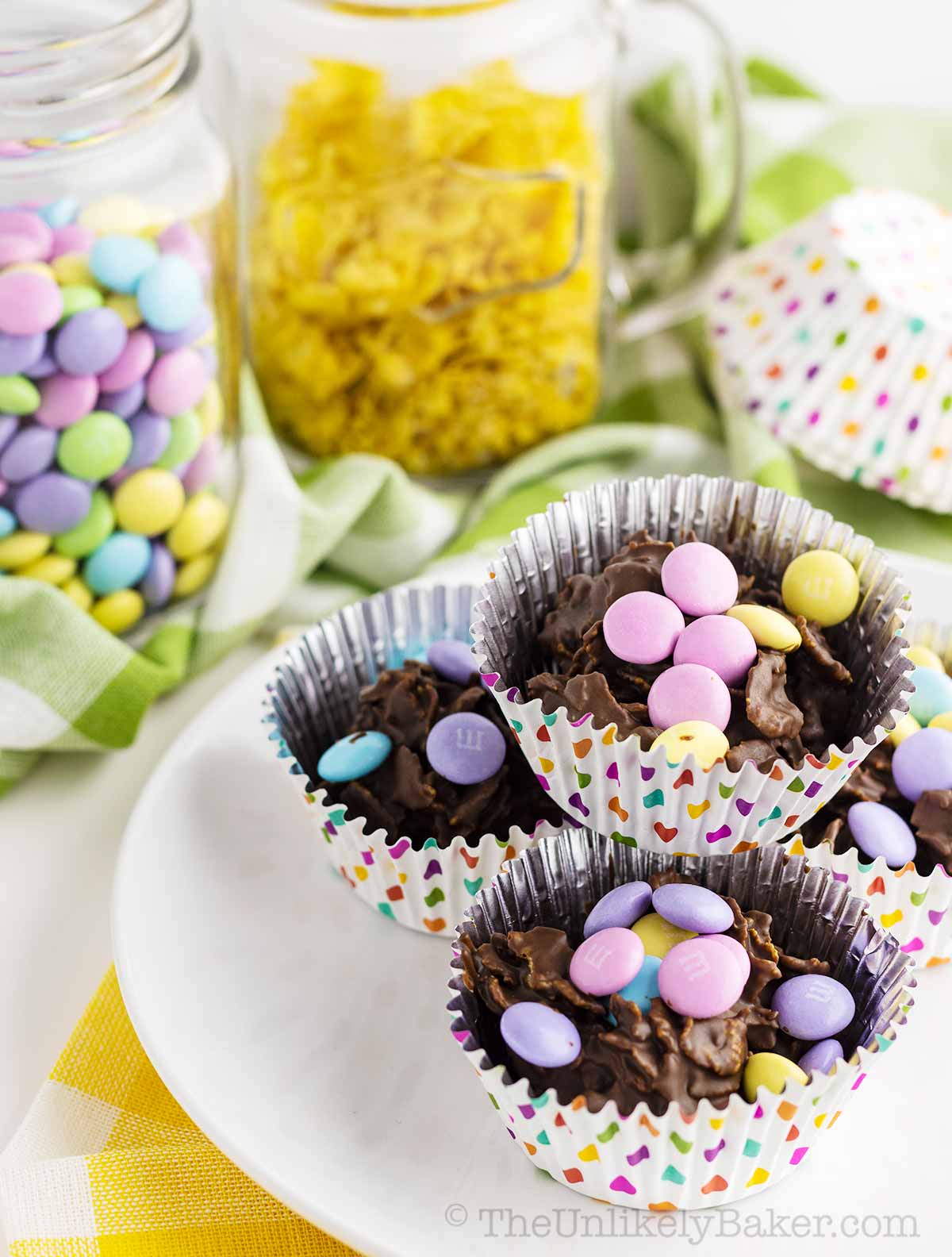 What is the best kind of cupcake cup to use?

Since you're working with chocolate, you want to avoid regular paper cupcake cups because the chocolate will stick to them and it might be messy to peel off (though that's not an altogether bad thing).

When making chocolate treats (for example, for these delicious dried mango chocolate bites), I use candy cups or glassine cups. They are waxed, water and grease-resistant, and provide easier release of the chocolate (or cupcake).

In the video and the photos, you'll see that the cups I used are shiny inside –- they are foil cupcake cups. They will also work in this case.

And if you're wondering, they're great to use for cupcakes too. Since they're not transparent, they keep the batter hidden and makes for a prettier presentation.
Can I make these cookies on a regular baking sheet?

Absolutely. Just scoop the chocolate cornflakes onto a baking sheet lined with parchment paper like drop cookies. Try to pack them in tight little balls best you can.
What's the best chocolate to use?

You don't have to buy fancy couverture chocolates for this recipe. Chocolate chips will do just fine. I like semi sweet or dark, but you can also use milk chocolate.

Switch things up and use white chocolate if you like!
What can I substitute for peanut butter?

If you can't use peanut butter, cookie butter is a great alternative. It goes great with white chocolate as well.
Other customizations and substitutions

These chocolate and cornflake cookies are so easy to customize. Some ideas include:

– Using red and green M&Ms if it's Christmastime
– Substituting M&Ms with your favourite chocolate or using plain chocolate chips
– Adding chopped nuts like almonds or pecans
– Sprinkling rainbow sprinkles or toasted coconut
– Drizzling with butterscotch or caramel sauce
– Using choco cornflakes instead of plain cornflakes

Sky's the limit.
Shelf life and storage

Best to keep these cookies in an airtight container in the fridge. They should be good up to 2 weeks.
Other easy dessert recipes
If you're looking for other easy and simple fun desserts for kids for Easter or any occasion, check these out:
I bet the kids will love these fun tiger cupcakes, easter dessert cups and mini egg cookies too!
Happy cookie making!
Did you make chocolate cornflake cookies? I'd love to hear from you in the comments section below.
And let's get social! Find me on Facebook, Pinterest, Instagram, Twitter and YouTube.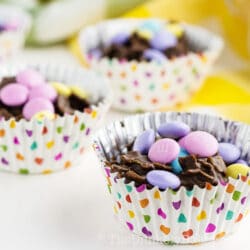 Chocolate Cornflake Cookies (No Bake)
These chocolate cornflake cookies are fun desserts to make with kids and kids-at-heart. You only need 5 ingredients and no baking needed!
Instructions
In a microwave-safe bowl, microwave 1 ¼ cups chocolate chips and ½ cup peanut butter on high in 30 second bursts – stirring in between – until completely melted.

Add a pinch of salt and stir until incorporated and smooth.

Add 2 cups of cornflakes and stir until cornflakes are covered in chocolate (see notes).

Scoop the mixture into your cupcake cups then top with M&Ms (see notes). Chill in the fridge overnight or until set.
Notes
It's OK to crush some, most or all of the cornflakes!
If you don't have a cupcake pan or candy liners, you can also scoop the mixture onto a baking sheet lined with parchment paper. Try to form them into tight balls.
Nutrition
Calories:
309
kcal
Carbohydrates:
29
g
Protein:
6
g
Fat:
19
g
Saturated Fat:
8
g
Cholesterol:
3
mg
Sodium:
121
mg
Potassium:
245
mg
Fiber:
3
g
Sugar:
18
g
Vitamin A:
150
IU
Vitamin C:
1.3
mg
Calcium:
35
mg
Iron:
3.8
mg
Nutritional information are estimates only.
Tried this recipe? Leave a star rating today!
Also tag @iamtheunlikelybaker I'd love to see your creations.