Looking for an easy easter dessert for kids and kids-at heart? Try these peanut butter chocolate cornflake clusters – fun to make and even funner to eat!
(Love chocolate? Check out these super chocolatey fudgy walnut brownies or these double chocolate cookies packed with chocolate chunks. Both are kid-approved!)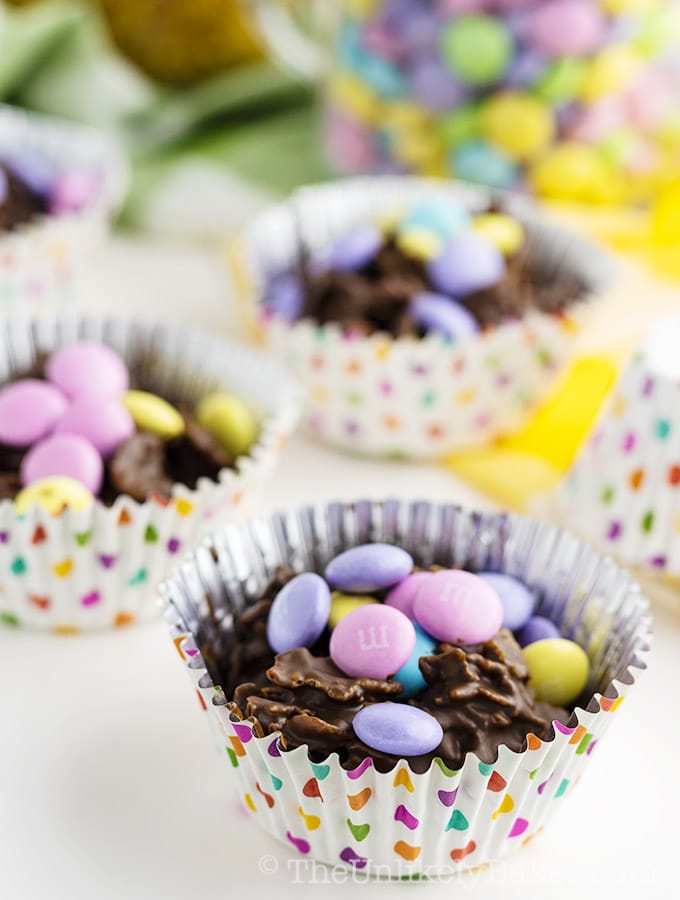 The easters of my childhood were very different. Filipinos typically get Monday to Sunday off, presumably so we can spend the whole week in prayer.
But to be honest with you, our family usually just spent that week on the beach! (We are heathens, I tell ya).
Regardless, there were no easter egg hunts and easter bunnies. It just wasn't part of our culture. So I had to look it up when I moved to Canada and I must say the history is super interesting.
I'm a fan of chocolates though, whatever the occasion. So I have fully embraced the chocolates-at-easter tradition. The chocolatier, the funner, the more colourful, the better.
And these peanut butter chocolate cornflake clusters fit the bill. It's such an easy and fun easter dessert that both kids and kids-at-heart will love making and eating.
Easter dessert the kids will love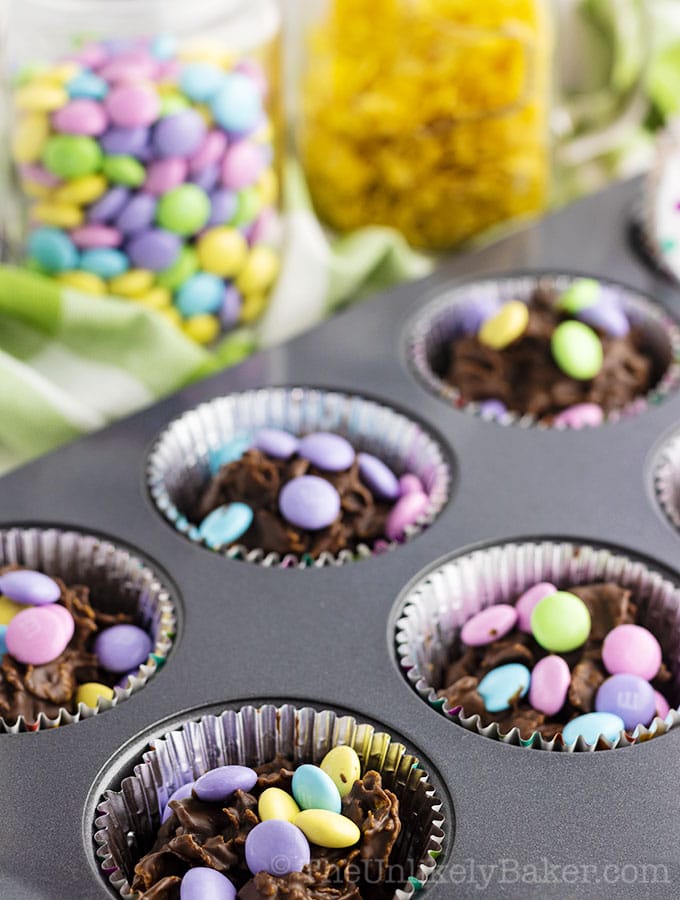 Kids love getting involved in "grown-up-stuff". They especially love showing off their creations!
These peanut butter chocolate cornflake clusters are the perfect little project to do with your little ones on easter because they're:
So easy to make. It's probably best if you melt the peanut butter and chocolate for them but once the mixture is safe enough for the kids to handle , they can pretty much do all the other steps with minimal supervision.
Fun to do. Gooey peanut butter chocolate, pastel M&Ms, colourful cupcake cups. What's not to love?
So cute! Grandma and grandpa will be so proud.
And awesome bonus for mom and dad – they are deee-licious!
(Another fun and colourful Easter dessert you can make with the kids using pastel M&Ms are these no-bake mini Easter cheesecakes. Check it out!)
How to make peanut butter chocolate cornflake clusters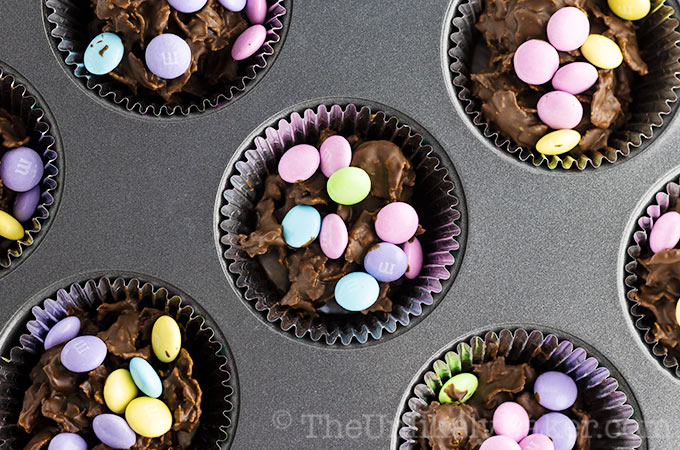 To make this easy easter dessert for kids, all you need to do is melt chocolate chips and peanut butter in the microwave. Forget about the double boiler. We want it as simple as possible.
Put the cornflakes in and stir. Don't worry about breaking some or majority of the cornflakes. Just have fun!
Scoop into cute little cupcake cups. Sprinkle with as many M&Ms (or your favourite chocolate) as you like.
Chill in the fridge until set. That's it! Watch the video to see just how simple and fun it is.
What is the best kind of cupcake cup to use?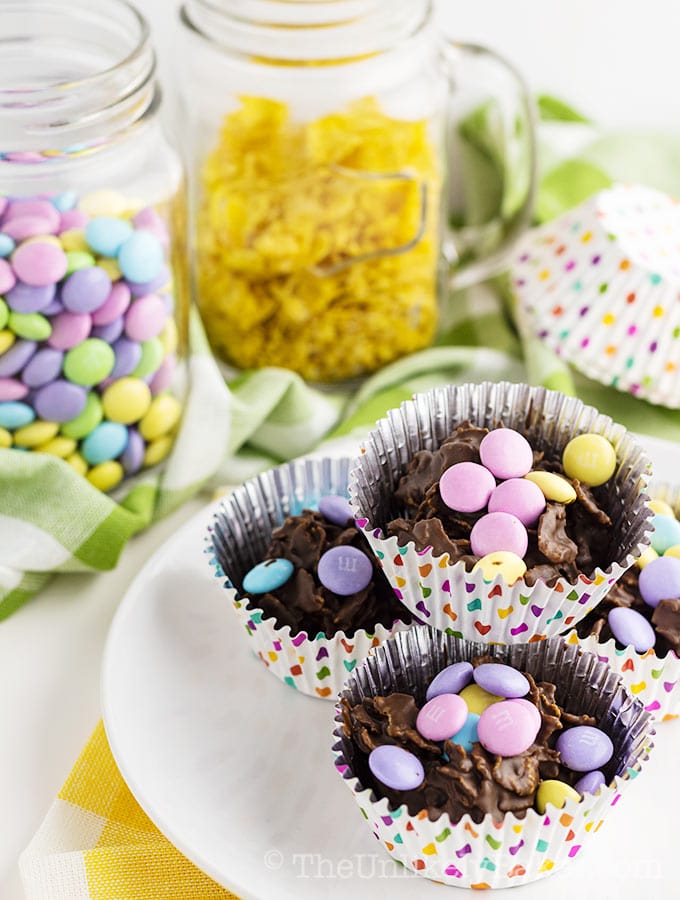 This site contains affiliate links. As an Amazon Affiliate, I earn commission from qualifying purchases. See Terms of Use for more information.
Since you're working with chocolate, you want to avoid regular paper cupcake cups because the chocolate will stick to them and it might be messy to peel off (though that's not an altogether bad thing).
When making chocolate treats, like when I made these delicious dried mango chocolate bites, I use candy cups
or glassine cups
. They are waxed, water and grease-resistant, and provide easier release of the chocolate (or cupcake).
In the video and the photos, you'll see that the cups I used are shiny inside – they are foil cupcake cups
. They will also work in this case.
And if you're wondering, they're great to use for cupcakes too. Since they're not transparent, they keep the batter hidden and makes for a prettier presentation.
You don't have to go out of your way to buy a bunch though. Another alternative is to just scoop
the clusters onto a baking sheet
lined with parchment paper
. Try to pack them in tight little balls best you can.
Or if you have a Silpat mat
or similar
, those would work too.
More easy easter dessert for kids
Looking for more fun foodie activities to do with your kids this easter?
Start the day with crunchy outside, soft inside double chocolate waffles. You can get the kids to help you with mixing the batter.
They'd also get a kick out of plating – topping with homemade whipped cream, drizzling with chocolate syrup, sprinkling with chocolate chips. It's going to be amazing.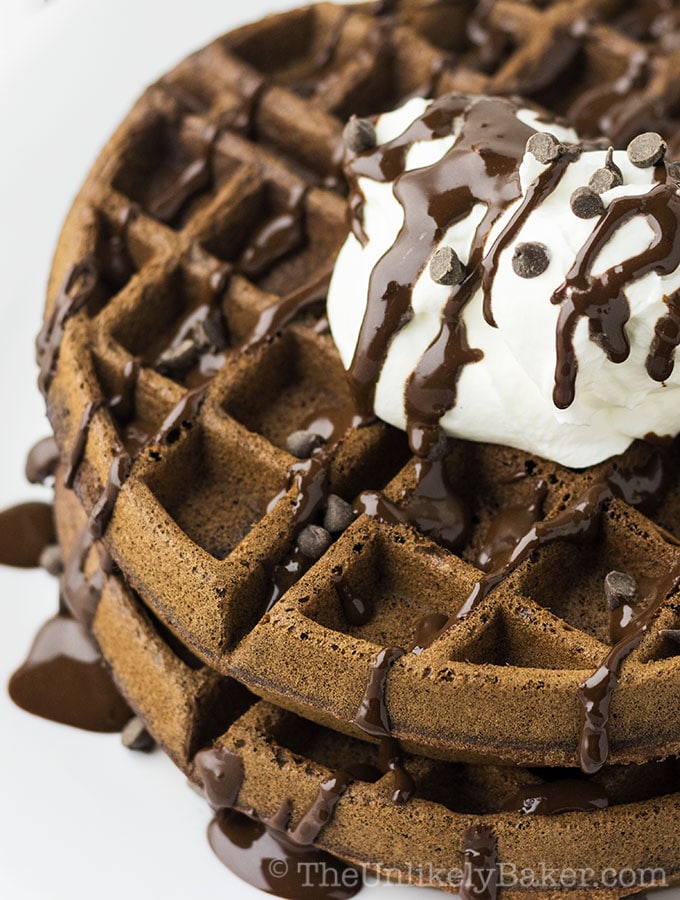 You can also bake some good old fashioned vanilla cupcakes. Then tell your little pastry chefs they can frost and decorate them however way they want! Let them go crazy with food colours
and sprinkles
and yes, more chocolates!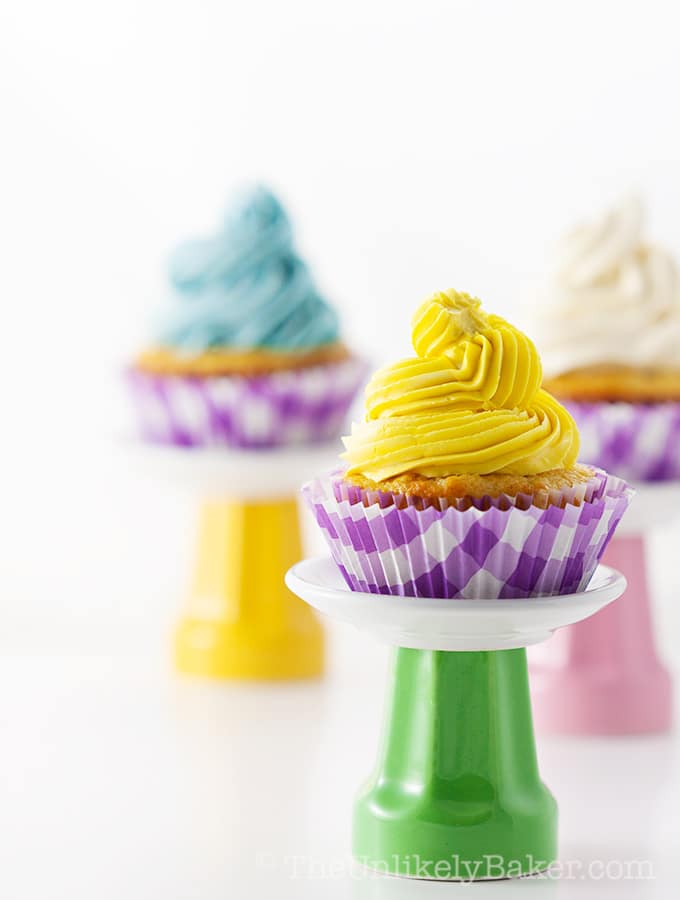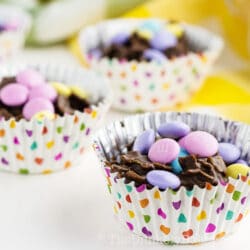 Easy Easter Dessert for Kids - Chocolate Cornflake Clusters
Looking for an easy easter dessert for kids and kids-at heart? Try these peanut butter chocolate cornflake clusters - fun to make and even funner to eat!
Instructions
In a microwave-safe bowl, microwave 1 1/4 cups chocolate chips and 1/2 cup peanut butter on high in 30 second bursts - stirring in between - until completely melted.

Add a pinch of salt and stir until incorporated and smooth.

Add 2 cups of cornflakes and stir until cornflakes are covered in chocolate (see notes).

Scoop the mixture into your cupcake cups then top with M&Ms (see notes). Chill in the fridge overnight or until set.
Notes
It's OK to crush some, most or all of the cornflakes!
If you don't have a cupcake pan or candy liners, you can also scoop the mixture onto a baking sheet lined with parchment paper. Try to form them into tight balls.
Nutrition
Calories:
309
kcal
Carbohydrates:
29
g
Protein:
6
g
Fat:
19
g
Saturated Fat:
8
g
Cholesterol:
3
mg
Sodium:
121
mg
Potassium:
245
mg
Fiber:
3
g
Sugar:
18
g
Vitamin A:
150
IU
Vitamin C:
1.3
mg
Calcium:
35
mg
Iron:
3.8
mg
Nutritional information are estimates only.
Happy easter!
Did you make peanut butter chocolate cornflake clusters? I'd love to hear from you in the comments section below.
And let's get social! Find me on Facebook, Pinterest, Instagram, Twitter and Flipboard.