The Filipino eggplant omelette (tortang talong) brings together the smokey, sweet taste of grilled eggplant and the homey flavour of meaty omelette. Eat it with rice, on its own, with potatoes, but ask any Filipino – always with ketchup!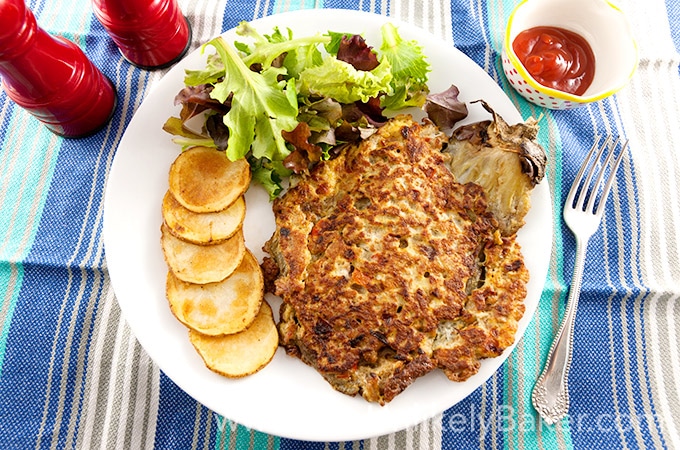 Summer isn't just about all these glorious fruits. Let's not forget the wonderful vegetables in season too! Visit your weekend farmer's market and there's an abundance of greens and yellows and yes, purples.
My eggplant vs. your eggplant
Eggplants in the Philippines look very different from eggplants here. There, they are skinny and about a foot long and are a lighter, brighter violet. Here, eggplants are as big as my head. As fat as papayas, almost. When I first arrived (FOB alert) I actually had a picture taken with an eggplant to send to my mom. I don't remember anymore if she was as amused as I was.
So versatile
Eggplants are a staple Filipino vegetable – it's put in stews and grilled and fried and pickled. Here, Red and I (ok, mostly Red…fine, all Red) have made eggplant lasagna and eggplant parmesan and all other fancy eggplant dishes. But we always return to the one we grew up eating – the tortang talong or eggplant omelette.
Filipino eggplant omelette
Filipino eggplant omelette is unlike any you've had before. Grilled, squished, fried, delicious!
Click To Tweet
Nope, we don't chop the eggplants up and throw them in with eggs like how you would a Spanish omelette. Tortang talong is made with grilled eggplant that is then squished, then topped with ground pork, then fried. It's delicious.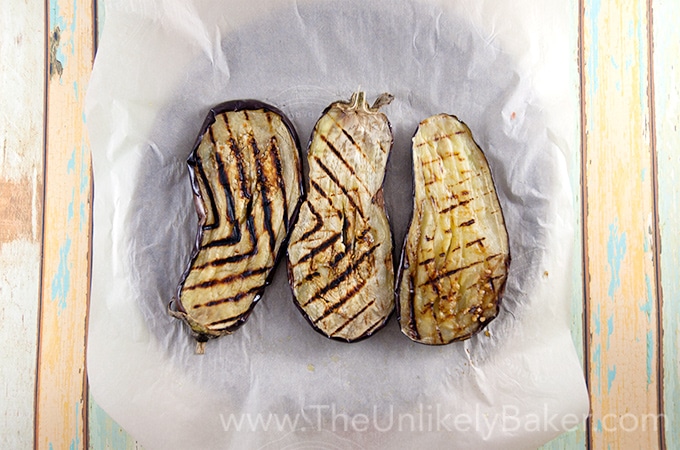 Say yes to ketchup
Filipinos are known for being rice fans so yes, eggplant omelette is typically eaten with rice but it's so filling that we've learned (yup, we had to unlearn eating rice) to eat it on its own or with a side of potatoes or salad.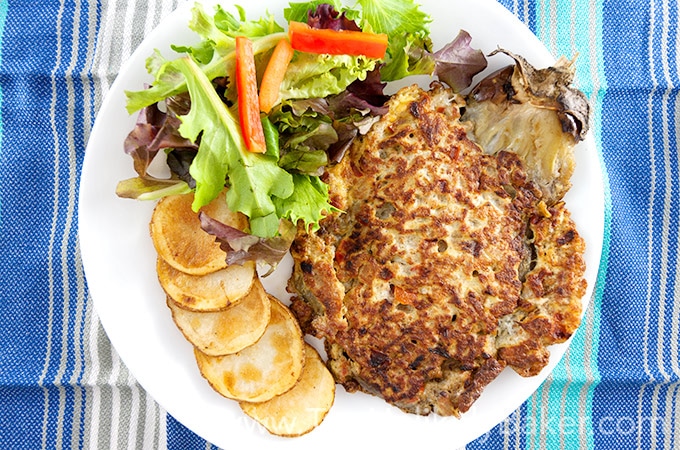 But one thing we can't (don't want to) unlearn? Eating torta with ketchup. Don't ask why, I don't know either. But tortang talong is traditionally eaten with ketchup. Hope you try this much-loved Filipino dish!
Filipino Eggplant Omelette (Tortang Talong)
The Filipino eggplant omelette (tortang talong) brings together the smokey, sweet taste of grilled eggplant and the homey flavour of meaty omelette.
Ingredients
1 eggplant (about 1 pound), sliced into 3 pieces lengthwise (see notes)
2 tablespoons olive oil
3 cloves of garlic, minced
1/8 cup chopped shallots
1/2 pounds ground pork
1/4 cup chopped red bell pepper
1/8 teaspoon Old Bay seasoning (optional)
Salt and pepper to taste
3 large eggs
Canola oil for cooking
Instructions
Take each eggplant slice and drizzle with olive oil on both sides. Grill (we use a stovetop grill) until soft, mushy and translucent (about 10-15 minutes on each side). Don't worry about having pretty grill marks - you'll see why later.
While the eggplants are grilling, cook your pork. Using a medium-sized skillet on medium heat, sauté 3 cloves of garlic and 1/8 cup chopped shallots in about a tablespoon of canola oil until the garlic turns brown (not burnt) and the shallots transparent.
Add 1/2 pounds ground pork. Stir and let it brown (about 5-7 minutes) before adding the 1/4 cup chopped red bell pepper. Stir for another 2 minutes to allow the flavours to incorporate. Add 1/8 teaspoon Old Bay seasoning, if using, and salt and pepper to taste.
Switch to low heat and let the pork mixture simmer for another 2 minutes. Remove from heat and equally divide into 3 portions. Set aside.
Let's go back to the eggplants. Once they are properly grilled and allowed to cool so they're not too hot to handle, peel the remaining skin off the edges (if they don't easily peel off, you need to grill them some more).
In a small bowl, beat 1 egg. Put a slice of peeled eggplant into the same bowl and mash with a fork until it's completely flattened and squishy. Add a portion of ground pork and mix to incorporate with the egg and eggplant completely.
Carefully slide off the eggplant from the bowl into a skillet with about 2 tablespoons of canola oil on medium heat and cook until it's golden brown (about 2 minutes) before flipping and cooking for another 2 minutes. Repeat for the rest of your eggplants.
Notes
When slicing the eggplant, slice off the two outer ends so you don't end up with two slices covered in skin.
https://theunlikelybaker.com/filipino-eggplant-omelette/
This delicious recipe brought to you by www.TheUnlikelyBaker.com | (c) 2016-2017
Happy cooking!
Did you make eggplant omelette? Tell me about it in the comments section below. I'd love to hear all about it.
Here are two other savoury recipes you might like:
Curious about Filipino cuisine? Here's more:
And let's get social! Find me on Facebook, Pinterest, Instagram, Twitter, Google+ and Flipboard.
Or subscribe so you don't miss a recipe. I promise I don't spam (I hate spam too).
Do you want to improve your food photography, monetize your blog or start your very own food blog? Check out my Blogging Resources.