Try this creamy chicken sopas recipe to make chicken macaroni soup, Filipino-style! Packed with vegetables, chicken and macaroni, it fills you up and keeps you warm on a cold winter day.
(Looking for another comfort food to keep the winter blues away? Try this Champorado Recipe or Filipino Chocolate Rice Porridge. It's a great excuse to eat chocolate for breakfast too!)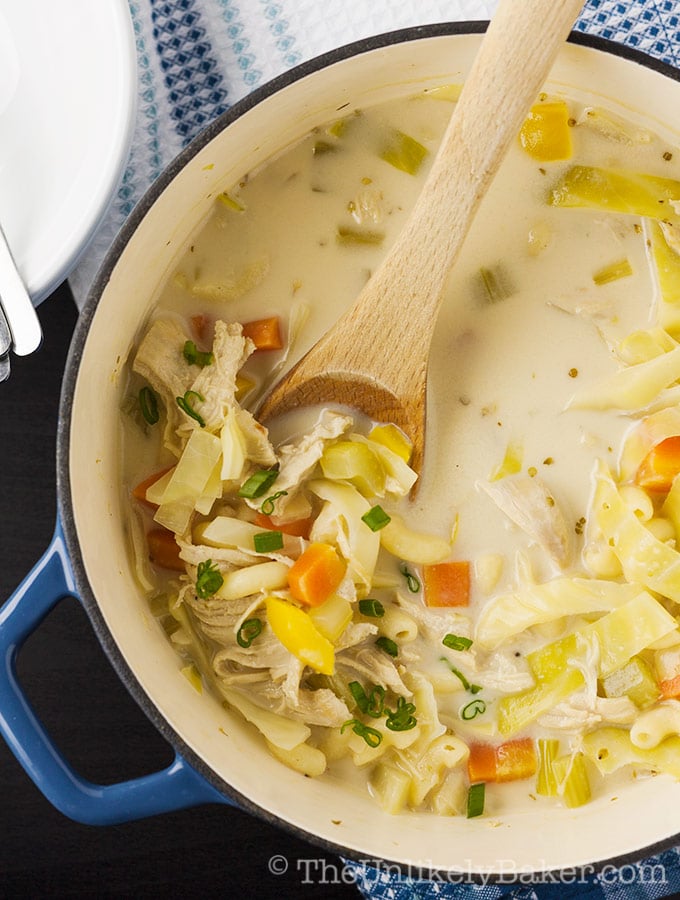 It's sunny at the moment; it actually looks like a nice warm day. But it's not. It's currently -19C/-2F and my trusty weather app says to expect heavy snow for another 109 minutes (how are they predicting that?!).
Winter is in full swing and I've accepted that (finally). My winter boots are always at the ready and my space heater and I have developed a very co-dependent relationship – it goes where I go lol.
So today I have a very special soup recipe for you. It's not just any soup (or sopas, the Tagalog word for soup). It's chicken sopas, chicken macaroni soup Filipino style.
It's hot and humid in the Philippines (ahhh humidex) but we love our sopas. Creamy, filling and made with simple ingredients, it's comfort food at its best.
Filipino sopas variations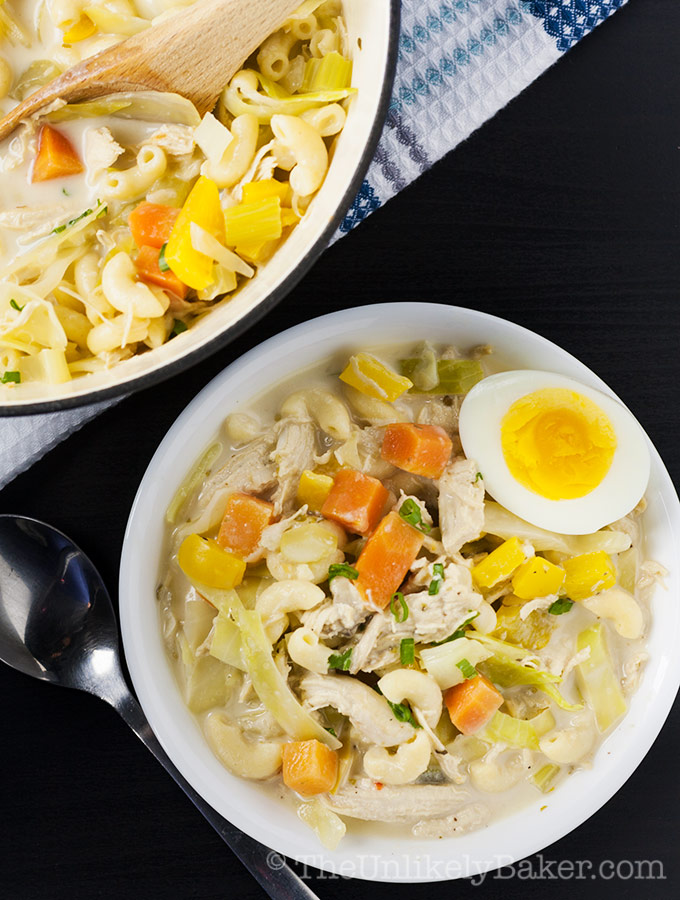 When Red and I are recreating dishes from home, we always argue about ingredients and the right way to cook it. Different families have different versions and that's true for our families too.
For example, I remember my mom's chicken sopas having corn kernels in it. Red thinks it's weird. They put hotdogs instead. Which I think is just bizarre (though admittedly, Filipinos love putting hotdogs in things, like in our beloved Filipino spaghetti!).
Ingredients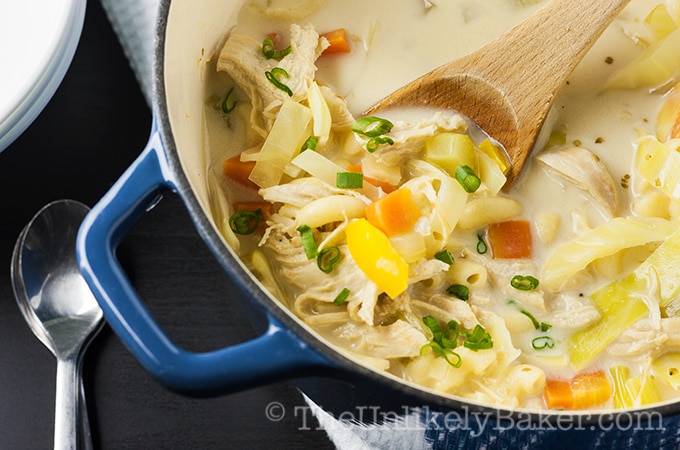 So this is our very own version – not exactly the same as the ones our moms make but just as delicious. You can add your favourite ingredients too and make it your own.
The ingredients for our chicken sopas recipe are simple and you probably already have them in your pantry, like:
You may need to buy evaporated milk
and elbow macaroni
but you can find them in just about any grocery store or supermarket.
Cooking tools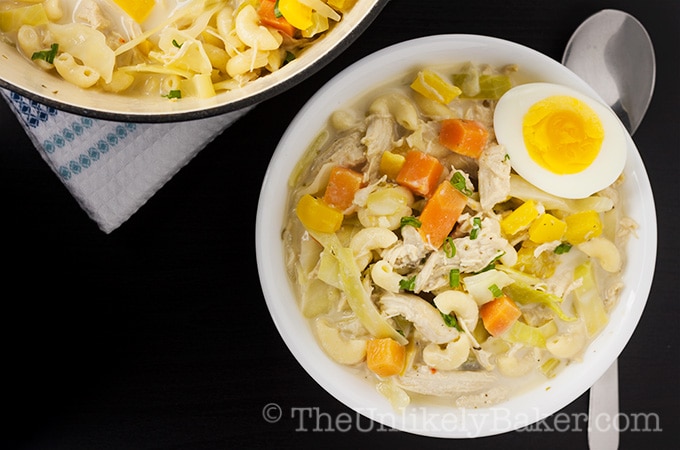 You don't need any special tools to make this sopas recipe either. Just your favourite knife
and chopping board
to prep the veggies and your favourite (large) pot to cook the chicken macaroni soup in.
Of course, plus points if you have a food processor
or a mandolin
as they make food prep quicker and that much more convenient.
Tips for cooking Filipino chicken macaroni soup
One thing you might notice while cooking sopas is how the macaroni somehow always manages to suck up almost all the liquid.
No matter how much broth you put in, in a matter of hours, your sopas would end up looking like mushy macaroni salad with massive pieces of macaroni.
I frankly I have no nice, scientific explanation but fear not – once you heat it up the macaroni releases some of that liquid and you get nice, lovely soup again.
Chicken sopas is perfect for winter or any season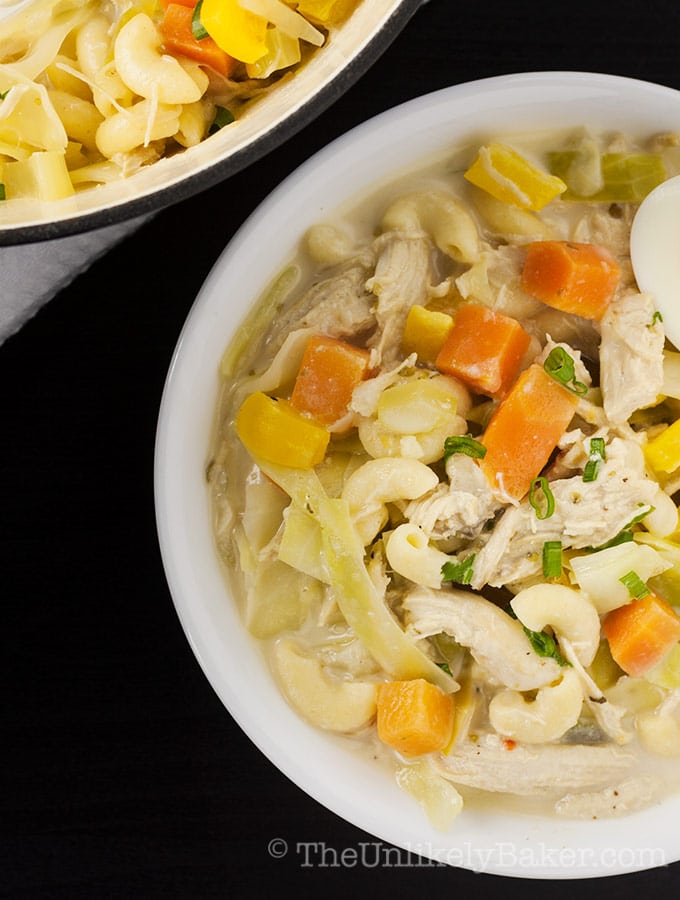 So if it's winter where you are, why not shake things up and try chicken sopas? It's great for lunch or dinner, for when you're nursing a cold, or simply when you're craving something warm to drive those winter blues away.
Not winter? Hope you try it anyway. It's delicious!
More delicious Filipino recipes
If you're looking for more delicious Filipino recipes to try, you can start with this easy and refreshing young coconut (buko) salad with apples.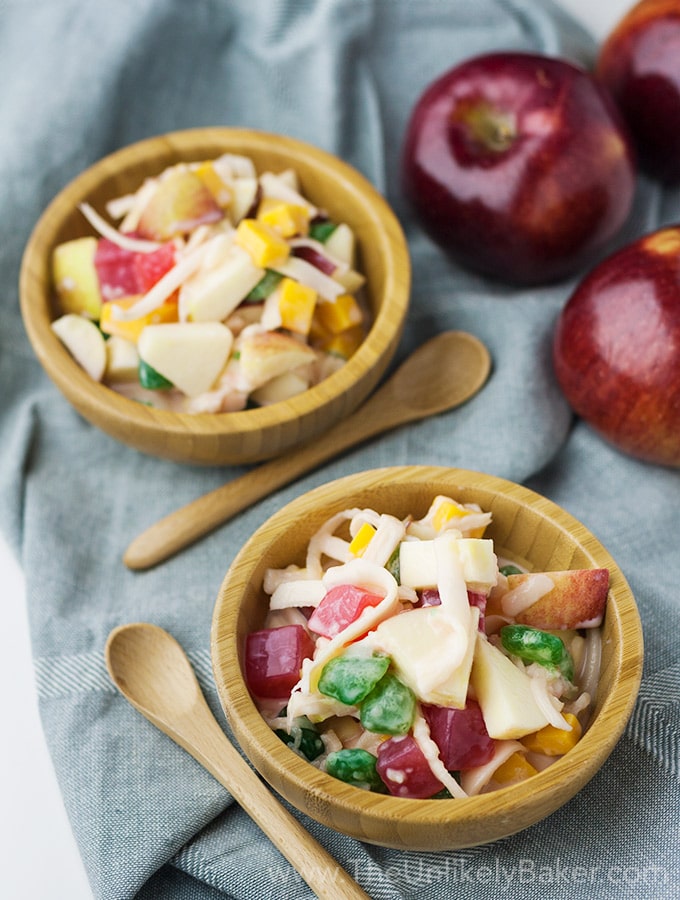 Pancit canton is a hit at every party so this delicious recipe is definitely a keeper.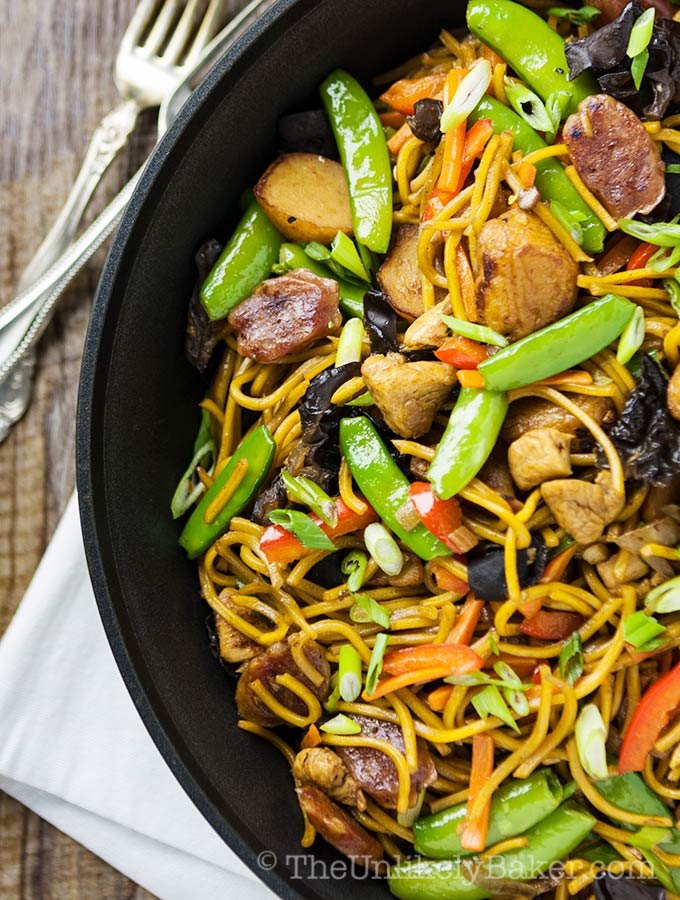 Just looking for something quick, simple and easy? Cannot get any simpler than Filipino hot chocolate.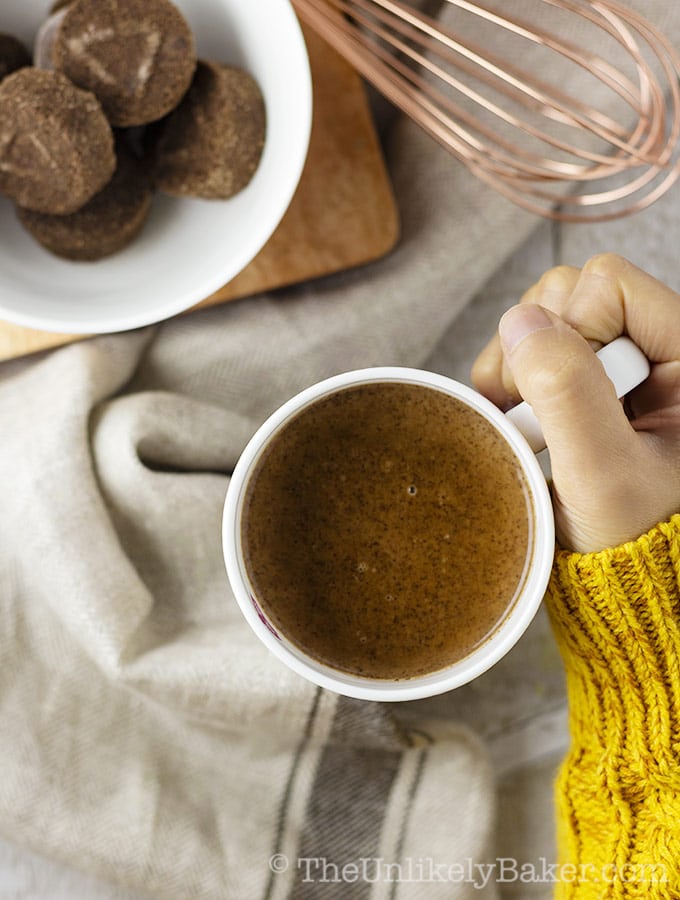 Also try this easy chicken tocino recipe from The Cooking Frog. It's delicious and so simple to make!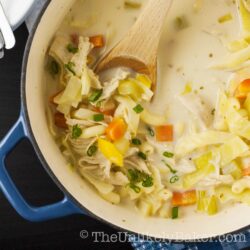 Chicken Sopas Recipe (Chicken Macaroni Soup Filipino Style)
Try this creamy chicken sopas recipe to make chicken macaroni soup, Filipino-style! Packed with vegetables, chicken and macaroni, it fills you up and keeps you warm on a cold winter day.
Ingredients
1.4

lbs

boneless chicken breast

1

pc

sweet onion

diced

6

cloves

garlic

minced

2

tbsp

canola oil

2

tsp

salt

2

tsp

dried oregano

½

tsp

ground black pepper

6

cups

chicken broth

2

cups

elbow macaroni

4

stalks

celery

diced

2

pcs

carrots

diced

1

pc

bell pepper

seeded and diced

½

pc

cabbage

shredded

1

12 oz can

evaporated milk

boiled egg

to serve

sliced green onions

to serve
Instructions
Using a large pot on medium high heat, add chicken breast in about 4 cups of boiling water. Season with salt. Cook for about 10-15 minutes or until the chicken is cooked through.

Remove the chicken from heat and allow to cool before shredding (we use 2 forks) and set aside. Keep the chicken stock for use later.

In another large pot on medium high heat, sauté 1 onion and 6 cloves of garlic in oil until soft (about 2 minutes). Add your shredded chicken, stir, and cook for another 3 minutes or so (you want the chicken to brown a little).

Add 2 tsp salt, 2 tsp dried oregano and ½ tsp black pepper. Continue cooking for another 2 minutes.

Pour 6 cups of chicken broth and 2 cups of chicken stock. Bring to a boil (about 10 minutes).

Then add the rest of the ingredients (except the cabbage and the milk). Stir to combine and bring to a boil again until the macaroni is close to al dente (about 8 minutes).

Stir in the cabbage and the milk. Bring down to a simmer until cabbage is cooked (10-12 minutes). Serve immediately. Top with boiled egg and green onions (optional).
Nutrition
Calories:
191
kcal
Carbohydrates:
19
g
Protein:
16
g
Fat:
4
g
Cholesterol:
33
mg
Sodium:
496
mg
Potassium:
389
mg
Fiber:
1
g
Sugar:
1
g
Vitamin A:
105
IU
Vitamin C:
1.7
mg
Calcium:
23
mg
Iron:
0.9
mg
Nutritional information are estimates only.
Tried this recipe? Leave a star rating today!
Also tag @iamtheunlikelybaker I'd love to see your creations.
Happy cooking!
Did you make this chicken sopas recipe? I'd love to hear from you in the comments section below.