Pancit canton recipe that helps you make this favourite Filipino dish at home with ingredients that are readily available in your local supermarket.
(Looking for other Filipino recipes? Try this sopas recipe, the ultimate Filipino comfort food. Or this no-fail creamy leche flan recipe, a favourite Filipino dessert.)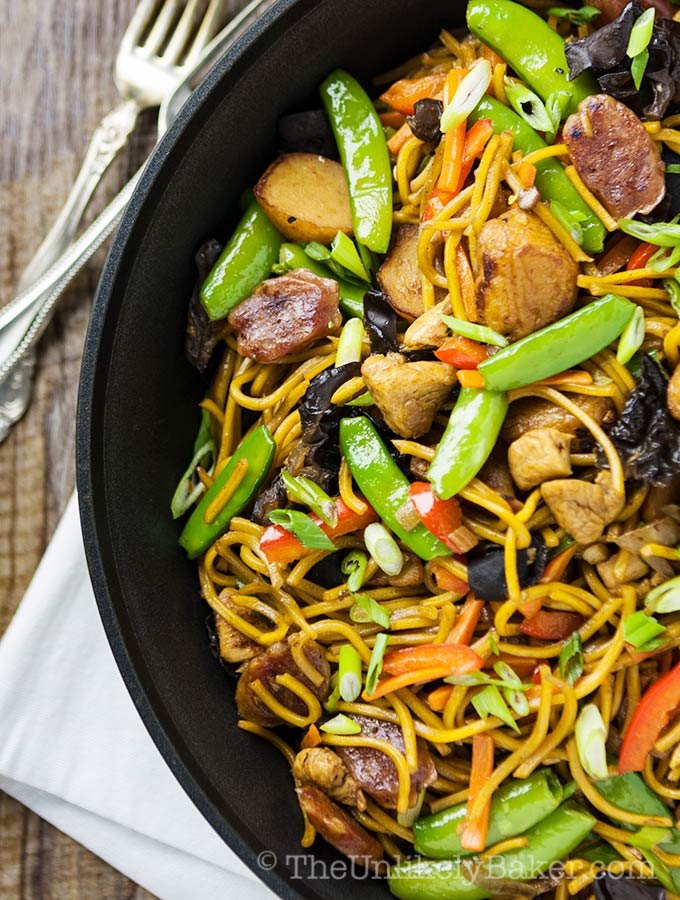 Whenever people find out I'm from the Philippines, I almost always get asked: do you have a pancit recipe (pronounced pan-sit)? They always walk away disappointed because I'd always say no.
Well not anymore! Now I have a fabulous pancit canton recipe and the best part is, the recipe uses ingredients readily available here while still keeping that traditional pancit canton taste. Win-win!
What is pancit?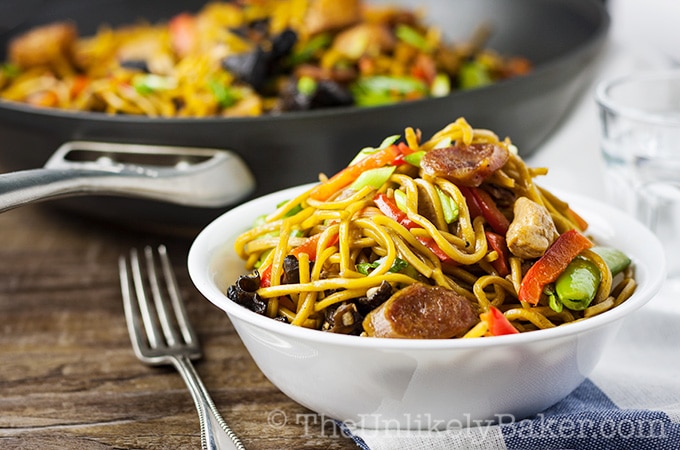 Filipinos grew up eating pancit but even non-Filipinos love it (they also love lumpia – I'm still working on that lol). But what is it?
You take some noodles, stir-fry it with soy sauce, some vegetables like snow peas and meat like chicken breast. Add some Chinese sausages or Chinese chorizo then serve it as a main or side.
So in a way it's very similar to chow mein. But also very different.
What is canton noodle?
This recipe uses canton which is a type of egg flour noodle. You can find rounded ones like spaghetti or flat ones like fettuccini.
They've been dried and precooked so it doesn't take long to fully cook them. A few quick minutes is all it takes.
What are the different types of pancit?
There are different kinds of noodles you can use for pancit, like pancit bihon, pancit habhab, etc. Each one looks and tastes different though the preparation is for the most part the same.
What is common is that it's a staple in any Filipino gathering because pancit signifies long life. I'm not sure why that is, though it's a common belief among Filipinos that noodles = luck and abundance.
So if not pancit, sweet and salty Filipino spaghetti would most likely be on the menu instead.
How to cook pancit canton recipe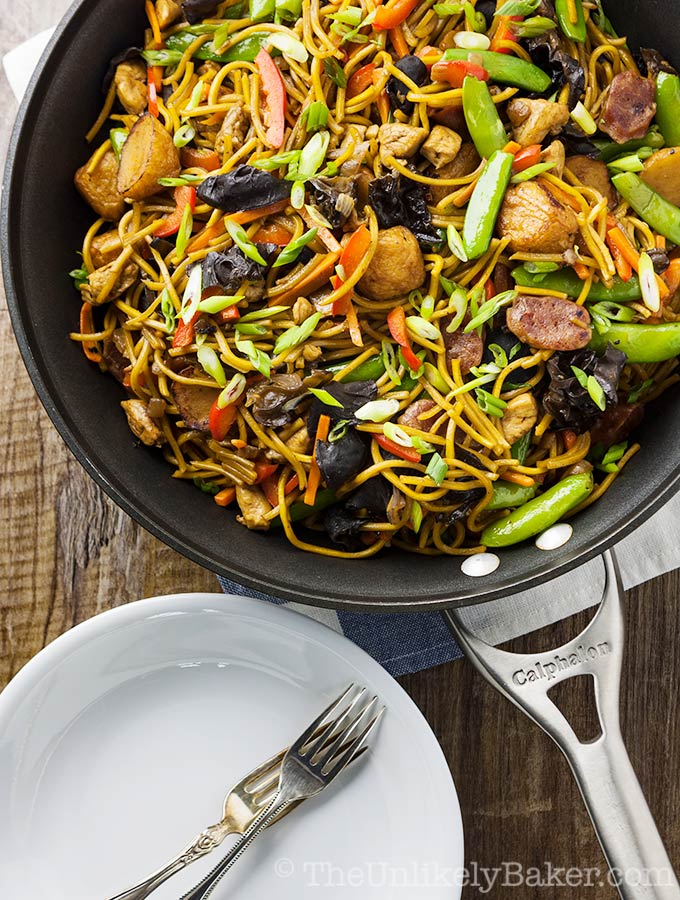 This site contains affiliate links. As an Amazon Affiliate, I earn commission from qualifying purchases. See Terms of Use for more information.
First you stir fry your vegetables in a tablespoon of oil on medium/high heat. We like using a wok
but any deep large skillet will do.
Remove the vegetables from the pan and set aside.
Using the same pan (yes, everything happens in 1 pan so less clean-up!) cook your garlic and onions until the onions are soft and translucent. Then add your chicken and cook until lightly browned.
You want to add your fish balls
now then your Chinese sausage
. Watch your meat so they don't get burned. Lower the heat if needed.
At this point add your chicken broth, season and bring to a boil. Then add your canton noodles
and stir just until it absorbs all that tasty liquid. Add the black fungus
(also called dried black wood ear mushrooms) then remove from heat.
Add back the vegetables you cooked earlier, sprinkle some chopped green onions and drizzle with sesame oil
. You're done!

Ingredients for pancit canton
Don't be intimidated by the list of ingredients. The key to this pancit canton recipe is mis en place. Once you have everything ready, cooking is a breeze.
Speaking of ingredients, we buy all these in our local supermarket. Just look in the Asian or International aisle for things like flour stick noodles (apparently that's what canton noodle is in English, who knew?), Chinese sausage or chorizo and soy sauce. The rest are easy.
If your local store doesn't carry some of these items, you are certainly going to find them in an Asian supermarket. Or there's always amazon!
Tools you need to cook pancit canton
The tools you need to cook pancit are pretty basic too.
Apart from the wok or the large, deep skillet, it would help to have a mandoline
or a food processor
for all that chopping.
That's it, pancit. Plus other Filipino recipes
So go ahead, take the plunge and make pancit today. It's easier than you think. Plus, it's delicious and remember, it brings good luck!
For other Filipino recipes, you might try filipino turon for a snack. Top it with vanilla ice cream, drizzle it with salted caramel sauce and you're golden.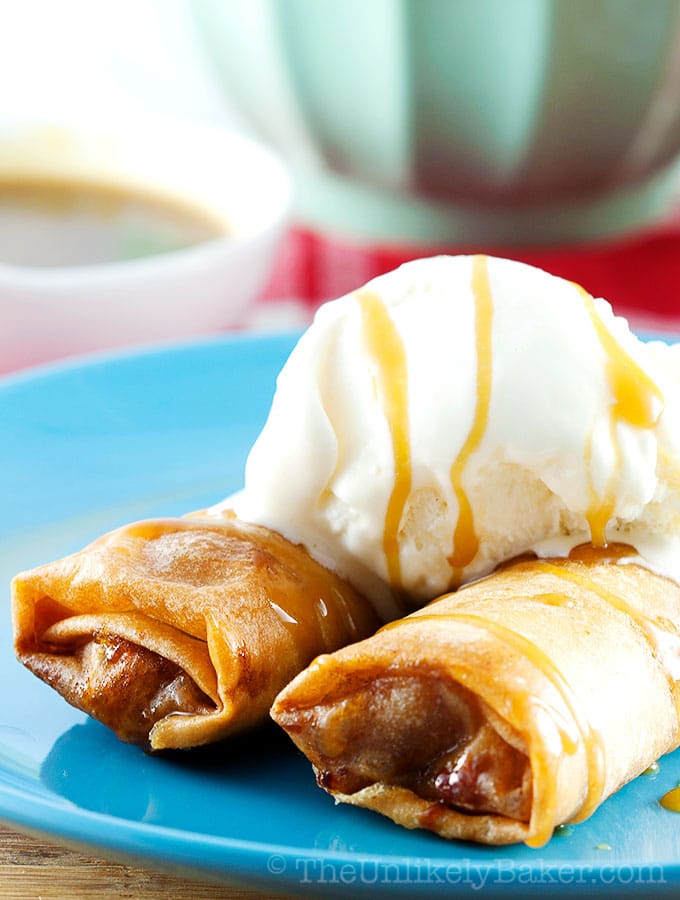 If you're in a baking mood, why not try this easy, traditional pandesal recipe? It will not only make your kitchen smell wonderful, it would also give you a batch of the softest, fluffiest bread rolls ever.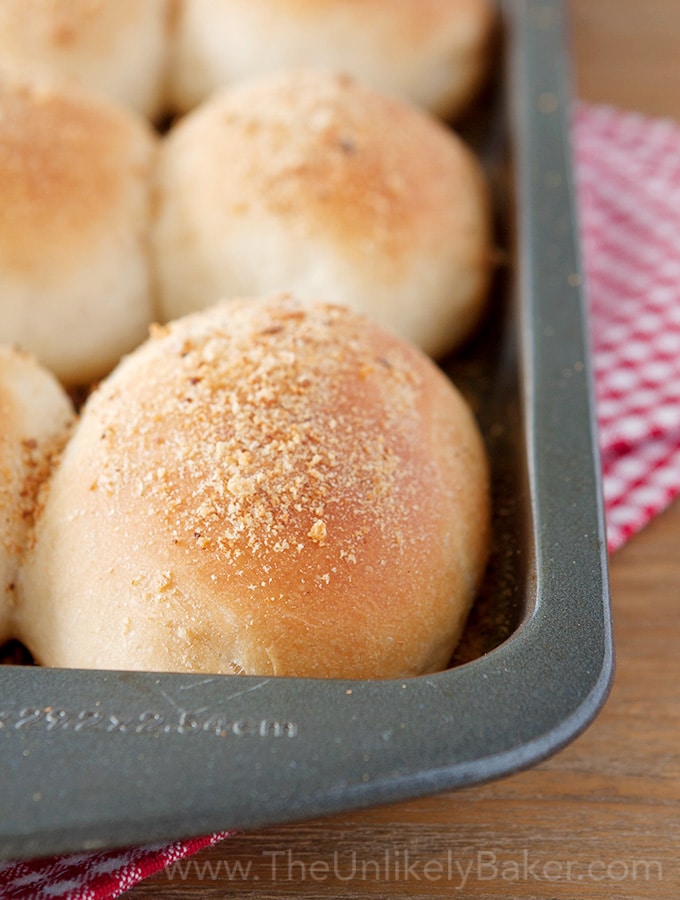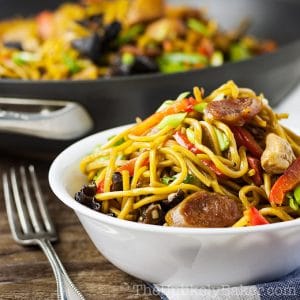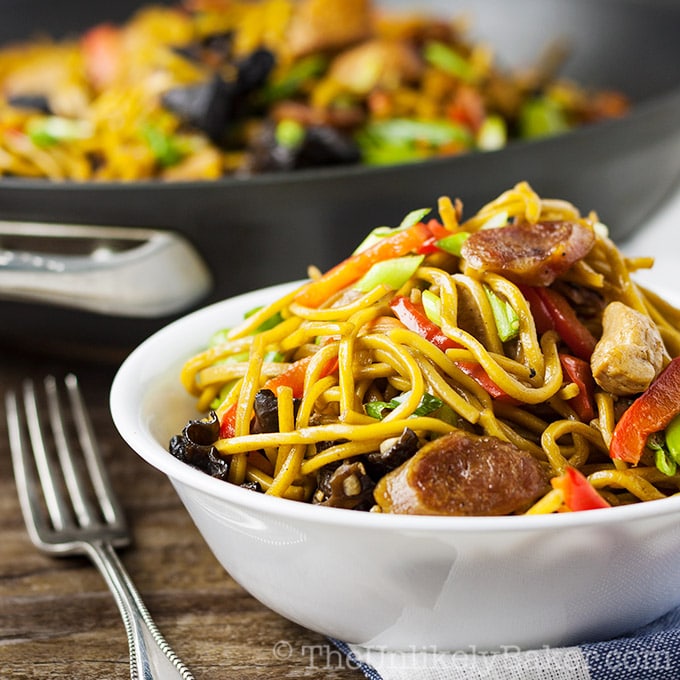 Pancit Canton Recipe (Filipino Stir-Fried Noodles)
Pancit canton recipe that helps you make this favourite Filipino dish at home with ingredients that are readily available in your local supermarket.
Ingredients
2

tbsp

vegetable oil

divided

¾

cup

julienned red bell pepper

¾

cup

julienned carrots

1

cup

snap peas

2

tbsp

minced garlic

½

cup

chopped onions

½

cup

sliced chicken breast

1

cup

fish balls

sliced in half

½

cup

sliced Chinese sausage

also known as Chinese chorizo

3

cups

chicken broth

2

tbsp

soy sauce

1

tbsp

oyster sauce

salt

to taste

pepper

to taste

1 16oz

pack

canton or flour stick noodles

¼

cup

dried black fungus

see note

1

tsp

sesame oil

½

cup

chopped green onions

divided
Instructions
Add 1 tbsp vegetable oil to a wok or a deep, large skillet on med/high heat. Add 3/4 cup red bell pepper, 3/4 cup carrots and 1 cup snap peas. Stir and cook for 1-2 minutes. Remove from pan and set aside.

Add another tbsp of oil to the pan and sauté 2 tbsp garlic with 1/2 cup onions until the onions are soft and translucent. Stir in 1/2 cup chicken and cook until lightly browned.

Add 1 cup fish balls and cook for 2 minutes. Add 1/2 cup Chinese sausage and cook for a minute more. Be careful not to overcook or burn the meats. Lower your heat if necessary.

Pour 3 cups chicken broth. Season with 2 tbsp soy sauce, 1 tbsp oyster sauce, salt and pepper to taste. Stir then allow the mixture to boil.

Add back your cooked vegetables, half of your chopped green onions and 1 tsp of sesame oil. Stir until combined.

Sprinkle the rest of your green onions before serving. Best served warm.
Notes
To prep dried black fungus, follow package instructions. What you essentially need to do is soak it in water and wait for it to bloom to about 3x its size (about 5 minutes). Once it does, remove from the water, pat dry and chop.
Nutrition
Calories:
157
kcal
Carbohydrates:
8
g
Protein:
8
g
Fat:
10
g
Saturated Fat:
5
g
Cholesterol:
18
mg
Sodium:
542
mg
Potassium:
308
mg
Fiber:
1
g
Sugar:
2
g
Vitamin A:
2640
IU
Vitamin C:
28.5
mg
Calcium:
23
mg
Iron:
1
mg
Nutritional information are estimates only.
Happy cooking!
Did you make this pancit canton recipe? I'd love to hear from you in the comments section below.
And let's get social! Find me on Facebook, Pinterest, Instagram, Twitter and Flipboard.