Filipino style spaghetti is unlike any spaghetti you've had before. It's sweet, made with banana ketchup, topped with a mountain of sharp cheddar cheese and has hotdogs! Get ready to spaghetti, Filipino-style (yeah I don't know what that means either lol).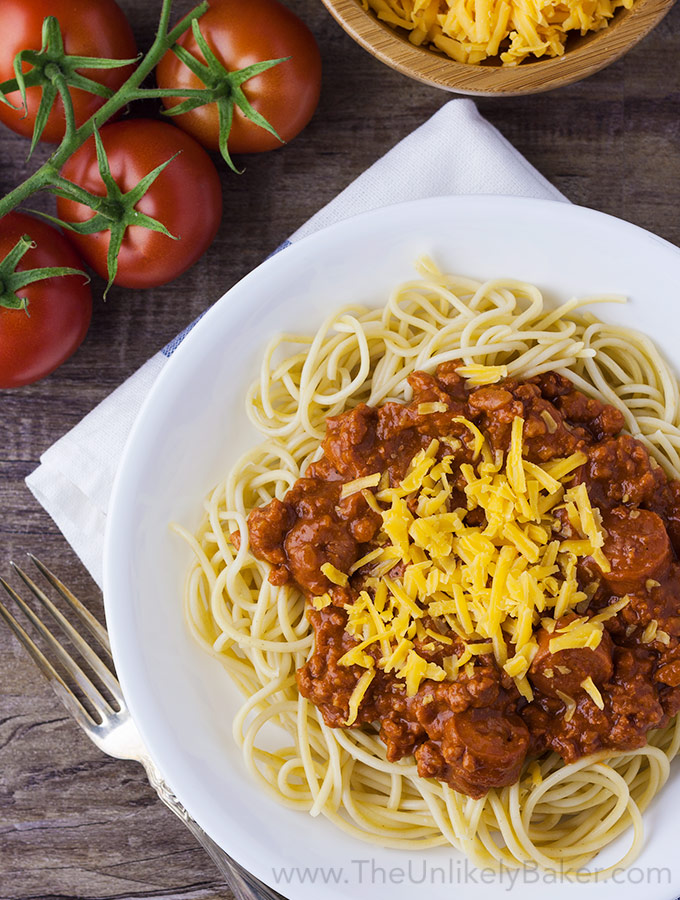 Just like that, Thanksgiving (American and Canadian!) is over and our brain automatically goes on Christmas mode. Christmas for Filipinos started months ago in September actually. That's when the weather turns a tad cooler there and Christmas carols start playing on the radio.
We start decorating and singing Christmas carols pretty early at home here in Toronto too; I'd say late October. Red used to insist we don't put up decorations until after Halloween but I've fixed that. Just watch. A few more years and with my powers of inception our Christmas lights will be blinking in September too.
Sorry. I digress. Christmas just makes me all excited! And Filipino style spaghetti is one of my all time favourite things. And I'm so happy to be sharing this recipe with you.
Filipino style spaghetti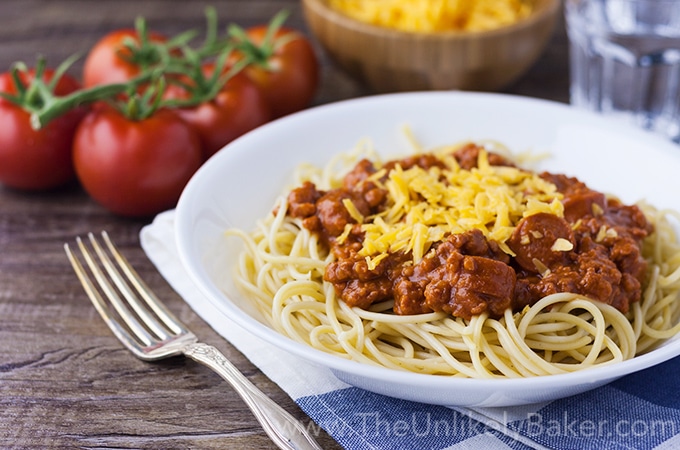 So what makes it so different? Unlike Italian spaghetti which is more on the acidic side because of all the tomatoes, Filipino spaghetti is sweeter; it actually has sugar in the list of ingredients.
Banana ketchup too. It's more common in the Philippines (Jufran
, anyone?) with many considering tomato ketchup too sour.
It also has hotdogs in it (just like how Sheldon
likes it!). Filipinos are great at improv and since beef is expensive, we use the cheaper, more readily available hotdog to make the dish meatier.
Staple holiday dish
Related: Ube Cake (Filipino Purple Yam Cake)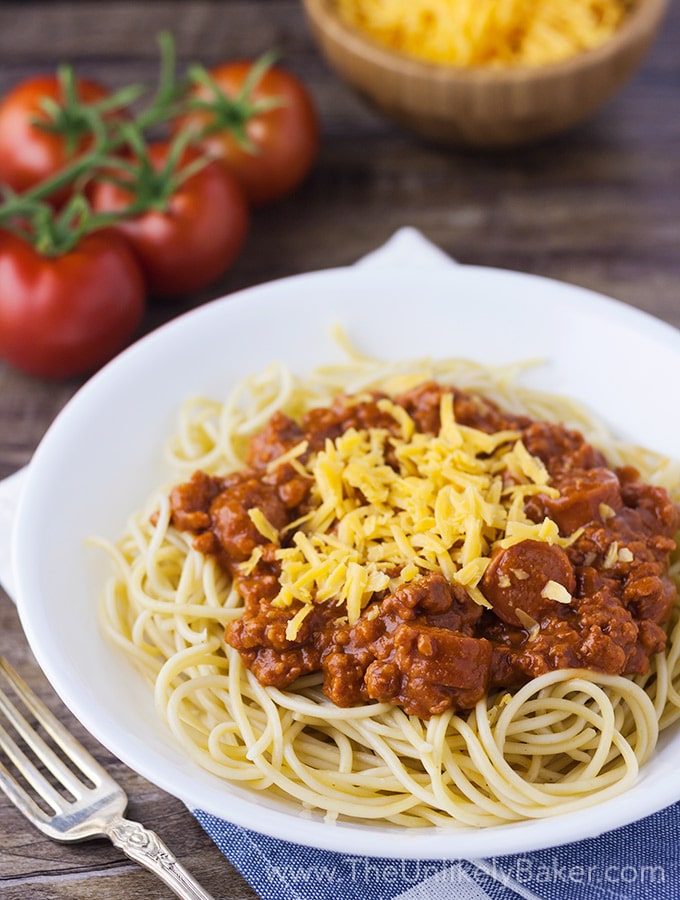 Personally, I think Jollibee spaghetti is a really great example of how it should be done (a close second would be the spaghetti from Makati Supermarket of the 80s) but every family has its own take on the dish. Much like how you'll find a million and one variations of adobo.
What's common is its place on our tables. Whether it's Noche Buena, Christmas Day, or New Year's Eve; Father's Day, someone's birthday or graduation, you'd most likely find spaghetti on Filipino tables.
It's a great weekday meal too. Who says everyday can't be special? Hope you try it!
Related: How to Take Stunning Food Photos
Sweet and Salty Filipino Style Spaghetti
Filipino style spaghetti is unlike any spaghetti you've had before. It's sweet, made with banana ketchup, topped with a mountain of sharp cheddar cheese and has hotdogs!
Ingredients
1 tablespoon oil (we used canola oil)
1/2 pound (220 grams) hotdogs (about 6 pieces), sliced into 1/2 inch thick pieces
1 medium onion, chopped
2 garlic cloves, minced
1 1/2 pounds (680 grams) ground beef
15 ounces (425 grams) tomato sauce
2 ounces (55 grams) tomato paste
4 ounces (120 grams) banana ketchup
2 tablespoons heavy cream
1/8 cup (25 grams) granulated sugar (see notes)
Salt and pepper to taste
1 pound (450 grams) spaghetti, cooked al dente
Sharp cheddar cheese, grated
Instructions
Using a large saucepan on medium heat, fry hotdog in oil until lightly brown around the edges. Remove from pan.
Using the same pan, sauté garlic and onion until translucent. Stir in ground beef and cook until the beef is browned (5-6 minutes).
Add the hotdogs, tomato sauce, tomato paste, banana ketchup, heavy cream and sugar. Season with salt and pepper. Stir to combine. Cover and let simmer for 15 minutes.
Serve meat sauce on top of cooked spaghetti. Sprinkle with a generous helping of cheddar cheese.
Notes
When tasting the meat sauce on its own, it will taste very sweet. So you might end up over-seasoning it with salt to offset the sweetness. A better way is to taste the sauce with some spaghetti. It will taste sweeter than your usual bolognese - what you're looking for is a nice sweet and salty balance.
https://theunlikelybaker.com/filipino-style-spaghetti/
This delicious recipe brought to you by www.TheUnlikelyBaker.com | (c) 2016-2017
Happy cooking!
Have you tasted Filipino style spaghetti? I'd love to hear from you in the comments section below.
Here are other ideas for your holiday menu:
And let's get social! See the sidebar (if on your desktop) or the bottom of this page (if on your mobile) to see how we can connect.
Or subscribe so you don't miss a recipe. I promise I don't spam (I hate spam too).
Do you want to improve your food photography, monetize your blog or start your very own food blog? Check out my Blogging Resources.