Peach clafoutis – something new and different to try with peaches this year! It's made of gorgeous peaches arranged beautifully on a baking dish then covered in a batter that results to a dessert that's crepe-like and golden brown on the outside, flan-like and creamy on the inside. Easy, unique and so delicious!
(Want to try other easy, French-inspired desserts? Try making mini cherry galettes – they're your favourite cherry pies without all the work!)
Gotta love fresh peaches in the summer. Sweet, fragrant and abundant!
I'd usually make peach cobbler or a peach crisp but I thought this year it's time to add to my peach dessert arsenal and bake something new.
There are loads of peach dessert recipes out there and I picked clafoutis because it has a fancy name. Really. That's why.
Don't let the fancy name fool you though. Clafoutis is a rustic French dessert that's easier to make than to pronounce. Let's get to it!
What is clafoutis?
First of all, what is clafoutis (also sometimes, clafouti)? It's a rustic French dessert made with fruit and a pancake-like batter.
It's traditionally made with cherries but stone fruits work great too. This recipe uses fresh peaches but you can also use plums, apricots and pears.
How to make peach clafoutis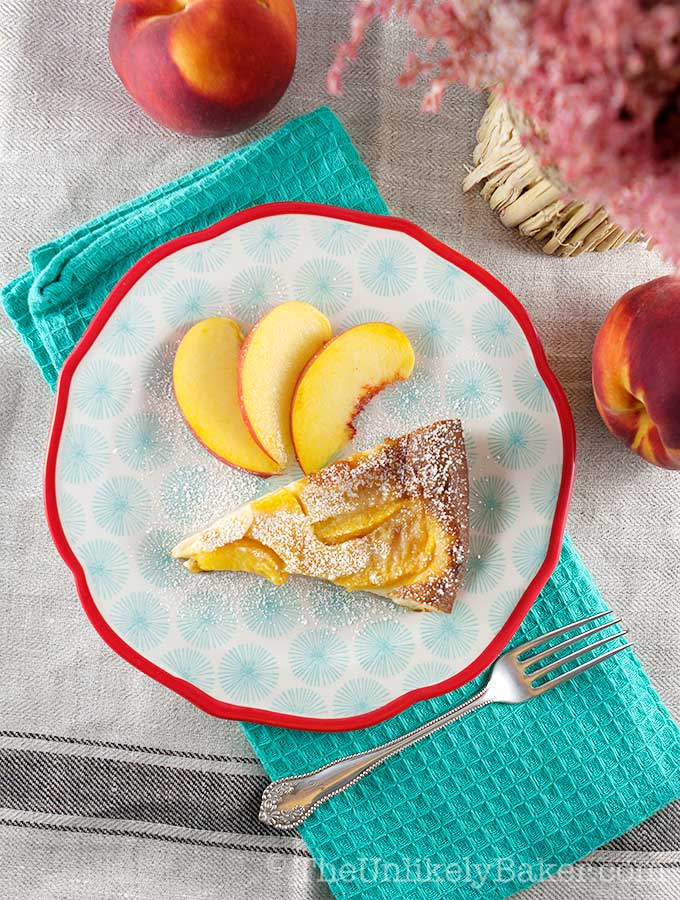 Making peach clafoutis is easy. Like I mentioned, the batter is similar to pancakes or crepes (for the detailed recipe with specific measurements, scroll to the bottom for a printable recipe card).
First you sift your dry ingredients (flour, salt and sugar) and set that aside.
Then you whisk your wet ingredients (eggs, milk, cream and vanilla extract until incorporated).
You mix the two together by making a well in the middle of your flour mixture and adding your egg mixture into it a little at a time.
It's best to stir by hand so you don't over beat the batter, but you also need to make sure each addition is well combined before adding the next one.
Lastly, add melted butter and give your batter a final stir.
Set aside the batter for a moment and arrange your peach wedges on your baking dish. You can follow any pattern you like. Just remember that the peaches should only consist of a single layer; don't place them on top of each other.
Pour your batter over your fruit and bake for 60-75 minutes or until the clafoutis is set – golden brown on top, firm but still a little wobbly, and a knife inserted in the middle comes out clean.
Ingredients for fresh peach clafoutis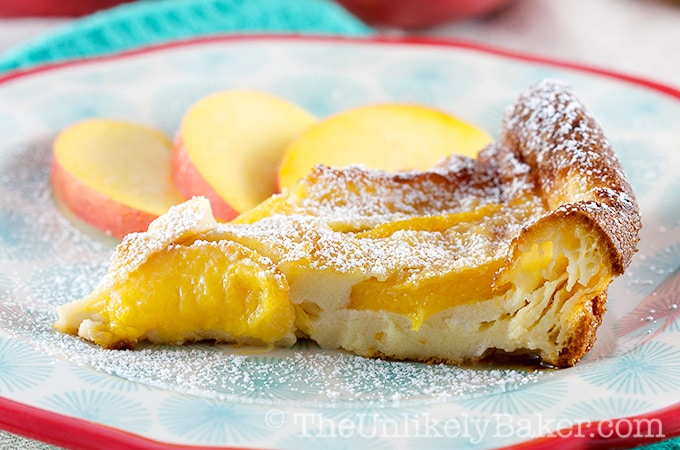 You probably already have all the ingredients for peach clafoutis in your pantry:
All purpose flour

Granulated sugar

Eggs

Milk

Heavy cream

Vanilla extract

Unsalted butter
And of course, fresh peaches.
Tools you'll need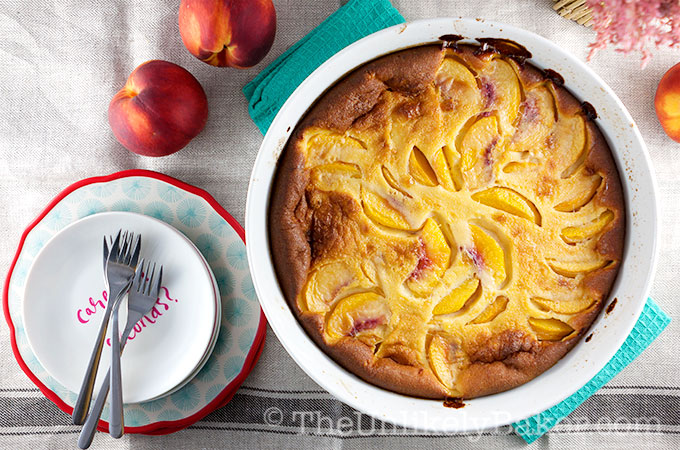 No special tools are necessary to make this dessert. All you need are staples like: bowls, whisks, measuring cups and spoons.
I used a 2L baking dish for my clafoutis; if you don't have one, you just need to make sure your baking dish is big enough so you can arrange all your peaches in a single layer and hold all the liquid with about an inch to spare on top to avoid risks of spillage.
Recipe FAQs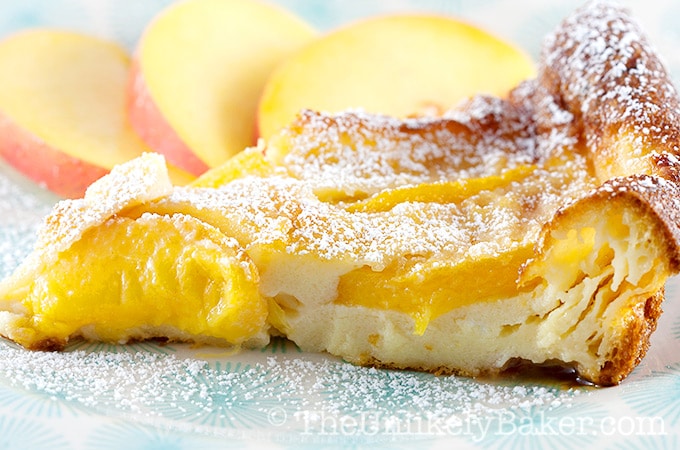 Here are some common questions I've been asked about this recipe.
How can I ensure my clafoutis is cooked in the middle?

A friend of mine tried my peach clafoutis recipe and she says hers never fully cooked inside while the top part got burnt. After some trouble-shooting, we determined that her oven temperature was way off (don't worry, we're still friends lol!).

Which is why I always recommend investing in an oven thermometer. It's inexpensive and it's such a handy tool – it tells you whether your oven runs too hot or too cold and enables you to adjust baking temperature and/or time accordingly.

Also, whether you're baking clafoutis or cake, and you notice that the sides or tops are browning too soon, loosely cover the top with aluminum foil and continue baking. This will allow the middle to catch up without the rest getting burnt.
How can you tell if the clafoutis is done baking?

Now how can you tell if your peach clafoutis is done? Simple. Insert a knife in the middle and if it comes out clean, you can take the clafoutis out of the oven and enjoy!

Are there still bits of wet batter sticking to it? Then it needs to stay in the oven a little longer.
What goes well with peach clafoutis?

Peach clafoutis is usually served warm, sprinkled with powdered sugar.

But you can also serve it cold and top it with ice cream or whipped cream for a delectable summer treat.

It goes well with coffee in the morning or tea in the afternoon. You can eat it for breakfast, as a snack or a well-earned dessert after a good hearty meal.
What is the best way to peel a peach?

You need to peel the peaches for this recipe and let's face it, peach peeling is not the most enjoyable thing.

Seems like we've tried all kinds of ways to peel a peach: blanch and peel with our hands; pare with a knife; even peel like a carrot.

While we've found that it really depends on how ripe your peaches are (and how many you need to deal with), we like the blanch and peel method the best.

Try each method out and see what works best for you.
Peach clafoutis is delicious. The light, creamy flan works flawlessly with the sweetness of the peaches. The "crust" provides awesome texture.
And it's pretty to look at too. Lovely to serve when you have company. Enjoy! Hope you're having a wonderful summer.
Fresh peach recipes for a refreshing summer
Here are other delicious recipes for a very peachy summer!
Let's start with ice cream. This bourbon peach ice cream is packed with peaches and you don't even need an ice cream maker to make it.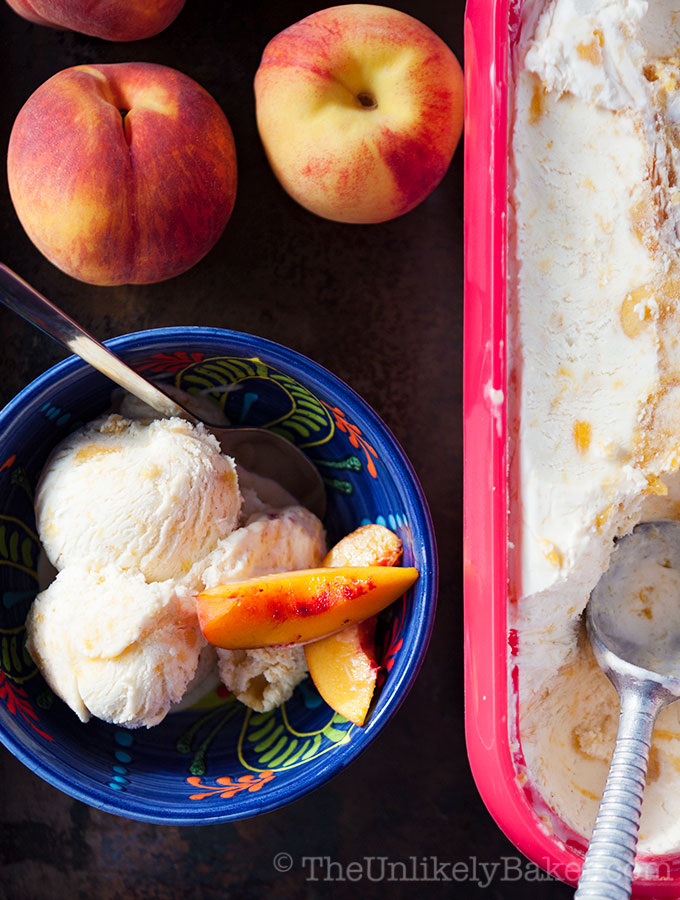 Spending a lot of time by the grill? Try grilling some peaches and topping them with mascarpone cream and bourbon salted caramel sauce. You're welcome.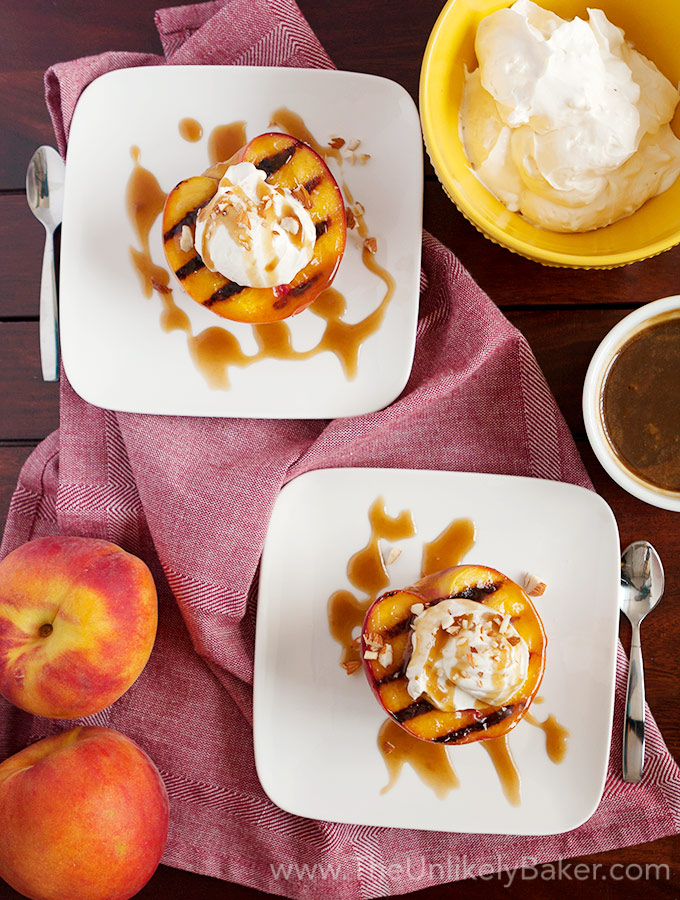 This sour cream peach cake is a simple, delicious cake that makes every summer day special.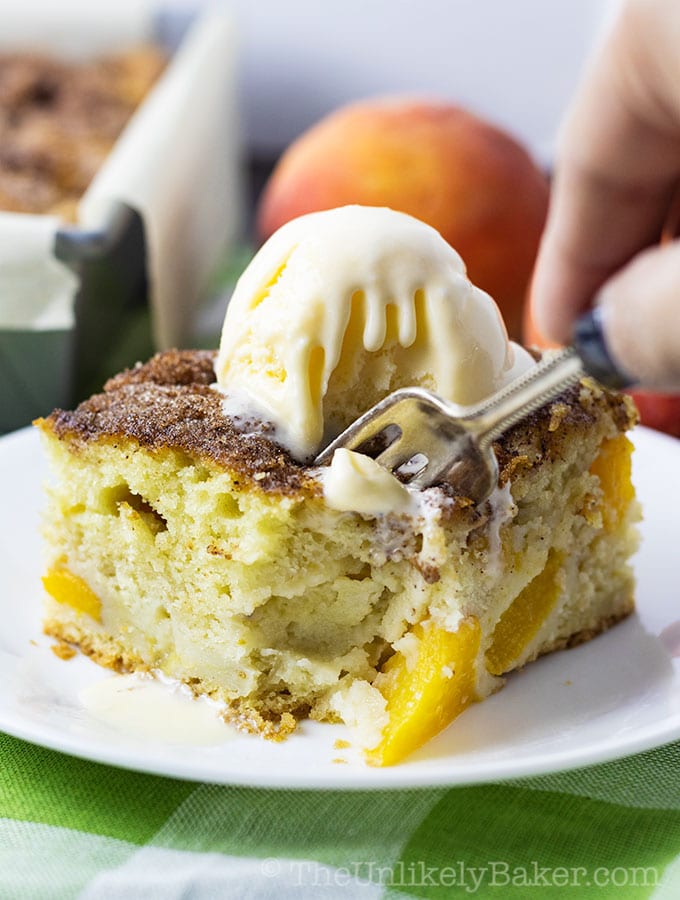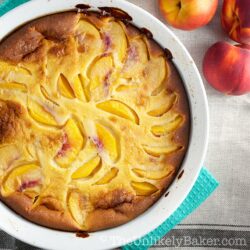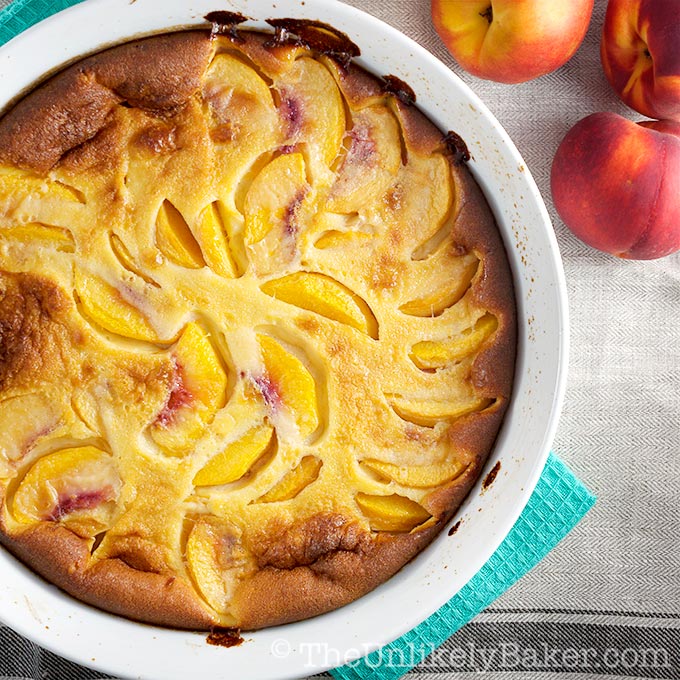 Fresh Peach Clafoutis Recipe
Peach clafoutis is crepe-like, golden brown on the outside and flan-like, creamy on the inside. Definitely a unique and delicious peach dessert.
Ingredients
½

cup

all purpose flour

⅛

tsp

salt

½

cup

granulated sugar

4

pcs

eggs

room temperature and lightly beaten

1

cup

milk

room temperature

1

cup

heavy cream

room temperature

1 ½

tsp

vanilla extract

2

tbsp

unsalted butter

melted + more for greasing the baking dish

1.5

lbs

ripe but firm peaches

about 3 medium peaches, peeled and sliced into wedges
Instructions
Preheat oven to 350F and grease a 2L-capacity baking dish (see notes) with butter. Set aside.

Sift ½ cup flour, ⅛ teaspoon salt and ½ cup sugar into a medium-sized bowl. Set aside.

In another larger bowl, whisk 4 eggs, 1 cup milk, 1 cup cream and 1 ½ teaspoons vanilla until smooth and well incorporated.

Make a well in the centre of your flour mixture and add in the egg mixture a little at a time (I did ¼ cup at a time), stirring by hand and mixing well after each addition. Continue until you've poured all the egg mixture in. Add the 2 tablespoons melted butter and give the mixture a final stir.

Arrange your peach wedges on your baking dish forming a single layer then pour your batter over the peaches.

Bake for 60-75 minutes until the clafoutis is set – golden brown on top (see notes), firm but still a little wobbly, and a knife inserted in the middle comes out clean.
Notes
You baking dish has to be 1) big enough so you can arrange all your peaches in just a single layer and 2) hold all the liquid with about an inch to spare on top to avoid risks of spillage.
If you see the top of your clafoutis is getting too brown too soon, place aluminum foil loosely on top and continue baking.
Nutrition
Calories:
173
kcal
Carbohydrates:
19
g
Protein:
2
g
Fat:
10
g
Saturated Fat:
6
g
Cholesterol:
36
mg
Sodium:
41
mg
Potassium:
155
mg
Fiber:
1
g
Sugar:
14
g
Vitamin A:
570
IU
Vitamin C:
3.9
mg
Calcium:
39
mg
Iron:
0.4
mg
Nutritional information are estimates only.
Tried this recipe? Leave a star rating today!
Also tag @iamtheunlikelybaker I'd love to see your creations.
Happy baking!
Did you make peach clafoutis with fresh peaches? I'd love to hear from you in the comments section below.