Want something new and different to try with peaches this year? Try peach clafoutis. It's made of gorgeous peaches arranged beautifully on a baking dish then covered in a batter that results to a dessert that's crepe-like and golden brown on the outside, flan-like and creamy on the inside. Easy, unique and so delicious!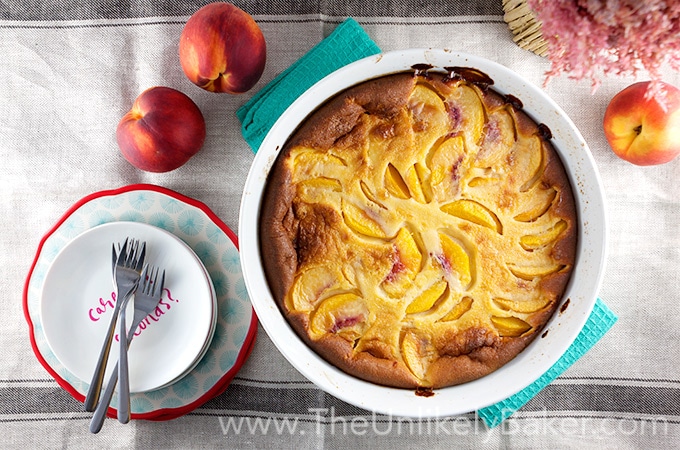 Clafou-what?
If you Google clafoutis, you'll see that it's usually made with cherries. I'm done with my cherry phase though (what a wonderful run – did you see my Mini Cherry Galletes?) and I've moved on to peaches, determined to eat as much summer fruits as I can.
Cobb-blah
I didn't want to make another cobbler however. Or another crisp. Nothing wrong with them – in fact peach crisp is one of my favourite things in the world; I just wanted to challenge myself and bake something different with peaches this time.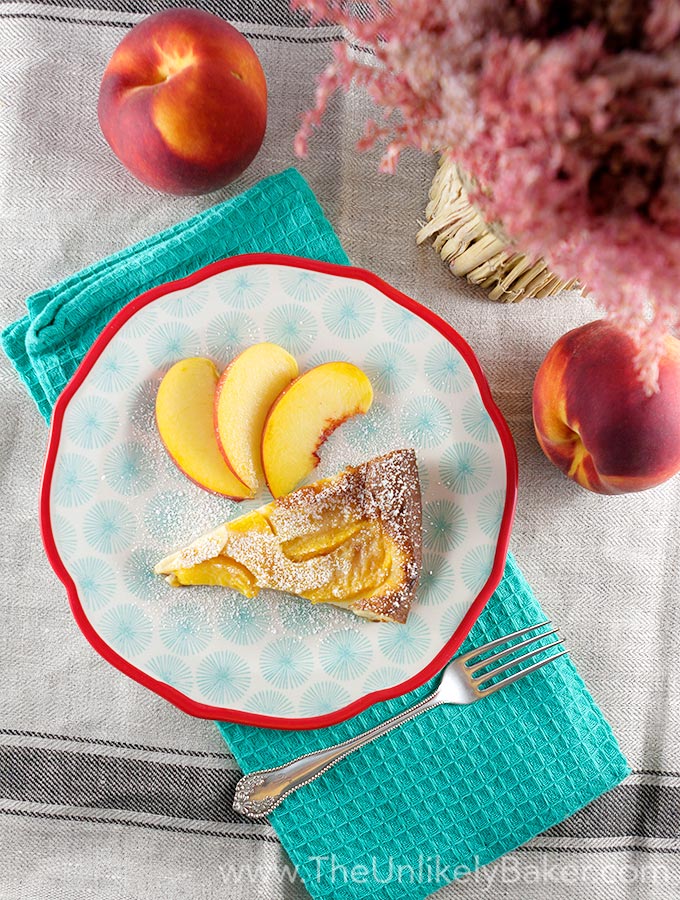 There are loads of peach dessert recipes out there and I picked clafoutis because it has a fancy name. Really. That's why.
Peach clafoutis – take 1
So I found this recipe online, it looked easy (very important to me) and delicious (also important), so I dove in. And crashed. And burned.
The clafoutis didn't set. It was all brown (almost burnt) outside but really soupy (really soupy) on the inside. A clafoutis is supposed to be custard-y inside but this was not it.
We usually still eat my baking fails but this one was inedible (sigh). All those lovely peaches gone to waste.
Peach clafoutis – take 2
So I adjusted the ingredient ratios (for example: there was way too many peaches making it so juicy it was impossible for the flan to set) and did it again.
Darn it. Another fail. I think this time the baking time was the issue. At least we got to pick some parts out and eat them. Not as gross as the first one.
Peach clafoutis – take 3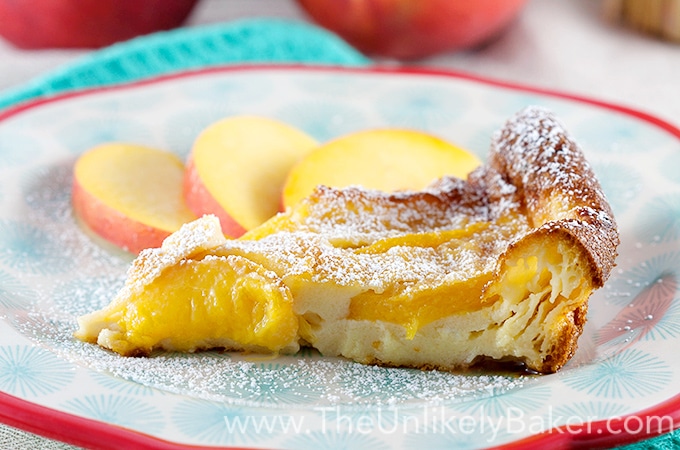 When I asked Red to buy more peaches I can tell she was secretly hoping for something more traditional like muffins (or yes, a cobbler or a crisp) because when I said I wanted another try at this clafoutis (I will not be defeated by clafoutis!) she looked a little anxious. But helped me peel and slice the peaches anyway (she's nice and supportive like that).
And third time is indeed the charm.
[clickToTweet tweet="Want something new to try with peaches this year? Try this delicious peach clafoutis!" quote="Want something new to try with peaches this year? Try this delicious peach clafoutis!"]
After several more adjustments, my peach clafoutis version 3 was perfectly brown and crusty on the outside, the flan set perfectly on the inside. Best of all, it was delicious. The light, creamy flan works flawlessly with the sweetness of the peaches. The "crust" provides awesome texture. And it's pretty to look at too. Lovely to serve when you have company.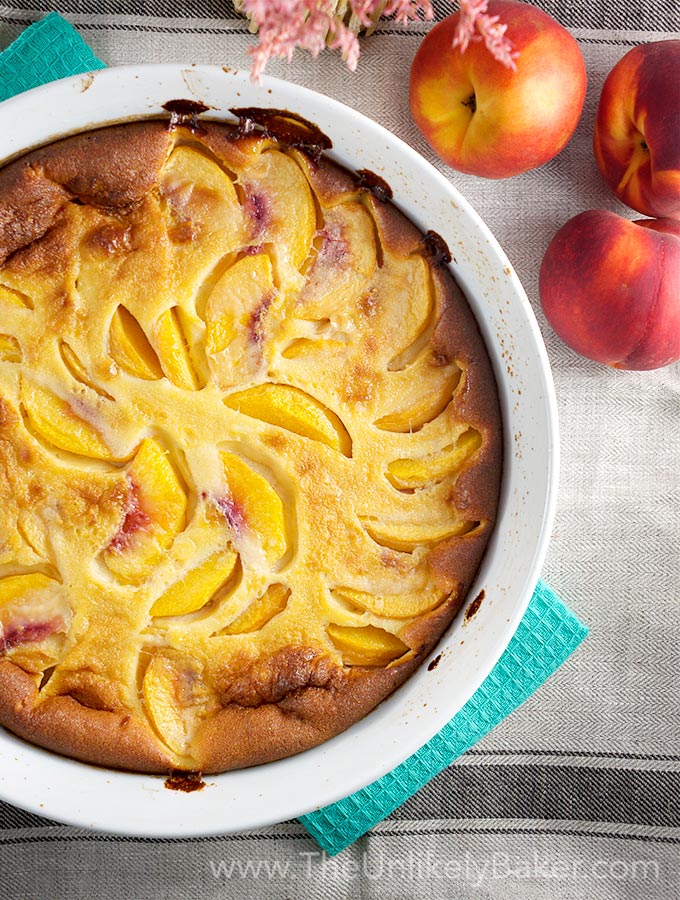 Serve however way you want
You can serve peach clafoutis warm. Or cold. You can top it with whipped cream or even vanilla ice cream. We've decided we like it warm sprinkled with just a little bit of confectioner's sugar.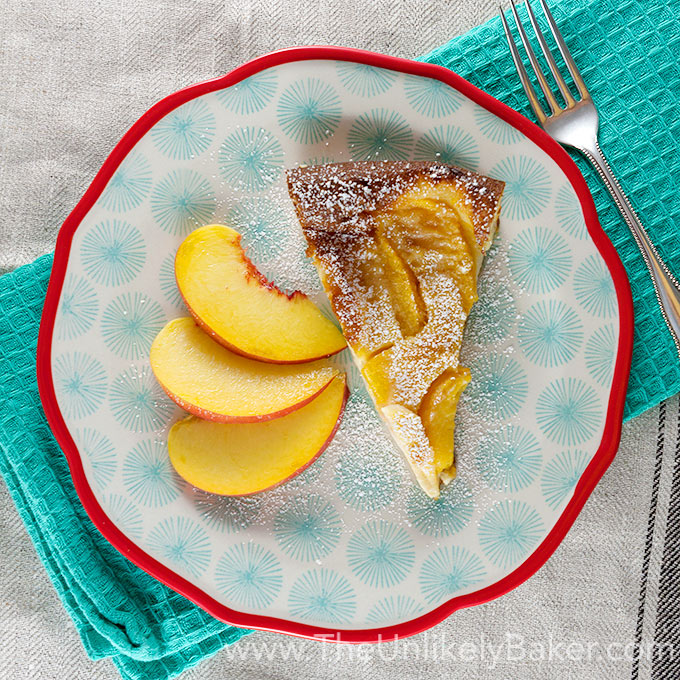 You can eat it whenever you want too. For breakfast, as dessert, with coffee or tea. Or now. Explore the wonderful world of peaches with this unique and delicious peach clafoutis.
Peach clafoutis is crepe-like, golden brown on the outside and flan-like, creamy on the inside. Definitely a unique and delicious peach dessert.
Ingredients
1/2 cup all purpose flour
1/8 teaspoon salt
1/2 cup granulated sugar
4 eggs, room temperature and lightly beaten
1 cup milk, room temperature (I used evaporated milk)
1 cup heavy cream, room temperature
1 1/2 teaspoons vanilla extract
2 tablespoons unsalted butter, melted (+ more for greasing the baking dish)
1.5 pounds of ripe but firm peaches (about 3 medium peaches), peeled and sliced into wedges
Instructions
Preheat oven to 350F and grease a 2L-capacity baking dish (see notes) with butter. Set aside.
Sift 1/2 cup flour, 1/8 teaspoon salt and 1/2 cup sugar into a medium-sized bowl. Set aside.
In another larger bowl, whisk 4 eggs, 1 cup milk, 1 cup cream and 1 1/2 teaspoons vanilla until smooth and well incorporated.
Make a well in the centre of your flour mixture and add in the egg mixture a little at a time (I did 1/4 cup at a time), stirring by hand and mixing well after each addition. Continue until you've poured all the egg mixture in. Add the 2 tablespoons melted butter and give the mixture a final stir.
Arrange your peach wedges on your baking dish forming a single layer then pour your batter over the peaches.
Bake for 60-75 minutes until the clafoutis is set - golden brown on top (see notes), firm but still a little wobbly, and a knife inserted in the middle comes out clean.
Notes
You baking dish has to be 1) big enough so you can arrange all your peaches in just a single layer and 2) hold all the liquid with about an inch to spare on top to avoid risks of spillage.
If you see the top of your clafoutis is getting too brown too soon, place aluminum foil loosely on top and continue baking.
https://theunlikelybaker.com/fresh-peach-clafoutis/
This delicious recipe brought to you by www.TheUnlikelyBaker.com | (c) 2016-2017
Happy baking!
Did you make peach clafoutis? Tell me about it in the comments section below. I'd love to hear all about it.
Here are more recipes you can try that are easier to do than they sound:
And let's get social! Find me on Facebook, Pinterest, Instagram, Twitter, Google+ and Flipboard.
Or subscribe so you don't miss a recipe. I promise I don't spam (I hate spam too).
Do you want to improve your food photography, monetize your blog or start your very own food blog? Check out my Blogging Resources.